Dental Clinic in Kharghar Sec 8
Address: Shop No. 26, Ground Floor, Bhoomi Heights, Plot No. 5 & 6, Opp. Little Mall, Next to Cafe Monzai, Sec-8, Kharghar, Navi Mumbai, Maharashtra 410210.
Monday – Saturday 11 AM – 8 PM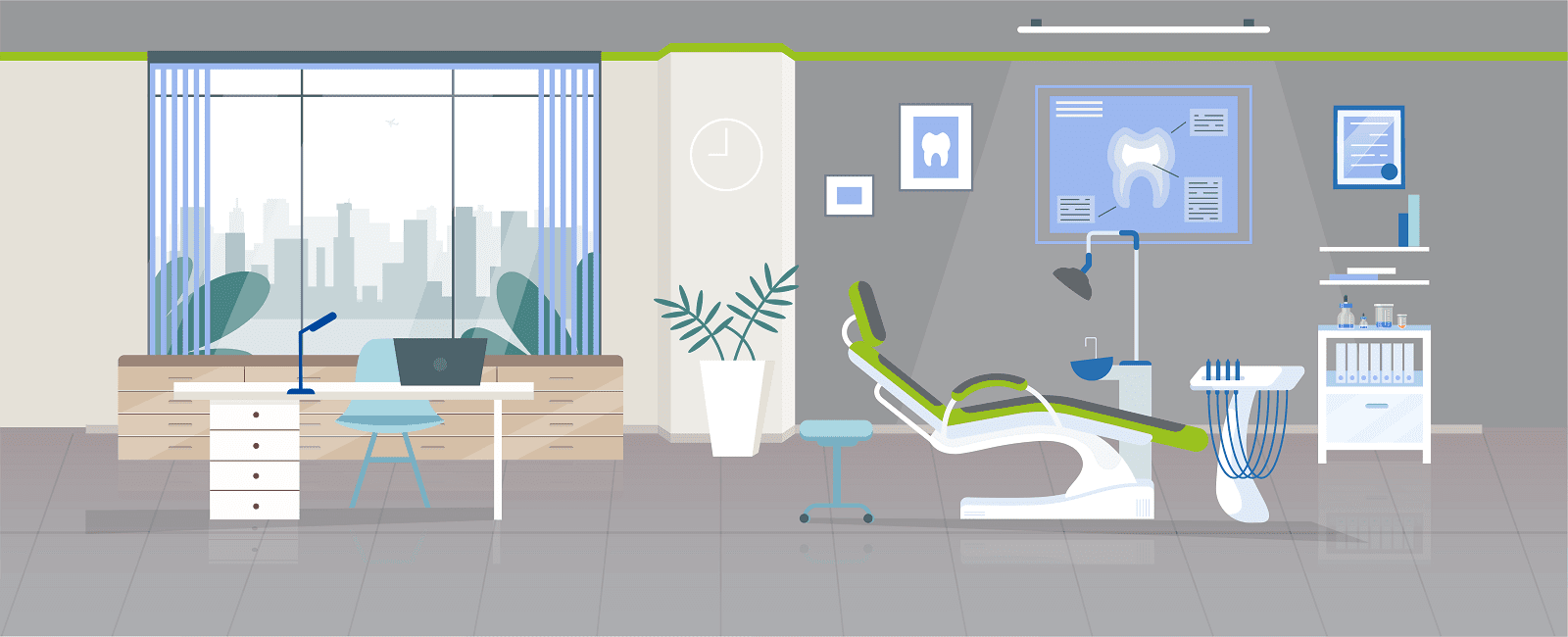 About Sabka Dentist Dental Clinic in Kharghar Sec 8
Sabka Dentist Dental clinic has always been at the forefront of dental healthcare. This clinic is known as one of the best dental clinics in Kharghar Sec 8 , which is dedicated to providing high standard dental services at an extremely affordable price range.
Sabka Dentist never compromises with the quality of treatment, so they utilize all the latest dental techniques and technology to make the dental procedures pain-free and comfortable.
Facilities
Dental care has always been ignored in the hustle and bustle of our life. But it is essential to be careful about our dental health. However, even the person who takes care of their teeth daily may also require profesKharghar Sector 20 al treatment.
So if you are trying to find one such dentist in Kharghar Sec 8 who can help you to resolve such conditions, then Sabka Dentist can help you out. The clinic can provide you with the following facilities and treatment options-
Dental Implants–

If you have lost a tooth, then you will probably be considered to undergo implant dentistry. However, the value of the procedure depends on the number of sessions Kharghar Sector 20  required, surgeon's fees, tests, dental treatments, and even the anesthesia used. The clinic may also provide you some fascinating affordable packages that include no hidden charges.
Root Canal Treatment–

Root Canal treatment is a crucial dental procedure that helps in preserving a decayed or damaged tooth. If you intend to undergo this dental process, then you must look for an experienced endodontist who can help you to achieve the best result. If you have not yet found any such dentist in Kharghar Sec 8 , then you may try and visit Sabka Dentist; this is one of their well-known branches, they have than 500 proficient dentists working in more than 100 clinics around different cities in India.
Conscious sedation- Sabka Dentist is aware of the fact that general anesthesia to execute dental operations is very risky. Keeping this in mind, the clinic provides local anesthesia to their patients so that the patients lose sensation in the area of treatment, but they do not fall asleep. However, it also depends on the treatment as well. As Sabka Dentist is one of the best dental clinics in Kharghar Sec 8 for their services, they do not compromise with their treatment quality and give complete transparency to the patients regarding the procedure.
Superb scheduling- Patients who have come a long way and have minimum time are offered the quickest and the most effective treatment plans. The dentists attend them on a priority basis, even on short notice. If you feel impressed with this feature and wish to avail the facility, then you know what you have to do? Just opt for Sabka Dentist, the best dental clinic in Kharghar Sec 8 .
Latest equipment and Techniques- Sab ka Dentist makes use of the latest techniques and methods while treating the patients. The dentist keeps themselves updated with all the new technology and upgrade their knowledge and when required.
Patient Care- Sabka Dentist is known for its hospitality. They treat their patients very well. Right from the receptionist to the surgeons, everyone gives the patient complete support throughout their journey in Sabka Dentist.
How to select the right dentist and right clinic?
Have you not been able to find a perfect dentist in Kharghar Sec 8 ? Then start doing that immediately without waiting for the emergency to arrive. But before you start doing that, it is time for you to consider several factors like the following-
Location and operational hour- When choosing a dentist, make sure that the dental clinic is close to your place or workplace. Most importantly, make sure that the dental clinic will be operational on days and times when you are generally available.
Cost -The cost of different procedures depends on several factors like the surgeon's fees, cost of the tests, medications, anesthesia used, and equipment used. However, Sabka Dentist provides multiple payment options, EMI facilities, and insurance coverage for the patients, which makes it the best dental clinic in Kharghar Sec 8 .
Qualification – After you know this is the perfect dentist in Kharghar Sec 8 for you, you must mandatorily check the credentials of the dentist. An experienced dentist will never hesitate to show their credentials and pictures of past procedures. If you find the dentist or the staff waiting to answer any of your questions, then you must consider finding another dentist.
How can Sabkka Dentist help?
Sabka Dentist is considered one of the leading dental clinics in Kharghar Sec 8 . Wondering why? Because-
The clinic provides the highest standard of treatment at an affordable price.
The dentist and their team are well qualified and skilled.
The clinic is capable of treating any dental issues, even on an urgent basis.
The clinic has secure payment options and easy EMI plans.
Tell me more about Sabka Dentist, Kharghar Sec 8
Tell me more about Sabka Dentist, Kharghar Sec 8 If you are one of those individuals who are particular about your dental health care, you must select the best when it pertains to dental checkups and treatments. Sabka Dentist is consistently rated as one of the best dental clinics in Kharghar Sec 8 , Navi Mumbai.
At Sabka Dentist, people not just receive first-class treatment for their dental problems, but additionally get to enjoy one of the greatest in-clinic patient experience across India.
Regardless of the background or career of an individual, we make sure that all of our patients feel at ease and experience absolutely no concerns when approaching or getting their dental issues across to our dentists.
We are some of the top dental clinic chains in Kharghar Sec 8 , Navi Mumbai, and have a legacy that is unparalleled by any other dental clinic in Kharghar Sec 8 , Navi Mumbai, India. Our dentists are some of the best dentists in Kharghar Sec 8 , Navi Mumbai.
Sabka Dentist consistently makes it to the list of best dental hospitals in Kharghar Sec 8 , Navi Mumbai, owing to our great team of dental experts and doctors, and cutting-edge facilities within our dental clinics.
Sabka Dentist was launched back in October 2010, with a single medical clinic in Kharghar Sec 8 . Today, we have grown to around more than 100 clinics in Mumbai, Pune, Ahmedabad, Surat, Bangalore, Navi Mumbai, Thane.
Our team works to encourage better dental health and help men, women, and children to truly feel and look good, and proudly carry their smiles. No wonder, resulting from our team's determination and viKharghar Sector 20 to help spread smiles across the world, we have consistently managed to get to the list of top dental hospitals in Kharghar Sec 8 , Navi Mumbai.
So, the next time you want to visit a 'teeth hospital in Kharghar Sec 8 , Navi Mumbai, we should be at the top of your list of dental hospitals in Kharghar Sec 8 , Navi Mumbai. Consider us your own 'Apna Dentist'; our dentists are undoubtedly some of the best dentists in Kharghar Sec 8 , Navi Mumbai, and we can help you with your oral concerns so that you can carry on and spread joy and happiness across with your delightful smile.
Good service by sabka dentist-kharghar. Doctor explained problem properly and its solution. Happy with service.

Aarti Sharma
18:05 30 Apr 22
Had a great experience, the dentist was kind and the place was hygienic too 😊 do visit them !

Triyan Mitra
12:01 27 Apr 22
Dr Sharvari is very kind and did my cleaning extremely carefully and gently. No bleeding or swelling. They have a very friendly staff as well.

Rishabh Gupta
12:28 23 Apr 22
Very hygienic ,best clinic for all ur dental treatments ...do come fr a visit ...!!aligners are deir speciality!!

Sharvari Gavali
11:22 19 Apr 22

Sumit Singh
14:02 13 Apr 22
Best place for teeth related problems. Doctors are good and the best part is the rates are nominal in comparison to others. I am associated with Sabka dentist from last 5 years for teeth related problems of my family.The rates are way more economical and no overcharging for small things.Highly recommended and satisfied.

ASHISH CHOURASIA
11:36 12 Apr 22
I visited clinic for my mom, had a very good experience. Doctor explained how problem can be cured and explained very clearly..

Pankaj Mishra
13:45 30 Mar 22
Dr. Priya Pandey attended my visit. She explained everything with great detail and patience. Was an insightful visit to understand the condition of my teeth and she has provided good consultation with appropriate explanation.

Bhakti Garde
07:52 01 Mar 22
Very good experience 😊😊😊😊

KEVAL RATHOD
06:27 21 Feb 22
Been here for years! Best in town!

Kaustubh Bamane
09:26 14 Feb 22
Rates are nominal.every treatment is done timely.staff are friendly.

Pradeep Kumar Srivastava
14:09 01 Feb 22
Good doctor and nice treatment

Mukesh Rathod
13:55 07 Jan 22

shinde swapnil
13:55 27 Dec 21
Nice experience and good staafDone the cleaning very nicely

Pravin roy Pravin roy
13:39 16 Dec 21
I visited sector 8 branch and I am satisfied with the work done for my teeth scaling and cleaning...

Chandraprakash Gupta
07:15 06 Dec 21
Good consulting Doctors, Hygiene clinic, Best advice for your teeths. I personally suggest sabka dentist.

Akshay katte
09:46 23 Nov 21
Very hygenic place to visit and Doctor and staff also very caring and effective. Thanks for the nice treatment. A very good Clinic to visit during this Pandemic.

Bhavu Kesan
13:43 13 Nov 21
Prompt service. Great quality


pradnya bhagwat
12:58 21 Oct 21
Awesome no pain during cleaning.

Went here for the first time for check-up and the doctor recommended me a cleaning.Overall the experience wad good.

Zeeshan Mansoori
07:11 16 Oct 21
Clinic was clean staffs were good

Akash Kumar
13:37 04 Oct 21
Good n friendly staff n drFollowing all covid norms

Ishaque Effendi
07:54 09 Sep 21

Sandeep Ramesh Vedant
09:07 06 Sep 21
Everything on time.Patients taken good care.Should visit the clinic if you have problems with your teeth.

Lipokwati Lemtur
06:54 04 Sep 21

Rajan Bista
11:35 23 Aug 21
Like Doctors suggestions and hospitality

Manisha Swami
09:01 19 Aug 21
Great doctor. Supportive and informative

Ahmed Raza
07:22 06 Aug 21
Good treatment and All staff

Ganesh Manekar
13:41 05 Aug 21
Good doctor and staff All clinic neat n clean

Neelam Chadha
11:59 05 Aug 21

Vaishali Bhowad
10:59 03 Aug 21

Rubi Smita
13:21 30 Jul 21
Quick and good treatment for molar cleaning

Great efforts by the staff in maintaining all protocols for covid safety. Good hygienic and good service.

akanksha agarwal
14:59 25 Jul 21
On my first visit found that the clinic was well maintained and staff was ver nice. The clinic follow all Covid guidelines. Doctor had explained very nice about how the treatment will be done. For me the price is was concern and that may be due to Covid situation price have increased everywhere.Thanks

Sanjay rakh
10:57 22 Jul 21
Good communication, No charge for visit and x-ray. Rates are normal as compared to other and service is nice.

Arghya dey
07:10 20 Jul 21

Balbheem Kamanna
07:27 19 Jul 21
Professional staff and good safety measures for covid..

Ritesh Umrane
07:18 16 Jul 21

Roopa Shanbhag
11:38 13 Jul 21
Smooth Process and hygiene was up to the mark.

Mohit verma
07:26 08 Jul 21
Berry good and honest professionals

Shubham Ranjan
09:53 07 Jul 21
Good treatment and varsha is very polite

jhanvi verma
11:05 01 Jul 21
Hii my experience with sabka dentist is good ...and Doctors and staffs very helpful..

Ramandeep Saini
11:41 28 Jun 21
Excellent Doctors and facility along with cordial and very supportive staff.

ASHOK SINGH
05:59 26 Jun 21

Sulochana Arya
09:55 30 May 21
An exceptional experience. Doctor & Staff was very approachable. Great services for dental issues.

Great experience, starting from Ms. Saima Sheikh who is soo warm & welcoming & is the only reason I remembered all my appointments, she makes sure to call you a day before and on the very day of treatment too.Dr Ansil was the Orthodontist that handled my case & I have to say that he is very thorough with his procedure, extremely particular & preciseThe change that I can see in my tooth alignment is amazing!Dr Simarjeet Kaur also treated me occasionally & was very kind everytime she worked on meOverall this is the place to be if you want to have a beautiful smile!

Priyanka Joshi
05:47 27 Apr 21
Doctors care for patient's comfort.. very good treatment.. well sanitized and neatly maintained clinic.

Gargi Vashishtha
09:23 22 Apr 21
I have done my rct over I must say the dr is very professional and staff are very cooperative.Thank u sd

Ishwar Navalgi
13:07 27 Mar 21
Sabka dentist kharghar (sector 8) is really good..quick assistance and great staff.. Much better then sabka dentist (sector 20)

Ambreen Memon
18:08 26 Mar 21
Very hygienic. The staff was very helpful and friendly. Sanitisation is very strict there.

Akshi Bhargava
05:30 23 Mar 21
I visited sabka dentist to get braces done for aligning my teeth properly. The doctors were kind enough to answer all the questions, a newbie getting tooth extracted or getting her teeth align would have. They made me comfortable with each visiting and made sure that I be educated with each process during my teeth alignment. The staff were understanding enough and provided maximum support during the times of Covid. They ensured that their clinic followed the Covid guidelines. Overall I had a pleasing experience. :)

Excellent service I am very satisfy forRs.500 cleaning my teeth by SABKADENTIST. I WILL VISIT AFTER 6MONTHS.

Ramesh Nagaonkar
18:03 16 Mar 21
Good staff. Safety measures taken.Doctor's are very good.

Hassle free and smooth experience. Would recommend to others.

Shashikant Prajapati
07:02 02 Mar 21
Super hygienic and all the covid protocols are been followed strictly. Doctor as well as staff are very sweet and helpful.

Sagar Gavali
07:10 23 Feb 21
The clinic is very neat followed all protocol for covid. The staff are very approachable and doctor are very helpful. My only advise is that every chair should be covered fir privacy of the patient. Hope they cover each cabin

Elysh dsouza
09:16 21 Feb 21