Dental Clinic in Kharghar Sec 8
Address: Shop No. 26, Ground Floor, Bhoomi Heights, Plot No. 5 & 6, Opp. Little Mall, Next to Cafe Monzai, Sec-8, Kharghar, Navi Mumbai, Maharashtra 410210.
Monday – Saturday 11 AM – 8 PM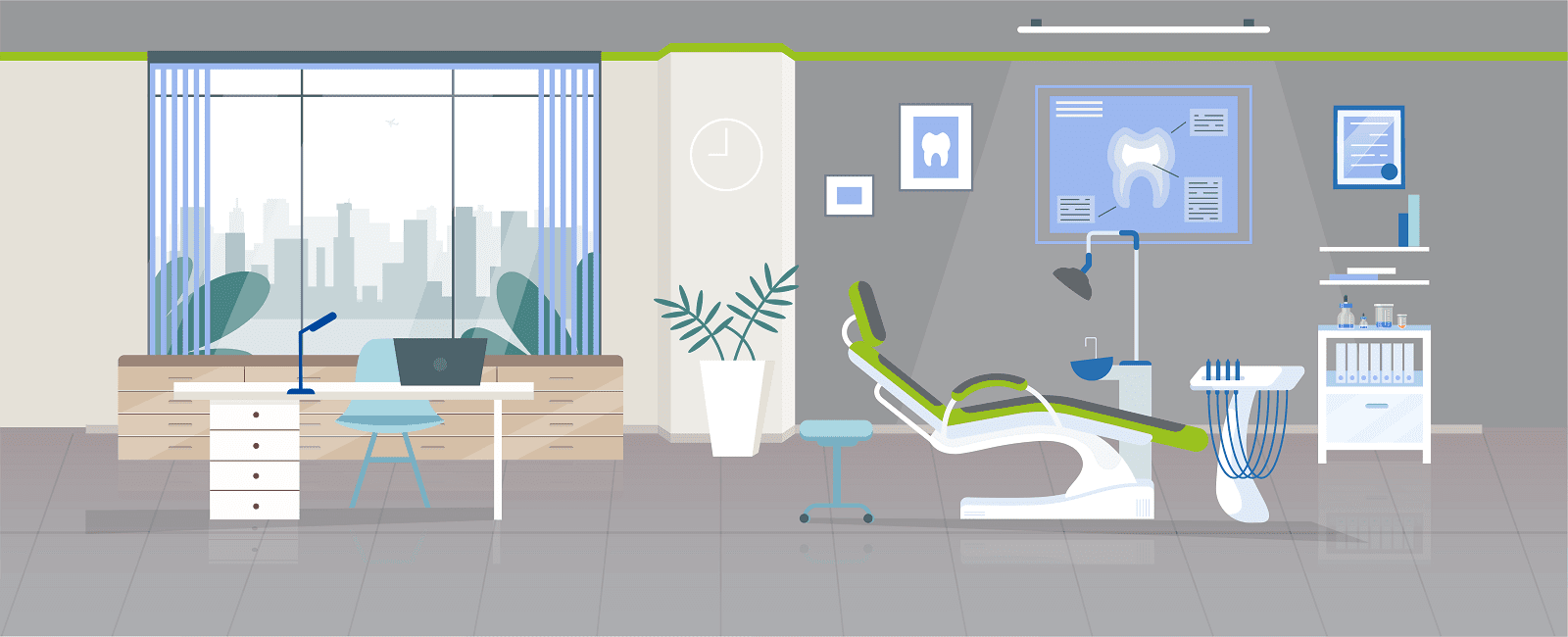 Promises to deliver high-quality dental treatments in a clean and hygienic environment. Sabkadentist Kharghar Sector 8 provides all kinds of dental treatments including cosmetic, implant, conventional and preventive dentistry.
We try to make dentistry available, accessible and affordable for the common man. We are dedicated to quality care, a pleasant experience and putting our patients first. We practice advanced dental techniques to protect, maintain, improve and create beautiful smiles.
We make Dental Treatment accessible by innovatively engaging with consumer finance companies and banks to provide dental treatments which can be paid in 0% interest EMI Options.
The Sabkadentist dental clinic in Kharghar Sector 8 is designed for patients who seek specialized, quality dental care on par with international standards. With advanced high-tech equipment, high sterilization standards, and experienced dentists, you can be assured that your dental visit will be performed in a quality, efficient and safe manner. We have a specific methodology of treatment wherein we aim to provide our patients with complete information regarding the treatment offered.
The Sabkadentist Kharghar Sector 8 dental clinic's staff is comprised of top dentists, providing general dentistry, periodontics (gum treatment), endodontics (root canal therapy), orthodontics (braces), and cosmetic dental treatments including porcelain veneers and dental implants. We have a full range of well-trained auxiliary dental staff and strive to provide our patients with personalized dental care and the opportunity to improve dental health, with an emphasis on prevention.
We aim to be the best dentists in Kharghar Sector 8 by maintaining the highest standards and creating a friendly and healthy environment with our patient's comfort and satisfaction as the top priority.
We welcome you to schedule an appointment or simply walk into our dental clinic. We follow a consistent, transparent pricing process and accept cash, cheques, credit & debit cards. E.M.I options are also available. For any major or extensive dental treatments, we can usually provide you with the best payment solution that suits your requirements.
We are the best dentists in Kharghar Sector 8 who take immense care of their patients and ensure that their dental health is up to the mark. All you need to ensure is that you schedule a visit to your dentist at least twice a year.
Regular visits to the Dental Clinic Kharghar Sector 8 allow you to check your oral health for any sorts of damage and ensure that everything is fine. Dental check-ups are also important as some symptoms are likely to appear in the oral examination as a sign of serious illnesses.
Other parts of the body can be assessed by the individual himself/herself but the same does not hold true in the case of oral health. Thus, dental check-ups are a must.
All dental treatments from dental crowns to major smile makeovers; a wide range of dentistry procedures and full mouth dental implants; everything is available under one roof!
The well trained and specialized dental team constantly staying updated through continuing dental education.
State of the art treatment techniques and instrumentation.
Value for money treatment options and costs.
Zero waiting policy.
Priority treatment completion at no extra cost for time-bound patients.
If you are looking for any type of dental treatment like metal free crowns and bridges, veneers, dental implants, tooth whitening, implant dentures, smile corrections, gap closures, fixed teeth, root canal treatment, gum surgery, kids dentistry, laser dentistry, gummy smile correction, wisdom teeth extractions, dental X-rays, etc., we are the ideal choice for best dentists for dental treatment in Navi Mumbai, India.
If you are one of those individuals who are particular about your dental hygiene, you must choose the best when it involves oral checkups and treatments. Sabka Dentist is consistently ranked as one of the best dental clinics in Kharghar Sector 8, Navi Mumbai. At Sabka Dentist, patients not only receive top-notch treatment for their dental concerns but will also get to enjoy one of the greatest in-clinic patient experience across India. No matter the background or profession of an individual, we ensure that all our patients feel comfortable and face absolutely no challenges when approaching or conveying their dental complications across to our dental specialists. We are one of the top dental clinic chains in Kharghar Sector 8, Navi Mumbai, and have a legacy that is unmatched by any other dental clinic in Kharghar Sector 8, Navi Mumbai, India. Our dentists are some of the best dentists in Kharghar Sector 8, Navi Mumbai.
Sabka Dentist often makes it to the list of best dental hospitals in Kharghar Sector 8, Navi Mumbai, owing to our wonderful team of dental specialists and doctors, and advanced facilities within our dental clinics. Sabka Dentist was started way back in October 2010, with a single facility in Vile Parle. Now, we have grown to around more than 100 clinics in Mumbai, Pune, Ahmedabad, Surat, Bangalore, Navi Mumbai, Thane. Our team constantly strives to encourage better dental health and aid individuals to truly feel and look good, and proudly carry their smiles. No wonder, due to our team's perseverance and vision to help spread smiles across the world, we have consistently managed to make it to the list of top dental hospitals in Kharghar Sector 8, Navi Mumbai.
Hence, the next time you plan on visiting a 'teeth hospital in Kharghar Sector 8, Navi Mumbai, we should be at the top of your list of dental hospitals in Kharghar Sector 8, Navi Mumbai. Consider us your own 'Apna Dentist'; our dentists are some of the best dentists in Kharghar Sector 8, Navi Mumbai, and we can help you with your dental concerns so that you can carry on and spread joy and happiness across with your wonderful smile.
Hassle free and smooth experience. Would recommend to others.

Shashikant Prajapati
07:02 02 Mar 21
Super hygienic and all the covid protocols are been followed strictly. Doctor as well as staff are very sweet and helpful.

Sagar Gavali
07:10 23 Feb 21
The clinic is very neat followed all protocol for covid. The staff are very approachable and doctor are very helpful. My only advise is that every chair should be covered fir privacy of the patient. Hope they cover each cabin

elysh dsouza
09:16 21 Feb 21
I visited for in Aug/ Sep 20 for 1 root canal & 3 fillings. Dr. As well as staffs were efficient and cooperative. I am impressed.

ASHOK SINGH
11:05 06 Feb 21
The staff takes extra safety measures and maintain the hygiene norms. The doctor is understanding and genuine. I definitely recommend this

Very helpful doctors and staff.

Lokesh Garg
13:57 21 Jan 21
Excellent counseling, cooperative staff, knowledgeable doctor and best receptionist.Must visit clinic in kharghar

Ajay Dubal
08:33 17 Jan 21
My Name Dinesh Suvarna,Highly appreciated, The Team in sector 2 kharghar, Navi Mumbai.1) Dr in this clinic, very dedicated in her Job with her patients, always attentive with your querry and advises, Hats off to her, Best of luck.2) Receptionist, Very caring, convincing, a good welcome jestur. Keep it up. And best of luck.

D stupid 786
08:29 17 Jan 21
Very professional. Made me feel extremely comfortable during the treatment.. Would suggest this to others too.

Nice sabka dentist sec 8 kharghar and their staff it's hygiene maintain very well..

sarita walunj
12:45 11 Jan 21
Good and cordial behaviour of staff and doctor. Clean and well maintained clinic

ravindranathan poliyedath
12:14 01 Jan 21
Well sanitised and all the precautions are taken to prevent covid a well maintained & hygiene staff.Overall a good clinic for your oral health.

Ajinkya Kadale
06:02 18 Dec 20
The staff is sweet and cuctomer friendly.All the proper hygiene measures are taken. The dentists are expert.

Aryan Shaikh
03:19 04 Dec 20
Friendly staff and treatment very well done.

vishal pratap singh
07:32 01 Dec 20
Proper covid measures are taken here.You get Doctor as per appointment given.Dr and staff are friendly and helps you to pass through your pain.The best part is follow up after treatment.

Parth Trivedi
08:43 28 Nov 20
Friendly, quick work, overall an amazing clinic!

My experience at sabka dentist was very good. The doctors who treated on me were good at handling surgery as well as the staff is friendly. The follow up process of the staff is applaudable. M very happy with them. :)

Tishya Shakya
08:49 26 Oct 20
I visited this clinic for free check up and cleaning last year. It was done So passionately by Dr Minoo with x rays etc to suggest further action, I ended up purchasing one year family Plan. Since then it became family affair with all the staff there.I got three jobs done here...1. Implants with 3 missing teeth 2. Root Canal 3. Free fillings under the plan..Paisa Vasool.All the jobs done to my full satisfaction.I was very much impressed with the young, dynamic, perfectionist cool Dr Simerjeet, very polite friendly receptionist cum organizer. Wish them ALL the very best in their personal and professional pursuit of excellence.I recommend sab ka densist for their fare pricing also..

bhimsen mohnani
10:01 23 Oct 20
Nice service , Dr and staff are good

Ojaswita G
07:41 23 Oct 20
Very professional, explained nicely about problem and solution, helping stuff.

Pradeep kumar
07:46 05 Oct 20
Dr simerjeet definitely knows what she is doing. She explained me the exact procedure and how much sensation i would feel. I had a stress free treatment. She even examined the rest of my teeth. Precaution i should take and exactly what should be done fkr maintenance and overall oral Health.I appreciate her guidance and standard of hygiene maintained.Highly recommended.

Sunita Naik
10:29 01 Oct 20
The staff and Doctor were very friendly.Really had good service, Thanks to Dr. for good treatement without anypain

Vanita Kanth
10:14 28 Sep 20
Good consultation experience with Dr Simarjeet and the staff has been taking very good care of hygiene during covid pandemic.

Nikita Kandikatla
10:18 26 Sep 20
I have done my denture and cap treatment from the clinic. The services they render are excellent safe and they ensure a friendly atmosphere.

Harbinder Mann
11:31 23 Sep 20
What makes this place stand out is the very helpful and friendly staff. Very professional treatment, and thoughtful and precise scheduling that cuts down wait times.Of course, they also follow rigorous anti-COVID procedures.

S Unnikrishnan Nair
08:20 23 Sep 20
I have visited once and I am impressed by the service and staff,I observed the receptionist she's very Frank and she took care of my health safety during covid. Thank You So Much!

Sana Patel
13:04 08 Sep 20
In this pandemic situation I found this better clinic for treatment.They taking full care of social distance.My personal experience was too good👌

akash pandey
13:04 08 Sep 20
Sabka dentist is taking all the precautions in covid,Staffs are friendly,Consultation is free ,Clean and hygienic environment

Adil Amaan Khan
12:53 08 Sep 20
Nice facility and staff are also nice

Kaushal Patkar
12:46 08 Sep 20

Kajal Dhuri
06:46 02 Sep 20
Hassle free and smooth experience. Would recommend to a friend

pratik purohit
05:00 29 Aug 20
I hate going to the dentist as it is never a fun experience for me. Everyone is here is so nice and welcoming. The dentist is very kind and thorough with his explanations. The staff was members were all super friendly and reassuring. I am actually feeling much less stressed about my next appointments. Thanks to Subka Dentist 😊

Nitesh Hodabe
16:16 14 Mar 20
Very nice and satisfied treatment,

Chandrakant Mahamulkar
10:13 03 Mar 20
Nice experience of getting good consulting

ravindran a c
14:44 17 Jan 20
Good professional place for dental treatment.

Vicky Shaw
14:44 04 Jan 20
Had Awesome experience with Sabka dentist team Kharghar Sector-8.They have very Professional team of Doctors.Must visit for Dental treatment.


Rashmi Panchal
20:28 28 Dec 19
Ausome experience with Dr.Maryam Quraishi.Best advise for treatment of teeth.

BHAVESH DIVECHA
13:01 26 Nov 19
Had an painless n comfortable tooth extraction done, very nice nd cooperative doctors. Truly Recommended..

sravani moddula
01:45 23 Nov 19
Extremely good. Best part is Dr Minu explains every procedure in detail step by step. I would highly recommend it to everyone.

Renitta Jobby
10:49 24 Oct 19
Helps to shine ur smile..

Sai hardys
09:41 24 Oct 19

Manoj Khadkar
10:26 04 Oct 19
The staffs are very friendly and suggested to visit for any dental problems..

surya pratap
13:43 20 Sep 19
Reasonably ok to get the treatment

Abhishek Upadhyay
14:34 19 Sep 19

Sagar Singh
07:34 14 Sep 19

Prabhakar Kumar
13:43 13 Sep 19
Sabka dentist has very good staff.. and also a very good service.Any problem with your tooth then you must visit sabka Dentist it's really very good place than other dentist i must say that..

Rohit Pagare
12:27 11 Sep 19
All faculties are very helping and kindly in nature.All Doctors are very caring..do all the treatment very carefully without giving any tension to patient.I am going there for my orthodontic treatment..result is best..my all teethes are aligned properly.Dr.Robin is best orthodontist...i will recommend SABKA DENTIST to every one for all types of dental treatments.

Mrunali Jadhav
06:15 09 Sep 19
Very happy with Dr Maryam Qureshi work, she is a superb dentist!! Excellent and quick services by Sabka dentist team.

Alefiyah Das
11:31 07 Sep 19
Good Services. Friendly 😊

Good job done by Dr Ansil and team at Sabka Dentist Kharghar sector 8. Very cooperative and cool staff. I had undergone my braces treatment and it been fantastically completed today. Thank you all.

kalpna pataria
07:20 30 Aug 19
Friendly doctor and other staff.They will talk politely, hear your problem nicely and will treat you in a good manner.Clinic is clean and proper care is taken for hygiene.

Neeraj Sarwade
16:24 22 Aug 19
Nice experience as I was doing clean up for the first time here.. Clinic is also clean and hygienic.

mousumi hatimuria
12:09 14 Aug 19
It was very nice. The Dr. was co-operative and helpful.

Devansh Thakar
15:17 12 Aug 19
Bhawana is very good. She also, calls for reminding about the appointment. Clinic is good and Hygenic and Dr Maryam is very good in her work. Altogether good experience.

sumit verma
10:48 06 Aug 19
I loved the experience and the treatment which i got from here.The doctors and the faculty here all are very good.you must visit here💯

Pranav nair
12:16 05 Aug 19
Nice treatment, nice result I am happy

aryan gaikwad 7f
11:37 05 Aug 19
I had a front teeth composite filling for my crooked and stained teeth from Dr Simerjeet and I must say it was an awesome work. I would recommend this clinic for all your dental problem. Kuddos to team sabkadentist kharghar little mall

Gagandeep Kaur
09:55 05 Apr 19
I visited here first coz previously another dentist couldn't do a filling properly. Doctor simerjeet and Maryam were quite confident, calm and composed. Trusted them and since then they have never disappointed.. Did my wisdom tooth surgery by Dr. Garima, she was very sweet and an expert in extraction of complex cases of wisdom tooth eruption. Dental fillings were also painless. A must visit for any dental related queries.

Gaurav Roy
10:06 25 Feb 19
Sabka Dentist Sector 8, Kharghar is the best one in providing us the proactive toothcare.. I had been connected with Sabka dentist since more than two years of duration. And each time had experienced the best treatment along with great care. I must say big thanks to wonderful Sabka Dentist Team including the well experienced Doctors (Dr. Maryam and Dr. Simerjeet) and the ultimate responsible staff for making my father's dental treatment an easy going and a very comfortable experience. Will definitely recommend friends and family for any toothcare to visit Sabka dentist being one stop complete solution.

Deepti Mane
16:24 18 Jan 19
Excellent dentist clinic. Very clean and hygenic. Dr. Simmerjeeth and supporting staff are very professional. Prices are transparent .

Prakash Patil
17:05 23 Nov 18
It's good and hygienic clinic. Service provided is also very good. Dr. Samarjit and one more lady doctor both are very friendly and helpful. Receptionist makes sure to give you constant reminder about your appointments. Would definitely recommend this clinic. Much cleaner than many other clinics in Kharghar.

karishma thawani
18:02 28 Sep 18
Had my root canal and CLP done had a very great experience and a myth from my mind flew away which says root canal is painfull they made it feel like it is not painfull at all will recommend it to all as rates as moderate too

aniket bhattacharya
15:10 26 Sep 18
I went to sabka dentist Sec 8 for capping to my front tooth. Great service by sabka dentist.. Doctors are very friendly and the prices are really genuine as compared to other dental clinics in kharghar. I would strongly recommend everyone to visit once for their dental checkup. Check up and xrays are done free of cost here. You can compare the services with other dental clinics in Kharghar, really appreciate 👍👍

Vikash Singh
02:39 24 Aug 18
Doctors are efficient, humble, experienced. I had pleasant experience visiting the clinic. I would recommend those who are in search for a quality treatment.

Saini Jagjit Singh
17:17 13 Aug 18
first was a little uncomfortable to get treated by Dr. But after meeting Dr. Sometimes & supporting doctors it was never the same, simless work professional with my comfort..... Such excellent experience, excellent clinic and a great service

Sandesh Babar
12:38 31 May 18
Got to know about them via google. First was a little skeptical to get treated by unknown Dr. But after meeting simarjeet it was never the same. Simless work professional at the same time saw to my comfort.. Will definitely recommend them to my friends.

Sonali Sali
10:45 24 May 18
Excellent clinic...doctors are also vey police and give very good guidance and instruction for our dental problem...😊

Manjusha Pise
08:25 24 Apr 18

Ratnesh Namdeo
13:58 29 Mar 18
I had surgical tooth extraction of wisdom tooth twice. Doctors (Dr.Deepti Aggarwal, Dr.Simerjeet and Dr.Garima) and supporting staff are competent, professional, polite, caring and friendly enough to make one comfortable throughout the treatment. After the surgical tooth removal also, I got calls both the time to enquire about pain, if any and reminded Do's and Don'ts of post treatment. I recommend Sabka Dentist for the dental care you need.

Vaibhav Hingmire
12:05 17 Feb 18
I found the clinic online based on the fantastic reviews and it turned out to be very true! The clinic is very clean and everything seems of high quality. There is a lot of staff supporting the doctor and they are all very friendly and helpful.

ashish kamal
12:55 19 Jan 18
I have gone through the Root Canal treatment in this clinic. During the treatment I found the doctor's very professional and polite.

Piyush Pandia
09:03 18 Jan 18
Good service... excellent ambiance of clinic...it should be made little affordable.

mandar lingayat
16:52 16 Jan 18
I am taking my dentle treatment at their sector 8 kharghar clinic. I have experienced the staff is quite co-operative; well competent and till now their services are excellent.In addition to above my father got his denture fixed. He is also quite satisfied.

Kishor Rawat
12:30 16 Jan 18

Srinu Satyam
07:12 11 Oct 17
Services offered by MYDENTIST are worth applauding and worth a mention. I went to the Khargar Little Mall clinic for my treatment. I am taking a time-out from my busy schedule to write the following mail as I think real dedication and hard work needs a mention. Keep up the good work. God bless you.

Reshma Shedge
06:18 14 Mar 14