Braces are used for correcting alignment of teeth. Braces are of different types. In India, the cost of braces treatment depends on the type of braces used. Let's look at the different types of braces available in India and the cost of the same.
Invisible Braces: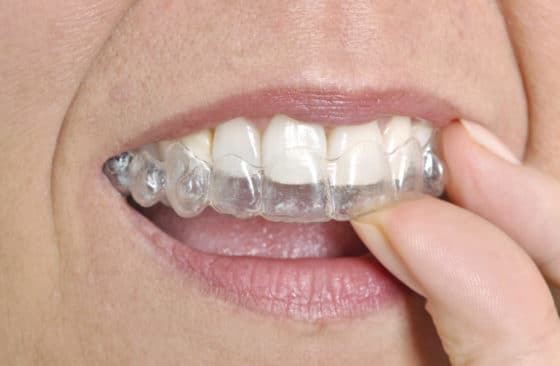 Invisible means that which is not visible. Hence, invisible braces are not visible because they are made from transparent plastic. Invisible Braces are an innovative and cool way of straightening your teeth. Since they are transparent they are not visible when people wear them.
They can be removed at any time. Usually people tend to remove them when they have lunch, dinner or snacks or when you are drinking any hot or cold drink. It is very easy and convenient to clean these braces because they are removable.
The working principle of these braces is the same as traditional metal braces. Only difference is that the pressure in case of invisible braces is applied by the plastic trays or aligners.
As a part of the invisible braces treatment, you get a set of trays or clear aligners which you need to wear for 22 hours a day. The trays need to change to the next set every 15 days. Each aligner or tray is specifically designed as per your teeth and is highly personalized and customized for you. The trays are very comfortable to wear and very convenient to maintain.
Across the world more and more people are shifting towards clear aligners or invisible braces as the preferred choice for braces treatment. In India, invisible braces were introduced at very expensive prices.
But over the last 2 years, Sabka Dentist has designed and developed its own brand of invisible braces which is very affordable. More than 10,000 people have already taken invisible braces treatment at Sabka Dentist and is the most popular invisible braces brand in India.
To make invisible braces affordable for every body, Sabka Dentist has completely designed the entire process in-house in India. SDalign Clear Aligners from Sabka Dentist are available at just Rs.30,000/- for simple cases. And Sabka Dentist further makes invisible braces affordable by providing the same in installments of Rs.3000/- every month.
Normal or Ordinary Braces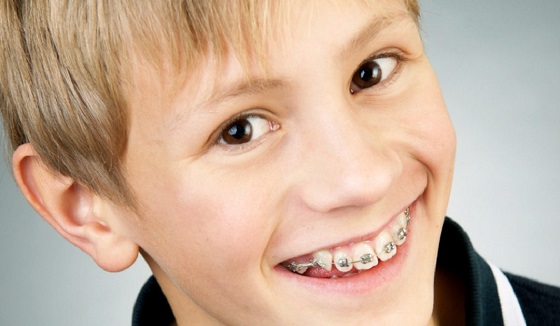 These are the most common braces you must have seen with many teenagers. These braces have been around for years.
These braces use metal brackets which are stuck on the teeth. These brackets are then used to pull the teeth into position using wires.
Simple, normal or ordinary braces need to be fixed only by a dentist who is qualified and experienced in the functioning of these braces. You also need to visit the dentist every month to get the wire tightened to incrementally increase the pressure on the braces.
This treatment takes 12 months to 36 months depending on how crooked or misaligned the teeth are. But, these braces are very inconvenient. They also put a lot of limitations on your lifestyle and diet.
These braces hurt your cheek, tongue and lips since they are made of metal. They are also very difficult to clean since they are fixed and food gets stuck in them very easily. You also cannot eat food items like Pizza, Burger, Vada Pav, Chicken Legs or anything that needs you to bite.
In India, these braces are available at almost all dentists and the price ranges between Rs.20,000 to Rs.80,000. At Sabka Dentist, our dentists have provided this treatment to more than 50,000 people over the last 10 years. Sabka dentist provides this treatment at approximately Rs.33,000/-
While clear aligners have a distinct advantage of being invisible, metal braces also are very good for people with complex misalignment of teeth. Some cases of misalignment can only be treated with traditional braces.
Ceramic or Tooth Colored Braces
Ceramic Braces as the name suggests are made of white ceramic and hence are less visible than metal braces. They are almost the same color as teeth.
Functionally they work in the same way as traditional metal braces. Hence, they have the same problems as those with metal braces. In fact, there are some more limitations of ceramic braces. Ceramic Braces cannot apply the same pressure as metal braces and hence have to be handled with care by the dentist.
However, a distinct advantage over metal braces is that they are aesthetically better than metal braces. Ceramic Braces are more expensive than metal braces which range from Rs.30,000/- to Rs.1,00,000/- in India.
Sabka Dentist provides an excellent ceramic braces treatment which uses special ceramic brackets which are stain resistant and can take more pressure than traditional ceramic brackets. Sabka dentist provide ceramic braces starting Rs.40,000/-
Lingual Braces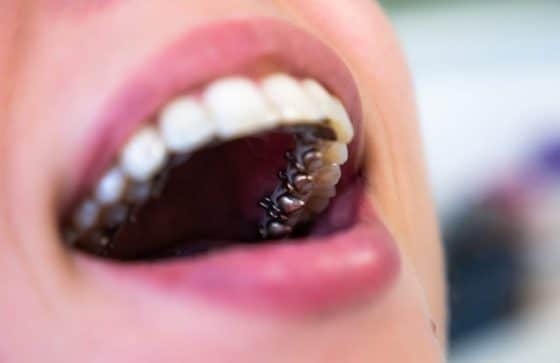 While the principle of working of Lingual Braces is the same as traditional metal and ceramic braces, they are fixed at the inside surface of the teeth and hence are not visible always when you smile.
However, since they are fixed on the inside surface of the teeth, they are very uncomfortable. They keep hurting the tongue and the gums. They are very difficult to get accustomed to and generally people take a lot of time to get used to these braces. They are also more expensive than traditional metal or ceramic braces.
Lingual Braces in India can be as expensive as Rs.1 Lakh to Rs.1.5 Lakhs. Sabka Dentist provides a special form of lingual braces in which the wires used are bent using computer programs to give better comfort and fitting of the braces. Lingual Braces at Sabka Dentist start from Rs.75,000/-
We are sure the above information would have helped you make a decision in favor of getting your teeth straightened. Yes, Sabka Dentist has an expert dentist who will take care of your treatment from start to finish and give you that perfect smile you always wanted. Call us on 9222233111 or click here for more information.
Frequently Asked Question
What is the minimum time for braces?
The minimum time for braces treatment is less than 12 months for a simple case, but moderate or mild case patients require at least 24 months. Some braces treatments even last more than 3 years for complex treatment cases. Treatment time differs from patient to patient and case to case. Only an orthodontist can guide you on how much time you require for your braces treatment after a check-up. 
What is the ideal age for braces?
The ideal age to get braces is between 10 years and 14 years, While the mouth and head are still in the growing phase. Teeth are more responsive, making it easier to align them at this stage. However, braces for an adult are a common thing now. Many people in their twenties are opting for braces to enhance their smile.
How much do braces cost in India?
The cost of braces depends on many factors like treatment time, the complexity of the case and the type of braces you choose to get. However, only an orthodontist can guide you on the cost of the braces treatment after a check-up. 
Here is the cost of braces at Sabka Dentist.
The starting price of clear aligners at Sabka Dentist is Rs.30,000/ only, and you also get an EMI payment facility.

The starting price of Metal/Regular Braces at Sabka Dentist is Rs.20,000/ 

The starting price of Ceramic/Tooth Colour Braces at Sabka Dentist is Rs.40,000/-

The starting price of Lingual Braces at Sabka Dentist is Rs.75,000/-