Dental Clinic in Panchpakhadi Thane
Address: Shop No-17, Building No-B2, Prestige Garden Almeida Road, Near Nitin Company, Panch Pakhdi, Thane, Maharashtra 400601.
Monday – Saturday 11 AM – 8 PM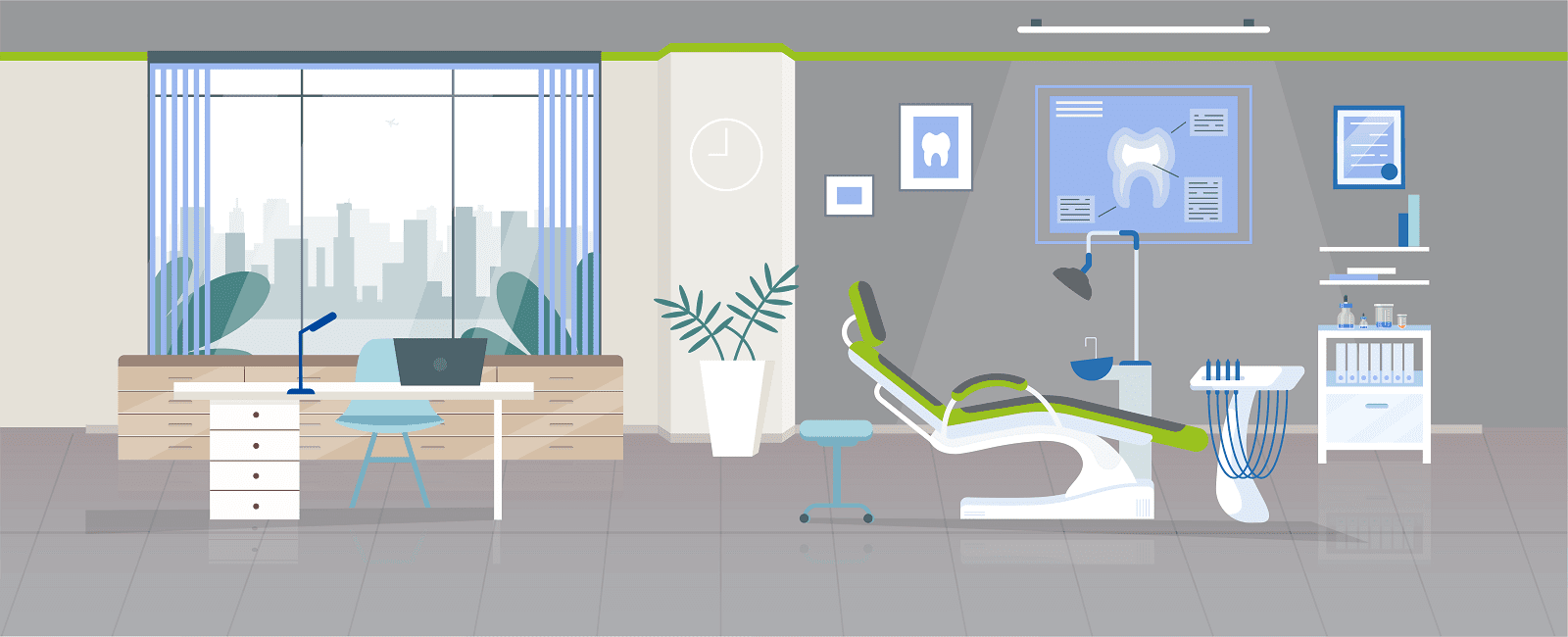 About Sabka Dentist in Panchpakhadi, Thane
Think it is the dental treatments that are so heavy on your pocket? No, it's neglect towards oral health that costs you more. To prevent this from happening, Sabka Dentist in Panchpakhadi is here to make you realise that oral health is as important as anything else in your life. It is not just about solving a few oral health issues here and there, but it is the maintenance, the care, the caution you take after experiencing a bad dental problems. For this, we at Sabka Dentist, try to guide you as to how to go about taking care of your oral health.
Sabka Dentist tries to elaborate on the significance of having a dental regime. This involves brushing twice a day, flossing and basically visiting the dental clinic, not just when you have an oral health problem, but otherwise too. The dental experts at Sabka Dentist guarantee their patients a relaxing and stress-free dental ordeal, leaving everything in the dentists' hands.
Moreover, Sabka Dentist also looks out for its patients by taking into account each patient's financial stability and hence, servers according to the needs of the customer, a very useful and efficient policy called Every Month Instalment (EMI). EMI helps a customer to pay the entire cost of the treatment, in parts, monthly. This policy is designed in such a manner that it is charged at zero percent interest rate.
Treatments offered at Sabka Dentist, Panchpakhadi
General Dentistry:A well detailed description of the dental problem is narrated to the patient so as to consult him or her as to what steps are to be taken further. This consultation is given post a full dental checkup along with a dental X-ray if needed that helps in having a more elaborate discussion about the issue. Sabka Dentist at Panchpakhadi provides its checkups by providing this at absolutely no cost.
Orthodontic Treatment (Braces):

Nothing can be achieved by not making any effort. The same goes for the perfect set of teeth. Misaligned and mispositioned teeth are corrected using tools like braces that adjust the teeth according to their standard position, resulting in that beautiful and perfect smile. Sabka Dentist aspires to see all its patients smile, with nothing to be nervous about, and therefore, it has the best orthodontists to align your set of teeth to perfection.
Pedodontic Treatment:Pedodontic treatment is the dental field that deals with the oral health of children aged below 14 years. Children are more likely to experience cavities and more infection because their teeth are still under development and also because of the high consumption of junk food, sweets, chocolates etc.
Periodontics:Periodontal treatment deals with the diagnosis of infection in the gum. This infection arises due to the settlement of plaque and tartar on the teeth, which erodes the gum along with it. This infection further infects the gum along with loosening the tooth from its socket. Hence, periodontal disease is a serious one as it can lead to loss of tooth as well.
Tooth Extraction:

A tooth that is beyond repair has to be discarded, or in other words, and dental terms, extracted. Keeping or trying to save a tooth that is hardly left, or has been absorbed by a cavity, is of no use as it will always result in spreading the bacteria or biting issues and speech impairment. We have experienced dental experts at Sabka Dentist in Panchpakhadi who extract the tooth, causing less pain to the patient.
Dental crowns:Dental crowns are like a seal of protection on top of a filling or a dental implant that protect any infection from entering further or from looking unattractive. Dental crowns are categorised into different types depending on what they are made of and how much they cost. Zirconia is the most expensive dental crowns, but is an exact replica of a natural tooth, and has a longer shelf life too. If an individual's budget is a bit tight, he or she can opt for porcelain-fused-to-metal (PFM) crowns which are more affordable, and are most suitable for the front teeth because of their striking resemblance to natural teeth. However, their shelf life is a bit shorter as compared to zirconia crowns. There are also metal crowns, which are most suitable for the teeth at the back, and are the cheapest option when it comes to dental crowns.
Teeth cleaning:As mentioned before, a routine dental checkup is necessary to make sure your teeth are in proper condition. However, along with the routine checkup, it is also necessary to get your teeth cleaned by a dental expert. Incase, you do not religiously follow the instructions of your dentist – to brush twice a day and floss, then there is a high possibility that your teeth are victims to a high degree of scum. To get rid of it, Sabka Dentist is available for you, and has a special treatment known as teeth cleaning wherein each gap or part filled with stains or even a small infection, is eliminated very accurately.
Cosmetic Dentistry:Cosmetic dentistry deals with the remodeling of the teeth and enhancing the look of your teeth, by teeth whitening. It also involves the insertion of veneers which are used to fill in gaps between teeth. Apart from these modern techniques, it also consists of laser dentistry, which is a more time-friendly approach to dentistry, using a ray of light, to fix oral health issues.
How to find a dentist in Panchpakhadi, Thane?
Here are some suggestions as to how you can opt for the right dentist for yourself:
Ask your relatives and colleagues for any recommendations or their dentists.
See to it that the dental clinic is in your neighborhood and not far away.
Check how qualified the dentist is, and his or her prior experience.
Look around and check the dental clinic minutely, see if it is kept clean at all times.
Are there any financial benefits for you?
Can you find all kinds of dentists under one roof ?
Are follow ups conducted ?
We at Sabka Dentist in Panchpakhadi, Thane follow the STEEEP fundamental policy:
Safe
Timely
Effective
Efficient
Equitable
Patient-centered
STEEP is used by the ADA as a standard measure of quality care. Sabka Dentist has an ambience that is warm and welcoming, catering to individuals of all types, and charging standard rates for all of its dental treatments.
How can Sabka Dentist help?
Sabka Dentist has extended its scope to over 100 cities of Ahmedabad, Mumbai, Surat, Thane and Bangalore. It tries to reach and come in contact with a varied range of individuals, looking for a cost-effective and time-effective dental treatment.
Moreover, people are also looking for clinics with all kinds of dentists at one place. Sabka Dentist is equipped with over 500 dentists which consist of the best endodontists, implantologists, orthodontists, pedodontists, periodontists and dental surgeons. Being a multi-specialty dental clinic is an added advantage to its patients as they do not need to search elsewhere for multiple oral health problems.
Sabka Dentist's goal is to build a base of trust and faith in its clients, and provide them with the best quality and conventional dental treatments, at affordable and standard rates. It is the idea of getting clients to trust them and hand over their entire oral health in the expertise of the dentists at Sabka Dentist.
Tell me more about Sabka Dentist, Panchpakhadi
If you are one of those individuals who are particular about your dental care, you must select the best when it pertains to oral checkups and treatments. Sabka Dentist is consistently rated as among the best dental clinics in Panchpakhadi, Thane. At Sabka Dentist, patients not just receive top-notch treatment for their oral concerns, but in addition get to enjoy among the best in-clinic patient experiences across India. No matter the background or profession of an individual, we guarantee that all our patients feel at ease and experience no difficulties when approaching or getting their problems across to our dental surgeons. We are one of the top dental clinic chains in Panchpakhadi, Thane, and have a legacy that is unmatched by any other dental clinic in Panchpakhadi, Thane, India. Our dentists are undoubtedly some of the best dentists in Panchpakhadi, Thane.
Sabka Dentist often makes it to the list of best dental hospitals in Panchpakhadi, Thane, owing to our great team of dental experts and surgeons, and advanced facilities within our dental clinics. Sabka Dentist was established back in October 2010, with a single facility in Vile Parle. Currently, we have grown to around more than 100 clinics in Mumbai, Pune, Ahmedabad, Surat, Bangalore, Navi Mumbai, Thane. Our team at Sabka Dentist works to encourage better oral health and aid people today to truly feel and look good and proudly carry their smiles. No wonder, resulting from our team's perseverance and vision to help spread smiles across the world, we have frequently managed to make it on the list of top dental hospitals in Panchpakhadi, Thane.
So, the next time you want to visit a 'teeth hospital in Panchpakhadi, Thane, we should be at the top of your list of dental hospitals in Panchpakhadi, Thane. Consider us your own 'Apna Dentist'; our dentists are some of the best dentists in Panchpakhadi, Thane, and we can help you with your tooth troubles so that you can carry on and spread happiness across with your delightful smile.