Dental Clinic in Ghatkopar East
Address: Shop no 1 Ground Floor Megh Ratan CHS. Ltd., near Indusind Bank, Junction of Tilak Road & Derasar Lane, Ghatkopar (East) , Mumbai, Maharashtra – 400077.
Monday – Saturday 11 AM – 8 PM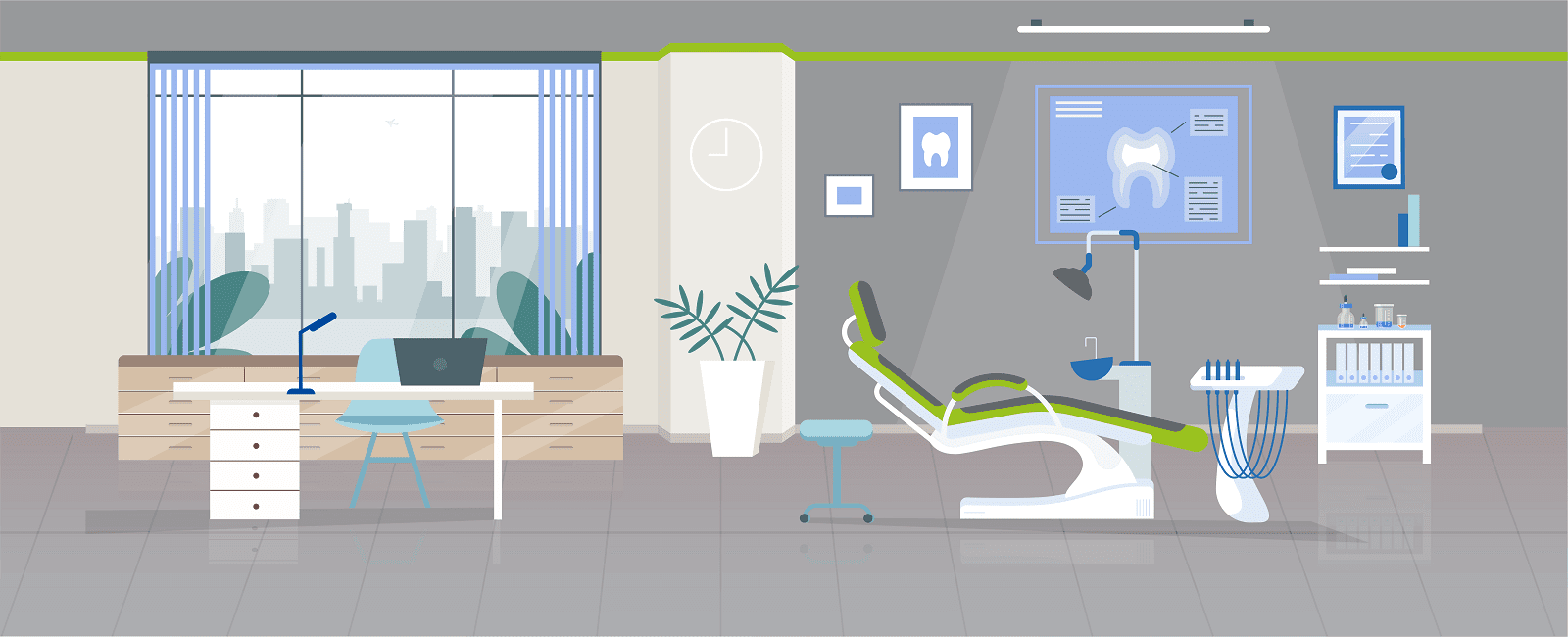 About Sabka Dentist Dental Clinic in Ghatkopar East
Leading as one of the largest chain of dental clinics, We at Sabka dentist in Ghatkopar east claim to provide dental treatment with updated technologies and highest standard of expertise in selective areas. Our constant efforts to take care of patient's expectations and give them a bright perfect smile on their faces by providing dental services is what we endeavor to achieve .
We at Sabka dentist are giving our level best since 2010 and we are also looking forward to provide more and more quality treatments with our utmost dignity.
We at Sabka dentist in Ghatkopar East have the best experts on board, who are highly trained, experienced and well versed with the latest technology. At Sabka dentist in Ghatkopar East, our motive is to make patients believe that we provide the best services with the best dental treatment .
Our loyal and growing patient base is the proof of the foundation of trust and appreciation within the family making it bigger and broader just like your most beautiful smile.
Our commitment towards our goal is to provide the highest standard of dental treatment to our patients with utmost care. We greet with good ambiance, warmness, cooperative staff and hygiene in our clinics across the city and country, and this is what we take pride in.
Dental Treatment provided at Sabka dentist in Ghatkopar East
Checkup and consultation:
At Sabka dentist in Ghatkopar East we provide patients with Consultation, X-rays and dental checkups for free of cost. Our experts recommend to get a dental checkup done every six months to help you maintain your oral hygiene.
Dental veneer:
Dental veneer is a thin layer of tooth like material, which is bonded to the tooth surface with minimal preparation to improve aesthetics. Veneers can be used to change the shape, size and colour of the teeth. Indications for veneers include discolored teeth, broken teeth, malformed teeth, fluorosis etc.
Veneers look beautiful and natural and can last for more than 10 years. Our dentists in Ghatkopar East offer the options of Ceramic and Composite Veneer.
Teeth Whitening:
Do you feel shy about stained and dull teeth? Our dental clinic in Ghatkopar East also offers teeth whitening treatment, which lightens the shade of teeth and thereby helps in removing stains & discoloration from tooth surface. Your dream of having stunning white smile can be turned into reality!
Periodontics : Teeth cleaning, scaling & polishing:
Our dentists in Ghatkopar East recommends every patient to get cleaning/scaling done every 6 months to maintain healthy gums. It should be done to remove plaque and tartar from the tooth surface, which can otherwise harbour bacterial colonies. Polishing is done after the cleaning session to smoothen the surface of the teeth.
Prosthodontics : Replacement of missing teeth:
Sabka dentist in Ghatkopar East provides various options to replace your missing teeth. Replacement of missing teeth can be done with the help of fixed prosthetics like Implants, crowns or bridges. Removable partial/complete denture prosthetics are also available.
Endodontics: Root canal treatment:
Root Canal treatment is a sequential treatment involving removal of infected pulp from carious tooth and its replacement with inert gutta percha material. The need for root canal treatment will be indicated to the patient if the need be. At Sabkadentist in Ghatkopar East, we also have endodontic specialists.
Orthodontics:
Are you not confident about your smile because of misaligned teeth? We have orthodontists at Sabka Dentist in Ghatkopar East who can help to align crowded teeth, close gaps between teeth, and push back protruding teeth with the help of braces. We provide various options of braces available at our clinic.
Oral Surgery:
Our dentists will indicate extraction/ removal of tooth if the tooth is mobile, grossly decayed or if there is any other reason. We also have Oral Surgeons who are efficient in performing other oral surgeries like extraction of impacted wisdom teeth, surgery required for implant insertion etc.
Pedodontics/Child Dentistry:
Milk teeth are important because they are needed for speech, eating and to maintain space for permanent teeth. If milk teeth are healthy, then the permanent teeth will most likely be healthy and will erupt in correct position. We have trained Pediatric Dentists to treat your child at our dental clinic in Ghatkopar East.
How to choose dental clinic ?
What does it take you to choose the right dental clinic? Is it dentist, cost, convenient places, neat & clean clinics, friendly staff and the latest technology? Does it really take time to search for all these factors in one dental clinic? We at Sabka dentist have solution for all your queries. Sabka dentist in Ghatkopar east provides all dental services to assure best dental experience for the patients.
People should also know everything about the dentists, whether they treat patients with due respect and giving a feel at home experience, are they providing patients a required knowledge while undergoing treatment etc.
These all factors should be considered while searching for the best dentists. Referring to the website of prestigious dental clinic, suggestions from your family and friends about their experience of the dental clinic, were they treated well by our staff and also acquire knowledge of treatments given.
At Sabka dentist in Ghatkopar East we have solutions to all your problems.
How can Sabka dentist in Ghatkopar East help?
Giving smiles to thousands of people is what we always strive to achieve. Therefore Our motive is to give patients the best of treatments which they had never experienced before in any dental clinic. Our panel of experts always make sure that every patient walks out of the clinic with bright and cheerful smile.
We use high quality advanced technology to create patients experience as pleased as possible. To prevent you from any oral disease we are always available to help you. Moreover we have treated more than 1 million patients, conducted more than 1,50,000 Root Canal Treatment and more than 1,60,000 prosthetic.
We are looking forward to more such numbers by providing our best dental experiences. We stand tall as one of the largest chains of dental clinics in India with more than 100 clinics across major cities in India namely, Mumbai, Pune, Surat, Ahmedabad and Bangalore.
We Sabka dentist in Ghatkopar east we endeavor to provide good treatment with good ambiance, well-trained and qualified staff and high accountability.
Tell me more about Sabka Dentist, Ghatkopar East
If you are one of those individuals who are particular about your dental health care, you should select the best when it pertains to oral checkups and treatments. Sabka Dentist is frequently rated as among the best dental clinics in Ghatkopar East, Mumbai.
At Sabka Dentist, people not only get world-class treatment for their tooth problems but will also get to enjoy one of the greatest in-clinic patient experiences across India. No matter the background or career of an individual, we make certain that all our patients feel at ease and face absolutely no challenges when approaching or getting their issues across to our dental specialists.
We are among the top dental clinic chains in Ghatkopar East, Mumbai, and have a legacy that is unparalleled by any other dental clinic in Ghatkopar East, Mumbai, India. Our dentists are some of the best dentists in Ghatkopar East, Mumbai.
Sabka Dentist frequently makes it to the list of best dental hospitals in Ghatkopar East, Mumbai, owing to our wonderful team of dental experts and doctors, and state-of-the-art facilities within our dental clinics.
Sabka Dentist was started way back in October 2010, with a single clinic in Vile Parle. Currently, we have grown to around more than 100 clinics in Mumbai, Pune, Ahmedabad, Surat, Bangalore, Navi Mumbai, Thane.
Our team at Sabka Dentist works to encourage better dental health and aid men, women and children to feel and look good, and proudly carry their smiles. No wonder, resulting from our team's commitment and vision to help spread smiles across the world, we have frequently managed to get on the list of top dental hospitals in Ghatkopar East, Mumbai.
So, next time you plan on visiting a 'teeth hospital in Ghatkopar East', Mumbai, we should be at the top of your list of dental hospitals in Ghatkopar East, Mumbai. Consider us your own 'Apna Dentist'; our dentists are some of the best dentists in Ghatkopar East, Mumbai, and we can help you with your dental troubles so that you can always spread joy and happiness across with your wonderful smile.