Address: D Block, Shop No 6, Ground Floor, Puspam Business Campus, opp. Shivshakti Soc, Vastral, Ahmedabad, Gujarat 380018, India
Monday – Saturday 11 AM – 8 PM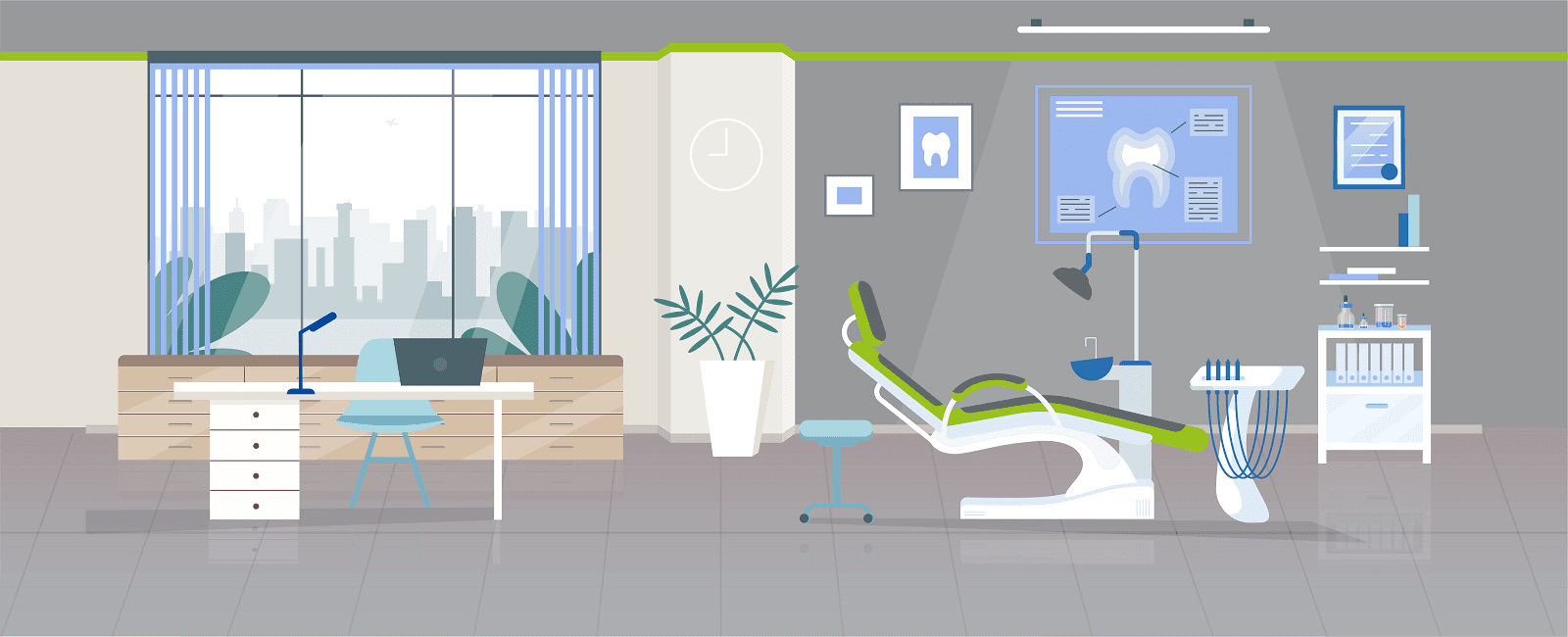 Offers a relaxed and unique dental care experience, coupled with the highest standards of dental treatments. Dentistry absolutely need not to be anything less than a pampered pleasant experience. Dental treatments in Vastral, Ahmedabad at Sabka dentist dental clinic confines in a calm surrounding and, will amaze you with how painless and fast most of the modern dentistry is! At Sabka Dentist, our aim is to provide good oral health and create beautiful smiles. In the process of achieving this, we provide an excellent implant, preventive, restorative, and conventional dentistry. Our commitment to these goals provides you with unparalleled service with the highest standards of dental hygiene in a comfortable and pampering environment. We know you will be delighted, not only with the treatment but with the way you are treated. Here you will find a welcoming ambiance with warm, friendly staff and total transparency.
All dental treatments from dental crowns to major smile makeovers; a wide range of dentistry procedures and full mouth dental implants; everything is available under one roof!
The well trained and specialized dental team constantly staying updated through continuing dental education.
State of the art treatment techniques and instrumentation.
Value for money treatment options and costs.
Zero waiting policy.
Priority treatment completion at no extra cost for time-bound patients.
If you are looking for any type of dental treatment like metal free crowns and bridges, veneers, dental implants, tooth whitening, implant dentures, smile corrections, gap closures, fixed teeth, root canal treatment, gum surgery, kids dentistry, laser dentistry, gummy smile correction, wisdom teeth extractions, dental X-rays, etc., we are the ideal choice for best dentists for dental treatment in Ahmedabad, India.

Sonal Parmar
15:31 23 Feb 21
Good staff and good clinic and good sjjtion

dhaval patel
06:56 16 Feb 21
સબકા ડેન્ટિસ્ત good clinic

shiv tandav Praful
05:08 12 Feb 21

CHHAILSINGH RAJPUT
06:46 09 Feb 21
Nice dr and staff I got what I want for my teeth so it's good..


Pareshs Patel
08:44 04 Feb 21
Its good one for dental treatment.. Doctor is very calm and explain whole the process very properly

Pavan Agrawal
08:03 02 Feb 21
Harmful behaviour of Doctor & Very very much Supportive Staf

Panchal Jugal
16:22 25 Jan 21
Awesome.. Nyc supporting staff.

Jigar Patel
14:36 25 Jan 21
Nice approach of the drNear and clean clinicPricing little bit on higher side but...Overall nice experience

Naman Bhakodiya
04:33 23 Jan 21
All staf and doctor is verry goodGood job

SaNjAy KuMaR
15:02 22 Jan 21
Excellence service , Thanks Dr Chandani & Team.

Nilesh Singh
15:48 13 Jan 21

Very polite dr. And whole staff. Best dentist facility at reasonable price

Azad Kurmi
16:41 06 Jan 21
Txs Sabka dentist , vastral branch

Oad Vishal
07:08 04 Jan 21
It is my first visit of sabka dentist.First of all, consultancy of doctor is best and humbly to talk and explain....worth it.. the visit

Deepak Mall
07:42 26 Dec 20
Very satisfied after visiting SABKA DENTIST. Happy to choose the best dental clinic.very hygienic conditions .

Devansh Sharma Chandrashekhar
16:03 25 Dec 20
The Best Crew And Free Of Charge To Chekup When You Vist It. Loved It

Aarav Kokare
14:34 25 Dec 20
Doctors and staff are good and treatment is too good

Prem Parekh
14:49 23 Dec 20
Proper hygiene with asceptic precautionsKnowledgeable dentist 🦷

anand baraiya
13:20 18 Dec 20
After consulting Sabka dentist for the first time and felt so special to choosing the best place for my tooth treatment.Staff is so supportive and caring in the nature. Great place to have treatment thank you...

PATEL HARDIK
08:50 30 Oct 20

MAHESH PATEL
15:52 19 Sep 20
Hello, i am pratik, sabka dentist is a perfect place for dental checkup & its treatment.We feel like our family doctor. They are very caring👍🏻.

pratik panchal
06:24 05 Sep 20

Kamlesh Valand
04:16 05 Sep 20

ghanshyam golarana
13:02 04 Sep 20
Sabka dentist is a perfect place for dental checkup & its treatment.We feel like our family doctor. They are very caring.

Karki Parikshit
08:53 12 Aug 20
Awesome doctor with senetized clinic. Nice service provided by them 😍..

bhargav makwana
08:24 05 Aug 20
amazing doctor,and sanitize whole instruments,very Good response staff and all Doctor!

Chetan Shende
08:36 16 Jun 20

Jayveer Jayveer
06:24 18 Mar 20
Verray good cllining and Dr.isgood sjetion

Jigar Panchal
15:21 12 Mar 20
This clinic is good for me .

Akash OP Gamerz
13:40 11 Mar 20

Shailesh Dharji
12:48 11 Mar 20
I am very very thankful for Doctor to give good service.i thanks again..and staff is also helpful.

Jayantibhai Dabhi
15:24 08 Mar 20
Skilled doctors and very supportive staff...Strongly recommend

Yogesh Naicker
06:54 07 Mar 20
I visited Sabka dentist in starting of February 2020. Dr. Bhavna did amazing work on my wife teeth as well as mine. She is very knowledgeable about her work and explain everything in simple term for better understating. I would recommend to everyone who has any issue with their teeth.cheers !!

Mitesh Panchal
21:29 06 Mar 20
Good clinning and Dr. Is Good sjetion

Shivam Goswami
14:21 06 Mar 20
Sabka Dentist is really a very nice place for dental treatment. I am very very thankful to doctor for their valuable suggestion. I recommend sabka dentist to everyone. The doctor is very professional & straight forward regarding what processes need to be done.

Pushpender Singh
18:57 05 Mar 20

patel harshad
12:41 05 Mar 20
Dr. Is good sjetion and good cllinig

Dr.verray Good sjetion and Good staff

NICE SAJITION HAVE GOOD ADVICE FOR MY TEETH

EARTH Matters
07:04 03 Mar 20
Visited for scaling and cleaning best ever tools and mechanism and given the best advice for future process.

Harshil H.K.P Patel
15:31 02 Mar 20
First time experience for Dental cleaning and i m satisfied with that.Excellent suggestions about how to maintain or to take care for our teeths.

Jigar Rabari
14:28 29 Feb 20
Nice working sb ka dentist

Dhanraj Ayar
07:16 29 Feb 20

Dipak Chamar
13:40 28 Feb 20
Dr ridhdhi is Good Dr. And good sjetion and good cllining and good staff

Bharat jadav Bharat jadav
05:44 28 Feb 20
Nice Attempt By Doc And Good Describe About My Teeth.

Ronak Panchal
14:47 27 Feb 20

patel rahul
13:53 27 Feb 20
All your men are good and answer well so I'm so happy And i will best understand with Sabka Dentist. And Thank u so much for your treatment so...

Akash Barot
15:43 26 Feb 20

Yogesh Kansara
14:32 26 Feb 20
Doctors are very good nd his work is absolutely fine

Vinit Patel
13:19 26 Feb 20
Docter sgetion is good and cllining tritment is good

Rajendrasinh Darbar
13:19 26 Feb 20
Very good dentist for vastral sabka dentist good service and tritment

Sanwariya Mali
12:37 26 Feb 20
Best treatment in minimum price 👍

Rajesh Saharan
08:40 26 Feb 20
Your treatments is very Good I appreciate..

Sandip Bhatt
15:18 25 Feb 20
Good sarvice And goog tritment

Rakesh Sahani
14:00 25 Feb 20
Verray good cllining and good staff

Rahul lohar Rahul lohar
14:36 24 Feb 20
Doctor is very polite and friendly. Explain very thoroughly and suggest best solution for treatment 😊😊😊

Rakesh Barot
13:43 24 Feb 20

Mehul Patel
07:25 24 Feb 20

Prakash Panchal
07:06 24 Feb 20
good doctors tritment and good sjetion and good staff

Ajay Lohar
06:44 24 Feb 20

My brother is san is good tritment and good and clin clinik with good staff

Panchal Ankit
14:28 22 Feb 20
Docter is Good service and Good staff

Pravin Prajapati
14:10 18 Feb 20
Good working good staff good clinic

GHANSHYAM BHOI
15:45 15 Feb 20
Verray good dr.and staff and verray good tritment

Jayendra Chudashama
15:19 15 Feb 20
Good clining and good staff and good docter with Good clinic

Alka Sharma
15:14 15 Feb 20
Good services in sabka dentist clinic. And impressive and intelligences staff in sabka dentist clinic.Thanking you...😊

Pooja Khobragade
06:21 14 Feb 20
Good tritment good doctor and good staff

Bhed Bhav News
05:54 14 Feb 20

dharmendra Joshi
05:14 13 Feb 20
Good clinic good staff good tritment

Pravin m. Patel
02:11 13 Feb 20
Doctor is verray good scalling

Rohit Sedhiya
15:16 12 Feb 20
Good services in sabka dentist clinic. And impressive and intelligences staff in sabka dentist clinic.Thanking you...😊

Amisha patel
14:24 12 Feb 20
Verray good staf and good tritment

Patel Tiger Patel
13:48 12 Feb 20
i had visited the clinic and it was an awesome experience the doctor of this branch DR. Bhavana is very friendly and too much committed to her work it was a great experience for me and will recommend to my family and my friends to visit vastral branch and to have the opportunity to get treatment by a brilliant doctor like DR. BHAVANA

harry reddy
13:20 12 Feb 20

arpit Mokani
13:02 12 Feb 20

Shital makwana
06:18 12 Feb 20

Devendra Tank
15:01 11 Feb 20
Dr. Give me best treatment in affordable feesBest results and feel good

Dilip Panchal
15:15 10 Feb 20
Nice fellingDoctor is very good dentist

RONAK CHUDASAMA
15:01 08 Feb 20

Vijaykumar Agrawal
13:02 08 Feb 20
I visited sabka dentist vastral branch i got good treatment for my teeth...really good clinic for dental problem.

Sanjay Parmar
07:11 08 Feb 20

Rakesh Shekh
06:34 27 Jan 20

Mehul Bharwad
14:52 24 Jan 20
Rate is too high other than local clincc

Bhavesh Laddha
17:52 08 Jan 20

Akshay Patel
09:06 08 Jan 20
I got my treatment at sabka dentist. Overall amazing experience. I was afraid to go at dental clinics as my last experience with dentist was not good. I was very gently treated by Dr.Riddhi Hingu.She understand my problems and make me feel comfortable throughout complete treatment. Dr Riddhi Hingu is best and her excellent services!!Thank u sabka dentist!☺️☺️

jaimin sodha
11:19 30 Dec 19
Wonderful ambience and skilled staff for dental treatments

Neelesh Gajjar
11:25 27 Nov 19

Panchal Diptanshu
13:50 23 Nov 19
One of the best experience ever, very cooperative Drs,staff, clealinclea everything is best of the best, I will talk, refer to all my relatives and colleagues

Paresh Panchal
12:22 23 Nov 19
Best dentist and his work

Rajput Ritikesh
06:17 05 Nov 19

Hitesh Mojidra
15:21 24 Oct 19
Thanks for best service by Dr Riddhi .Thanx

Meet Thakkar
13:23 22 Oct 19
I have done the cleaning as well as polishing the teeth moreover I have incorporated a teeth it was tremendous effort by the doc even I couldn't recognise the dummy teeth. Really nice experience. Kudos to the team Sabka dentist......Jai ho.

manas ranjan
15:07 14 Oct 19
Very good hands (Dr Riddhi Hingoo) and great experience at Sabka Dentist vastral treatment. Keep it up.

Dr Siddharth Darji
04:55 23 Sep 19

puja mishra
08:16 21 Sep 19
I had a routine cleaning and whitening done and the process has never been as smooth as SabkaDentist...Dr.Riddhi Hingoo is a great communicator and true Professional, has an excellent and calming beside manner and as a nervous patient she gave me an excellent , pain free experience !!I had total confidence in her ability.It took a time to complete and well worth the wait.The whole experience with the team was top level quality. Best dental experience I have ever had ! Lovely staff and very easy to communicate with , the surgery is extremely morden with all the latest equipment. Definitely worth the trip there and I would not hesitate in recommending !!HIGHLY recommend.....Thank You !!

Rahi Parekh
07:19 21 Sep 19
Experience is nice staff is helpful.must visit for any kind of dental problem

Hardik Mahera
05:04 19 Sep 19

Nirmalsingh Kushwah
13:44 06 Sep 19
My cleaning has been done at Sabkadentist vastral ... all staff is very good...

Trushang Jadav
17:14 05 Sep 19

Hasmukh valnd N top salun
12:13 31 Aug 19
I was gone with tooth cleaning procedure...staff and doctor are very good.

narendra pal
12:53 30 Aug 19
Good service as a good doctor

Manish samdani
07:32 26 Aug 19
Good treatment sabka dentist vastral

DELLORY SANITARY NAPKIN
08:26 23 Aug 19