Dental Clinic in Bandra West
Address: Shop No-45, 1st Floor, Gopal Mansion, Above Janta Book Depot Near Bandra talaav & PWC Building, Gurunanak Road (Station Road), Bandra , Mumbai, Maharashtra – 400050
Monday – Saturday 10 AM – 7 PM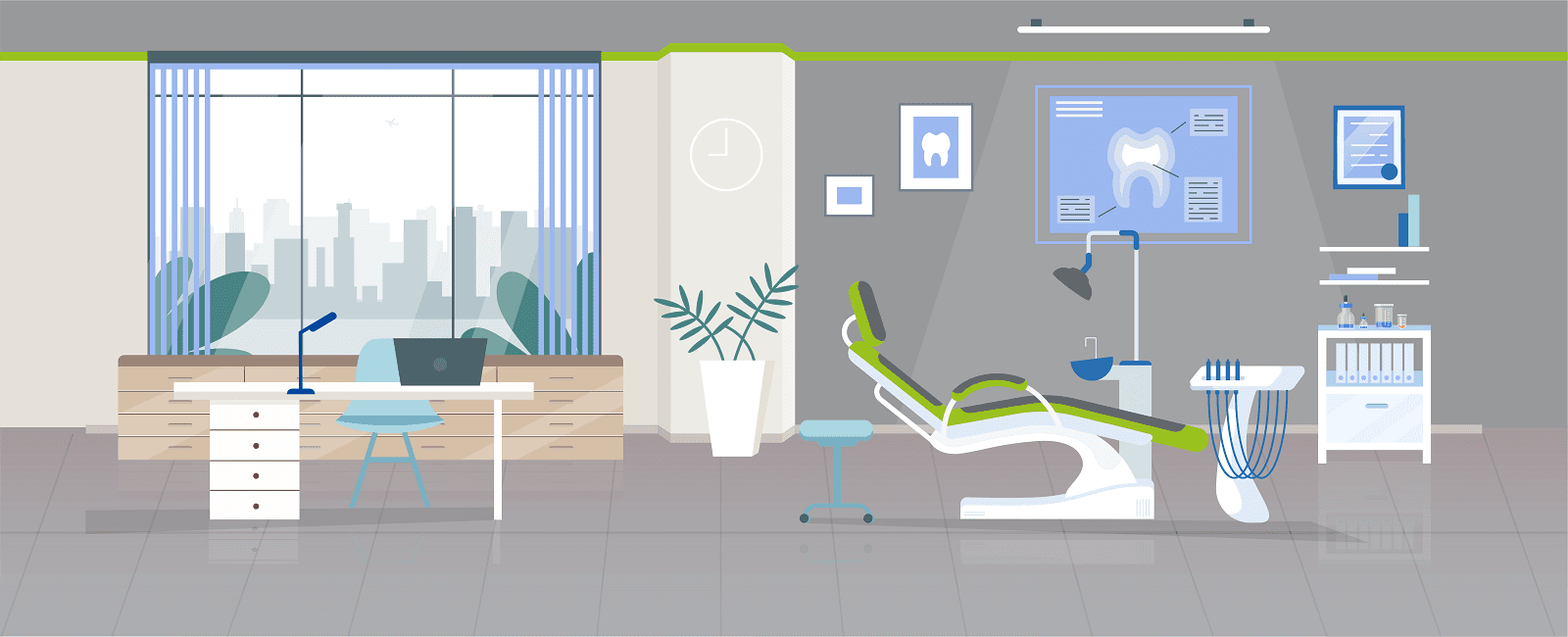 About Sabka Dentist Dental Clinic in Bandra West
Is your tooth painful? Can't eat ice cream because of sensitivity? Don't worry! Sabka Dentist in Bandra West will aid you with your dental ailments. Our experience & expertise allows us to claim leadership in the domain of dentistry in Bandra West.
The difference from conventional dental clinics can be felt as soon as you step into the Sabka Dentist dental clinic in Bandra West. Not only in the terms of aesthetics but also hygiene as well!
Our dentists in Bandra West are adept with the latest technology and procedures. We only hire the best and experienced dentists who can diagnose with accuracy and provide the best treatment solutions.
Our Vision is to serve everyone and make good dental services available to one & all. We firmly believe in the quote –"The sole meaning of life is to serve everyone." Our friendly staff will walk the extra mile to make the patient feel at home at our best dental clinics in Bandra West. Whether it is cleaning or a root canal, we provide quality treatments.
Our mission is to make the smile of patients whole again. We want to provide our patients with best as well as satisfactory dental treatment.
Digital dentistry has also made its way into our dental clinic in Bandra West. Our treatments are digitalized. We make use of RVG, OPG & Oral Scanners. Our dental crowns are also designed using the latest CAD (Computer Assisted Design) and CAM (Computer Assisted Manufacturing) technology.
Patient's details & dental history are also digitally stored in our database so that it is useful for future treatments and follow-ups.
Thus, your chase for the top dentists in Bandra west stops at Sabka Dentist. Call today to avail the wide spectrum of dental services offered by us.
Facilities provided by Dentists in Bandra West
Check-Up: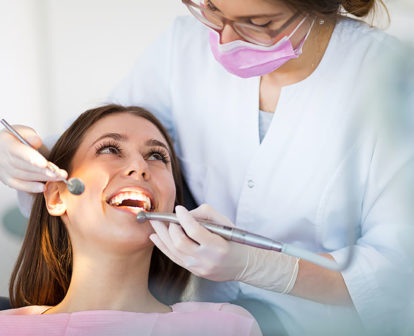 Our dentists in Bandra West recommend that every individual should duly get a dental check-up every 6 months. Thorough check-up of any dental anomaly or problem is done. We provide free check-up consultation.
Extraction:
One can have painless removal of tooth or root piece, with minimal trauma to investing tissues, such that there is no post-operative problem. The dentist will indicate extraction if the tooth is mobile, the tooth is grossly decayed such that only root piece remains and for any other reason.
Oral Surgery:
Sabka Dentist clinic in Bandra West has qualified dentists with a postgraduate degree of Master of Dental Surgery (MDS) in Oral & Maxillofacial Surgery. They are efficient in performing oral surgeries like extraction of impacted wisdom tooth, surgeries to insert dental implants and many other oral surgeries etc.
Cleaning, Scaling & Polishing:
We make use of the ultrasonic device to remove tartar & plaque from the surface of teeth. Polishing follows this. Our dentists recommend getting scaling done every 6 months to maintain healthy periodontium.
Cavity filling:
Restoration of tooth cavities is done with permanent cement-like imported composite resins, which are long-lasting.
Replacing missing teeth:
One should replace a missing tooth as soon as possible. Otherwise, mesial drift, which is the tendency of teeth to move in mesial direction within the arch, will close the gap produced by missing teeth over time. Multiple options are available at Sabka dentist in Bandra West. Different fixed prosthetics available are crowns, bridges and implants. Removable dentures are also available.
Root canal treatment: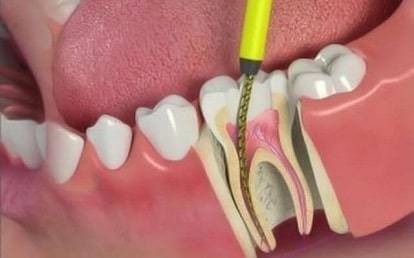 Root canal treatment is a sequential procedure of replacing infected dental pulp in a carious tooth with inert gutta-percha material. Our dentists will indicate if the need be. We also offer single sitting root canal treatments. We have Endodontic experts at our dental clinic in Bandra West as well, who are experts at root canal treatment.
Orthodontic Treatment with Braces:
Misaligned teeth can be corrected with orthodontic treatment. Habit breaking appliances are also provided to children with habits like thumb sucking, tongue thrusting and other oral habits. We have expert orthodontists in our clinic in Bandra West.
Periodontics or Treatment Of Gums:
If the patient has periodontitis i.e. swollen gums, we provide complete treatment for the same.
Teeth Whitening:
Don't feel shy about stained and dull teeth. We also offer comprehensive teeth whitening treatment at our clinic in Bandra West. Your dream of having a stunning white smile can be turned into reality!
Smile Makeover:
We also offer smile designing with a variety of options like ceramic veneers, tooth bonding etc.
Laser Dentistry:
We use Laser in Dentistry for treating gummy smile, for crown lengthening, for treating high frenulum attachment and for a few other procedures.
Child Dentistry:
Pulpectomy, extraction, fillings and other pedodontic procedures are also proffered.
How to choose the best dental clinic in Bandra West?
When it comes to dental problems, visiting the best clinic in Bandra West might be your desire, but are you consciously opting for one? You should know certain things about clinics before you visit them. STEEEP determines the quality of dental care. STEEEP stands for:
Safe
Timely
Effective
Efficient
Equitable
Patient-centred
STEEEP is a set of measurable quality parameter recommended by the American Dental Association (ADA). STEEEP is adopted by our dental clinic in Bandra West. We believe that it is our fundamental policy.
It suggests that the clinic should provide safe innocuous services, render timely treatment, provide effective care for effective prognosis and maintain efficiency in delivering dental services.
The provider should also be able to provide services at affordable prices, and they should be patient-centred. The dentist should understand the individual patient's needs, preferences and circumstances.
Therefore, you should choose Sabka Dentist dental clinics in Bandra West for your oral care requirements for the following reasons:
We customize the patient's treatment plan because we understand their needs.
Checkups & Consultations are free at Sabka Dentist in Bandra West.
Printed diagnosis chart & quotation is provided to all dentists after a check-up.
Our standardized pricing is clearly displayed online & at all our centers.
We follow all standard clinical protocols.
A printed copy of invoice and receipt for all treatments is provided. Thus, we maintain the highest levels of corporate governance.
Safety of our patients is our primary concern. Your dental health continues to be one of our priorities. We maintain the highest level of sterilization as per international standards. We use the autoclave machine to sterilize instruments, which we use just prior to treatment.
How can Sabka Dentist help you?
Sabka Dentist dental clinic in Bandra West aims at promoting oral health, with the goal of preventing and controlling dental diseases through organized efforts. Free checkups & X-ray consultations are provided. In Mumbai itself, Sabka Dentist has been successful in treating 6 Lakh patients.
We provide holistic dental treatment to all the patients under one roof. Also, we maintain follow – up with patients to ensure that they come for a regular dental check-up every 6 months. As a result, the customer-centric approach of our dentists has made them earn the title of one among the best dentists in Bandra West.
Tell me more about Sabka Dentist, Bandra West
If you are particular about your dental hygiene, you need to pick the best when it involves oral checkups and treatments. Sabka Dentist is consistently rated as among the best dental clinics in Bandra West, Mumbai.
At Sabka Dentist, patients not just obtain world-class treatment for their tooth troubles, but additionally get to enjoy one of the greatest in-clinic patient experience across India.
No matter the background or career of an individual, we guarantee that all our patients feel comfortable and experience absolutely no difficulties when approaching or getting their dental complications across to our dentists.
We are some of the top dental clinic chains in Bandra West, Mumbai, and have a legacy that is unrivaled by any other dental clinic in Bandra West, Mumbai, India. Our dentists are some of the best dentists in Bandra West, Mumbai.
Sabka Dentist often makes it to the list of best dental hospitals in Bandra West, Mumbai, owing to our wonderful team of dental specialists and surgeons, and high tech facilities within our dental clinics. Sabka Dentist was launched back in October 2010, with a single medical clinic in Vile Parle.
Now, we have grown to around more than 100 clinics in Mumbai, Pune, Ahmedabad, Surat, Bangalore, Navi Mumbai, Thane. Our team at Sabka Dentist works to encourage better dental health and aid men, women and children to truly feel and look good, and proudly carry their smiles.
No wonder, resulting from our team's devotion and vision to help spread smiles across the world, we have consistently managed to make it on the list of top dental hospitals in Bandra West, Mumbai.
So, next time you plan on visiting a 'teeth hospital in Bandra West', Mumbai, we should be at the top of your list of dental hospitals in Bandra West, Mumbai. Consider us your own 'Apna Dentist'; our dentists are some of the best dentists in Bandra West, Mumbai, and we can help you with your tooth troubles so that you can always spread joy and happiness across with your beautiful smile.
Good service overall doctor is very helpfull had repeat visit.

Amod Desai
07:27 25 Jun 22
Good services and staff very kind

Loved how the team was so comforting and answered all my questions. Got aligners recently and I'm very happy with the whole experience .

Priyanka Mishra
13:34 22 Jun 22
Receptionist was cooperative and Doctor was kind to explain the treatment

Ranjit Kripalani
07:27 15 Jun 22

Kashmira Bhathena
08:13 11 Jun 22
1. Punctual on appointment time given so no long waiting time.2. Courteous attendants make me feel comfortable.3. Docto'rs diagnosis is very factual and practical.

Lata Sarkara
13:36 24 May 22
Good doctors & staff.no expensive treatment.

Akbar Khan
14:06 14 May 22
Good staff , giving good suggestions, easy payment available.

Swapnil Pawar
07:58 07 May 22

shaarif khan
07:38 01 May 22
You are not kept waiting. Appointments are very prompt. Good service.

Darryl Jeddo
07:01 01 May 22

Sajid Mondal
19:51 27 Apr 22
Quite satisfied with the staff behaviour and Doctors are quite efficient.Highly recommended

Outstanding Service, Helpful Doctor and Staffs ! Totally Value For Money.

Biswajeet Chetry
14:09 11 Apr 22
Good service and staff also very good

Sunil Gaud
06:52 06 Apr 22
The doctor was extremely professional and did her job perfectly. Really loved the service and care.

Samuel Menezes
07:18 05 Apr 22
Very flexible timingsAnd the best for dental treatment

Joel Coelho
07:14 05 Apr 22
I got my teeth clean. Great support and environment. Clean place and everything was taken care. I would recommend sabka dentist for better results.

Datta teli
08:07 28 Mar 22
The Place overhaul is convenient.It has maintained all the necessary norms to stay safe against the Corona virus.The instruments are all well sanitised and sterilized .The staff are all very attentitive cooperative and helpful at the Bandra west clinic.Iwill not hesitate to recommend any one to visit Sabka dentist for their dental needs.I will like to personally add that Doctor Shilpi is very good at her profession and the Reception staff was very kind and polite.My visit yesterday at 0530pm was indeed a delightful experience.Iam a old client of Sabka dentist and will continue to be their satisfied customer in the near future😂🌷🖕👏 Thanks again.H.Lira ..Mahim

Himalyan Lira
16:24 17 Mar 22

rajsingh verma
12:02 11 Mar 22
Overall very good experience..Doctors and staff are very polite, helpful and a also a good listener.Listens to their patients, not in hurry, takes and gives time to explain each and every detail of the issue. Way of their conversation was a heart... Environment, cleanliness and attractiveness in clinic, good ambience..loved it

Reena Gautam
08:36 04 Mar 22

Manuel Fernandes
16:46 03 Mar 22
Quite Hygienic & Professional service

Sohaam Gurnani
10:41 23 Feb 22
Dr. Varsha Jhadhav treated me and the treatment was painless and very nice.Also Dipali and Aruna were very courtesy and helpful.

I got my teeth cleaned today. It was my 2nd visit. I am very happy with the service. Good Service.Very Experienced Doctors & Polite Staff. Teeth are as good as New. Thank you very much.

Dinesh P Jogeshwar
09:26 09 Feb 22
Check up done very nice staff and good experience

Yunus Shaikh
05:50 03 Feb 22
My treatment was good and here all the doctors and staffs are cooperatives and Dr. Aditya has lost of knowledge and he did well during my treatment so basically it was nice journey with sabka dentist.Thank YOU ALL 😊

Ruqaiya Shaikh
12:58 10 Jan 22

PRAKASH DAS
13:01 08 Jan 22
Very knowledgeable and good listeners Dentist - who patiently and satisfactorily addressed all our querries

Jagdish Ahuja
02:51 06 Jan 22
Excellent service. Hassle free and quick

Robin Parmar
14:15 15 Dec 21
I recently got my root canal treatment done here .. cost was on higher side but I received quality treatment with EMI option.

Bharathi Shetty
12:25 13 Dec 21
Clinging done very good staff

MD firoz Siddiqui
09:59 07 Dec 21
My check up done in Bandra clinic it's amazing experience and staff was very kind and humble thank you...

Ahsan Siddiqui
09:57 07 Dec 21
I had visited this clinic on my relatives referral.. I got my tooth replacement through implant surgery . iam finally able to chew food. Cost was little higher compared to the neighbouring clinics, but i did not want to risk my surgery with anyone else hence, I chose sabka dentist Bandra clinic as I was very well aware about the team through my relative who referred me. My sincere thanks to Dr. Mihir & Dr.shilpi.

Jain Ankur
18:42 27 Nov 21
Saw a post on Instagram about sabka dentist where they are offering free check up to all as well as discount on treatment.must try this place for any dental issue

Kaif Ansari
06:55 19 Nov 21
Thorough check up done at the Bandra Centre and proper guidance provided by dentist. Happy with the service offered. Thankyou!

Vikas Bachwani
06:35 17 Nov 21
Very help full and nice checkup and quickly say what problem are ther ,dr are also good and nuse

Xll,35,Shaikh Samir
12:02 16 Nov 21
Very good experience. Very professional and quick in service. Went for a general clean and dis a thorough job!

Kunal Vijayakar
13:06 15 Nov 21
Very good all service and doctors thanks Sabaka dentists

Swapnil Pawar
13:03 13 Nov 21
Best and excellent treatment

Great service like always.Very good, experienced and friendly doctors and a great team.Will highly recommend to all


Bharat Balkrishna Shirke
07:17 10 Nov 21
Great service and Very helpful,positive staff.

sujay paria
12:48 29 Oct 21
Treatment was wonderfully done by doctor.

Mayank Pandey
06:43 23 Oct 21

Bishnu Bhudeesh
07:59 20 Oct 21
I have done my braces treatment with dr kyumi.it was wonderful experience to get treated by her.she treat so well. Very much satisfied with treatment.thank you so much......

Pari Sankpal
15:59 17 Oct 21
Got my fillings done. Excellent service standards. Keep up the good work

Adil Bajirao
12:50 11 Oct 21
The checkup went really well.

akshata kadam
08:11 11 Oct 21
Great experience. I have been coming here for a long time

Krishanu Sinha
07:48 09 Oct 21
Consultation as per requirement prices are a bit higher

Roselina Fernandes
11:52 08 Oct 21
Very nice treatment and staff also very kind...

Purnima Yadav
09:53 06 Oct 21

Shifa Khan
08:58 06 Oct 21
Invisible aliners are very good and comfortable,happy with it, thanks sabka dentist.

Sachin Rajput
08:57 06 Oct 21
I am glad that i have selected sabka dentist. It was an awesome experience with them specially Dr.Pia who is very cooperative and caring.Finally I am done with my braces and the results are amazing like seriously I can't stop smiling thank you so much sabka dentist it was a fantastic experience with all of you guys..!!

Uzma Shaikh
11:28 04 Oct 21
Overall i had a very good experience here they are amazing and very talented!

Aliya Shaikh
11:27 04 Oct 21

Dashrath Mandal
07:42 28 Sep 21
It's was a good experience with Sabaka.

Priti Thengal
07:31 28 Sep 21
I was having metalic braces It was a great experience. My teeth is completely perfect now i just love it

Jenny Fernandes
09:19 23 Sep 21
The braces and retainer treatment was excellentWould recommend sabka dentist to everyoneSafe and best.

Aryan Hasija
10:30 20 Sep 21
Service is very good. I am satisfied with doctor who explain clearly everything to me.

AARYA AGRAWAL
09:35 16 Sep 21
I got my orthodontic treatment done from here. Within 11 months it got successfully completed, Dr Kyumi was very patient in explaining and helping me through the process. It's been 2 years since and I'm very happy with the results. Would recommend for any dental treatment.

Harshada Panchal
08:20 14 Sep 21
My visit to this place was a way good than I had imagined the.. The ambience was best as well as the staff and doctors were co operative too. I had my braces treatment over here and until the end I was supported by the staff and doctors …

Nikita Mahadik
17:43 13 Sep 21
I recently visited for my dentures.. as per the doctors my bone was flat so they advised me to get some screws/implants fixed dentures... it took around 4.5months for the entire thing to finish.. I had to go multiple times. All worth it as I can chew food properly now..

Street Corner
17:49 12 Sep 21
I got my braces done here... My teeth was in bad shape earlier.Now I have perfect set of teeth..It took around 2.5yrs to complete my treatment. Braces specialist has done an amazing job. I thank sabka dentist team for giving me a better smile.

chetan iskar
17:48 12 Sep 21

FURQAN SHAIKH
14:23 08 Sep 21
Treated very well by Dr Shipli

Jayesh Shirke
13:53 08 Sep 21
Done my teeth cleaning process.Nice facility and a very good experience. Also Recently i put aligners it's my second set and i fell very comfortable and effective on my teeth..

Faizan Ansari
07:52 07 Sep 21
Good query solved regarding my tooth.problem and advice given to me to cleaning my tooth in one sitting.

Prakash Sawant
06:20 05 Sep 21
Polite and professional doctor and explain me everything what ever I wanted to know about it and very helpful staff

jacky menghani
14:12 02 Sep 21
EXCELLANT DOCTOR AND GOOD HYGIENE

Arlene Carvalho
07:59 01 Sep 21
Very nice place, doctors are friendly and professional. Also very reasonable in cost


Natasha Ferns
06:34 31 Aug 21
This is my best experiences compare to any other dental clinic. Dr. And other staff is very cooperative

Amit Chavan
11:51 28 Aug 21
Good experience. Explained everything detaily.

Chinnu anna
12:39 27 Aug 21
Got my braces treatment done here by dr.aditya and got good results. Staff is also very good

Vaishnavi More
12:08 26 Aug 21
I visit is fine this sabka dentist

sangita meshram
09:56 25 Aug 21
Changing my opinion after much better experience and service sabka dentist. Gave unexpected discount also.

hussein attari
17:10 21 Aug 21
Was a very good experience. The Dr was so good at her hands. Felt minimum pain. And Very kind staff.

Check up done very good clinic and staff also nice... thank you...

Today i visited your clinic at around 5:30pm .all the staffs were very welcoming and cooperative.Dr shilpi Hegde is very sweet and helped me through out the check up.Sabka dentist previleged to have Bandra team.Received Best treatment.😊😊Thank you

Book Money management
16:25 05 Aug 21
Overall my experience was good, all precautions were taken. I would like to suggest before attending the patient you should have a talk with him, so his/her doubts get cleared.

Hajwane Imran
06:27 04 Aug 21
Got my braces treatment done here by dr.kyumi... she is excellent at her work, inturn I have got very good results after braces... Treatment duration was little extra than communicated due to lockdown.. thank you sabka dentist team..

Nayana More
10:35 03 Aug 21
I had dental implant in bandra west clinic treatment were done very nice.staff are very careful and polite.i never had any issues with my tooth later as the treatment was done very well.highly recommend to visit the clinic 😊😊

Nik Mhaskar
09:01 30 Jul 21
I had my fillings and braces treatment done here. The overall experience was great.I thank Dr Aditya for the treatment which he had treated with utmost care. 🙂I thank all the staff who had been coordinating with me for the appointment. Ms Aruna and Ms Deepali has been most polite. 😁Thank you.God bless you'll. Stay safe. Stay healthy.

Ashwini Edward
07:32 27 Jul 21
Started with my invisible braces 5months back.. I can see the difference .. Gaps in my front tooth have closed now..

vijith shetty
03:36 25 Jul 21
My check up was done in Bandra West clinic is amezing experience dr and staff very kind and humble I am very happy with sabka dentist thank you 😊😊😊😊😊

TFCtiffin Raaj
10:08 24 Jul 21

16RRYANDSOUZA
09:28 12 Jul 21