Dental Clinic in Kopar Khairane
Address: Shop No.7,Poonam Apartments CHS Ltd Plot 104, Sector 2, Kopar Khairane, Navi Mumbai, Maharashtra 400709.
Monday – Saturday 11 AM – 8 PM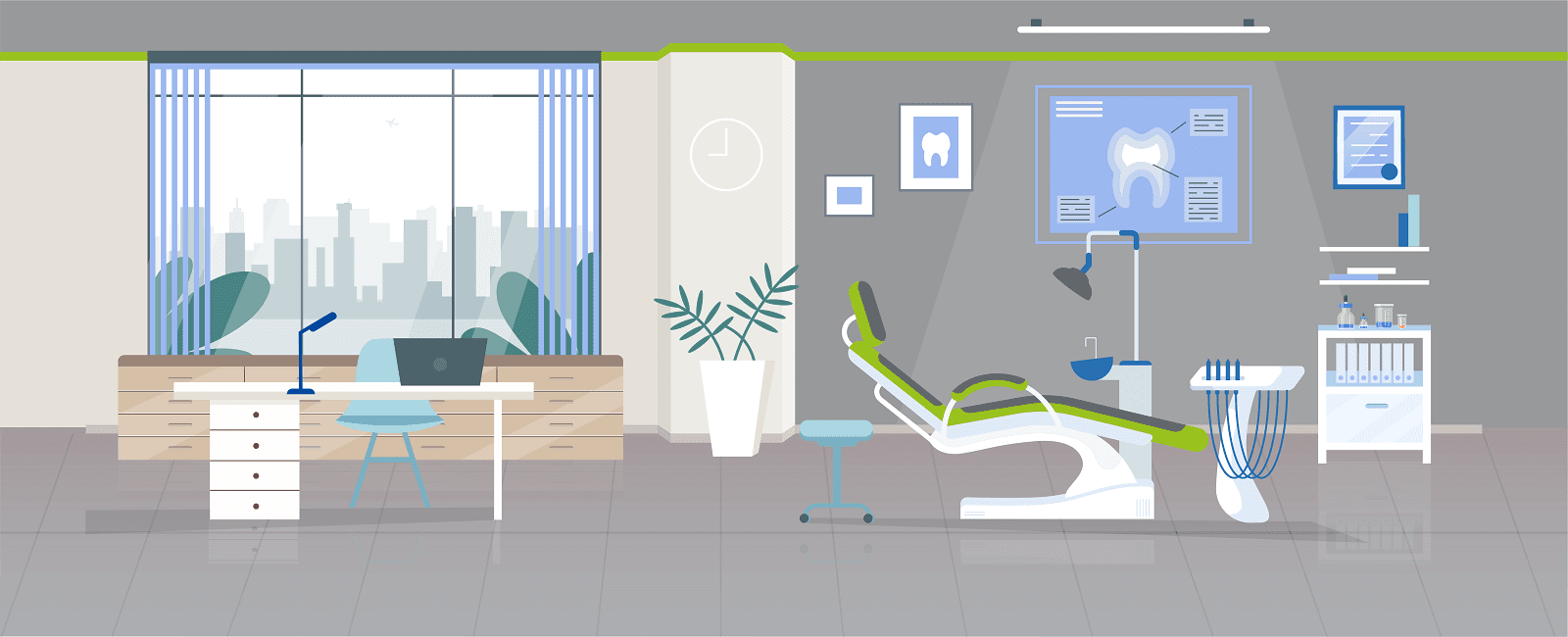 Why search anywhere else when Sabka Dentist is in Koparkhairane? We aim to solve your dental and oral health issues with our team of highly skilled dental experts, treating patients in a pleasant and hygienic environment.
With a team strength of over 500 dental experts, and dental clinics widespread over 100 different locations, like Surat, Ahmedabad, Mumbai, Pune, Thane, and Bangalore, Sabka Dentist desires to keep growing, with improving and revamping the dental industry in India. Sabka Dentist is the sole, distinctive dental clinic in India, in its aspects of technologies used, practices performed, or even for that matter, the communication employed by each and every dental staff. We strive to be a leader in customer relations, apart from being the leader in the dental field in India.
Various types of dental experts work at Sabka Dentist. You name it, we have it. Endodontists, Pedodontists, Periodontists, Implantologists, Orthodontists, and even general Dentists are available at Sabka Dentist, Koparkhairane. Building the confidence of each patient, and pushing them to smile more often, is what we envision. A warm welcome, polite dental staff, and absolute transparency are what you can expect if you visit Sabka Dentist in Koparkhairane.
Nothing is hidden from the patients. We encourage the patients to ask us all their queries so that they do not leave Sabka Dentist being clueless. All the doubts and questions are attended to by the dental experts, in accordance to their area of specialisation. We charge very standard rates for dental procedures and treatments, hence, we have nothing to hide. In addition to this, we also have an added advantage of Easy Monthly Instalment (EMI) scheme, so as to cater to all kinds of patients, and budgets. Detailed information, as to how to go about the EMI payment is provided on our website.
Speaking of our website, we try to be there for our patients or potential patients, all the time. We have a chat helpline that can constantly and on-the-spot solve any queries that you have. We have a detailed description of each service that we provide, as well as, the different dental clinic locations and a lot more.
Our dental experts are advanced at what they do and there are statistics to prove it all. Like we said, we do not hide anything from our patients or potential patients. Sabka Dentist has treated over 10 million patients, with over 1,50,000 root canal treatments and 1,60,000 prosthetics, which may just seem like numbers while reading, but are a lot more to us. A patient's oral health is something that is neglected too often, and we, at Sabka Dentist, want to delineate the importance of oral health and hygiene. Therefore, we always choose a friendly approach, towards our patients and their treatments, so that they can comprehend the importance of their own oral health.
Numerous treatments and procedures are performed at Sabka Dentist in Koparkhairane like root canal treatment (endodontics), periodontal treatment (gum disease), orthodontic treatment (braces), pedodontics (child dentistry), dental implants, cosmetic dentistry, laser dentistry and much more. Visit our dental clinic in Koparkhairane or even our website, to know more in detail about each treatment.
When you want the best in everything, it doesn't make sense settling for anything less for your oral health right ? Sabka Dentist is the best choice, for any oral issue you want solved immediately. The devotion and professionalism of our dental experts is bound to get you back coming for more. Sabka Dentist will make you perceive oral health and hygiene in a different way altogether. That wonderful smile is not meant to be a victim of any diseases or issues, hence, visit us so we can fix any of your teeth issues.
Sabka Dentist in Koparkhairane is also equipped with modern technology to carry out the most effective and unique dental treatments in India. The laser technology has only recently entered into our country, and we, at Sabka Dentist, can proudly say that we have been one of the first few dental clinics to have employed it in our clinics all over the country.
It is this point, that we aim to reach, a point that has no limits and no boundaries. Just like our dental treatments. Not only do we carry out each treatment and procedure professionally, but along with that, we also make our patients feel comfortable and powerful at the same time because we provide them with all the information they require, or even if they don't. Each dental process is explained to them, in-depth, not leaving out anything, because we aspire to build a foundation of trust, as it is of utmost importance to us.
If you are one of those individuals who are particular about your dental health care, you must select the best when it comes to dental care checkups and treatments. Sabka Dentist is consistently ranked as among the best dental clinics in Kopar Khairane, Navi Mumbai. At Sabka Dentist, people not just obtain world-class treatment for their tooth concerns, but also get to experience one of the best in-clinic patient experience across India. Irrespective of the background or career of an individual, we make certain that all of our patients feel comfortable and face no issues when approaching or getting their dental issues across to our dentists. We are some of the top dental clinic chains in Kopar Khairane, Navi Mumbai and have a legacy that is unrivaled by any other dental clinic in Kopar Khairane, Navi Mumbai, India. Our dentists are some of the best dentists in Kopar Khairane, Navi Mumbai.
Sabka Dentist often makes it to the list of best dental hospitals in Kopar Khairane, Navi Mumbai, owing to our excellent team of dental specialists and surgeons, and cutting-edge facilities within our dental clinics. Sabka Dentist was founded way back in October 2010, with a single medical clinic in Vile Parle. Currently, we have grown to around more than 100 clinics in Mumbai, Pune, Ahmedabad, Surat, Bangalore, Navi Mumbai, Thane. Our team constantly strives to encourage better dental health and help people today to feel and look good and proudly carry their smiles. No wonder, as a result of our team's devotion and vision to help spread smiles across the world, we have consistently managed to get to the list of top dental hospitals in Kopar Khairane, Navi Mumbai.
Hence, the next time you are planning to visit a 'teeth hospital in Kopar Khairane, Navi Mumbai, we should be at the top of your list of dental hospitals in Kopar Khairane, Navi Mumbai. Consider us your own 'Apna Dentist'; our dentists are some of the best dentists in Kopar Khairane, Navi Mumbai, and we can help you with your tooth problems so that you can continue to spread happiness across with your delightful smile.
It was a great experience with sabka dentist and the doctor was also very polite ... 👍

A - 3201 Tushar Jain
11:59 02 Mar 21
Excellent service at sabka dentist by expert Dentist and nursing staff...

Naresh Rajpurohit
06:02 28 Jan 21
Professional service. Confirmation of appointment by call. Sometimes they don't give alternative option but to remove decayed tooth

Nishant Ponkshe
06:42 25 Jan 21
Generous team and the optimistic atmosphere were particularly effective aspects which I appreciated greatly. Relished the way doctor addressed the patients. Sabka dentist is exceptionally good and would recommend to everyone having dental issues.

1935 Sakshi Khanorkar
07:21 24 Jan 21
It was nice experience with Sabka dentist kopar khairane. Staff was very helpful and polite. Happy with treatment, will definitely recommend Sabka Dentist.

Ankita Dalvi
13:54 23 Jan 21
One of the best clinic.eco friendly

Balagopal Nair
09:00 15 Jan 21
Excellent treatment procedure and comfort

Tvisha Shetty
16:01 06 Jan 21

नाद फक्त बैलगाड्याचा
14:08 05 Jan 21
It's very nice dental clinic it's help to poor people to provide free checkups.

Sumran Paswan
08:28 25 Dec 20
Very nice braces treatment

Nisha Nikam
10:37 16 Dec 20
I had a very good experience with the sabka dentist. They did a proper checkup and gave me thorough information about the treatment I need to do. overall it was a great experience and I am happy with my dental treatment

Aakash Rathod
09:36 16 Dec 20
Good service with good staff..awsum

sana hussain
12:03 15 Dec 20

Akanksha sanas
11:26 15 Dec 20
Dr chirag is excellent in her work helpful and experience staff.

Pankaj Dangat photography
10:17 15 Dec 20

Pramod Desai
12:49 08 Dec 20
Good consultant and very nice.

Rahul Ahire
08:11 07 Dec 20
good consultant and very nice

Megha Dhavale
05:46 07 Dec 20

Seema Chavan
11:40 05 Dec 20

shravni Dhuri
11:39 05 Dec 20
Dr Chirag is excellent in her work, helpful and experience staff . Happy with treatment good professional approach , proper diagnosing 🤗 Thank you sabka dentist ☺️

Reeya Shaikh
07:56 05 Dec 20
Very satisfied with the Dental Braces Treatment under Dr. Robin at Sabka Dentist and the professional approach by Doctors and Staff.Post lockdown, my treatment continued at Sabka Dentist Koperkhairane.Good hygiene is maintained in the clinic. Flexible appointments. Glad to receive reminder via call a day before the appointment.Happy to recommend Sabka Dentist to family and friends.

Shyama Nair
08:05 03 Dec 20
Great experience, Clean and hygienic center, Excellent treatment,Recommending to family and friends

Prathamesh Doke
20:26 14 Nov 20
Good Hygenic, quick, Sharp, young, budget Dentist.

shashikant Gadekar
11:53 06 Nov 20

Pallavi alugade
11:16 03 Nov 20
Very nice staff and smily face all staffGood job

Bhavna Visharia
06:54 26 Oct 20
Doctors and staff maintaining quality treatment since years best dentel clinic.

Eliza Pendikon
11:25 16 Oct 20
Best service at affordable rates.co operative staff and doctors.

Santosh Maskar
08:27 15 Oct 20
The service they provided was very and it also had fruitful results, the doctors and other working staff very polite. I recommend others to visit SABKA DENTIST as they provide a very good service. And even during the time of Covid they maintained all the rules and regulations as instructed by the Govt.

Rohan Chauhan
11:41 01 Oct 20
Good hygienist and doctor address the problems effectively and explain to be understood. Safety is proper

deepti nigudkar
11:05 01 Oct 20
Best service at affordable rates. Co operative staff and doctors.

Vidya Bhayani
07:08 01 Oct 20
Doctors and staff maintaining quality treatment since years.Best "DENTEL CLINIC"

Gauri Jadhav
06:45 25 Sep 20
Clinic is total clean and is managed well during this pandemic too. You can visit the clinic without any hesitation or getting scared of this pandemic because its total hygeine. Staff members are too supportive and polite.

Pooja Angrakhe
13:21 24 Sep 20
This is very patient friendly place..for dental treatment

Vikram Jadhav
09:22 17 Sep 20
Nice facilities & good experience...

Sita Kumari
09:23 12 Sep 20
Very Nice Clinic ..dr.& others Staff is active.

sanjay dhuri
18:30 11 Sep 20
Always have a good experience. The staffs are very friendly and polite. Treatment is also done smoothly. The dentist is very good. Happy experience🙂

Gitika Lakhera
12:02 11 Sep 20

Nilima Halder
11:06 11 Sep 20
Very good doctors, treatment and overall experience, maintaining the quality treatment since years

Tanmay Shinde
12:57 09 Sep 20
Good hygienist and doctor address the problems effectively and explain to be understood

Sunita Wankhade
12:22 09 Sep 20

sandip chaudhari
11:34 09 Sep 20
Good place for the dental treatment and good service

Daivata Jadhav
11:06 09 Sep 20
After lockdown it was first session and they are keeping very good precautions and hygiene. Thanks for the service.

Vikram Harke
09:35 23 Jul 20
Clinic is total clean and is managed well during this pandemic too. You can visit the clinic without any hesitation or getting scared of this pandemic because its total hygeine. Staff members are too supportive and polite.

Suraj Ambre
11:50 15 Jul 20
Clinic and service provider both are very good and hygiene to

trishna pal
14:45 16 Mar 20
Dr. Shraddha did Treatment & it was done well. Guided properly during the process.

Sachin Salokhe
13:23 16 Mar 20

Ammu's Vlogs
18:49 06 Mar 20
डॉ. श्रद्धा खूप छान आहेत , खूपच समजदार आणि काळजी घेणाऱ्या. आणि पेशंटचा प्रॉब्लेम समजून घेतात.. I m giving 5 🌟 only for Dr. Sharaddha. Thanks.

Vijeyata Joshi
11:10 04 Mar 20
It was a nice experience.

Pooja Shambharkar
07:31 01 Mar 20
Sabka dentist service Good and all staff always good😊👍

Sulaiman Mohammed
17:51 29 Feb 20
Good Experience and got it done as per Appointment scheduled

Santosh Nidagundi
07:48 26 Feb 20
Nice Hospital for Dental Check up with co operative and understandable staff.

Suraj Adhikari
07:14 20 Feb 20

Govardhan Patil
07:19 19 Feb 20
Dr Trupti is truly experienced in her work. I am satisfied with her services. Keep it up.

jikahyel musa
11:22 15 Feb 20
Good and timely treatment.

Krishna Kumar Singh
11:41 14 Feb 20

Dinesh Shinde
15:32 13 Feb 20
Nice treatment and good staff

Ramesh Kamalkar
14:50 12 Feb 20

Harsha vardhan Reddy
13:51 12 Feb 20

RAJU CHOUDHARY
11:41 12 Feb 20

koti gangisetty
12:34 11 Feb 20

lakshmi shanmugam
10:36 11 Feb 20
Thank you sabka dentist 👌

Kismat Shaikh
13:42 09 Feb 20
I came here for dental filling. The doctors are well experienced.

Proper consulting and work by doctors with good experience.

Sachin Mulik
15:16 03 Feb 20

Reeya Shaikh
14:24 03 Feb 20
I am satisfied treatment... Thanks 😊

Sachin Suroshe
13:25 03 Feb 20
Good place for dental treatment in koper khairaneWell mannered staff

Aman Anand
07:28 01 Feb 20

Esakki selvam
17:04 31 Jan 20

Suresh Dubariya
13:49 31 Jan 20

mahesh dubariya
07:49 31 Jan 20
Doctor Trupti and Doctor Shraddha were extremely helpful and patient. Though there was some delay in the cap fitting which could have been avoided, their friendliness made the process bearable. 5 starts to both the doctors. Cut one star from the overall review because of the delays

Pragya Priyadarshini
13:24 30 Jan 20

Rajeet Himmatsingh Rajput (GLC RMM 18-20)
10:17 23 Jan 20
Its been a good experience here and hospitality is awsome

vikram kumar yadav
09:47 22 Jan 20
WELL ATTENTED..BY ALL RECEPTIONIST DOC HELPER.

Sneha Anand
15:01 20 Jan 20
Doctor are very good and services are very good or lowest cost.

Sarfaraz Shaikh
14:54 18 Jan 20
Nice dr.shradha and staff

vishakha dalvi
13:24 18 Jan 20
Good experience good DoctorGood Staff

Vijay Gupta
09:34 17 Jan 20
Quality service, pocket friendly and friendly Faculity and Great results...Done scalling and also consulted about the tooth paste and pattern without any hidden cost.

Dipesh Patil
09:55 16 Jan 20
Mera daant (teeth) ke niche thoda yellow yellow reh gaya h ...woh mujhe lagta h ki shyad Whiting se niklega..toh mujhe woh nikaalne ke liye paise jamma krna hoga..phir baad me nikaalunga..!!

Krishna Singh
09:52 16 Jan 20

Mahadeo Dange
15:47 15 Jan 20
I am very happy treatment...good dr shradha

Anju Gulani
07:17 14 Jan 20

Ruhi Pawar
11:43 11 Jan 20

Samit Tank
16:14 10 Jan 20
It is always a good experience here.. have been here for RC earlier and now for tooth extraction... it was done very nicely and doctors were very good .. staff is supportive as well

Reetika Thapar
16:05 10 Jan 20
Good service painless treatment

Smita Doifode
23:11 07 Jan 20
It was a geniune checkup and I was well attended wherein everything was shared as is.

GAURAV PALIT
18:27 02 Jan 20
Excellent service..!! Recommended for dental issues.

Mahesh Palve
13:42 01 Jan 20
Good Hygenie and doctors address the problems effectively and explain to be understood .

Praveen Shetty
14:25 26 Dec 19
Getting treatment for daughter since 1-2 years for braces. Dr visits weekly basis and sometimes we missed appointment due to exam etc which delays the next meeting. That's bottleneck. Otherwise it's ok.

Manish Jain
10:24 25 Dec 19
Nice work done in just few minutes the Dr. was very kind.

Varad Patil
09:33 18 Dec 19

Sourabh Kshirsagar
12:44 30 Nov 19
Nice Clinical teitmenet...

Sachin Chavan
07:34 22 Nov 19
Doctors were very polite and had enough knowledge about all my teeth problems. I had hassle free root canal done . I am very happy with the treatment.

Leena Chabukswar Tapase
14:21 21 Nov 19
Its was very good doc akshada was very calm n polite ....had a great experience

Angelica Fernandes
13:07 06 Nov 19
Nice experience i got when I research for dental specialist near to my home..I found in google sabka dentist ..I visited there with lot confusion and after visiting there they clearly explained the situation .What will be possible action i need to.take to save my teeth ..I personally thanks sabka dentist for providing such a wonderful service

Karthik Potla
16:25 30 Oct 19

I think this place offers some exceptional dental service at a very affordable rate. I visited the clinic at koperkhairane sector 2. The doctors were kind and waiting was not more than 30 minutes. I would recommend everyone to visit this clinic for healthy teeth and gums. You can book appointments online . Overall definitely would recommend to others.

Lee Ann Antao
10:53 19 Oct 19

vikas gaikwad
10:07 17 Oct 19
Excellent work. Thank you for your suggestions and also for the cleaning. ☺

ASHWINI BANIKOL
12:32 11 Oct 19
Very good treatment from Staff as well as from Dr

Suraj Bhilare
13:02 09 Oct 19
Good staff & Doctors is best.

Ankush Shinde
07:37 08 Oct 19
No Cost EMI option helpful to middle class family for treatment.

Ranju Singh
12:55 05 Oct 19
Doctor trupti khade is really nice dentist .She cleaned my teeth very nicely. I liked the service

Ganesh Wagh
09:05 05 Oct 19
Overall good but service is not on time.. I have booked appointment of 12.30, but I had to wait for 1 hour more..

daulat patil
06:59 01 Oct 19
Good service and the staffs are very polite.

Vijay Shetty
08:57 16 Sep 19
.... Best treatment....co-operative staff and right behavior.... Request to all patients respect this staff..

Gunjal Ishat
14:25 14 Sep 19
Reasonable rates! Best doctors ! Should visit if u have any kind of teeth problem

Rahul Keshri
10:27 11 Sep 19
Very nice experience.....

Mitesh Bandarkar
06:42 11 Sep 19
Great doctor and team... Great offer also...👍

Mayuresh Shelatkar
13:26 07 Sep 19

Rohan Malekar
11:08 06 Sep 19
Dr. Trupti attended me for teeth cleaning..she is superb in her work..very gentle..and the staff here is very cooperative and smiling always.

Poonaam Ahuja
06:58 29 Aug 19
Dr trupti is really good at her work... a very good experience.. she explained every thing in detail and also told brushng techniques and other preventive thngs to be follwed...Very pleasant experience

varsha khade
17:12 24 Aug 19
I am visiting clinic from 5 months. Good experience so far. Nice helping staff.

Harshita tripathi
14:26 23 Aug 19
Very good staff. Soo much supportive. Doctor also provide proper command for treatment.Keep it up guys Sabka Dentist team.👍👍👍👍👍

sameer96305
15:05 22 Aug 19
Good service with excellent staff management love it

shahruk sayyed
09:34 14 Aug 19

Jayesh Survase
14:35 12 Aug 19
Extremely helpful doctors.

Good treatments by Dr chetan

Ajay singh
15:11 16 Apr 19
Treatment is good and importanat things is time .By Dr Rasmi madam

bhimarao jadhav
13:42 06 Feb 19

Sandesh Harawade
10:35 01 Feb 19
Great treatment. Supportive staff.

Srinu Satyam
12:28 09 Jan 19
Good treatment at reasonable prices... people are good hearted and helpful especially the reception 😉...if you have a tooth problem then this is the place to checkin atleast once.

Monika Sahu
03:11 17 Oct 18
Sabka dentist Koparkhairne have caring doctors and staffs. I am greatly satisfied by the quality of their work.

Parthasarthy Sen
14:14 23 Sep 18
I had a Good experience. I highly recommend it special thanks to Dr. Maryam Q.

Geeta Kolanchi
11:49 28 May 18
Good Doctors and treatment is really good....very polite behaviour... will recommend for dental care...

Raja Banti
14:26 21 May 18
Good experience. Better treatment... cheapest one...Staffs are very coperative.

Dreamz Creation
14:09 19 May 18
Very efficient and effective treatment

Ashish Shrivastava
15:20 17 May 18
It was awesome Doctors are caring

Extremely happy, overall good service

Arvind francis
13:33 05 May 18
Good service. I went for teeth cleaning. Can maintain better cleanliness

shilpa shukla
12:57 05 May 18
Good experience thank you Dr's

sushma sanas
11:19 27 Apr 18
Well experienced doctors and good behaviourAnd reliable clinic

Ashwatthama Rajpurohit
11:57 24 Apr 18
It's good ... Clinic...And very good staff support .

I got a good experience in sabka dentist.My problem got solved here.I am very thankful to doctors and support staff .

Sanvy Educare
09:33 18 Apr 18

Rakesh Khanvilkar
14:24 12 Apr 18

DINESH LIMKAR
13:41 30 Mar 18
Excellent treatment... Helpful staff....

Akash Patil
08:43 30 Mar 18
I am very impressed with the Doctor and the entire staff, they were very attentive and put me at ease.Got my tooth cap replaced without any hassles.Would definitely recommend..

ASHISH JHA
07:45 28 Mar 18
Excellent doctors at sabka dentist koparkhairne, specialy Dr.Apoorva and Dr. Mariyam.....doctor friendliness is a important quality which makes a clinic famous nd popular as well as doctors.....Dr.Hensel is very good ortho doc, explains very well......the receptionist are also very co-operative and dey inform timing properly.....thnx for ur service sabka dentist koparkhairne clinic!!

Ajay Adule
07:25 28 Mar 18
Good doctors nd supporting staffs

veena venu
02:29 21 Mar 18

Ujjwal Shelke
08:23 17 Mar 18
Good doctors & guiding properly ...Should visit

Nitin Zimur
14:01 15 Mar 18
My experience with sabka dentist is good. They provide very good care and service.

Bhushan Dhote
12:40 15 Mar 18
There staf is friendly and tritment is to good.....

Biswajit Mondal
10:31 10 Mar 18
Special thanks to Dr Maryam. Amazing work done by her on my front tooth. All the time and money spent for the treatment was worth it. Got my root canal done and got the Lava crown fixed [one of the best] It was my second experience and again deeply satisfied.

Supriya Singh
09:58 10 Mar 18
problem was solve, very good place for dental treatment

SaNtOsH TiWaRi
14:47 08 Mar 18
excellent !! i would recommend this for anyone with teeth related issues. ! They are the best ...Go for it without a second thought !:)

Jaison Varghese
14:34 06 Mar 18
Very good treatment at an affordable price.

GOOD TRETMENT AND TIME MANAGEMENT IS VERY GOOD .....THANKS

Helpful staff, good treatment and cost effective.

jaydeep vidhate
07:48 18 Feb 18
Doctors are supposrted for dental checkup and given proper solution

Kailas Jadhav
14:14 17 Feb 18
I had a great experience in this clinic... I had a root canal treatment over here which was done in a very smooth way..

Garima Sahu
11:33 16 Feb 18
best dental experience so far.....care with cure.....

dr.maryamquraishi@gmail.com maryamquraishi
10:08 16 Feb 18
Nicely handle any dental problem. Good doctors and supporting staff. Flexible appointments helpfull for working people.

Madhwi Kumari
11:49 15 Feb 18
The staff is super friendly! It feels family being treated with so much love, care and understanding. The treatment is going on pretty well as I have come here for braces.. The procedure is a tinee painful because its teeth after all but everything pays off when you get to see the results. Difficult to find affordable prices with great service! Sabka Dentist always recommended!! 👍👍👍

Rituparna Das
10:59 15 Feb 18
Got my root canal done today. Nice clinic and doctors interact during their procedure, so that we get little distracted from pain. Nice Experince.

Vishal Kumar
12:40 10 Feb 18
I would like to say thanks to doctor Apurva and her team for doing an good job on my 3 tooth root canals and special thanks to Dr. for resolved queries immediately regarding Bajaj Finserv EMI payment option.Thank you so much... :)

Pravin Dabhade
08:18 10 Feb 18
Great service. Great heart. Helping people's. Healthy environment.

Tanuja Walunj
07:28 30 Jan 18