Dental Clinic in Mulund West Station
Address: Office no 103, 1st Floor, Sai Madhuvan Building, Sevaram Lalwani Rd, above Wellness Forever Medical Store & Mani's Cafe/Restaurant, Mulund West, Mumbai, Maharashtra 400080
Monday – Saturday 11 AM – 8 PM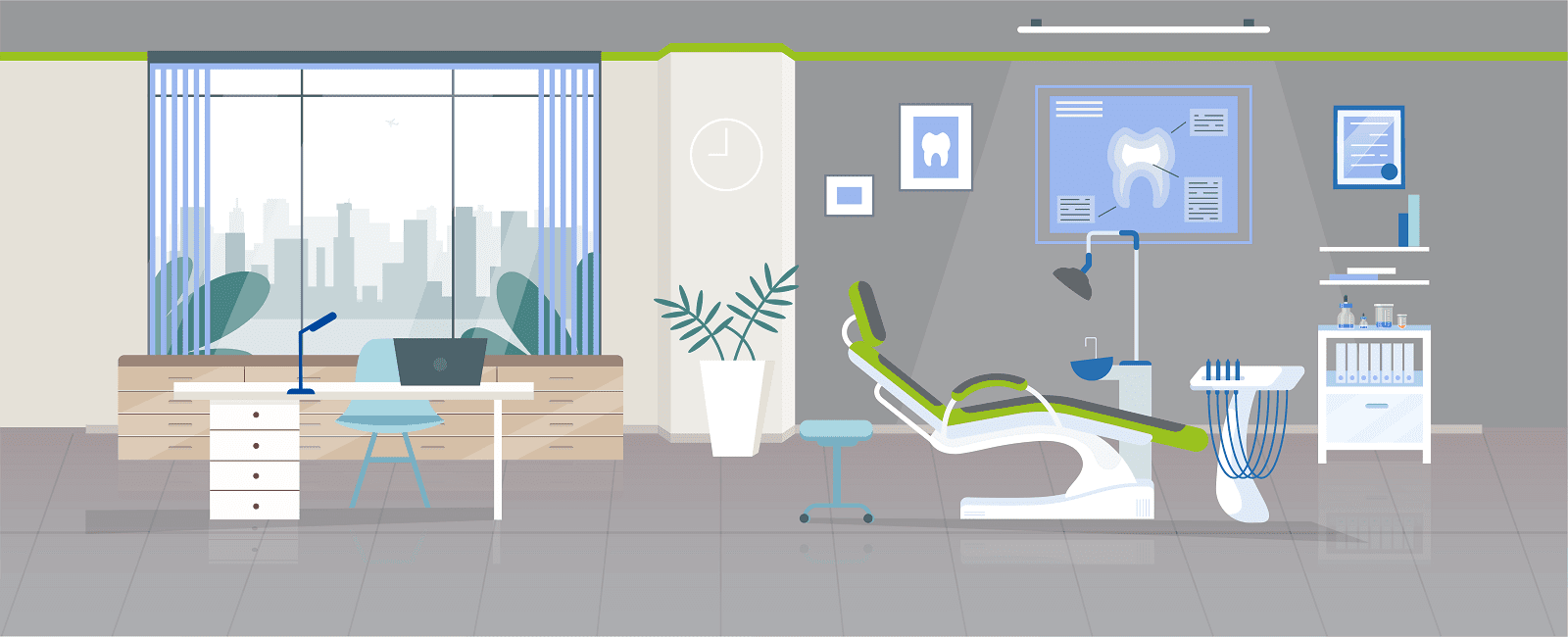 About Sabka Dentist Dental Clinic in Mulund West
Sabka Dentist has been in the leading chain in the field of Dentistry since a decade. Over the years, we have promised to be the reputed dental clinic among Mumbai. We also have a team of experienced dentists in Mulund West, who are dedicated to keep your smile healthy and beautiful forever!
We have 2 dental clinics in Mulund West at esteemed locations like LBS Road and JN Road near Mulund Station. Our dental clinic in Mulund West is equipped with ultramodern equipment of dentistry and we offer a wide spectrum of dental services with a focus on preventive and cosmetic dentistry.
We aim in serving the patients with the best dental services across the heart of India. We firmly believe in the quote -"The sole meaning of life is to serve everyone." Our friendly staff will walk an extra mile to make the patient feel at home at our clinics.
A tooth problem is definitely not bearable, hence checking up with a dentist is a must. Sabka Dentist is a superior dental clinic in Mulund west that offers you with a comfortable, transparent, judgement -free (respective to gender, age, and colour), and absolute affordable dental treatment linking it with modern technology of dentistry is what your can expect under one roof!
Confining our patients with a calm dental atmosphere, we also aim in providing the facilities and services at the rates that is affordable to everyone. isn't it surprising? Of Course not only providing you with the treatments at affordable rates but also Every Month Installment (EMI) on specific dental treatments at Zero percent interest.
It is a golden opportunity for the patients to avail the best dental treatment at Sabka dentist, dental clinic in Mulund west.
Thus, your chase for the best dentist in Mulund west stops at Sabka Dentist.
Our dentists in Mulund West carry out the following services
General Dentistry:At absolutely zero fee charged , Sabka Dentist offers the excellent dental checkup along with a proper consultation and well- explained X-ray to help the patients to know the oral condition of the mouth. Every here, at Sabka Dentist is at zero cost, as we aim in giving them the right treatment at the right price, making them believe in our dental care.
Root Canal Treatment:
It is a procedure of dental treatment where the contaminated root that is severely diseased is cleaned accurately making the tooth access to different producere. Root canal treatment is also called endodontics treatment, specially practise by the experts called endodontists. After all the cleaning of infection is done, a rubber like substance called gutta-percha is inserted that acts like an obstruction from further growing infection.
Orthodontic Treatment:
A treatment that focusly and constantly works towards the positioning of misaligned teeth that is caused due to crooked or crowded teeth. It is none other than orthodontic treatment also called as braces treatment,, that completely changes the overall appearance. This treatment has many advantages like, it corrects the speech, making biting process comfortable, avoid jaw pain, and getting rid of further dental risk.
Periodontics:
Gums that has been severely affected due to growing of teeth infection can lead to periodontal treatment. Usually in this treatment, the dentist checks the gums line first, to know till what extent the infection has spread. They also check the basic s producers that indicates gum infection like biting function, loss of teeth and many more. Just to know the internal problem of the gums an X -ray is taken free of cost at Sabka Dentist.
Pedodontics:

They are the highly skilled dentist who have practised in not only dealing with the dental treatment but also in counselling the children of maintaining proper oral hygiene. Children are highly attached to eating sugary items that is a poison to the oral health. So to avoid such practise, it is the duty of the pedodontist of Mulund west to guide them and the parents about avoiding such eatery items that can be a risk for the child health.
Extraction of the tooth:
A tooth that is affected severely and there is no solution to it, extraction of the tooth is the only producers to get rid of the decayed tooth. cavities is the major cause of tooth extraction. an extracting appliance is used to remove the tooth by injecting a local anesthesia on the surrounded area that is affected, to numb the area and make it an easy access for the extraction procedure. This treatment is also done during the orthodontic treatment as, to make space for the teeth to be positioned properly.
Cosmetic Dentistry:


It is difficult to get rid of discoloured teeth from regular brushing of teeth. Hence, teeth whitening is a procedure of dental treatment that uses bleach to get rid of discoloured teeth, Cosmetic dentistry also involves veneers, bonding, that is used as the correction of the positioning of the teeth.
Why choose our dental clinic in Mulund West?
Planning the patient's treatment plan is needed. hence, proper treatment plan is made along with dental follow-ups.
Now you can experience dental Check – ups and Consultations at free of cost at Sabka Dentist in Mulund West.
Our pricing is clearly displayed online and at all our clinics. please do visit.
We follow all standard clinical protocols,
Printed copy of invoice is given to the patients against the dental treatment as a proof.
Our dental clinic is child-friendly.
We have Specialist Dentists as well as assistant dentists.
We are available on a walk-in basis as well as on online appointment basis.
Working towards the specializing your smile, we also work towards the dental health and improving the appearance that will grace your personality. Our promise to the patients who visit Sabka Dentist is that dental appliances will definitely give you the righteous choice and option of dental treatment.
We care for your beautiful smile.
Therefore, you should choose Sabka dentist in Mulund West for your oral care requirements, without further delay.
How can Sabka Dentist help you?
Our dentists in Mulund West aim at promoting oral health, with the goal of preventing and controlling dental diseases through organized efforts. We provide Free check – ups and X-ray consultations.We provide whole dental treatments using modern means of dentistry to all patients under one roof.
Also, we maintain follow up with patients to ensure that they come for regular dental check up twice a year. As a result, the patient centric approach of our dentists has made them earn the title of best dentists among others in Mulund West.
Tell me more about Sabka Dentist Mulund West
If you are one of those individuals who are particular about your dental care, you must select the best when it concerns dental care checkups and treatments. Sabka Dentist is consistently ranked as among the best dental clinics in Mulund West, Mumbai.
At Sabka Dentist, patients not only receive world-class treatment for their dental concerns but additionally get to experience one of the greatest in-clinic patient experience across India. Irrespective of the background or career of an individual, we ensure that all our patients feel comfortable and face no problems when approaching or getting their oral health issues across to our dentists.
We are amongst the top dental clinic chains in Mulund West, Mumbai and have a legacy that is unparalleled by any other dental clinic in Mulund West, Mumbai, India. Our dentists are some of the best dentists in Mulund West, Mumbai.
Sabka Dentist frequently makes it to the list of best dental hospitals in Mulund West, Mumbai, owing to our great team of dental experts and doctors, and cutting edge facilities within our dental clinics. Sabka Dentist was founded way back in October 2010, with a single medical clinic in Vile Parle.
Today, we have grown to around more than 100 clinics in Mumbai, Pune, Ahmedabad, Surat, Bangalore, Navi Mumbai, Thane. Our team constantly strives to encourage better dental health and help men, women, and children to feel and look good, and proudly carry their smiles.
No wonder, as a result of our team's commitment and vision to help spread smiles across the world, we have consistently managed to get on the list of top dental hospitals in Mulund West, Mumbai.
So, next time you are planning to visit a 'teeth hospital in Mulund West, Mumbai, we should be at the top of your list of dental hospitals in Mulund West, Mumbai.
Consider us your own 'Apna Dentist'; our dentists are some of the best dentists in Mulund West, Mumbai, and we can help you with your oral problems so that you can continue to spread joy and happiness across with your wonderful smile.