Dental Clinic in New Panvel
Address: Shop No. 1,Gini Residency CHS Ltd, Plot No, 13, Panvel Matheran Road, Sector 11, New Panvel East, New Panvel, Navi Mumbai, Maharashtra 410206.
Monday – Saturday 11 AM – 8 PM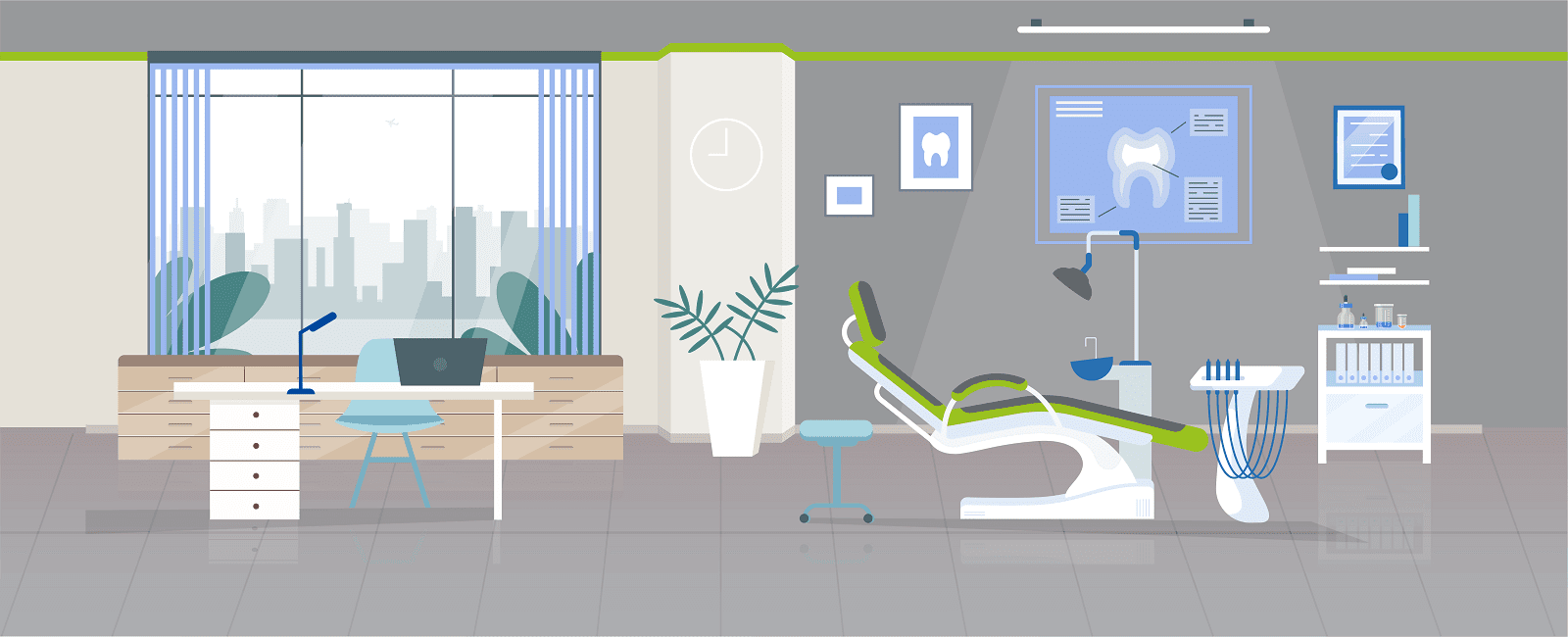 About Sabka Dentist Dental Clinic in New Panvel
Sabka Dentist Dental clinic has always been at the forefront of dental healthcare. This clinic is known as one of the best dental clinics in New Panvel , which is dedicated to providing high standard dental services at an extremely affordable price range. Sabka Dentist never compromises with the quality of treatment, so they utilize all the latest dental techniques and technology to make the dental procedures pain-free and comfortable.
Facilities
Dental care has always been ignored in the hustle and bustle of our life. But it is essential to be careful about our dental health. However, even the person who takes care of their teeth daily may also require profesKharghar Sector 20 al treatment. So if you are trying to find one such dentist in New Panvel who can help you to resolve such conditions, then Sabka Dentist can help you out. The clinic can provide you with the following facilities and treatment options-
Dental Implants–

If you have lost a tooth, then you will probably be considered to undergo implant dentistry. However, the value of the procedure depends on the number of sesKharghar Sector 20 s required, surgeon's fees, tests, dental treatments, and even the anesthesia used. The clinic may also provide you some fascinating affordable packages that include no hidden charges.
Root Canal Treatment–

Root Canal treatment is a crucial dental procedure that helps in preserving a decayed or damaged tooth. If you intend to undergo this dental process, then you must look for an experienced endodontist who can help you to achieve the best result. If you have not yet found any such dentist in New Panvel , then you may try and visit Sabka Dentist; this is one of their well-known branches, they have than 500 proficient dentists working in more than 100 clinics around different cities in India.
Conscious sedation- Sabka Dentist is aware of the fact that general anesthesia to execute dental operations is very risky. Keeping this in mind, the clinic provides local anesthesia to their patients so that the patients lose sensation in the area of treatment, but they do not fall asleep. However, it also depends on the treatment as well. As Sabka Dentist is one of the best dental clinics in New Panvel for their services, they do not compromise with their treatment quality and give complete transparency to the patients regarding the procedure.
Superb scheduling- Patients who have come a long way and have minimum time are offered the quickest and the most effective treatment plans. The dentists attend them on a priority basis, even on short notice. If you feel impressed with this feature and wish to avail the facility, then you know what you have to do? Just opt for Sabka Dentist, the best dental clinic in New Panvel .
Latest equipment and Techniques- Sab ka Dentist makes use of the latest techniques and methods while treating the patients. The dentist keeps themselves updated with all the new technology and upgrade their knowledge and when required.
Patient Care- Sabka Dentist is known for its hospitality. They treat their patients very well. Right from the receptionist to the surgeons, everyone gives the patient complete support throughout their journey in Sabka Dentist.
How to select the right dentist and right clinic?
Have you not been able to find a perfect dentist in New Panvel ? Then start doing that immediately without waiting for the emergency to arrive. But before you start doing that, it is time for you to consider several factors like the following-
Location and operational hour- When choosing a dentist, make sure that the dental clinic is close to your place or workplace. Most importantly, make sure that the dental clinic will be operational on days and times when you are generally available.
Cost -The cost of different procedures depends on several factors like the surgeon's fees, cost of the tests, medications, anesthesia used, and equipment used. However, Sabka Dentist provides multiple payment options, EMI facilities, and insurance coverage for the patients, which makes it the best dental clinic in New Panvel .
Qualification – After you know this is the perfect dentist in New Panvel for you, you must mandatorily check the credentials of the dentist. An experienced dentist will never hesitate to show their credentials and pictures of past procedures. If you find the dentist or the staff waiting to answer any of your questions, then you must consider finding another dentist.
How can Sabkka Dentist help?
Sabka Dentist is considered one of the leading dental clinics in New Panvel . Wondering why? Because-
The clinic provides the highest standard of treatment at an affordable price.
The dentist and their team are well qualified and skilled.
The clinic is capable of treating any dental issues, even on an urgent basis.
The clinic has secure payment options and easy EMI plans.
Tell me more about Sabka Dentist, New Panvel
Tell me more about Sabka Dentist, New Panvel If you are one of those individuals who are particular about your dental health care, you must select the best when it pertains to dental checkups and treatments. Sabka Dentist is consistently rated as one of the best dental clinics in New Panvel. At Sabka Dentist, people not just receive first-class treatment for their dental problems, but additionally get to enjoy one of the greatest in-clinic patient experience across India. Regardless of the background or career of an individual, we make sure that all of our patients feel at ease and experience absolutely no concerns when approaching or getting their dental issues across to our dentists. We are some of the top dental clinic chains in New Panvel, and have a legacy that is unparalleled by any other dental clinic in New Panvel, India. Our dentists are some of the best dentists in New Panvel. Sabka Dentist consistently makes it to the list of best dental hospitals in New Panvel, owing to our great team of dental experts and doctors, and cutting-edge facilities within our dental clinics. Sabka Dentist was launched back in October 2010, with a single medical clinic in New Panvel . Today, we have grown to around more than 100 clinics in Mumbai, Pune, Ahmedabad, Surat, Bangalore, Navi Mumbai, Thane. Our team works to encourage better dental health and help men, women, and children to truly feel and look good, and proudly carry their smiles. No wonder, resulting from our team's determination and viKharghar Sector 20 to help spread smiles across the world, we have consistently managed to get to the list of top dental hospitals in New Panvel. So, the next time you want to
visit
a 'teeth hospital in New Panvel, we should be at the top of your list of dental hospitals in New Panvel. Consider us your own 'Apna Dentist'; our dentists are undoubtedly some of the best dentists in New Panvel, and we can help you with your oral concerns so that you can carry on and spread joy and happiness across with your delightful
smile.
Good service friendly staff

Ophelia Menezes
09:41 18 May 22
I had done my Invisalign treatment from Sabka dentist panvel. The service here is really exceptional..Dr. Anupama is extremely professional...they are very patient and hand hold you through the entire journey very well... further, icing on the cake are rates which i felt to be very reasonable...

Nibin James
10:45 17 May 22
Good consultancy with right information provided regarding required approach for dental health.

VIVEK NALAWADE
12:43 23 Mar 22

Barola Sudha
05:06 04 Mar 22
Very fine Clinic, treatment overall view excellent.

B 33 Supranay Panda
06:50 27 Feb 22
Nice behaviour of doctor !!

Sunil Kumar
13:49 25 Feb 22
I have had very good experience with the Sabka Dentist, very skillful and pleasant doctor,Ready to part with any information, patientlyReasonable rates tooGood follow up also

VIJAY SUTAR
16:17 03 Feb 22

vijay tambe
07:09 24 Jan 22
It was an amazing experience .. it helps actually.You should go and check up your teeth on a regular basis

Shounak Chakraborty
16:05 17 Nov 21
Waiting for tooth extraction. So far so good.

Sourav Masid
06:39 11 Sep 21
A very good experience. Reception & support staffs are very warm & friendly.

Sabka dentist is very good place to solve your dental problems. I took treatment and replaced all my teeth with 100% dentures. It's been 2 years now I have not faced single problem and don't have any eating issues so far.....So I do recommend you to visit this place for your dental issues

KALPANA THENGDI
07:09 07 Aug 21
Great place. Professional people

Jayant Chidirala
11:36 28 Jul 21

Sahil Patil
06:06 22 Jul 21
My RC experience was very good and all the process was completely painless. Dr. Anupama is very experienced and very polite, Explains each and everything in detail also the staff is very supportive. I got the best treatment in new panvel clinic.100% recommend for any dental issue.

Sassy Dogra
13:36 16 Jul 21
Consultation was very nice

Prerna Nikam
05:26 13 Jul 21
I' have done my braces here..Doctors are very professional and satisfactory service..the process is also smooth and timely.

Reshmi Das
11:56 04 Jul 21
Great Experience and very cooperative staff and very helpful Person.

Sandeep singh
13:33 02 Jul 21
Nice experience so far, about to get the braces on. The staff was helpful and so was the dentist, she helped me with removing some filling that was causing pain. Hoping to get good result with the braces.

Shrikant Paringe
10:51 02 Jul 21
It was a good experience in sabka dentist. My root canal was in severe condition. But Dr. Anupama and her staff were impeccable and quite motivating while taking treatment. They did my root canal treatment in three installments, so that It should not give me much pain and be smooth as well.

gurjyot chana
05:54 19 Jun 21
Have been suffering from quite a no. of dental issues and was really sceptical to visit a dentist. However visiting sabka dentist new Panvel have been really reassuring and Dr Anupama have helped me understand the entire procedure and calm my nerves and complete the procedures calmly. Their surgeons too are good at their work. Have got 4 dental implants done from them and am satisfied with their services.Will surely recommend.

Shubha Pillai
05:56 18 Jun 21
Experience with Sabka dentist is very good

aarti mhaskar
12:28 22 May 21
Dr Anupama and her team is superb. I was very scared before treatment but Dr Anupama is very calm and excellent in her skill. Thanks Dr Anupama and team. Guys must visit Sanka dentist.

Reena Upadhyay
13:34 03 May 21
Well cooperative and result oriented plus positive thinking staff and doctor. Since last 7 years I have been here starting from kharghar clinic.


Sushama Karbhari
15:23 24 Feb 21
It is one of the most safest dental clinic in New panvel. Total hygiene maintained during these COVID days. Friendly staff. Doctor Anupama attended me. She was very caring and friendly. Good treatment received with all safety measures.

Tanvi Ayyanchira
15:02 23 Jan 21
Very Professional Doctors and staff.👍👍

Ahlua Walia
09:22 09 Jan 21
RECOMMENDED is the only word that comes to my mind. Dr. Anupama came as a savior and brought back my smile. The staff is co-operative and comforting. Visit once and you'll know.

Akshay Kimothi
15:00 07 Dec 20
Dr.Anupama and her team were a blessing in disguise for me. If i would not been transferred from sabka dentist old panvel, I would not have met such a professional doctor, who treats and makes things understand well. Even her staff priyanka is awesome,proper revert and making proper appointment, incase of change of appt,keeping me informed .It was very good to get treated by such professional team after having a very bad experience from sabka dentist old Panvel. Good wishes and I recommend anyone going through this review you just dont have to think, you are in right hands.

Disha salian
11:42 09 Nov 20
Excellent treatment and excellent service

Kamakshi Challapalli
05:35 31 Oct 20
Very informative and kind , experienced doctor. I recommend to others

Sandip Sawant
07:20 24 Oct 20

Vikrant Mishra
18:48 15 Oct 20
Very friendly staff, i have done my RCT treatment from here, Dr. Anupama chaurasiya  is an amazing doctor. Overall a satisfied and good experience."Sabka Dentist".✌️Thanks to Dr. Anupama and All staff

Rajesh Raut
14:37 12 Oct 20
Amazing experience......done my root canal treatment which was absolutely pain free...dr. Anupama and staff are very friendly...they made me comfortable for treatment as i was scared lil bit...reasonable prices...thank u sabka dentist...

Teena Gharat
13:28 28 Sep 20
It was amazing experience with dr anupama mam.Staff behaviour is also very satisfied.Amazing 😁

Saifan khatib
05:18 17 Sep 20
Amazing service, for them I would rate 5 stars ⭐️ ⭐️⭐️⭐️⭐️. Dr Anupama chaurasiya and their staffs are friendly and they'll comfort you. Had really great experience so would definitely suggest them. Also during this pandemic they are providing services with all safety measures and Cleanliness. Definitely Go for it ✌️

Puja Jagtap
06:29 14 Sep 20
Good place for dental treatment. I had done RCT sabka dentist new panvel.Dr.Anupama & Dr Monika staff is behaviour Politely.Receptionist Miss Priyanka is also very good treat.I recommend this place for dental treatment.But the fee seems highly....by the way all r goodNow even during the time of COVID-19, the whole world is troubled by this virus.I really liked keeping her Protection Self as Patient,Whatever I will say, the less their feedback, the better treatment Here, along with any problem solving.Thank you sbka doctor.

Satyawan Sharma
13:35 18 Aug 20
working staff and doctor are polite and very Hygiene clinic

Pritee Warang
06:55 05 Aug 20
Very nice and transparent service. Good quality of techniques used. Doctors and staff very friendly. I would like to give five star ratings

vijay bhamere
04:17 01 Aug 20
My experience with Sabka dentist, New panvel has been good so far. It's been more then 4 years now I have visited 4-5 times. The staff starting from the Receptionist, Helper till the Dentist Doctors all give you brilliant treatment. The doctors especially they study your case properly and give you a proper solution for the same. I thank Dr. Anupama & Dr. Chaurasia for the same.They maintain a history which gives a proper insight to their past patients.Reminders for the appointments are very well maintained too. On personal level I have done the cleaning twice, at once I had a birthday offer for which I got basic cleaning at free cost, I thank them for that.The other treatment for which I consulted them recently during this Covid era, they have maintained a proper hygiene norms, with proper forms signed.I recommend them to all the Customers, value for time and money.

Suhas Jadhav
13:59 29 Jul 20

jay electrician
13:23 11 Mar 20