Dental Clinic in Kalyan West
Address: Office No.18, Swami Prasad Building, Above Swami Samarth Medical, Shelar Park Khadakpada, Kalyan West, Maharashtra 421301.
Monday – Saturday 11 AM – 8 PM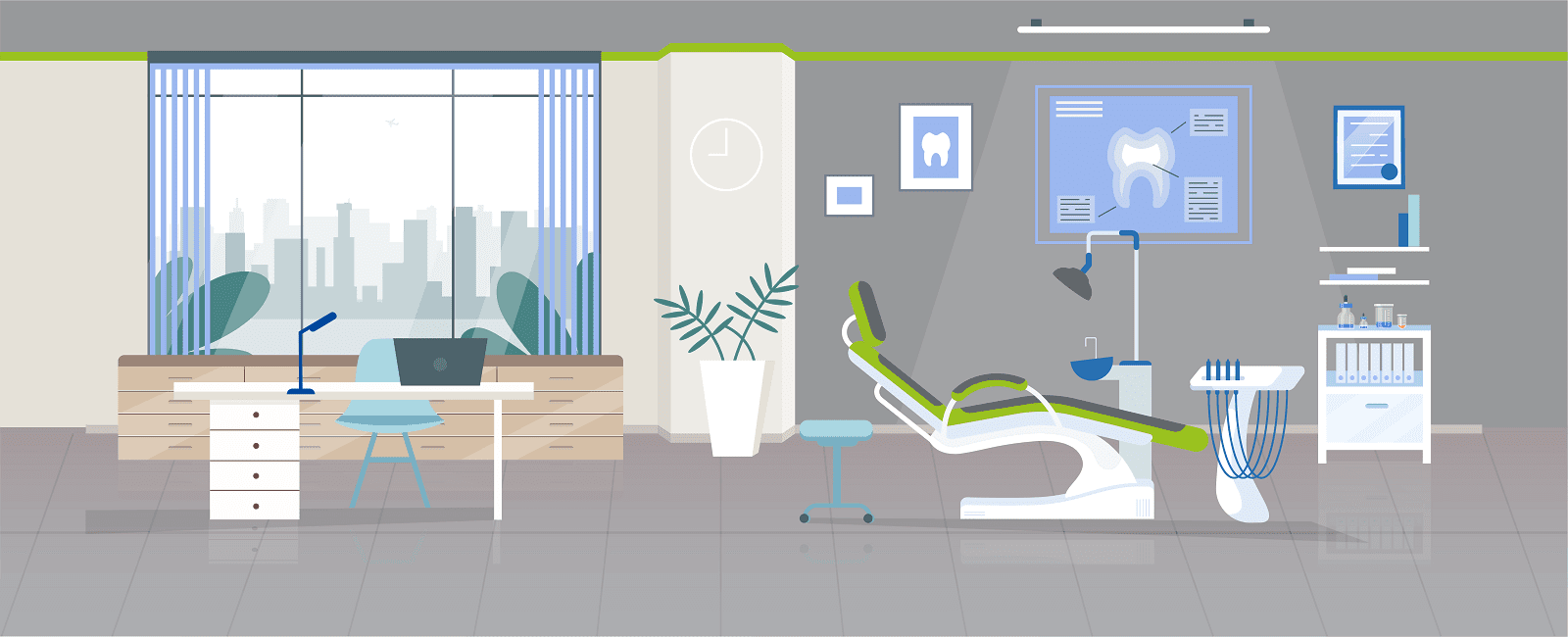 About Sabka Dentist Dental Clinic in Kalyan
Sabka Dentist in Kalyan has experienced dentists, good infrastructure and advanced dental technologies. Sabka Dentist started its first dental clinic in Mumbai in 2010 and has grown over a decade with its presence across five cities in India – Mumbai, Pune, Surat, Ahmedabad, and Bangalore.
Many years of experience has given us insights into dental problem diagnosis, treatment planning and treatment execution. Sabka Dentist is a brand name today and a leading dental chain with dental clinic in Kalyan also. Sabka dentist in Kalyan offers a multiple array of dental services.
Sabka Dentist in Kalyan boasts sophisticated dental equipment and state-of-the-art dental technologies. Our dentists in Kalyan also carry out and monitor screening in dental camps near clinic locations, inventory management etc. They are always available for all dental services.
It is our vision to make dental services available to everyone. We firmly believe in the quote that –"The sole meaning of life is to serve everyone."
It is our mission is to make our patients leave the clinic with a smile on their face. We want to provide our patients with the best dental care.
Digital dentistry has made its way into Sabka Dentist in Kalyan. We have digital X – ray facility (RVG), Laser, Oral Scanner, CAD (Computer Assisted Design) and CAM (Computer Assisted Manufacturing) crown technology. We also digitally store our patients' details and dental history in our database, so that it can be useful for future dental treatments and follow-ups.
Without further ado, select Sabka Dentist in Kalyan as your dental solution provider.
Dental Treatments provided by Sabka Dentist in Kalyan
General Dentistry:
Our dentists recommend getting thorough dental check-up every 6 months. We also provide free check – up and free X – ray consultation. We also have RadioVisioGraphy (RVG) to take digital radiographs for patients. They have negligible radiation exposure. Those days are left behind when the patient had to wait to get their X – ray films developed!
Oral Surgery:
One can have painless removal or extraction of teeth at Sabka dentist in Kalyan in case of tooth mobility, gross decay, root piece etc. We have qualified dentists at Sabka Dentist in Kalyan with postgraduate degree of Master of Dental Surgery (MDS) in Oral & Maxillofacial Surgery. They are also competent in performing other oral surgeries like extraction of impacted wisdom teeth, surgeries to insert dental implants, and many other oral surgeries.
Periodontics ( Cleaning & Polishing):
Periodontics involves maintenance of the health of all supporting tissues and bone around the teeth and the treatment of disease in them. Our dentists at Sabka Dentist in Kalyan recommend everyone to come for dental cleaning every 6 months to maintain healthy gums. We use ultrasonic device to remove tartar & plaque from the teeth surface and below the gum line. Post scaling, polishing follows. We also give a demonstration of right brushing techniques, use of oral hygiene aids such as interdental brush, floss, etc. Counselling for tobacco cessation is provided. Advice of mouthwash and different toothpastes is given for sensitivity, other dental problems.
Periodontics (Treatment Of Gums):
Periodontal diseases, also commonly referred to as Gum disease, is the leading cause of tooth loss in adults. Symptoms include bleeding gums, mobility of teeth, appearance of gaps in between teeth, painful gums and bad breath. This disease may also have an association with heart disease, diabetes and many other systemic diseases. Thus, our periodontists and general dentists at Sabka Dentist in Kalyan provide comprehensive periodontal treatment. It involves root planing, curettage, flap surgery and bone grafting. Periodontal cosmetic treatment options like crown lengthening, root coverage etc are available. We also take care of Endo – Perio lesions.
Orthodontic Treatment (Braces):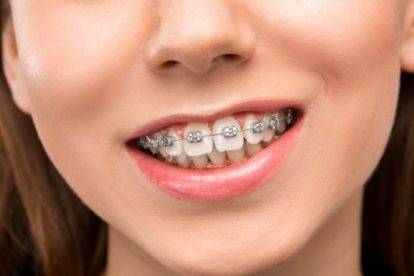 Orthodontic Treatment has the ability to transform your smile. Orthodontic treatment deals with treatment of misaligned teeth by repositioning of the teeth to a more favorable alignment. It is indicated in following clinical cases: i) To close gaps between teeth, ii) align crowded teeth, iii) push back protruding teeth and iv) correct bite. There is no compromise in the use of materials in patients. We have orthodontic experts at Sabka Dentist in Kalyan. Even the new age invisible braces are available here.
Endodontics (Root canal treatment):
Root canal treatment is a sequential procedure of replacing infected/injured dental pulp in a carious tooth or traumatized tooth with inert gutta-percha material. Root canal treatment usually requires 2 – 3 visits to the dental office and is followed by crown to prevent future damage to the tooth. Our dentists at Sabka Dentist in Kalyan will indicate the patient for root canal treatment if needed. We also offer single sitting root canal treatments. We also have Endodontic experts (root canal experts) at our dental clinic in Kalyan who are specialised for the Root Canal treatment.
Prosthodontics (Dental Implants):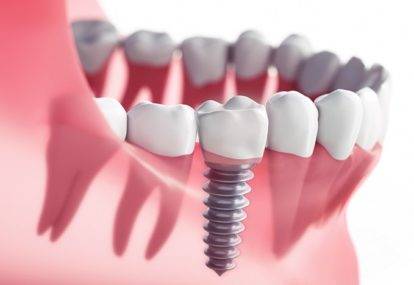 Missing teeth should be replaced as soon as possible. Otherwise, mesial drift, which is the tendency of teeth to move in mesial direction within the arch, will close the gap produced by missing teeth over time. Dental implants are the best artificial fixed replacements for replacing missing teeth. Since they resemble real teeth, they can enhance your appearance.
The dental implant has known 3 parts: Implant screw, Abutment and Crown. Implant screw is a titanium screw like structure, which is surgically inserted into the jawbone, which integrates with the bone (osseointegration) to become part of the body. 3 – 6 months elapses in this process for promoting healing. After recording the position of implant with impression material, an abutment is placed on top of the implant screw. This is again followed by Crown, which is the replacement tooth that sits on top of abutment.
Prosthodontics ( Crowns, Bridges & Dentures):
When implants are not possible because of reasons like cost, insufficient bone height etc, one can opt for crowns, bridges & dentures at Sabka Dentist in Kalyan. For patients seeking removable teeth (dentures), heat cure dentures, cast partial dentures etc are available. For fixed prosthesis, one can opt for teeth and implant supported bridge.
Pedodontics (Child Dentistry):
A Pedodontist is a dental specialist, who is specially trained to treat children, upto the age of 14 years. There are certain differences between milk and permanent teeth. Children's teeth are often not given due attention, because of the common belief that milk teeth will fall anyway.
However, milk teeth are very important to maintain space for permanent teeth. If milk teeth are healthy, then the permanent teeth will most likely be healthy and will erupt in correct position. Our pediatric dentists at Sabka Dentist in Kalyan provide all pain-free dental services for children.
This includes root canal for children (pulpectomy), pit and fissure sealants, fillings, stainless steel crowns, extractions etc. Prophylactic measures like fluoride application are also provided. We also coordinate with orthodontic team if there is a need for habit breaking appliances (for oral habits like thumb sucking, tongue thrusting etc) or if there is any growth or functional discrepancy.
Cosmetic Dentistry:
Following dental services can help you improve the aesthetics of your smile:
Teeth Whitening: Our dentists at Sabka Dentist in Kalyan can help you with teeth whitening treatment for dull and discolored teeth. It lightens and brightens the teeth. Your dream of having stunning white smile can be turned into reality!
Veneers can transform your smile! Veneer is a thin layer of tooth like material, which bonds to existing tooth surface with minimal preparation, to improve aesthetics. They are one of the popular choices to i) close spaces between teeth, ii) provide uniform color, shape and symmetry, iii) repair broken or fractured teeth, and iv) make the teeth appear straight. Our dentists at Sabka Dentist in Kalyan offer both ceramic and composite veneer.
Cosmetic filling:
Restoration of tooth cavities, facets, abrasion, attrition and core buildup is done with permanent, tooth colored and long lasting cements like composite resins.
Laser Dentistry:
We also use Laser in dentistry for treating the following: i) Gummy smile by crown lengthening , ii) High frenum attachment to improve speech and tongue movements (Frenectomy), iii) Hypersensitivity & iv) Depigmentation of Gums.
Diastema/ Anterior Teeth Space Closure:
Diastema is a space or gap between two teeth. Usually, the cause of the space between upper central incisors is the papillary type of labial frenum. Diastemas can be closed by frenectomy and orthodontic alignment of teeth in this case, as dentists indicate.
Why Chose Sabka dentist?
When it comes to dental problems, visiting the best clinic in Kalyan might be on your mind, but are you consciously opting for one? You should know certain things about clinics before you visit them. STEEEP determines the quality of dental care. STEEEP stands for:
Safety
Timely
Effective
Efficient
Equitable
Patient – centric
STEEEP is a set of measurable quality parameter that American Dental Association (ADA) recommends. STEEEP is adopted by Sabka Dentist in Kalyan. We believe that it is our fundamental policy. It suggests that clinics should provide i) safe innocuous services, ii) render timely treatment, iii) provide effective care for effective prognosis ,iv) maintain efficiency in delivering the dental services, v) provider should also be able to provide services at affordable prices, and vi) provider should be patient — centric.
Therefore, you should choose Sabka Dentist in Kalyan for your oral care requirements for the following reasons:
We customize a patient's treatment plan after understanding their needs.
There is provision of a print of diagnosis chart & quotation to all dentists after a check — up.
Our standardized pricing is put online & at all our centers.
We follow all standard clinical protocols, including sterilization protocols.
Printed copy of invoice and receipt for all treatments is provided. Thus, we maintain the highest level of corporate governance.
Our dental clinic is kid-friendly.
We have General Dentists as well as Specialist Dentists available as per your need.
Availability: We are available on an outpatient basis and on appointment basis.
We also inform you about the information on fees of dental services before the schedule of your treatment.
To check our price list online please visit https://www.sabkadentist.com/dental-treatment-pricing-list/
Sabka Dentist has easy payment options like 0% interest EMI options with Bajaj Finserv or Capital Float or Snapmint EMI Network. We also accept online, cash and card payments.
Our dentists are up-to-date with the latest techniques and technologies through regular seminars and courses.
How can Sabka Dentist help you?
You can trust your smile with us! Ever since its inception, Sabka Dentist is ranked among the top dental clinics in Kalyan. We have a commitment towards providing total dental care under one roof to the community of Kalyan.
Free check – ups & X-ray consultations are also provided. Also, we maintain consistent follow – up with patients every 6 months.
Tell me more about Sabka Dentist, Kalyan
If you are one of those individuals who are particular about your dental hygiene, you ought to select the best when it comes to dental checkups and treatments. Sabka Dentist is consistently ranked as among the best dental clinics in Kalyan, Thane.
At Sabka Dentist, people not just receive top class treatment for their tooth concerns, but will also get to enjoy one of the best in-clinic patient experience across India. Regardless of the background or career of an individual, we make sure that all our patients feel at ease and face absolutely no issues when approaching or conveying their dental issues across to our dental specialists.
We are some of the top dental clinic chains in Kalyan, Thane, and have a legacy that is unmatched by any other dental clinic in Kalyan, Thane, India. Our dentists are some of the best dentists in Kalyan, Thane.
Sabka Dentist often makes it to the list of best dental hospitals in Kalyan, Thane, owing to our wonderful team of dental experts and surgeons, and cutting edge facilities within our dental clinics. Sabka Dentist was established way back in October 2010, with a single facility in Vile Parle.
Now, we have grown to around more than 100 clinics in Mumbai, Pune, Ahmedabad, Surat, Bangalore, Navi Mumbai, Thane. The Sabka Dentist team works to encourage better dental health and aid people today to feel and look good and proudly carry their smiles.
No wonder, because of our team's commitment and vision to help spread smiles across the world, we have consistently managed to get on the list of top dental hospitals in Kalyan, Thane.
So, next time you plan on visiting a 'teeth hospital in Kalyan, Thane, we should be at the top of your list of dental hospitals in Kalyan, Thane. Consider us your own 'Apna Dentist'; our dentists are undoubtedly some of the best dentists in Kalyan, Thane, and we can help you with your dental problems so that you can carry on and spread joy and happiness across with your wonderful smile.