Dental Clinic in Krishna Nagar
Address: First Floor, Shop no-114, Maruti Plaza, BRTS, opp. Vijay Park, above Dominos Pizza, Krishna Nagar, Ahmedabad, Gujarat 382345
Monday – Saturday 11 AM – 8 PM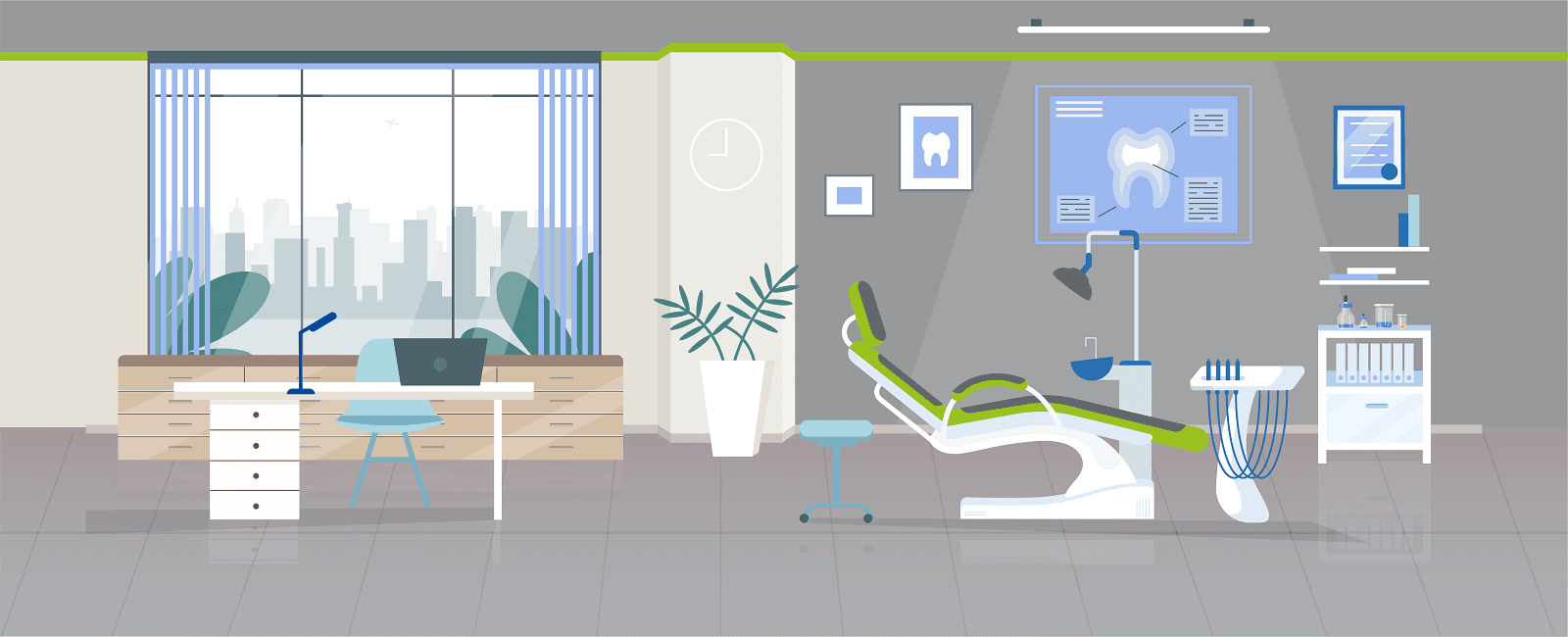 About Sabka Dentist Dental Clinic in Krishna Nagar, Ahmedabad
You have been to doctors whenever you faced problems like neck, body, eyes and few more. But, have you ever been to a dentist when you faced toothache or pain in the tooth? Well, you may think that Dental treatments are expensive, painful, and slow!
But at Sabka dentist in Krishna Nagar, Ahmedabad stands exceptionally. It breaks all the stereotypes or the thoughts that people get related to the dental clinics.
Sabka dentist is a fast running dental chain amongst all the dental clinics in India. It has spread its Brand name across the cities of Bangalore, Mumbai, Pune, Surat, and Ahmedabad. We have a team of more than 500 working members with 100 and more clinics across India.
The motive of Sabka Dentist is to spread all over the country and provide dental treatments at reduced rates. Sabka Dentist is accessible to everyone with less amount of money or a large amount of money. Making everything convenient Sabka dentist uses high-standard technology, breaking the barrier of using traditional means of dentistry.
At Sabka Dentist in Krishna Nagar, Ahmedabad, we have various types of topmost dental experts like Endodontists, Pedodontists, Periodontists, Implantologists, Orthodontists, and even general Dentists who work efficiently towards the betterment of the patients and their oral care.
We keep improving the condition of the patient's oral health by giving them daily updates about teeth and mouth. Dentist in Krishna Nagar, Ahmedabad, our dentist brings personal connections with the patients to let them know how important they are! At our clinic in Krishna Nagar, Ahmedabad, we have a warm welcoming staff, topmost dental professionals, and a positive environment.
Dentists in Krishna Nagar, Ahmedabad, follow the protocol of maintaining privacy. Hence, our dentist follows the protocol of keeping the information personal. We charge our patients for the treatment at minimal prices.
Being the most affordable dental clinic in Ahmedabad, we also offer our patients with Every Month Installments (EMI) to the patients at Zero percent interest rate, making them free from the financial burden and offering the best dental care. At Sabka Dentist we care for everybody's time. Hence, we provide our visiting client with Zero waiting policy.
At Sabka Dentist in Krishna Nagar, Ahmedabad, following are the treatments provided
How to reach Sabka Dentist in Krishna Nagar, Ahmedabad?
Sabka Dentist is a uniquely made clinic in the locality of Krishna Nagar, Ahmedabad. Simple and effective methods of choosing and selecting a dentist is necessary and by keeping the following headpoints in mind you will get the best clinic:
Search for the recommendation that is from a reliable source!
See for a dental clinic that is clean and hygienic!
Dental staff should be polite and helpful!
All the dentists should be knowledgeable !
Search for the dental clinic that has financial perks!
All types of dentists should be available under one roof!
The dental clinic should be close to your place.
They should be available on call, chat or their website!
How can Sabka dentist help?
Visiting Sabka Dentist in Krishna Nagar, Ahmedabad, provides transparency, faith, and comfort to the patients. One can be now free to speak about the issues at Sabka dentist as information will be given privacy.
Sabka Dentist makes it possible for every person, regardless of their status to opt for dental treatments. We are the only dentist in Krishna Nagar, Ahmedabad, that stands out to be different from other dental chains in the locality.
The atmosphere will give the patients a fearless aura. To experience the wonders of Dental treatments under one roof Visit Sabka Dentist in Krishna Nagar, Ahmedabad, today or book an appointment.
I have come for tooth cleaning.. The service is very good.. I would really recommend to all atleast visit once if have tooth problem..

POOJA NILGAR
14:58 28 May 22
Good service sabka dentist krishnanagar

Anand Patel
12:58 28 May 22
Good service and good treatment suggest dr monica and good staff thnx

up jawaan santosh
12:47 24 May 22
Clinig Tritment is very good i am happy and good service 🙂

Lalit Sheladiya
12:40 20 May 22

Nisha Barot
07:09 19 May 22
Nice experience. I got my ortho treatment done by Dr Chaitali Parikh. I am fully satisfied with service.

Shraddha Gondaliya
14:13 18 May 22

Jignesh Prajapati
05:13 18 May 22
Good service provided by staff and doctor.

Manthan Patidar
05:19 16 May 22
Good service and best treatment suggest dr monica and best clinic and staff thnx sabka dentist

Bhavik Prajapati
06:22 14 May 22
Good treatment suggest dr Monica and very helpful staff And good service and I am happy thnx sabka dentist

Roshan Bauskar
14:43 13 May 22
Excellent service by dr. Monika sheoran. Such a nice behaviour.Overall good experience

Krupali Patel
05:32 12 May 22
Good clinic and good service and follow protocol and good treatment suggest dr monica good staff very helpful thnx sabka dentist

Chouhan Pooja
02:51 12 May 22
Best dental clinic and good dr monicamy treatment suggest thank sabka dentist

Vijay Gopalani
14:40 11 May 22
I visited sab ka dentist krishnanagar for my dental check up and I found that I have root canal cavity and now I am going to get appointment for curing it

Shubh Patel
13:30 11 May 22
Good service and quality. Best treatment suggest dr Monica thank Dr

Sagarkumar Patani
04:48 11 May 22

simran kour
15:09 10 May 22
Good service and best treatment suggest Dr thank Sanka dentist

Ajaysinh Dabhi
14:57 10 May 22
Good service and best rct treatmentI got my pain aid swelling relievedThank you sabkadentist

HARSH VERMA
06:23 06 May 22
I got my check up Dr Monica good Dr and good staff and best dentist 👍👍👍🦷🦷🦷🦷 and my tratment cleaning and aligner good suggest tratment thanks 👍👍👍 sabka dentist 🦷🦷🦷

Jasvant Rajput
06:16 04 May 22
Good service and good treatment suggest dr monica thank sabka dentist

Rahul Kundnani
04:46 02 May 22
Good service and best advice for teethThey provide me rct treatment

Jignesh Marvadi
14:35 30 Apr 22

Harsh Sirwani
13:28 27 Apr 22
Good treatment suggest Dr Monica and and good and good staff and thanks for sabka dentist 😀😀😀😉😉

Dhruv Vekariya
11:51 27 Apr 22
Good treatment and good staff and dr monica good treatment suggest and very happy my teeth waiting and im happy 🥰🥰🥰🥰🥰 thankyou for sabka dentist

Niks Prajapati
06:59 27 Apr 22
Good treatment suggest Dr Monica and good staff I'm so happy teeth remov my treatment thnx sabka dentist

Best yratment dr Monica and good teeth remove good suggest and I'm so happy and good staff thanks sabka dentist best clinic

Jeetu Solanki
14:03 23 Apr 22
Good treatment and very happy my cleaning and hood staff thnx dentist

Abhishek kori
12:36 23 Apr 22
Best treatment and good Dr Monica does my teeth cleaning

Jaya Lalwani
12:33 20 Apr 22
Best. Dentist and good suggest for treatment and Excellent dr monica and good staff very careful Mr assistant amrish and miss resepsnist dimple and aligner treatment it was amazing experience thanks for sabka dentist 🤗❤️❤️❤️

Dipti Chouhan
06:41 20 Apr 22
Best treatment suggest Dr Monica my treatment RCT and cleaning I m so happy 😊😊😊 and good sport staff and good menejment and good clinic thankyou for sabka dentist 👍👍👍👍👍👍

Rajesh Israni
05:49 20 Apr 22
best aligner treatment sabka dentist krishnngar. good staff and very nice experience my aligner treatment.

ravi patel
05:59 19 Apr 22
Best treatment and good service and Dr Monica filling and good support staff clinic and thx Sanka dentist

DARSHANA PANDYA
06:33 18 Apr 22
Sabka dentist clinic at kirshna nagar is hyiene n clean and dr. Monika is honest for their profession

Ghanshyam Khemani
06:08 15 Apr 22
Good treatment suggest and Dr monika treatment cleaning thnx sabka dentist

Nikunj Bavalava
13:51 13 Apr 22
Best dentist and very good dr Monika treatment suggests by cleaning and tooth extraction and good staff support and best clinic thnx sabka dentist

Hiren Nakrani
13:57 12 Apr 22
I got my braces treatment done by Dr chaitali Parikh orthodontist .. i am very satisfied of the clinic Dr. monika and Maheshbhai and the helpful receptionist dimple. great dental experience with the clinic staff

bharat dagar
13:58 11 Apr 22
Good Service and best dentist and very good Dr Monica sheoran and my treatment composite and filling and cleaning and good treatment suggest Dr thanks sabka dentist I'm so happy best clinic and staff 😄😄😄😄😄😄🤗🤗🤗🤗

SURESH GURJAR
04:57 09 Apr 22
Best treatment and good clinic Dr monica suggest cleaning good staff and thankyou sabka dentist ☺️☺️☺️☺️👍👍👍👍

Best treatment suggest dr monica rct and good clinic and good staff thnx sabka dentist

Manoj Bhai Darji
06:41 08 Apr 22
Nice experience for this dental clinic

Best treatment suggest Dr Monica and my teeth cleaning ant best sabka dentist clinic thanks sabka dentist 🤠🤠🤠

Gautam Panchal
06:08 08 Apr 22
Best treatment suggestion by doctor

Bharat Patel
05:16 08 Apr 22
I have done my aligner treatment at sabka dentist I am extremely satisfied with treatment and final result👍👍thank you sabka dentist 🤗🤗

Chouhan Divya
04:08 08 Apr 22
This Place is Really Very Good. They Provide Painless treatment at reliable price and Specially Dr. Monika Mem is really genuis doctor. As per my point of view Definately Recommended for teeth related treatment. 😊

keyur patel
17:54 07 Apr 22
Dr. And staff is. So goodI am done my composite fillingGreatfullyThanq so muchSabka dentist ❣️

Hiti Goswami
13:19 07 Apr 22
I went for my teeth cleaning at sabka dentist near my house Krishna Nagar, doctor and staff was supportive and cooperative. Teeth cleaning is what I was expecting. Good service

jigar Makwana
07:20 19 Mar 22
Good treatment suggest and good protocol Dr Monica suggest aligner RCT treatment

Shah Sandip
06:51 08 Mar 22
Really owsm treatment and good behavior staff

Panchal Nayan
14:34 11 Feb 22
Experienced doctor and very hygienic clinic area !

016_Nikhil Meghani_AE
14:47 01 Feb 22
Good services and checkup and dr monica best treatments suggests clining and good protocols staff vesy good clinic

Vanraj Chavda
04:45 22 Jan 22
Dr.Monica treated me well 🙂and gave me 50% discussionSo I got the treatment satisfactorilyThank you sabka dentist

Dixit Chauhan
16:43 12 Jan 22

Sanjay Joshi
06:52 12 Jan 22
Good ...treatment and good protocol and Dr.Monika suggest good clinic...good receptionists bihave dimple Chauhan....Tx.. 🤗sabka dentist

Hetal Mansuri
15:07 11 Jan 22
Good Treatment and good protocol and good staff and Dr Monika suggest Sd-Align

jay prajapati
12:58 11 Jan 22
Good treatment and good check up and dr monica suggested Rct treatment and good staff protocols follow

Mhegna Biswas
06:05 11 Jan 22
Good services and good staf and very good protocol dr monic treatments suggest bt the and cleaning and very good 👍🏻 😀 👌🏻 😄

sahilrathod0077 sahilrathod
06:05 06 Jan 22
Good tretment best treatment providedby the Dr monica ahe good staf ahe best pronto ami clean ning thank sab ka dentist

Kachhad Snajaykumar
13:07 05 Jan 22
Best treatment nd good provide by the dr and very good staff and dr monica sheoran best protocol and good clinic and tooth extraction treatment thnx sabka dentist

Uttam Asari
14:09 03 Jan 22
First time i visit here and treatment looking good and satisfied with consulting .

Ravindra Sharma
13:07 01 Jan 22
Best check up and dr Monica good treatment suggest cleaning and staff very good and all protocols very good and thanks 👍👍😊😊 muje bohot hi achha laga staff ka. Kering

Kiran Parmar
03:57 15 Dec 21
Teeth cleaning free of cost good serviceSabka dentist hospital very good cleaning good atmosphere all service are good

Ghanshyam Mahavar
06:35 13 Dec 21
It was very good for check up of implants and implant and xomposite and filling best suggested dr monica than

vishal jashnani
06:27 07 Dec 21
Nice Cleaning and good treatment

Ravi Joshi
13:53 06 Dec 21
Very good treatment even.. Good advice for Dr.ami shah mem.. Supported staff nd nice working.

patel & patel
05:49 27 Nov 21
Good services and cleaning and best treatment suggest and good staff protocol thanx Sanka dentist

Patel Divyesh
05:07 27 Nov 21
Good checkup. Specially thanks drAMI SHAH..Definitely I suggest if any dental related and problem query visit here. Dr ami shah informed me about amplant and guide me. Proper check up then after proper Guidance.I will be heartily recommend everyone to visit KRISHNA NAGAR BRANCH.Thank uhh sported staff and dr ami shah😊😊

Hardik Panchola
16:57 17 Nov 21
Best treatment and best check up and good protocol and very nice staff and clinic

Kishan Lakhyani
05:03 15 Nov 21
Good services and composite and filling dr ami best treatments suggest and resepsnist very good

ankita koshti
15:35 29 Oct 21

Ajay Mathukiya
05:54 23 Oct 21
Good treatment and dr ami shah cleaning and good staff and protocols best thanks 😊😊😊😊

Gundu Bhai
13:03 22 Oct 21
Protocol is bestTeeth pain.

Krishna Rajput
07:30 22 Oct 21
Implants suggestions, composite or filling.Good behavior of all people .

patel hariom
13:25 18 Oct 21
Good advice for teeth treatment.

RITESH PATEL
06:19 18 Oct 21
I come here to check upMy teeth and its really good service. Doctor is so friendly and very intelligent. I really love it.

Hiren Prajapati
05:22 18 Oct 21

I Started My Treatment Aftr a Month Of My 22nd Bday.... ❣️😍Nd Now It's Almost A Year Nd My Frnds Family all Are See The Difference Nd Askin Me Who's The Dr. 💛The Bst Faculty StaffI Really Thank To Dr. Urvi Nd Dr Chettali 😍❣️for Such An Easy Treat To Me😍😍💫💫💫

jitu bachani
12:37 11 Oct 21
Doctor Ami Shah informed me about implant and filling and guide me and my momy very nicely.. checked done properly and given proper guidance..I will definitely recommend everyone to visit. Keep smiling 😁

Priyanka Lakhwani
14:27 09 Oct 21
Solution Suggestions ByDr.AimnBresseis treatment and Metal treatment tutth

Kailash Mali
14:11 08 Oct 21
Best treatment ans ood heal up and best protocol and sport staff and cleaning treatment dr ami suggest thanks

ramesh joshi
11:56 05 Oct 21
Dr . AmishaVery Good Experience About Knowledge Cleaning And Everything

Mc Junglee
12:59 04 Oct 21
Good cheak up and best treatments suggest and dr ami treatment breaces auggest and best clinic protocol and triendly doctor and supportive staff and thankyou

Kalpesh Lodha
14:14 28 Sep 21
Good service provide and good dr contention and braces treatment dr ami Shah and protocol best thanks

Jully Sikaravar
07:14 16 Sep 21
Good servises and cleaning in the prefet and her team are excellent and highly recomended them to eceryone and dr ami shah best treatment sugest good protocol

Rahul Gohil
14:59 13 Sep 21
The teeth cheking was very good and Dr. Said me to teeth cleaning and

AKSHAY BHOLA
13:19 11 Sep 21
Very nice service.Dr Ami shah tell me about cleaning ,felling and composite ... awesome treatment here.

BHARAT Geloth
13:01 11 Sep 21
EXCELLENT SERVICE AND MANAGEMENT BY SABKA DENTIST KRISHNANAGAR.ALSO DENTAL CLEANING IS BEST SERVICE BY AMIBEN

gopal purohit
14:17 07 Sep 21
Good clinic..nice service provided by dr ami shah..very cooperative doc n staff too.

Mahi Ghodasara
12:16 06 Sep 21
Good checkup . Satisfy fully with checkup. I suggest, If any dental related problem definitely visit here definitely get good result and satisfaction. Keep it up for society. Dr Ami shah provides good consultation with minimal charges.Thank you .

Vedant Patil
12:25 04 Sep 21
Good exercise and clinic and Dr Amo best treatment segust and filling your are best and thnx Sanka dentist Krishna nagar

Sailesh Chauhan
07:17 27 Aug 21
Thanks to Sabka dentist..Specially thanks to dr.Ami shah..

Mrunali Newaskar
04:26 26 Aug 21
Nice advice and good treatment by Dr .

Umesh soni
15:20 18 Aug 21
Very good clinic and good experience and thnx sabka dentist

Sajid Mansoori
06:18 17 Aug 21

Nirali Modi
14:59 12 Aug 21

Sudhir Patel
06:24 29 Jul 21
Nice staff and nice dr treatment and so beautiful clinic

sunilkumar vaishnav
14:44 26 Jul 21
Treatment is very well.Dr.urvi and Dr.Ami both are well trained, staff also very good, i am satisfied.5* given by me according duty

kirtibhai patel
12:20 24 Jul 21
Dr.Urvi and Dr.Ami are co-operative and understand problem easily and give perfect solution.Their co-operative nature encourage me to suggest same doctors for my dear and near.

Amisha Prajapati
03:47 20 Jul 21
My check_up best and dr good and staff best protocol and my experience betar and nice best clinic and thankyou sabka dentist

Karuna Soni
06:40 16 Jul 21