Dental Clinic in Vijayanagar
Address: 45, 17th Cross Rd, Govindaraja Nagar Ward, MC Layout, Vijayanagar, Bengaluru, Karnataka 560040.
Monday – Saturday 11 AM – 8 PM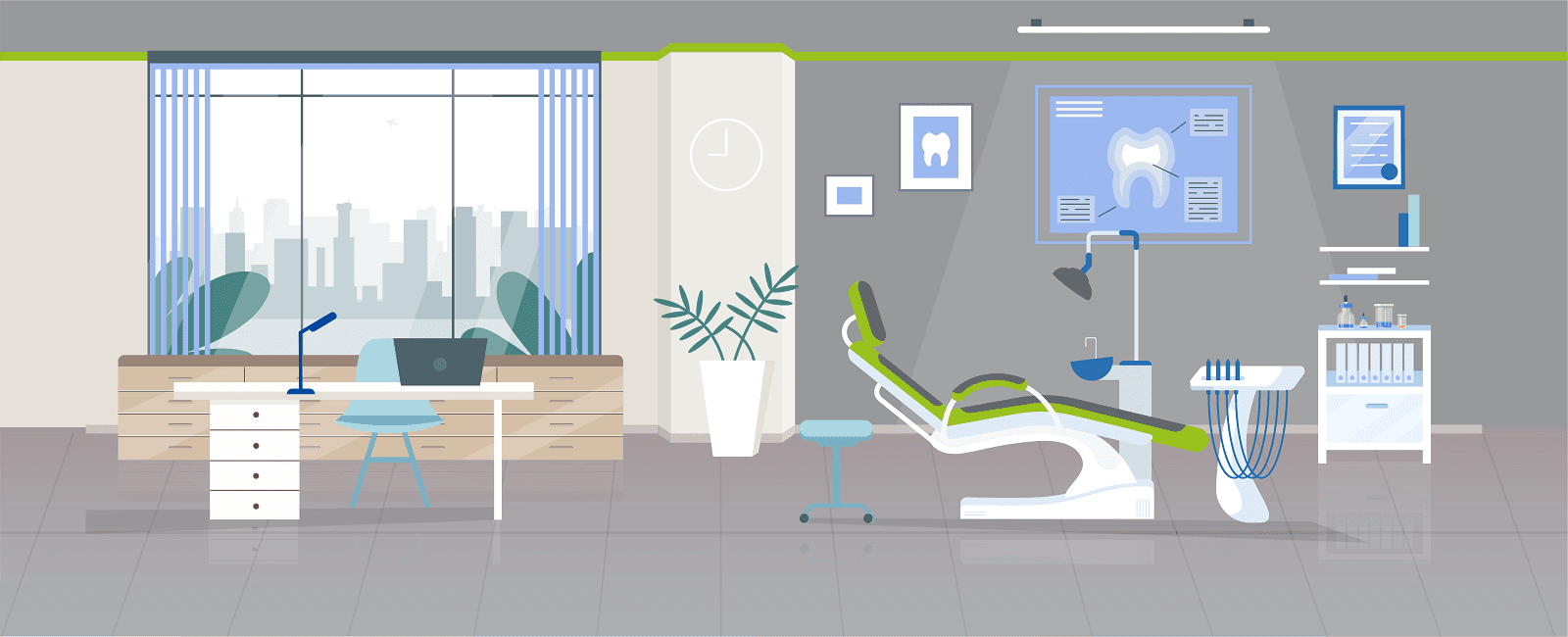 About Sabka Dentist in Vijayanagar, Bangalore
You need an endodontist for your cavity? But your little brother needs a pedodontist? And your grandmother needs an implantologist? Can't figure out where to get all these dental experts under one roof? Well, if you are here, reading this, you're exactly where you need to be.
Sabka Dentist is a leading dental chain in India, dealing with different branches of dentistry, all under one roof. You will find the best dentist in Vijayanagar, Bangalore here.
Personalized and customized dentistry makes us stand out in the crown full of dental competition. We alter and adjust each treatment according to the needs of our customers.
So much so that we also provide an Every Month Instalment (EMI) policy to the financially restricted customers so that they can look after their oral health. Our rates are affordable but EMI is still available at interest-free rates.
A relaxing and warm environment along with the best and top-quality dental treatment is the combination that our dental clinic Sabka Dentist in Vijayanagar offers to each individual.
The dedicated and ambitious dentists and dental staff at our dental clinic near Vijayanagar will assure you a hurdle and hassle-free dental experience. Our team works hard to provide the individuals who visit us, with a comforting dental experience that they can go and further talk about with their friends and family.
Treatments we offer at Sabka Dentist, Vijayanagar
Free Consultation: Sabka Dentist in Vijayanagar, Bangalore provides descriptive and detailed consultation along with a thorough checkup and X-ray. X-rays are required for a more accurate perspective, while the dentists at Sabka Dentist are trained enough to catch the problem in an instance. All this is at a rate of nothing, it is free of cost.
Endodontics: Endodontic treatment is a procedure wherein the infected part of the tooth, due to a cavity is removed and the area is then rinsed and cleaned rigorously. Post that, a filling is added to keep the treated area free from any kind of bacteria or infection. The last step involves adding a dental crown or cap, based on the selection of the patient. The treatment is performed under local anesthesia by highly trained dentists who are precise and accurate in what they do. So, at Sabka Dentist, this treatment is carried with no hesitation or fear as the dentists are highly proficient in all that they do.
Orthodontics (Braces):

Braces help reposition teeth that are mispositioned or irregular in shape. Braces help push back teeth that are too much in front of their original position and bring them back to their natural position. They help a person with their speech activity and biting function also.
Periodontal disease: Also known as gum disease, periodontal disease affects and weakens the gums in our mouth. Severe infection of the gum can also cause the teeth to loosen from its socket, and this can result in loss of the tooth. Experienced periodontists at Sabka Dentist are informed enough to perform surgery and fix this and improve the condition of the gums.
Dental crown: Crowns are like caps for teeth that have just received endodontic treatment or for cracked teeth. Dental crowns can range from a simple metal crown to a porcelain-fused-to-metal (PFM) crown, to an all-ceramic and zirconia crowns. At Sabka Dentist, Vijayanagar, you will find the availability of each depending on your choice and budget. Dental crowns help in appearing as natural teeth and also performing its functions.
Teeth cleaning: A good and clean set of teeth is what one looks at when somebody opens their mouth, to talk, to laugh, to do anything. Teeth cleaning is important as many times, food starts layering up in small gaps and holes, and forms a debris which then leads to decaying and decomposition of the tooth, which leads to furthermore oral hygiene problems, and also bad breath.
Cosmetic Dentistry: This deals with the look and appearance of your set of teeth. Cosmetic Dentistry involves procedures and treatments like teeth whitening to get rid of the yellowness on the teeth, insertion of veneers to help close any gaps and the new branch of laser dentistry. Sabka Dentist is equipped with all the new-age technology required to perform these procedures.
How to find a dentist in Vijayanagar, Bangalore?
Here are a few shortcuts to find the perfect dentist for you and your family:
Find a dentist within your location.
Check for multi-specialty dental clinics.
Compare rates of different dental clinics.
Is the dental clinic sterilized?
Counsel your close ones for a dental experience.
Is the dentist confident in what he does?
We at Sabka Dentist in Vijayanagar, Bangalore follow the STEEEP fundamental policy:
Safe
Timely
Effective
Efficient
Equitable
Patient-centered
STEEP is used by the ADA as a standard measure of quality care. A broad spectrum of state-of-art-technology can be found at Sabka Dentist. Sabka Dentist is the most reliable choice for all your dental problems.
How can Sabka Dentist help?
Sabka Dentist disseminates its dental and oral health care services to 100 different locations, including Bangalore, Hyderabad, Surat, Mumbai, Thane, and Ahmedabad. It has developed over the year in the aspects of its technology as well as its spread.
Optimum quality is what an individual should expect from his dental treatments at Sabka Dentist. Time assigned to a patient is solely made the focus of the dentist, and hence, each treatment is performed in a given period of time, with full dedication owed to it.
The team of 500 dentists, endodontists, periodontists, pedodontists, implantologists, etc. help boost the growth of Sabka Dentist as a company. One of the main reasons for individuals to pick and visit Sabka Dentist is because of its multi-specialty facility that saves the patient the trouble of roaming from one dental clinic to another, in search of a different dental expert, each time.
Having a broad experience in the dental field for quite some time, our dental experts are always at ease while performing a dental treatment or procedure.
Sabka Dentist desires nothing but that perfect smile of its customers every time they visit and also when they exit our dental clinic. A satisfactory treatment or visit or procedure is what we want our customers to utter after every visit.
Just like us, we want our patients to allot the amount of significance, as much as we do, to oral health and hygiene. 
They need to visit the dental clinic when the question "What has happened to my tooth?" pops up in their head and not when this "Where is my tooth?" pops up.
It is not only the teeth that we deal with but other issues such as chewing habits, speech impairment, bruxism, etc. are all dealt with by us at our dental clinic in Vijayanagar, Bangalore. Our dental staff leaves no stone unturned to make the patients feel at home.
Painless treatments are of guarantee here at Sabka Dentist, because there is no degree of discomfort that we would like our patients to face.
Cutting-edge and modern equipment and instruments are used to deal with complex dental procedures. Strict protocols are followed for the maintenance of the dental clinic's cleanliness and hygiene. Sabka Dentist wishes for nothing but the best of its patients.
Tell me more about Sabka Dentist, Vijayanagar
In case you are particular about your dental health care, you must choose the best when it involves dental care checkups and treatments. Sabka Dentist is consistently graded as among the best dental clinics in Vijayanagar, Bangalore.
At Sabka Dentist, patients not just receive top class treatment for their tooth problems, but in addition get to enjoy among the finest in-clinic patient experience across India. No matter the background or career of an individual, we guarantee that all our patients feel at ease and experience absolutely no troubles when approaching or getting their oral problems across to our dental specialists.
We are one of the top dental clinic chains in Vijayanagar, Bangalore, and have a legacy that is unrivaled by any other dental clinic in Vijayanagar, Bangalore, India. Our dentists are some of the best dentists in Vijayanagar, Bangalore.
Sabka Dentist consistently makes it to the list of best dental hospitals in Vijayanagar, Bangalore, owing to our great team of dental experts and doctors, and cutting edge facilities within our dental clinics. Sabka Dentist was started way back in October 2010, with a single medical clinic in Vile Parle.
Now, we have grown to around more than 100 clinics in Mumbai, Pune, Ahmedabad, Surat, Bangalore, Navi Mumbai, Thane. The Sabka Dentist team works to encourage better oral health and help people to truly feel and look good and proudly carry their smiles.
No wonder, because of our team's perseverance and vision to help spread smiles across the world, we have frequently managed to get on the list of top dental hospitals in Vijayanagar, Bangalore.
Therefore, the next time you plan to visit a 'teeth hospital in Vijayanagar, Bangalore, we should be at the top of your list of dental hospitals in Vijayanagar, Bangalore.
Consider us your own 'Apna Dentist'; our dentists are some of the best dentists in Vijayanagar, Bangalore, and we will help you with your tooth troubles so that you can always spread joy and happiness across with your delightful smile.
Had a nice hospitality and communications and doctors had nice check up and informed me about my problems in clear way.

Good staff and professional doctors

Krishna Reddy
12:10 29 Mar 22
It Was A Very Peaceful And Good Environment And The Doctor Was Very Friendly And Provided The Needful Information Which Was Very Helpful. Liked It.

Faiza Fathima
09:14 15 Mar 22
No hassle, see directly from specialist Dr.cleanliness..modern tools..Best serviceQuick CheckupUpdate on Mobile

om rajpurohit
12:09 07 Mar 22
It was a seamless experience. The doctor was knowledgeable and was on point for the initial checkup. Also, no hidden charges. The estimate were also provided on paper so transperancy 5 stars.

Pratik Doshi
11:42 04 Feb 22

Tanuja Gowdar
12:45 02 Feb 22
ವಿಜಯನಗರ ಮೆಟ್ರೋ ಸ್ಟೇಷನ್ ಮುಂಬಾಗದಲ್ಲಿ ಇದೆ ಉತ್ತಮ ವೈದ್ಯಕೀಯ ಸಿಬ್ಬಂದಿ ಇದ್ದಾರೆ,ಅವರ ಸೌಜನ್ಯಯುತ ಹಾಗೂ ಆತ್ಮೀಯ ಮಾತುಗಳು ಪ್ರಶಂಸನೀಯ ಚಿಕಿತ್ಸಾ ವಿಧಾನ, ವೆಚ್ಚದ ಮಾಹಿತಿ ಸಿಗುವ ರಿಯಾಯಿತಿ ಕಂತಿನ ಸೌಲಭ್ಯಗಳು ಉತ್ತಮವಾಗಿವೆ.

Prabhakar B S
14:37 25 Jan 22
Was a good experience, doctors were professional and polite. Nice hospitality

Sumith Surana
11:13 07 Jan 22
Everything seems good, but yet I didnt get the feeling of giving 5 stars, thanks sabka dentist

sulok gowda
07:10 07 Jan 22
Nice well experienced doctor

kokila bhaskar
07:31 25 Nov 21
Experience was excellent. I get right guidance and now feeing better and my gum problems resolved. Thanks to Vijaynagar branch.

Sahil Kalra
15:12 02 Jul 21
Awesome consultation Good Suggestion

Hemanth Gowda
13:36 16 Apr 21
Great Service by Dr. Vashali. Thanks DOC for your valuable suggestions and caring behaviour.

Neeraj Kumar Soni
14:54 03 Apr 21
Doctor was very very friendly n cooperative..I am very much satisfied...Thankq sabka

venkatesh murthy
11:32 28 Mar 21
Doctor was very very friendly n cooperative..Main thing my kid is very much satisfied...Thankq sabka

lalitha jain
14:56 15 Mar 21
Went to sabka dentist, Vijayanagar, Bangalore. They advised me to extraction of the last molar tooth. They gave me a quotation of Rs.4,600. It used to cost me Rs.5000. Hearing this I came back and went to another dentist. There the job was done in Rs.900+ 200(medicines). I am happy.

Amjad Pasha
16:45 03 Mar 21
Quick appointment, good staff & cleanliness.

gururaj prabhu
12:04 24 Feb 21
Nice and Clean place.Professional and polite staff.Kind, caring and efficient, Dr NikitaPleasant n comfortable experience throughout ...

Priya Rajshekhar
12:37 09 Feb 21
Quick appointments. Clear diagnosis by the Doctor. Clarity in explaining to patient on status, procedures, choice of types of teeth treatment etc financing methods etc etc

S. Chandrasekaran
14:07 01 Feb 21
Just visited for consultation and treatment was explained very well, place was hygiene also

Darshan G R
05:55 22 Jan 21

Shiva Prasad
13:59 18 Dec 20
Very professional team. Happy and smiling customer here.

Yallaling S J
12:12 03 Dec 20
Currently my treatment is going on well equipped and experienced doctor they are treating patients like one of us which is nice and cool I'm so excited to see my after brace result thank you

Arun Kumar Hc
10:49 13 Nov 20
Very clean and hygiene place,best dentist Dr.nikitha vernekar,she treated me ,she is good dentist,giving 5 star rating to her.........

RAKSHITH M
10:22 06 Nov 20
Had a good experience.the lady Dr. explained very well.hope to get better with my teeth problem s

GAYATHRI VIVEK
12:42 27 Oct 20
It's a quite professional and safest clinic to get the treatment done.

Kiran Kumar
10:49 30 Sep 20
Got a very comprehensive advice in a very professional manner; I was convinced of the capability and repeatedly visit Sabka for any tooth

HV Ramachandra
10:55 25 Jul 20
I was glad to visit this clinic... their service is just amazing.. the price is even reasonable..Thanks doctors


pushpendra singh
09:03 13 Jul 20
Not satisfied not even 2 months the fillings were intact, they swindled me and took rs.3000/- for small fillings , nos 4 fill ups just in no time they did, who also assured nothing will hamper for a year minimum. When approached again they say it is not the same filling, earlier they did fillings for the same. In one of the filling it had required root canal, but they did not suggest but just filled and made me to come again. When went again they say needs root canal. Please kindly make sure when approached get the words recorded to make sure you are safe. And have the drawings copied. They are definitely cheat but just canvass they are for all, cheaters.

shailendrakm km
15:24 03 Jun 20
Good Doctors treatment also very good

I'm really impressed by the way Dr Monisha carried my root canal treatment. On day one she has said they will complete my root canal in 4 visits and it happened. I waited for 2 months to give my reviews to make sure everything goes well, so far I did not felt any difficulties or pain. Thanks Dr. Monisha and Subka team vijaynagar

pradeep kottalage
15:06 27 Apr 20
Dr. Sandeep and Dr. Punita very good and polite doctor I went in Sabka dentist for RCT treatment Dr Sandeep done my root canal he is very professional and experienced ......he did my root canal painless in very reasonable price.... Finally I'm able to eat from my left side thanks to him and Dr. Punita for kind words.....and staff is very good....

Teju and Sharad
06:29 16 Mar 20
Dr Monisha was very professional in explaining in detail about my dental health.Filling and cleaning was done very well.Dr Nikita was also helpful and supportive. Will definitely take my kiddo and my wife for check up.Keep up the Good work!

Super experience in vijaynagar ...very nice dentist dr. Nikita ....very nice talking ..so reasonably rate also ...not wasting our time also..the best

Nutan Glass Pvt Ltd
10:01 03 Mar 20

Good Staffs are So care takers

sachin mali
15:08 12 Feb 20