Dental Clinic in Tembhi Naka Thane
Address: Shop No. 1, A-39 Wing, Glacia Bldg, Opp Jain Mandir Eduljee Road, Tembhi Naka, Thane (West), Thane, Maharashtra 400601.
Monday – Saturday 11 AM – 8 PM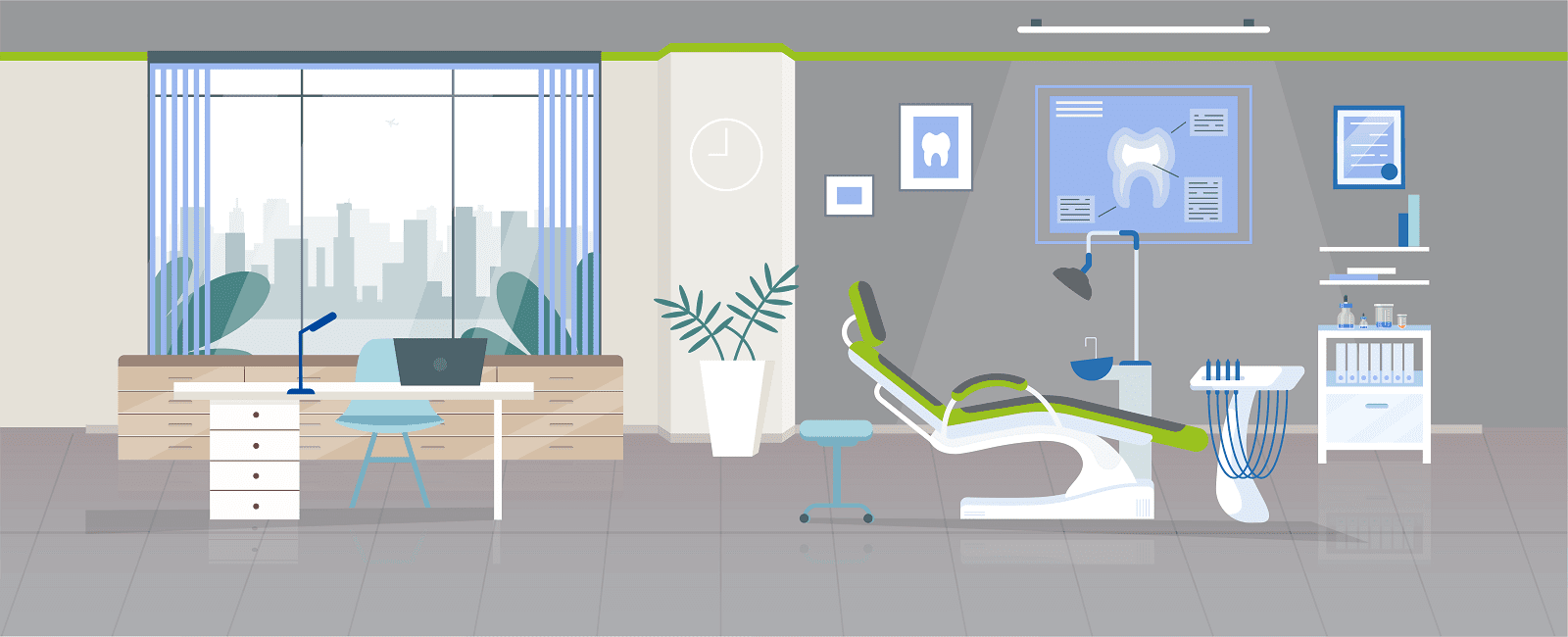 About Sabka Dentist in Tembhi Naka, Thane
Imagine having a multi-specialty dental clinic with the most exemplary dental experts working hard, making use of the modern age technology? Now see it for real, in your proximity. With Sabka Dentist in Tembhi Naka, Thane all this is now possible. Sabka Dentist is a noteworthy dental clinic in India's list of top dental care clinics. With its outstanding service, it has now gained huge momentum in the dental industry and is at the top of its game.
The facilities at Sabka Dentist have been impeccable and such that you will not witness at any other dental clinic. Apart from being the most polite dental staff, they also help patients who are lost and guide them right, recommend dental experts that cater to their exact needs, and welcome them with a positive energy.
Personalized dentistry is available at ease at Sabka Dentist, Tembhi Naka. The proficient, dedicated, and knowledgeable dentists at Sabka Dentist utilize their skills in such a way that its implementation is highly noticeable in the unmatched methods and execution of dental treatments carried out by them. A wonderful atmosphere with a combination of painless procedures is what one will experience as soon as they enrol themselves with Sabka Dentist for their dental treatments.
Sabka Dentist is also beneficial in monetary aspects as it charges standard and conventional rates which are affordable by one and all. Even if a patient faces the plight of making the entire payment at once, there is a policy known as Every Month Instalment (EMI) wherein the patient can shell out the money required for the treatment, in bits, that is, in instalments, with a zero percent interest charged.
Treatments offered at Sabka Dentist, Tembhi Naka
Complete checkup:

A complete dental checkup is performed, where the condition of the teeth, presence of any cavities or infections, cracked tooth etc. are thoroughly checked. In case of the presence of any of these issues, further treatment is recommended and the patient is consulted by the dental expert. An X-ray is also produced in case of a detailed checkup. All this is provided free at cost to the patients at Sabka Dentist, Tembhi Naka in Thane.
Dental implants:An easy and exact alternative to a missing tooth is definitely a tooth implant. A dental implant is simply an anchor that is attached to the jaw bone to act as a supporting structure to a dental implant, bridge or denture. Owing to its exact duplication of a natural tooth, and the complex steps involves, dental implants can be a treatment on the pricier side. However, dental implants at Sabka Dentist charges nominal and standard rates for each and every procedure including dental implants.
Root Canal Procedure:Root Canal Treatment is what you have to go for when you have a deep cavity, that seeps and infects the root and the pulp of the tooth. This infection is removed by cleaning it out using small files, after which a filling is inserted to serve as a base for the dental crown to be covered on top of the filling. Root canal treatment usually requires two to three sessions, and additionally few more sessions for the fitting of the dental crown.
Orthodontic Treatment (Braces):

Crooked and mispositioned teeth can cause problems not only in the appearance of it, but also while talking or biting and chewing food. For this issue, the solution points directly to the fitting of braces, which adjust the teeth accordingly and bring them back into the original position. Orthodontists at Sabka Dentist in Tembhi Naka fit braces with caution and to perfection.
Tooth Extraction:A pain in your tooth can be ascribed to many reasons, some of the main ones being, the protruding of a wisdom tooth, deep cavity, gum disease etc. This calls for the extraction of the teeth in pain, and for the prevention of further spread of the issue.
Dental crowns or caps:A filling or a bridge or an implant will not suffice to look like a natural tooth and function like it. That is why dental crowns are a compulsion as their main objective is to appear like a natural tooth and carry forwards the functions of biting and chewing like a normal tooth does. Sabka Dentist is equipped with each and every type of dental crown, depending on each patient's choice and budget.
Pedodontics:A child, below the age of 12 years, has severe oral health problems because of his or her lifestyle, the food consumed, oral health maintenance etc. Hence, the oral health and hygiene of a child is dealt with by a pedodontist, who very pleasingly and delightfully treats the oral health issues of a child, and make them feel like maintaining oral hygiene and visiting the dentist is a necessity.
Periodontics:Periodontics or periodontal disease or gum disease is an infection of the gums due to bacteria or the presence of yellow foreign matter known as plaque and tartar. This is to be treated through an oral surgery that is performed by periodontists and dental surgeons. Periodontics is a relatively new disease and is to be dealt with slowly, without causing harm to the tooth.
How to find a dentist in Tembhi Naka, Thane?
To find a dental clinic, based on your convenience, can be a seemingly challenging task. But Sabka Dentist is here for you, to guide your way through selecting the right dentist and dental clinic, by simply following the listed tips :
Ask around, your friends, colleagues, relatives, family.
Is it easy to get an appointment?
Do they always perform follow ups?
Are there signs of prejudiced behavior ?
Is the location convenient for you ?
Is the dental expert certified?
Financially, how is it better than the other dental clinics?
Does the dentist make you feel calm?
Is everything explained to you, prior to every procedure or treatment?
We at Sabka Dentist in Tembhi Naka, Thane follow the STEEEP fundamental policy :
Safe
Timely
Effective
Efficient
Equitable
Patient-centered
STEEP is used by the ADA as a standard measure of quality care. Timeliness and trustworthiness are what make us different. Sabka Dentist follows a strict regime of dental protocols, and will never cheat any of its loyal customers. Your time and trust is valued by Sabka Dentist, immensely, creating no space for any regrets.
How can Sabka Dentist help?
Being confined to just one small office space,Sabka Dentist, at first was operational only in Vile Parle, Mumbai. It now has a widespread reach of over 100 dental clinics, spawn over Mumbai, Thane, Surat, Ahmedabad, Navi Mumbai and Bangalore. Each dental clinic will have the same basic procedure, but each one draws attention for its own unique advantages.
The dental experts combined reach a figure of 500 approximately, including endodontists, prosthodontists, pedodontists, periodontists, dental surgeons, implantologists, orthodontists etc. Their modernized methods and techniques are what works so well for Sabka Dentist. They know their way around the mouth, and do not shy away one bit in explaining every small detail to their patients. Nothing is left out or hidden, as they feel it is necessary to be aware rather than ignorant, because at the end of the day it is your own mouth and its problems that are being dealt with here.
Sabka Dentist continues to grow and prosper, aiming for the highest point in the sky, to show the customers how it feels like to be in an environment that can be termed as dental health 'heaven'.
Tell me more about Sabka Dentist, Tembi Naka
If you are one of those individuals who are particular about your dental health care, you should pick the best when it concerns dental care checkups and treatments. Sabka Dentist is consistently ranked as among the best dental clinics in Tembhi Naka, Thane. At Sabka Dentist, patients not just obtain top class treatment for their oral complications, but also get to enjoy one of the greatest in-clinic patient experiences across India. No matter the background or occupation of an individual, we guarantee that all of our patients feel comfortable and experience absolutely no troubles when approaching or conveying their dental complications across to our dental surgeons. We are among the top dental clinic chains in Tembhi Naka, Thane, and have a legacy that is unparalleled by any other dental clinic in Tembhi Naka, Thane, India. Our dentists are undoubtedly some of the best dentists in Tembhi Naka, Thane.
Sabka Dentist often makes it to the list of best dental hospitals in Tembhi Naka, Thane, owing to our wonderful team of dental specialists and surgeons, and state-of-the-art facilities within our dental clinics. Sabka Dentist was started way back in October 2010, with a single facility in Vile Parle. Today, we have grown to around more than 100 clinics in Mumbai, Pune, Ahmedabad, Surat, Bangalore, Navi Mumbai, Thane. Our team works to encourage better oral health and aid men, women and children to truly feel and look good, and proudly carry their smiles. No wonder, resulting from our team's devotion and vision to help spread smiles across the world, we have consistently managed to make it on the list of top dental hospitals in Tembhi Naka, Thane.
Therefore, the next time you plan on visiting a 'teeth hospital in Tembhi Naka, Thane, we should be at the top of your list of dental hospitals in Tembhi Naka, Thane. Consider us your own 'Apna Dentist'; our dentists are undoubtedly some of the best dentists in Tembhi Naka, Thane, and we can help you with your oral concerns so that you can carry on and spread happiness across with your wonderful smile.
The Doctors and staff are very knowledgeable and go out of their way to be helpful to the clients.Keep up the good work and keep the commitments made to the patients.

GOPE KHILNANI
10:49 24 Jun 22
Great experience. Patient and knowledgeable doctors

Manasvi Shakhla
07:24 22 Jun 22
Amazing experience without any hassle.

Good Service And Friendly Staff

Aditya Chopda
11:13 20 Jun 22
Good Service And Friendly Staff

aditya chopda
11:12 20 Jun 22
Very friendly nature Of staff As well as doctor

Nice staff great work Love it.

Vaibhav Atkari
10:38 17 Jun 22
It was so good im so happy to visit sabka dentist

Roshan Thapa
09:22 17 Jun 22
A good experience with treatment and the support from the staff

akshay kharat
07:55 17 Jun 22
Very good service and doctor.

Shubham Pokhriyal
11:42 15 Jun 22
Good doctor service and give valuable suggestion. But little bit costly.

Fahim Khan
06:31 14 Jun 22
Very good service In sabka dentist tembhinaka branch by Dr. Sunny

Niket Bhamat
06:57 07 Jun 22
Very good service in sapka dentist tembhi naka

nilesh kamble
06:47 07 Jun 22
Nice service very less waiting time and great treatment by Dr sunny.

Chetan Badad
06:44 07 Jun 22

Himmat kumar Vardna
14:20 30 May 22

Mayur Sakpal
09:26 19 May 22
The experience was so good this was the very first time I visited to any dentist 🦷 clinic and they told me that my teeth are good they don't need any treatment but they suggested me to go for the teeth floss once in a week or month

Prachi Vlogs
13:57 18 May 22
Wonderful and supportive staff

Nivedan Kothekar
13:21 29 Apr 22
good service, kind staff, satisfied with consultation n work 👍🏻

kiran bhanushali
07:27 21 Apr 22

Aditya Kadam
08:09 05 Apr 22
The treatment is good . Staff & Doctors are very polite & cooperative .Getting excellent service at this centre

Vrunda Shanbhag
10:41 26 Mar 22
It was an wonderful experienceDr. Explained everything before the process started. Then she performed the treatment very gently…She patiently answered all the questions which i had..

Gauri More
05:56 19 Mar 22
I had a wonderful experience!!!I won't able to do braces treatment if Dr sunny was not there .She is the best Dr.Dr rahul was also very patience and help me to do my course on time.And last but not the least the staff memberArchana mam & manisha mam they were very nice and very helping.Overall the sabka dentist is the best dentist I would recommend for everyone.

poonam kudiya
07:22 15 Mar 22
The systematic approach and explanation to the patient make it a best experience.Multiple option as per one's budget helps in reducing tension.Polite staff, trained doctor and nicely equipped with the tech makes the treatment more comfortable. Also great punctuality.

Piyush Maheshwari
12:27 25 Feb 22
Great experience, Doctor explain everything very nicely, I'll recommend my all friends nd family members to visit Sabbka Dentist tembhi Clinic.

Pintukumar Pintukumar
11:00 22 Feb 22
The experience was goodGot the cleaning service doneDoctor explained my doubts very well

Akshay Shetty
14:30 21 Feb 22

Wonderful experience!The process was explained to me before the procedure started, Dr.Sunny was patient with me and kept informing me about every step that was taken.Ms. Archana helped through the registration and billing swiftly with utmost courtesy.I highly recommend their dental care

shreyas rane
06:32 03 Feb 22
Best on point dentist and responsible dentist

kagzi taher
14:49 28 Jan 22
Dr. Sunny and Team are Very Helpful and Professional Staff, they guided very well for dental Treatment.

Prashant Deshmukh
15:23 07 Jan 22
Good treat ment and good suggestionThank you for best treatment

Surekha Jaiswar
07:58 07 Jan 22
खूप छान सर्व्हिस..चांगले डॉक्टर..व्यवस्थित समजावून सांगतातआणि फी सुध्दा कमीत कमी...

Paresh Jadhav
13:30 30 Dec 21

Bhaskar Gavhale
09:40 29 Dec 21
Doctor and sister are good with behaviour and helping

Very nice experience .. DR. and staff are very friendly and understandable 😊. Very satisfied with service 😊 thank you

Harshala Vekhande
12:03 14 Dec 21
It was overall a good experience and Ms.Archana helped me to prepone my appointment and doctor Ms.Reena has done a good extraction.

D.V. Prabhakar
12:38 11 Dec 21
All the doctors and other staff are very friendly. Doctors are very good at their jobs, especially Dr. Sunny and Dr. Rahul. I went for teeth alignment and got great results. Highly recommended!

Neha Baranwal
11:06 02 Dec 21
Firstly I had to goto a dentist during covid time which was bit scary, as you know perception built around we are only hygienic and no one else. But sabka dentist clinic in tembhi naka maintains a good standard in keeping the work area clean and sanitize after every seating. The doctors sunny here is very welcoming and are joyous to talk to. The support staff both the ladies are well mannered and helpful. The doctors patiently listen to your problem and before any process starts they will guide you on probable solutions alongwith rough estimate on the costing. During the entire process as well the doctor keep interacting with you to make sure you don't get distracted with pain, but honestly they have pretty good pair of hands clinic is at a very convenient place

Black Berry
07:54 29 Nov 21

Vishal Ambhore
07:43 29 Nov 21

In this time of covid crisis, the clinic has taken special care to ensure that all equipment is thoroughly sanitized before operating or checking any other patient. The staff is quite friendly and helpful and the doctor sunny is very intelligent and experienced. Receptionist bhoomi and assistant manisha give special attention to each patient, and answered all our queries..hence would definitely visit this again in future.....every six month we should visit clinic for dental check up

Vedant Sarvankar
07:32 29 Nov 21
I visited Dr.suuny for tooth pain which needed extraction and many dentist in our area closed or refused to do bcoz of current scenario.but when I visited sabka dentist clinic I got relief after seeing all precationary measures taken by dr like fogging,sir purifier and what not and offcourse in my pain .Highly highly recommend

Lol 1213 Game
07:28 29 Nov 21
Best clinic in thane staff is very polite..... I visit this clinic every six month for free check up

Harshu Skr
07:24 29 Nov 21
Wow clinic with all dental solution front office staff is very good cunsultaion done by Dr sunnyI have started implant here

B 319 VEDANT SARVANKAR
07:22 29 Nov 21
I went today for dental check up after having check up cunsultaion iam writing this review after entring atmosphere was pleasent n satff are very helpful and taking care of all hygine level in Opratry section all hygine mentain dr sunny is verry humbel an caring iwill recommend to go at sabka dentist tembhi naka Branch

Chaitanya Kargutkar
07:19 29 Nov 21
It's an great time to have treatment with Sabka dentist, staff and doctors are too supportive

Dharmesh Kusba
13:14 12 Nov 21
I was extremely nervous about having my tooth removed, but my worrying was a waste of time. From the moment I entered, you and your team made me feel comfortable and relaxed. I want to express my utmost appreciation for the level of care I received from you and your staff recently.The whole experience was tremendously positive and painless, thank you.

Amrin Sayed
19:13 27 Oct 21
I had a very pleasant experience with Sabka dentist. Doctor and staff were very patient with me and spent a lot of time trying to calm me down. The staff was very helpful and always available to help. Doctor is very professional and takes the time to explain what needs to be done and provide valuable advice. I am using invisible aligners from Then and they are very affordable as compared to other dentist in the business. I highly recommend their dental services to anyone I know.

Pranav Khandekar
18:28 27 Oct 21

Sudhakar Gawade
10:39 26 Oct 21
Cleanliness, Professionalism, Punctuality, Quality, Value

Rahul Maurya
10:12 12 Oct 21
Experience doctor, reasonable rates, good treatment.Satisfied!!!!!!!!!

The Collection Bureau
12:01 09 Oct 21
Excellent treatment by dr. Sunny she explain my dental problems. Nice staff also.

Abdul Gafoor Shaikh
13:27 20 Sep 21

Sugyan Bablu
13:24 18 Sep 21
I had come here for tooth chip complaint, got checkup and done with treatment at affordable cost and within 15 mins with treatment. One of the best places for ur teeth Health

PAWAN GUPTA
11:31 17 Sep 21

Tarun Verma
14:45 14 Sep 21
The consulting Dr. Sunny was very helpful and explained the problem well. Very less wait time and genuine advise for further need of Rx. The other staff and receptionist were polite.

Faisal Qasmi
14:35 02 Sep 21

Sagar Mali
15:01 30 Aug 21
Main abhi tak clinic nhi aya hu aapke logo se suna hai k bhot hi achcha treat ment hota hai isi liya ana chata hu checkup k liye

Imran Khan
23:46 19 Aug 21

Iqbal Shaikh
09:34 16 Aug 21

Naresh Menghani
07:01 16 Aug 21
14 minutes agoI have visited for braces treatment n found Good service also proper guidance and cooperative staff also. Thank u Sabka dentist.

Sudhir Patil
18:06 02 Aug 21
I am undergoing Braces treatment at Sabka dentist, Thane Tembhi Naka. The doctors are very knowledgeable and make sure you are comfortable.The receptionist always calls to make sure i do not miss my appointments every month . The process is going smooth for me so far and i can see the changes already.Way to a beautiful smile!!Thank you sabka Dentist.

Shrinidhi Shetty
10:38 10 Jul 21
Treatment was good. Dr. Sunny & Dr Robin did an excellent job. Also, Archana ma'am was very kind at the reception.

Pranav Mistry
11:36 06 Jul 21

Rocky Patil
06:16 03 Jul 21
Dr.Sunny Saloni is very nice doctor and helpfull


Aayush More
09:22 29 Jun 21
Good treatment and good service

Nik Bhamat
03:31 26 Jun 21
I have got Excellent SD clear aligner treatment by Dr. Ansil and staff . Sabka dentist gave me clear smile ... I'm very happy with Dr. Namrata and Dr Mohini also. All staff is very Friendly and co-operative . Hospital is very clean and hygienic. Thank You So Much Sabka Dentist.

Aamrapali Kamble
13:04 25 Jun 21

Sarfaraz Shaikh
10:38 24 Jun 21
डॉक्टरांनी खूप चांगल्या रित्या उपचार केला

Abhishek Ambhore
09:10 22 Jun 21
खूप छान स्टाफ आहे. आपापल्या कामात सगळेच जण तत्पर असतात. 'कोरोना'च्या पार्श्वभूमीवर सगळी सावधानता, सुरक्षितता बाळगली जातेय हे विशेष. दातदुखीच्या प्रचंड वेदनांपासून त्वरित सुटका करून देणाऱ्या डॉक्टरांचा मी आभारी आहे! डॉक्टरांना मनःपूर्वक धन्यवाद!!

Vidyadhar Pokharkar
09:09 21 Jun 21
Good Treatment and suggestions.

SAKSHI KAMBLI
05:51 21 Jun 21
Nice treatment nice job done

nitesh mishra
13:43 19 Jun 21