Dental Clinic in Tembhi Naka Thane
Address: Shop No. 1, A-39 Wing, Glacia Bldg, Opp Jain Mandir Eduljee Road, Tembhi Naka, Thane (West), Thane, Maharashtra 400601.
Monday – Saturday 11 AM – 8 PM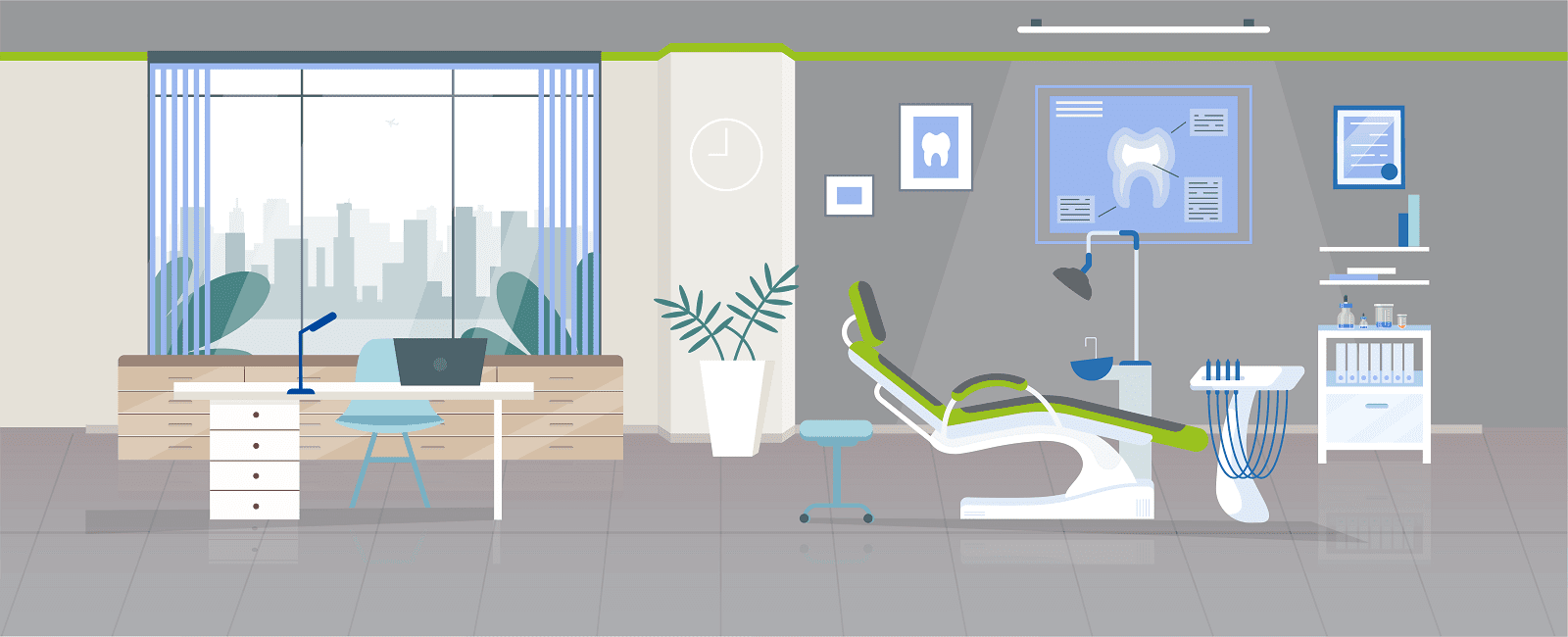 About Sabka Dentist in Tembhi Naka, Thane
Imagine having a multi-specialty dental clinic with the most exemplary dental experts working hard, making use of the modern age technology? Now see it for real, in your proximity.
With Sabka Dentist in Tembhi Naka, Thane all this is now possible. Sabka Dentist is a noteworthy dental clinic in India's list of top dental care clinics. With its outstanding service, it has now gained huge momentum in the dental industry and is at the top of its game.
The facilities at Sabka Dentist have been impeccable and such that you will not witness at any other dental clinic. Apart from being the most polite dental staff, they also help patients who are lost and guide them right, recommend dental experts that cater to their exact needs, and welcome them with a positive energy.
Personalized dentistry is available at ease at Sabka Dentist, Tembhi Naka. The proficient, dedicated, and knowledgeable dentists at Sabka Dentist utilize their skills in such a way that its implementation is highly noticeable in the unmatched methods and execution of dental treatments carried out by them.
A wonderful atmosphere with a combination of painless procedures is what one will experience as soon as they enrol themselves with Sabka Dentist for their dental treatments.
Sabka Dentist is also beneficial in monetary aspects as it charges standard and conventional rates which are affordable by one and all. Even if a patient faces the plight of making the entire payment at once, there is a policy known as Every Month Instalment (EMI) wherein the patient can shell out the money required for the treatment, in bits, that is, in instalments, with a zero percent interest charged.
Treatments offered at Sabka Dentist, Tembhi Naka
Complete checkup:

A complete dental checkup is performed, where the condition of the teeth, presence of any cavities or infections, cracked tooth etc. are thoroughly checked. In case of the presence of any of these issues, further treatment is recommended and the patient is consulted by the dental expert. An X-ray is also produced in case of a detailed checkup. All this is provided free at cost to the patients at Sabka Dentist, Tembhi Naka in Thane.
Dental implants:An easy and exact alternative to a missing tooth is definitely a tooth implant. A dental implant is simply an anchor that is attached to the jaw bone to act as a supporting structure to a dental implant, bridge or denture. Owing to its exact duplication of a natural tooth, and the complex steps involves, dental implants can be a treatment on the pricier side. However, dental implants at Sabka Dentist charges nominal and standard rates for each and every procedure including dental implants.
Root Canal Procedure:Root Canal Treatment is what you have to go for when you have a deep cavity, that seeps and infects the root and the pulp of the tooth. This infection is removed by cleaning it out using small files, after which a filling is inserted to serve as a base for the dental crown to be covered on top of the filling. Root canal treatment usually requires two to three sessions, and additionally few more sessions for the fitting of the dental crown.
Orthodontic Treatment (Braces):

Crooked and mispositioned teeth can cause problems not only in the appearance of it, but also while talking or biting and chewing food. For this issue, the solution points directly to the fitting of braces, which adjust the teeth accordingly and bring them back into the original position. Orthodontists at Sabka Dentist in Tembhi Naka fit braces with caution and to perfection.
Tooth Extraction:A pain in your tooth can be ascribed to many reasons, some of the main ones being, the protruding of a wisdom tooth, deep cavity, gum disease etc. This calls for the extraction of the teeth in pain, and for the prevention of further spread of the issue.
Dental crowns or caps:A filling or a bridge or an implant will not suffice to look like a natural tooth and function like it. That is why dental crowns are a compulsion as their main objective is to appear like a natural tooth and carry forwards the functions of biting and chewing like a normal tooth does. Sabka Dentist is equipped with each and every type of dental crown, depending on each patient's choice and budget.
Pedodontics:A child, below the age of 12 years, has severe oral health problems because of his or her lifestyle, the food consumed, oral health maintenance etc. Hence, the oral health and hygiene of a child is dealt with by a pedodontist, who very pleasingly and delightfully treats the oral health issues of a child, and make them feel like maintaining oral hygiene and visiting the dentist is a necessity.
Periodontics:Periodontics or periodontal disease or gum disease is an infection of the gums due to bacteria or the presence of yellow foreign matter known as plaque and tartar. This is to be treated through an oral surgery that is performed by periodontists and dental surgeons. Periodontics is a relatively new disease and is to be dealt with slowly, without causing harm to the tooth.
How to find a dentist in Tembhi Naka, Thane?
To find a dental clinic, based on your convenience, can be a seemingly challenging task. But Sabka Dentist is here for you, to guide your way through selecting the right dentist and dental clinic, by simply following the listed tips :
Ask around, your friends, colleagues, relatives, family.
Is it easy to get an appointment?
Do they always perform follow ups?
Are there signs of prejudiced behavior ?
Is the location convenient for you ?
Is the dental expert certified?
Financially, how is it better than the other dental clinics?
Does the dentist make you feel calm?
Is everything explained to you, prior to every procedure or treatment?
We at Sabka Dentist in Tembhi Naka, Thane follow the STEEEP fundamental policy :
Safe
Timely
Effective
Efficient
Equitable
Patient-centered
STEEP is used by the ADA as a standard measure of quality care. Timeliness and trustworthiness are what make us different. Sabka Dentist follows a strict regime of dental protocols, and will never cheat any of its loyal customers. Your time and trust is valued by Sabka Dentist, immensely, creating no space for any regrets.
How can Sabka Dentist help?
Being confined to just one small office space,Sabka Dentist, at first was operational only in Vile Parle, Mumbai. It now has a widespread reach of over 100 dental clinics, spawn over Mumbai, Thane, Surat, Ahmedabad, Navi Mumbai and Bangalore. Each dental clinic will have the same basic procedure, but each one draws attention for its own unique advantages.
The dental experts combined reach a figure of 500 approximately, including endodontists, prosthodontists, pedodontists, periodontists, dental surgeons, implantologists, orthodontists etc. Their modernized methods and techniques are what works so well for Sabka Dentist.
They know their way around the mouth, and do not shy away one bit in explaining every small detail to their patients. Nothing is left out or hidden, as they feel it is necessary to be aware rather than ignorant, because at the end of the day it is your own mouth and its problems that are being dealt with here.
Sabka Dentist continues to grow and prosper, aiming for the highest point in the sky, to show the customers how it feels like to be in an environment that can be termed as dental health 'heaven'.
Tell me more about Sabka Dentist, Tembi Naka
If you are one of those individuals who are particular about your dental health care, you should pick the best when it concerns dental care checkups and treatments. Sabka Dentist is consistently ranked as among the best dental clinics in Tembhi Naka, Thane.
At Sabka Dentist, patients not just obtain top class treatment for their oral complications, but also get to enjoy one of the greatest in-clinic patient experiences across India. No matter the background or occupation of an individual, we guarantee that all of our patients feel comfortable and experience absolutely no troubles when approaching or conveying their dental complications across to our dental surgeons.
We are among the top dental clinic chains in Tembhi Naka, Thane, and have a legacy that is unparalleled by any other dental clinic in Tembhi Naka, Thane, India. Our dentists are undoubtedly some of the best dentists in Tembhi Naka, Thane.
Sabka Dentist often makes it to the list of best dental hospitals in Tembhi Naka, Thane, owing to our wonderful team of dental specialists and surgeons, and state-of-the-art facilities within our dental clinics. Sabka Dentist was started way back in October 2010, with a single facility in Vile Parle.
Today, we have grown to around more than 100 clinics in Mumbai, Pune, Ahmedabad, Surat, Bangalore, Navi Mumbai, Thane. Our team works to encourage better oral health and aid men, women and children to truly feel and look good, and proudly carry their smiles.
No wonder, resulting from our team's devotion and vision to help spread smiles across the world, we have consistently managed to make it on the list of top dental hospitals in Tembhi Naka, Thane.
Therefore, the next time you plan on visiting a 'teeth hospital in Tembhi Naka, Thane, we should be at the top of your list of dental hospitals in Tembhi Naka, Thane. Consider us your own 'Apna Dentist'; our dentists are undoubtedly some of the best dentists in Tembhi Naka, Thane, and we can help you with your oral concerns so that you can carry on and spread happiness across with your wonderful smile.