Dentist in Satellite Ahmedabad
Address: Shyamal Row Houses, Shop No 18, F F Dhananjay Tower, B/H 3/B, 100 Feet Rd, Satellite, Ahmedabad, Gujarat 380015.
Monday – Saturday 11 AM – 8 PM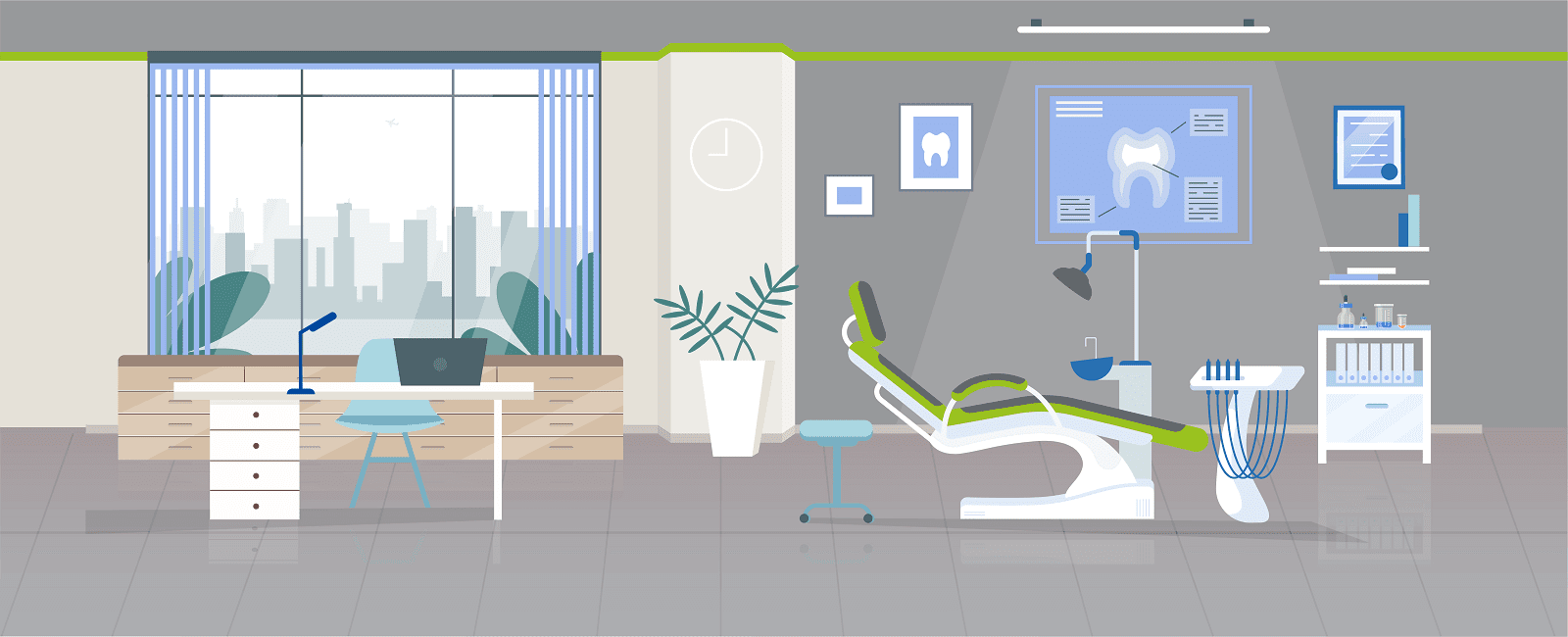 About Sabka Dentist in Satellite – Ahmedabad
Dental treatment, a thing that is to be handled with utmost care and expertise. So we at Sabka Dentist, Satellite – Ahmedabad, aim to provide the most unparalleled dental experience at affordable rates.
Not only are we highly professional and precise about your teeth related problems, but are also supremely concerned about your well being.
We work to provide the best dental treatment to one and all. In addition to the skilled dental treatments, we have an added advantage of it being extremely affordable. So, the amalgamation of quality dentistry and affordable prices assuredly results in an optimal dental experience.
Just in case you thought that was it, Sabka Dentist in Satellite – Ahmedabad offers much more. Specialized and well-trained dentists, along with zero waiting policy for the ones that are restricted by time.
High-end instruments with a dental team that creates a congenial environment for minimal pain, or at times even painless procedures. The best dentists for a worthy dental treatment are available at Sabka Dentist, Satellite – Ahmedabad.
Sabka Dentist's aims to follow strict dental protocols, while keeping in check the latest technology and equipment, and make them available for everyone who visits us.
Treatments we offer at Sabka Dentist, Satellite – Ahmedabad
Complete checkup: Tooth decay is not easily visible to the naked eye. Hence, our dentists at Sabka Dentist evaluate the health of your teeth and gums to make sure they are in good shape. The free checkup also includes an X-ray and consultation. Checking for any gum diseases, stains on the teeth, tartar are few of the many services that make up for a regular dental checkup.
Dental implants:

Dental implants act as an anchor for your tooth and conjoins with your jaw to provide support to a crown, bridge or denture. They perform the function of missing teeth and also easily can pass as a natural tooth. Since it plays such an important role for missing teeth, it can be a highly expensive procedure. Howsoever, we at Sabka Dentist offer a very nominal price for dental implants, i.e., INR 25,000 and INR 50,000 for Economy ADIN and Premium – Nobel Biocare – Active respectively.
Root Canal: That toothache you want to get rid of? The prime solution is a root canal, wherein the inflamed or infected tissues of the damaged tooth are removed and replaced with a rubber-based filling that prevents any other materials from going in. The inflamed tooth is first cleaned with precision, then after adding the filling, the tooth is furthermore protected by adding a crown or cap. The prices of the cap vary according to its constituents. The best dentists at our dental clinic of Sabka Dentist at Satellite-Ahmedabad will help you feel extremely comfortable during what is said to be a difficult and a tad bit painful procedure.
Orthodontics (Braces):

A perfect smile or perfect teeth is something we all wish to have, don't we? Misaligned teeth and crooked teeth can be fixed to obtain those perfect set of teeth, by the use of braces. We ate Sabka Dentist Satellite – Ahmedabad, have specialized orthodontics who will take care of straightening the teeth.
Tooth Extraction: Crummy teeth is one of the major reasons for tooth extraction. Extracting a tooth is a simple procedure wherein the tooth is surgically removed from the alveolar, a socket in the jaw where the roots of the teeth are held. Our dentists at Sabka Dentist uses the high- tech instruments for extraction, with extreme precision, to provide you with a painless tooth removal experience.
Dental Crown: Leaving a decayed or broken tooth the way it only makes way for more tooth problems. So covering it with a dental crown, also known as a cap, is an artificial material that is created by the dentist in the shape of the tooth and is then placed and fitted using dental cement or adhesive. Sabka Dentist will make sure that the crown is securely placed and enlighten you on the aftercare of the crown.
Pedodontics (Child Dentistry): Pedodontics is the dental care of children. The early discovery of dental problems in children only helps for the future. The teeth of children are a little weak, with all the sweet consumption or even broken milk teeth, and all of this is important. From treating cavities, to even providing help for habit breaking appliances like thumb sucking, tongue thrusting, and other oral habits.
Cosmetic Dentistry: Whiter teeth, confident smile, and a perfect set of teeth? All that we wish for, right? Well, with the services and our dentists at Sabka Dentist, you can achieve all of that and more. Some of these services include:
Bleaching: Teeth whitening is one of the most popular procedures that everyone wishes to get right. With the best dentists from our side, this will be done with a lot of ease. And, you can smile wide and bright, with extreme confidence.
Bonding: Bonding involves repairing chipped or cracked teeth, or concealing discoloration of teeth, or even protecting the teeth from cavities or infections.
Laser Dentistry: Our dentists at Sabka Dentist perform this new dental procedure with their wide knowledge of the subject. Lasers are used by dentists inside the mouth to remove overgrown tissues or to reshape the gums or even to whiten teeth.
How to find a Dentist in Satellite, Ahmedabad ?
A dentist needs to be one you can trust blindly. Along with that, you also need to find one within your budget. We have the best dentists at Sabka Dentist, Satellite, Ahmedabad. Selecting your dentist can sometimes be a task. So to make it easier, you need to consider a few things, some of which are :
Is it your first time at the dental clinic?
Is the dentist known to your family or friends?
Is the dental clinic beneficial to you financially?
Is the location apt, that is, close to your home?
Does the dentist make you feel comfortable?
Does the dentist seem knowledgeable to you?
We at Sabka Dentist in Satellite, Ahmedabad follow the STEEEP fundamental policy :
Safe
Timely
Effective
Efficient
Equitable
Patient-centered
STEEP is used by the ADA as a standard measure of quality care. A painless and less time-consuming procedure is what one wishes for before visiting a dental clinic. Well, at Sabka Dentist, that is exactly what you will receive, with utmost care. They should give timely treatment and minimize delay by ensuring time-bound treatments. Dentist in Satellite, Ahmedabad performs under these policies well and do their duties efficiently.
How can Sabka Dentist help ?
Being one of the largest dental chains in India, Sabka Dentist has 100 operating clinics in Mumbai, Bengaluru, Pune, Ahmedabad, and Surat. Having more than 500 dentists at Sabka Dentist, and providing the best dental services at affordable rates is one of our many qualities that help you from differentiating us from others.
Our dentists are experts who have been trained from the best dental colleges and put to use their knowledge very effectively and efficiently at Sabka Dentist.
The dentists at Sabka Dentist have proved their coherence time and again, and through the figures like treatment of 10 million patients, conducting more than 1,50,000 root canals, more than 1,60,000 prosthetics, and many more dental treatments. The dentists at Sabka dentist are equipped in such a way that they provide quality dental treatment to one and all.
The culture at Sabka Dentist is not only highly professional, but also very comfortable and homely. Our dentists treat our patients with the utmost care and always assure that they are at ease before any procedure.
We promote hard work, self-discipline, honesty, aspiration, and ambition. We keep the needs of our patients first and our developed values go hand in hand with that.
High-quality standards of dental hygiene is the topmost priority at Sabka Dentist. We create a trustworthy environment and make sure everything is open to the patients. The main goal is for our patients to feel like it is a treatment or experience that they want to undergo, not one that they have to.
Along with quality dentistry, we also aim to provide these services at rates that are affordable to everyone. We intend to not follow the crowd, but we also keep a standard rate that does not seem like we are burning a hole in the patient's pocket. We strive to achieve these goals by following strict protocols and adhering to the ADA.
We believe in a customer-friendly service and communication. We want to be there for our patients as and when they need us, and otherwise too. A patient's oral health is just as important as anything else, and we make sure that they believe the same.
Tell me more about Sabka Dentist, Satellite – Ahmedabad
If you are one of those individuals who are particular about your dental care, you must select the best when it comes to dental care checkups and treatments. Sabka Dentist is consistently ranked as among the best dental clinics in Satellite, Ahmedabad.
At Sabka Dentist, people not just receive first-class treatment for their dental concerns, but also get to experience one of the greatest in-clinic patient experience across India. No matter the background or career of an individual, we ensure that all our patients feel at ease and experience no challenges when approaching or getting their oral health issues across to our dental surgeons.
We are some of the top dental clinic chains in Satellite, Ahmedabad, and have a legacy that is unparalleled by any other dental clinic in Satellite, Ahmedabad, India. Our dentists are some of the best dentists in Satellite, Ahmedabad.
Sabka Dentists frequently makes it to the list of best dental hospitals in Satellite, Ahmedabad, owing to our great team of dental specialists and surgeons, and state-of-the-art facilities within our dental clinics.
Sabka Dentist was started way back in October 2010, with a single clinic in Vile Parle. Now, we have grown to around more than 100 clinics in Mumbai, Pune, Ahmedabad, Surat, Bangalore, Navi Mumbai, Thane. The Sabka Dentist team constantly strives to encourage better dental health and help people today to truly feel and look good and proudly carry their smiles.
No wonder, resulting from our team's devotion and vision to help spread smiles across the world, we have frequently managed to get on the list of top dental hospitals in Satellite, Ahmedabad.
So, next time you plan on visiting a 'teeth hospital in Satellite', Ahmedabad, we should be at the top of your list of dental hospitals in Satellite, Ahmedabad. Consider us your own 'Sabka Dentist'; our dentists are some of the best dentists in Satellite, Ahmedabad, and we can help you with your dental concerns so that you can continue to spread joy and happiness across with your enchanting smile.
I really had a great experience . Doctors are friendly and very good . Also recommended my brother to visit 😅💯 I am an aspiring Airhostness!! Loving my smile too much! Me and brother both got our smile treatment with Dr Chaitali Parikh.It's best place to visit for teeth cleaning. ND nice staff😊

Kajal Alaiya
15:09 26 May 22
It was a very good experience visiting the sabka dentist.at satellite.Very patiently and with interest looked into the matter.Explained the procedure of the treatment in a very nice way.looking forward to get the treatment done.

jolly alexander
01:27 25 May 22
I got half of my Ortho treatment done from satellite branch from Dr.Chaitali Parikh. Very happy with the treatment, staff are so much friendly and supportive here.

Shraddha Gondaliya
14:07 19 May 22
I visited for cleaning and polishing,was happy with the overall treatment

Hardik agarwal
13:58 19 May 22
I got my ortho treatment done by doctor Chaitali Parikh !!! Amazing experience with painless treatment and very fast results. Recommend all who want their dream smile!! Thank you

Ashok Dantani
12:18 18 May 22
Teeth cleaning good service provided

riya saxena
05:50 18 May 22
Very Good Staff and I got very good consultation. Thank you DR.SWEETY.

Omkar Vishwakarma
18:08 16 May 22
Me and my sister done so many treatment like teeth removal, RCT, and many more, They provide service and painless process. Dr and staff very sapoting and caring. Sabka dentist gives excellent service with proper hygienic atmosphere. I got proper followup after my every time visit. I recommend that everyone should go there. Because sabka dentist guide you proper and also best and kindly atmosphere. Thank you sabka for my best treatment

maithili shukla
11:25 13 May 22

Sharad Gurnani
14:24 12 May 22
Its was really good services

Avesh Bhas
12:46 09 May 22
What a nice new facility! Coming into the clinic, it is clean, bright, and nicely appointed. The staff is professional and greeted me right away. The equipment is clean, new, and up to date. The computer screen is right in front of you, so you can see what they see. They also explain it to you – very informative."she has great support staff and reasonable prices. I highly recommend to everyone. Keep up good work..!!

Foram Patel
09:53 05 May 22
I am Happy in sabka dentist team satellite for good behaviour.

Arjun Bhat
02:13 30 Apr 22
very nice service and very supportive staff service... cool service..

Dignesh Thakkar
07:10 22 Apr 22
It was a good experience.Doctor is very helpful.

Nupur Patel
06:59 11 Apr 22
Sabka Dentist staff even Doctor & staff are coorporatve &supporting. L personally fully satisfied with consultant &treatment.Thanks to Sabka Dentist

Veer Gaurang
09:31 10 Apr 22
Had a filling done here. The dentist and staff were supportive and explained everything. Good experience.

Yash Bachani
15:34 08 Mar 22
Nice place for your teeths to be treated well.

Kush Bansal
14:27 08 Mar 22
I got my cleaning done at this branch and I was completely satisfied with their service. I was skeptical at first as it was my first visit to a dentist but Dr. Sahil Raval and her staff made me feel comfortable. These guys are amazing at their job. I highly recommend this particular clinic.

Bhargav Mehta
11:58 05 Mar 22
Cleaning scanning and given very good treatment and also filled the teeth space

ashish purohit
07:14 05 Mar 22
Its very best experience and doctors share knowledge and their experience much better.

Haresh Patel
11:40 25 Feb 22
My tooth are very dirty but dentist are cleaned my teeth like new born baby, I happy and satisfied mind-blowing workThanks Sabka dentist at prahladnagar road

vaibhav parekh
14:44 24 Feb 22
I got my teeth cleaning done at the satellite branch had amazing service. Highly recommend

Kruti Kaneriya
06:24 23 Feb 22
I had done cleaning and filling of my teeth

It was a great experience thank you ☺️.

Krishna Khemani
13:46 22 Feb 22
Good experience. Did cleaning by Dr. Sweety. Proper instructions and feedbacks were given. Sweet and professional mannerism. Basically, a happy patient. :)

khushboo nagardhane
15:21 21 Feb 22

Sanket Patidar
12:03 21 Feb 22
skillful, trustworthy doctor...good results with aligner treatment ..thank you sabka dentist satellite....

Bhupendra Luhar
11:03 19 Feb 22
I had spacing in teeth...and now with the painless invisible aligner treatment at sabka dentist satellite branch I have great smile...so happy with the results.. Thank you so much sabka dentist

RAJPUT SUMER SINGH
07:07 19 Feb 22
Amazing staff, they do anything and everything to help you and get you the best care. love this doctor and staff!!! Awesome results for the ALIGNER treatment sabka dentist..satellite branch

Ishwar Rana
06:39 19 Feb 22
Visited your dental clinic in satellite for dental cleaning and dr Sweety has cleaned my teeth...nice satisfying job done 👍thank you for nice treatment and nice work 🙏

deval bhavsar
06:12 19 Feb 22
I started my treatment of aligner at Sabka dentist satellite branch... Doctor treated so well and I'm very satisfied with the results with pain less clear aligners . Thank you sabka dentist for your services.

Dinesh Devda
05:31 19 Feb 22
I got pain in my lower jaws, Doctor sweet has checked my teeth. Later also sweetly explained the problems. Very good clinic. Please do visit.

Dinesh Naik
14:47 17 Feb 22
Rct + ceramic crownBest experienceMust visit for dental treatment

Ekta Joshi
14:09 17 Feb 22
It was Nice, As Visited 2 Year Earlier also, Satisfied

Amit Hariyani
07:08 17 Feb 22
The experience was good and I m really happy with the results


Satish Jha
14:49 12 Feb 22

Vinitraj Rathod
12:59 10 Feb 22
I got my check up good suggestion and very supportive staff i am happy this service

Harsh Vaghela
13:20 08 Feb 22
Good suggesting and nice staff and visit soon for tretment..

ilyas shaikh
13:49 05 Feb 22

Rushabh joshi
13:52 31 Jan 22
The check up was good. Doctor helped with the solution to my problems in a friendly manner. So yeah experience was good.

SAKSHAM JAIN
13:47 31 Jan 22
Good consultation n nice experience of teeth cleaning

Monark Desai
06:00 31 Jan 22
It was awesome and the result is definitely there. Thank you so much

mehzabin chippa
05:54 30 Jan 22
Satisfactory service & saff is also very co operative.

Payal Borse
14:15 29 Jan 22
It was a great experience of check up. The doctor is very good and friendly.

Radhika Sharma
07:34 29 Jan 22
Great experience and proper guidance about my teeth.

Karan Solanki
06:52 29 Jan 22
Service is good and facilities are also good.They guide us for good protection of teath.

Ronaksinh Chauhan
05:49 29 Jan 22

Nikhil Soliya
06:44 26 Jan 22

Bhavya Munjpara
12:19 24 Jan 22
It was good experience, the doctors are very humble. The review is satisfactory.

Sonali patil
13:11 19 Jan 22

Shayona Academy
06:10 18 Jan 22
Had Checkup and tooth filling . Very good experience 👍👍

Maharshi Pancholi
13:46 13 Jan 22
I got my check up good service..

Kiranbhai Parmar
13:30 12 Jan 22
Best services in this area

That was to much goodAnd service was batter

RAJESH AHIR
06:46 12 Jan 22
Provide good service with all the detailed knowledge of ur problem and the treatment they are providing

Pooja Ghorpade
19:29 11 Jan 22
It was done in very short so I'd not have word to explain in details but eventually it was good in terms of hospitality and Appreance

The Dark World
14:20 11 Jan 22
It was a good experience at all.. and staff was also good.. but you know this is the formalities for gaining patients throughout the marketing skills... And after that they give us quotation for our teeth treatment which is very highly..

arun valiya
14:18 11 Jan 22

Ankita Gondaliya
12:28 11 Jan 22
Very nice staff with good filling trearment..Thank you so much.

Meena Dutta
08:11 11 Jan 22
It was a great service from Dr. Sahil it was painless scaling treatment .Very good staff also Will visit again..

lm solanki1651
14:24 10 Jan 22

Solanki Chandi
12:23 10 Jan 22
It was a nice experience the support staff and doctor are very comfortable and cooperative!

Nisarg Patel
06:22 10 Jan 22
The management n services by the clinic are much good. Initially,they provide free check up n consultancy. Which is really appreciative.

Ritika Mali
15:08 08 Jan 22
It was a good experience for me .

Tirth shah
14:07 08 Jan 22

Pratik Jain
13:25 08 Jan 22
Superb nature....all staff are v good..

ludo tournament
08:18 08 Jan 22
It was a great service from Dr. Sahil it was painless checkup. Very good staff also Will visit again

Kishor Singh Rajput
07:00 08 Jan 22
good staff and fast service I am satisfied my dental treatment I got ortho treatment of braces by Dr Chaitali parikh madam . i am very happy with treatment and perfect smile. Thank you!!!

Naman Depala
14:29 07 Jan 22
Happy with consultationGood guidance for further process

devanshi pandya
14:19 07 Jan 22
I visited Sabka Dentist for Teeth Cleaning, it was good and I was comfortable and painless during the whole session. Thanks to Dr. Sahil for easing me up in getting the Cleaning. Also get good advice..and very cooperative staff

Thakur akash
13:37 06 Jan 22
I'm start my RCT treatment very good service and painless process dr and staff very sporting and caring

Yes Vaghela
06:59 06 Jan 22

Karna Bhavsar
07:22 05 Jan 22

Hina Maheta
14:48 03 Jan 22

Bhavesh kumar Maheriya.
07:47 31 Dec 21
Ciling & Filing Done In Sabka Dentist...Very Good Experience...👍

Bhoomika Patel
06:01 23 Dec 21
Have visited and very good consultation and solved .

Dhruv Trivedi
14:16 22 Dec 21
મે સબકા dentists ma Deep કલનિંગ કરાવ્યું છે . ઘણો સારો અનુભવ રહ્યો મારે.. very nice service and very good work staff service...

Bhavesh Shrimali
06:22 20 Dec 21
The good treatment from Sabka dentist. I got orthodontic braces ( fast metallic treatment) by Dr Chaitali Parikh mam /Dr Vijay Waghela / Dr Himani Nanavati and all other staffs the same was done very satisfying and all staff and doctors are good supportive. Good reminders for routine check up by staff. Would prefer to surely go for Sabka dentist. Thanks.

I got my orthodontic treatment done by Dr Chaitali Parikh mam.. Best best best thankyou doctor can't stop smiling now. Very caring staff and hygienic services!! Recommend her for all kinds of smile problems!!!

Harshii kadu
13:46 15 Dec 21
I was attended by Dr Sahil Raval for my first visit and thereafter there was no looking back. She not only gave the best treatment but also guided me throughout the process. I had to undergo RCT and she explained me each and every step while performing it. I also had tooth filling done. All my queries were heard very patiently. I am also getting my clear aligners here and I know it will turn out perfect. Dr Sahil is very friendly and so is the staff out there. Very welcoming, great communication and also affordable services. I would surely recommend everyone who is reading out this review to get treated by the best.I got my orthodontic clear aligner treatment by Dr Chaitali Parikh Mam and I am very satisfied with the treatment and guidance provided throughout the treatment.

Aayushi Patel
12:06 15 Dec 21
Cleaning and filling, excellent service

keyur soyantar
06:24 14 Dec 21
I came to know about sabka dentist and met with Dr. Sahil they guided me every about dental crown fitting I choosed good quality for premium crown according Dr Sahil Guidelines.Amazing and affordable service..Thanks to Sabka Dentist and his caring staff too...

Neel Tiwari
16:07 11 Dec 21
I got done my teeth cleaning and very painless treatment and I am very satisfied thankyou

Naman Parikh
12:47 11 Dec 21
The staff available at clinic are very cooperative and guiding properly. Thanks to sub ka dentist for checking free of charge.

Patel Himmatbhai
07:46 11 Dec 21
I was attended by Dr. Sahil for my first visit and they guided us with every details regarding the braces treatment. I started this treatment since 2 months from Dr. Sunny. He treated so well that i very satisfied with the results with pain less with this braces....Dr. Shahil and Dr. Sunny both are well professional and very friendly and so is the staff out there. Great communication and also affordable services.Thank you so much "SABKA DENTIST"

khyati vasoya
17:51 06 Dec 21
It was good experience visiting..Dr Sahil Raval gave us the best guidance....

NIRMOHI MODI
07:34 06 Dec 21
They have provided very good tooth cleaning service with proper advice and guidance

Kirit Halani
12:30 04 Dec 21
Cleaning and filling good

Umang Astik
05:37 02 Dec 21
Good response by all staff members...

neha prajapati
14:51 30 Nov 21

Jenish Nasit
12:56 30 Nov 21
I had check up done and very good experience

Sahil Belim
13:40 15 Nov 21

Sohel Shaikh
04:54 15 Nov 21
It was a really amazing teeth cleaning treatment I had. I really appreciate it and Thank you so much!

Jeet Ladani
07:38 13 Nov 21
Treatment was very nice , implant ( three implants on lower side ) also bridge ceramic capping , RCT , cleaning and polishing work was done by doctors ..They are thoroughly professional also friendly , well experienced . Clinic is well equipped..Doctors and staff are very cooperative and well behaved that make you comfortable during the treatment . I fully recommend sabka dentist satellite for all the dental treatment.Thanks Sabka dentist

PREETI GUPTA
06:02 29 Oct 21
Good quality , best services ,good communication skills of all staff whom working with sabka dentist ..

RAHUL RAYKWAR
06:44 28 Oct 21
Perla hu khub darti Hati treatment mate pachchi mane dr.sahil ae check up Kari Bathurst explain Karyn ne best advice aapi and hu ae pachchi treatment karva mate taiyar thai and me Mari treatment start karavi and me rct and premium crown karavyu and Mari treatment khubj sari ane painless Hati hu khub j happy chhu Mara treatment this dr.sahil and aemno staff khub j cooperative chhe mane Mara family jevi feeling Aavi and hu strongly Mara family members recommend Karish k ahiyan j check up and treatment karo thank you for best service...😊

Beena Mehta
05:59 28 Oct 21
Really good service! The staff and Dr Janaki were very friendly. Dr Janaki did my cleaning she did an amazing job and I felt very comfortable. She explain me about basics of teeth cleaning and what I was doing wrong while daily brushing of teeth that really very helpful to me. Highly recommend this dental office! I've finally found a dentist I don't hate going to.

hiren acharya
04:05 26 Oct 21
I visited Sabka Dentist for Teeth Cleaning, it was good and I was comfortable and painless during the whole session. Thanks to Dr. Janki for easing me up in getting the Cleaning. Also get good advice...

Ankit Kumar
14:56 20 Oct 21