Dental clinic in Gandhinagar
Address: GF/22, Grd Flr, Sub Plot No SP-5 Infocity Super Mall-2, next to Cafe Coffee Day, Gandhinagar, Gujarat 382009.
Monday – Saturday 11 AM – 8 PM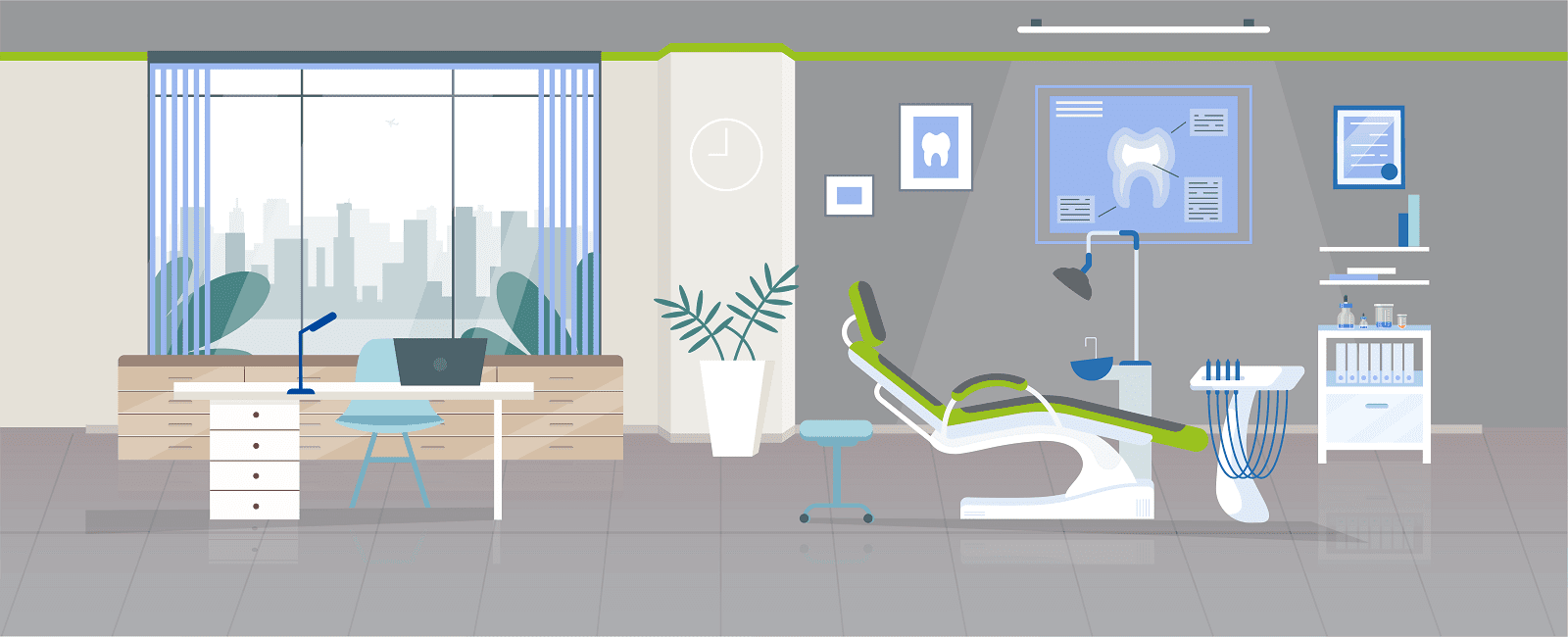 About Sabka dentist dental clinic in Gandhinagar
Sabka Dentist targets the entire population of India, but specifically tries to grow bigger and better in the remote area so as to provide improved and advanced oral health services, as well as, expanding its spread.
It is so much like the proverb of "killing two birds with one stone." Sabka Dentist in Gandhinagar attracts all the crown, even the one that is not aware of the significance of oral health issues.
Sabka Dentists' dental clinic in Gandhinagar, Gujarat is one of the most plush, hygienic and organised dental clinic with the best trained dental experts utilising their skills in the complex dental procedures.
The dentists at the Sabka Dentist, Gandhinagar dental clinic range from being experts in various fields such as orthodontics, endodontics, pedodontics, periodontics, dental implants, cosmetic dentistry, laser dentistry, and of course, general dentistry.
Dentistry is a widespread medical field, and is often neglected by people as its consequences are usually not visible to the naked eye. But dental or oral health is one of the most important aspects of the human body, as the health of your gums, the odour of your breath, the appearance of the set of teeth when you smile, all of these things are highly dependent on how good or bad your oral health and hygiene is.
We at Sabka Dentist, Gandhinagar, can assure that you will receive the best dental treatment for all mouth-related problems, irrespective of how complex they are or however long it has been since you have started facing them. We also guarantee you the best and most affordable prices for dental treatments. And if you cannot pay all at once, no problem!
We also offer Every Month Instalment (EMI) options, which are described better and in more detail on our website. We charge standard rates for every problem ; depending on the complexity of the problem, the charges then vary.
Along with all these benefits, we also bring to our customers the latest technology to solve all their oral health problems, with highly skilled and highly trained dentists.
Treatments that we offer at Sabka Dentist, Gandhinagar
Endodontic Treatment:

Endodontic treatment is also known as the root canal treatment. This treatment involves the extraction or removal of a deep cavity embedded in the roots of the pulp of your tooth. It takes a small amount of local anesthesia to numb the pain, a few small files to clean and extract the dead parts of the blood vessels, some Gutta Percha to make a rubber like filling, and finally, a good reliable dental crown or cap to protect the tooth from further entry of bacteria or damage material. Oh, and of course, a skilled endodontist, available at Sabka Dentist, Gandhinagar, is a compulsion for this procedure to becomes a success.
General check up:Our dentists at Sabka Dentist, Gandhinagar, will go the extra mile by providing you with a free dental check up, in addition to the consultation and x-ray as well. Because it is at absolutely no cost, does not mean they will take it lightly and not explain the seriousness of a problem, if any. In fact, the consultation process at Sabka Dentist takes a bit too long, because not only is the dentist explaining details of what the oral health issue is, but is also addressing the respective concerns of the patient, so that they can proceed without any doubts in their mind.
Orthodontics:

When an individual hears the word 'braces' , it causes a sudden disappointment in them. Nobody wants to have a band around their teeth, but answer this ; would you rather have a crooked and imbalanced smile, or something to fix that ? This is the work of an orthodontist. An orthodontist will recommend an orthodontic treatment, or putting a band around the set of your teeth to push and realign them into the standard position, to anybody who has a misaligned set of teeth. Orthodontic treatment will only help you better your already beautiful smile.
Tooth Extraction: Cramped up or crowded places make you feel nauseous or claustrophobic, right? Imagine the feeling the inside of your mouth feels with extra teeth, like the wisdom teeth, all trying to fit together. This calls for a tooth extraction, yet another unique dental procedure carried out at Sabka Dentist, Gandhinagar.
Pedodontics:Like we have child physicians, the same way we have pedodontists. A pedodontist deals with the dentistry and dental issues of a child. Children have a different jaw bone structure, and hence, the gravity of dental issues in their mouth, may differ widely from those in adolescents and old people. So, a special field of dentistry, known as pedodontics is assigned to them.
Periodontics:There are diseases that can take place in your mouth as well. One of the many are the gum disease or periodontics. In this disease, the gums have gravely been decayed or infected to an extent that they need to be treated. The abscess is either drained or this disease is then tackled using antibiotics recommended by the dentist.
Cosmetic dentistry:To enhance that smile further, or get them their main color back gone away because of discoloration, or to help close gaps using veneers, or the latest branch of dentistry, that is, laser dentistry, all of this constitutes cosmetic dentistry.
Dental implants:

An alternative to missing teeth can only and only be dentures and overdentures, which are in turn supported by dental implants. Dental implants are structured in such a way that they support the tooth right from the bone of the jaw. Sabka Dentist, Gandhinagar is equipped with high end technology and instruments to carry our such a procedure with ease.
How to find a dentist in Gandhinagar, Gujarat?
We at Sabka Dentist wish to make your work easier by listing out a few guidelines that you need to pay heed to while selecting a dentist for your regular check ups:
Ask your close friends and family for suggestions
Find a dentist in your vicinity
Check the dental clinic carefully to see the hygiene levels
Check the level of professionalism maintained between the client and dental staff
Check their website to see how active they are
See reviews online
Check for standard rates
We at Sabka Dentist in Gandhinagar, Gujarat follow the STEEEP fundamental policy:
Safe
Timely
Effective
Efficient
Equitable
Patient-centered
STEEP is used by the ADA as a standard measure of quality care. Sabka Dentist in Gandhinagar, Gujarat leaves you in a state of no hesitation as it adheres to every dental protocol listed out and mentioned by it. They provide with the best dental services in town with a pleasing dental environment that you can be hassle free in.
How can Sabka Dentist help?
A leader in the dental industry, Sabka Dentist, is one that is known for its comforting dental, stress free environment. It has changed the game and turned tables because of its high end technology and unique treatments that are not available elsewhere.
With a strength of more than 500 dental experts, Sabka Dentist proudly flaunts its team of dental experts, who are proficient and dedicated in all that they do.
The treatments carried out at Sabka Dentist have proven to be the most precise and hygienic dental treatment by whoever has experienced them. Be it at any dental clinic of Sabka Dentist, Bangalore, Mumbai, Thane, Surat, Ahmedabad, Gandhinagar, we give priority to the most important things such as hygiene and our patients.
We leave no chances of any complaints, and even if an individual is unhappy or dissatisfied with their experience at Sabka Dentist, we only strive to work better and improve any thing that we are not already the best at. We require people to comprehend how important dental health is, because 'better late than never' doesn't always work, does it?
Each and every attempt from our side is to make sure or ensure that the patient is at ease and trusts us completely to hand over his or her dental health to us.
We make every attempt to build a foundation of trust and loyalty, which we believe works both ways and only through actions. Our statistics have time and again served as evidence to our hard working dental work at the clinic.
Receiving feedback along with new ideas from our customers is what makes us want to strive and implement them so as to bring that smile on their faces. Bettering smiles in the whole idea, and we at Sabka Dentist, only want to push that smile to its farthest limit.
Tell me more about Sabka Dentist, Gandhinagar
If you are one of those individuals who are particular about your dental health care, you ought to select the best when it pertains to dentistry checkups and treatments. Sabka Dentist is consistently ranked as one of the best dental clinics in Gandhinagar, Gujarat.
At Sabka Dentist, people not just get top class treatment for their tooth problems, but will also get to experience one of the best in-clinic patient experience across India.
No matter the background or career of an individual, we guarantee that all of our patients feel at ease and experience absolutely no problems when approaching or conveying their oral health issues across to our dentists.
We are amongst the top dental clinic chains in Gandhinagar, Gujarat, and have a legacy that is unrivalled by any other dental clinic in Gandhinagar, Gujarat, India. Our dentists are undoubtedly some of the best dentists in Gandhinagar, Gujarat.
Sabka Dentist often makes it to the list of best dental hospitals in Gandhinagar, Gujarat, owing to our great team of dental experts and doctors, and advanced facilities within our dental clinics. Sabka Dentist was founded way back in October 2010, with a single facility in Vile Parle.
Currently, we have grown to around more than a 100 clinics in Mumbai, Pune, Ahmedabad, Surat, Bangalore, Navi Mumbai, Thane. Our team works to encourage better dental health and aid men, women and children to really feel and look good, and proudly carry their smiles.
No wonder, due to our team's determination and vision to help spread smiles across the world, we have consistently managed to make it on the list of top dental hospitals in Gandhinagar, Gujarat.
So, next time you plan on visiting a 'teeth hospital in Gandhinagar', Gujarat, we should be at the top of your list of dental hospitals in Gandhinagar, Gujarat. Consider us your own 'Apna Dentist'; our dentists are some of the best dentists in Gandhinagar, Gujarat, and we can help you with your tooth concerns so that you can continue to spread joy and happiness across with your wonderful smile.