Address: 103, First Floor Sarovar Plaza, 80ft. Ring Road Gangotri circle, above Sale India, Nikol, Ahmedabad, Gujarat 382350.
Monday – Saturday 11 AM – 8 PM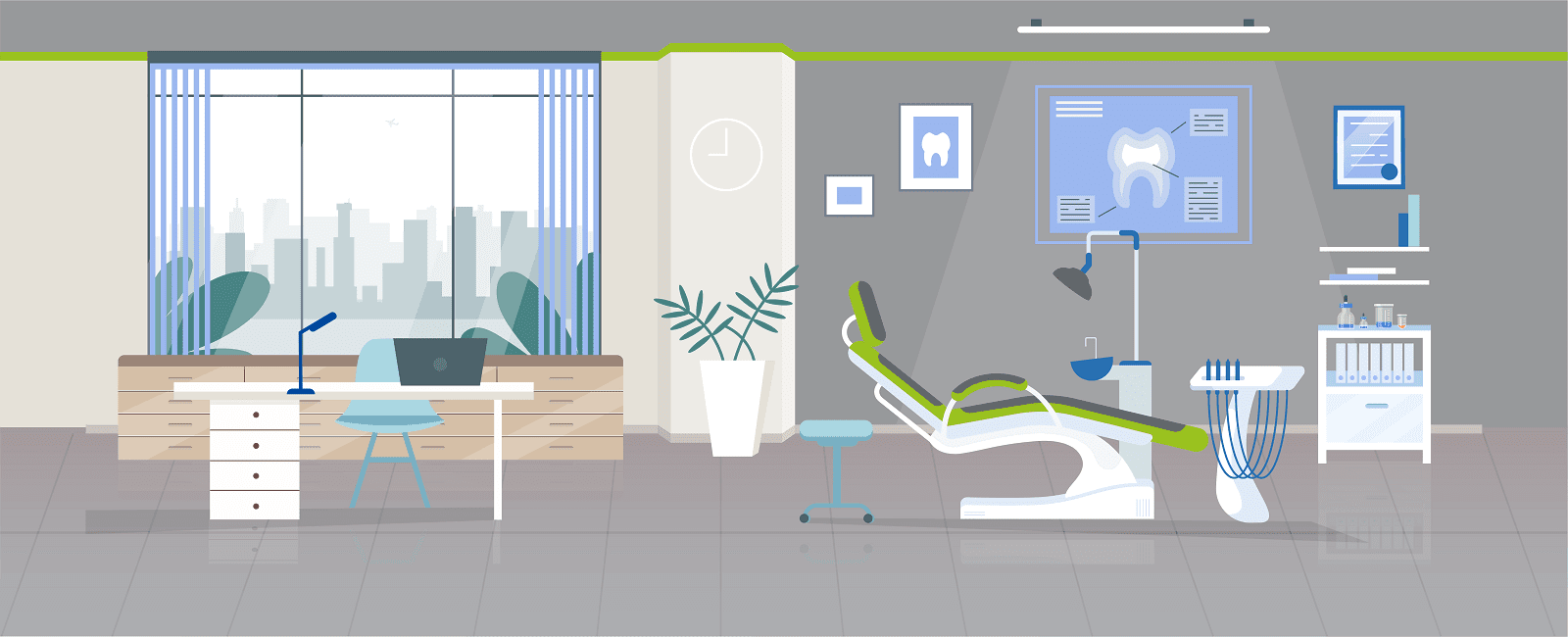 About Sabka Dentist Dental Clinic in Nikol, Ahmedabad
Offers a relaxed and unique dental care experience, coupled with the highest standards of dental treatments. Dentistry absolutely need not to be anything less than a pampered pleasant experience.
Dental treatments in Nikol, Ahmedabad at Sabka Dentist dental clinic confines in a calm surrounding and, will amaze you with how painless and fast most of the modern dentistry is!
At Sabka Dentist, our aim is to provide good oral health and create beautiful smiles. In the process of achieving this, we provide an excellent implant, preventive, restorative, and conventional dentistry.
Our commitment to these goals provides you with unparalleled service with the highest standards of dental hygiene in a comfortable and pampering environment. We know you will be delighted, not only with the treatment but with the way you are treated. Here you will find a welcoming ambiance with warm, friendly staff and total transparency.
Our Services
All dental treatments from dental crowns to major smile makeovers; a wide range of dentistry procedures and full mouth dental implants; everything is available under one roof!
The well trained and specialized dental team constantly staying updated through continuing dental education.
State of the art treatment techniques and instrumentation.
Value for money treatment options and costs.
Zero waiting policy.
Priority treatment completion at no extra cost for time-bound patients.
If you are looking for any type of dental treatment like metal free crowns and bridges, veneers, dental implants, tooth whitening, implant dentures, smile corrections, gap closures, fixed teeth, root canal treatment, gum surgery, kids dentistry, laser dentistry, gummy smile correction, wisdom teeth extractions, dental X-rays, etc., we are the ideal choice for best dentists for dental treatment in Ahmedabad, India.

Paresh Panchal
06:41 23 May 22
SABKA DENTIST-NIKOLSelf thanks to Sabka Dentist Nikol staff.Staff reminder me for regular & routine checkup.After arrived staff given proper co-operation& Dr.checked all teeths propally.Self satisfied with staff of sabaka dentist-nikol.My cleaning treatment is done by dr.Julee shre is good treatments suggest me my treatment is pain off and staff behaviour also frank

shirish deshpande
15:56 18 May 22
It really helps me to find my dental problems

Krupa Vaddoriya
12:14 17 May 22
Free dental cheakup strongly recommend to visit

Darshan Patel official
05:17 04 May 22
Best servicesGood results

Sanju Rajpurohit
13:10 27 Apr 22

Vivek Singh
12:16 20 Apr 22
Nice place and good behavior with customer.

monali patel
08:30 19 Apr 22
Good Service. Just need to say , treatment charges are on very higher side as compared to market.

Bhagyeshkumar Jain
11:29 13 Apr 22
Great experience with sabkadentist for orthodontic braces treatment. Dr. Chaitali completed my treatment and I am fully satisfied with it .

Ravi Belani
15:10 11 Apr 22
I got my braces treatment done by Dr Chaitali Parikh orthodontist.. Amazing experience and best Treatment !!! Thankyou ❤️

james smith
15:07 11 Apr 22
Happy to visit..they came with solutions and after two sittings Of RCT, the pain somehow subsided.. hope to be on better experience after completion of treatment...recommend others too

Shashikant Singh
07:21 05 Apr 22
I m started ortho treatment in nikol.it's a suggest perfect treatment plan and guid.my best experience wid treatment and no pain in treatment nice consultant and clinc protocols are always follow ... thank you for sabka dentist now I m setisfied in my treatment it's best experience for me

Savan Piprotra
12:06 28 Mar 22
Had wonderful experience throughout the treatment and would certainly recommend everyone to get the braces treatment done at Sabkadentist Nikol.

I m started my ortho treatment in sabka dentist I feel better it's pain off treatment also I feel comfortable with my treatment thnku for give me aa better smile

Dixa singh somvanshi
11:58 28 Mar 22
I had an very good experience with the entire team of sabka dentist at Nikol ,staff is very polite. As well as the consultant Doctor Mr.Yash Acharya is supportive and geniune.Thank you for the nice service🙂.

Niharika Patel
06:16 08 Mar 22
My free dental checkup was done I m satisfied with my checkup thank u for given my best treatment plan

Jitendra Patel
13:29 08 Feb 22
my treatment cleaning and composite completely without pain its best treatments plan suggest our treatment I strongly suggest visited sabka dentists it really best and all protocol are follow out staffNight guard treatment taken and I am happy with it.

apil vadalia
06:48 12 Jan 22
good doctors and treatment

kinjal chauhan
12:51 08 Jan 22

savansinh Zala
12:51 08 Jan 22
I got my clear aligner treatment done by Dr Chaitali parikh orthodontist. I am very happy with all services by sabka dentist and specially doctor concerned treatment 😊👍🏻

Avinash kumar
13:35 27 Dec 21
Good Tritment thanks for all staff give me a best service and good consultation our treatment thnk u Dr.Honey & sabka dentist.

Ronit Rajput
15:14 17 Dec 21
Best dental clinic in nikol AhmedabadTreatment was bestCleaning and safety no.1

Jay Hirpara
19:53 11 Dec 21
Satisfied, they gave me proper guidance and surety about my teeth alignment, thank you.

dharmesh panchal
06:58 11 Dec 21
Very very comfortable and good treatment

Smooth Process and doctors are very good

Balveer Singh
06:57 04 Dec 21
Thank u for best treatment I was completely my treatment I m setisfied its best experience for me

Good treatment and good suggestions

3112 Bhumika maane
06:51 03 Dec 21
I m visited this branch it's best treatment plan give me and I m setisfied my treatment cleaning and composit it was pain off treatment I strongly suggest visited I'f u have any problem in teeth staff behaviour also good thank you sabka dentist and staff

dipesh mena
14:18 02 Dec 21
My experience was good they were too lenient with patient 😊

Vanshika Gidhwani
07:51 01 Dec 21
Having a great experience, a friendly nature staff and doctors , and a best beautiful treatment ☺️☺️

Honey Soni
12:59 30 Nov 21

Vinal Lakhwani
15:42 22 Nov 21
My consult for denture it's best treatment provide I satisfied ...for my cheakup

mahendra patel
07:19 16 Nov 21
Best Doctor team with most satisfactory work and one of the best Orthodontist. I got my braces treatment done with dr Chaitali Parikh mam. I am very satisfied with my perfect smile thankyou!!!👌

Arti Panchal
14:35 15 Nov 21

Pravinkumar Panchal
12:17 15 Nov 21
I m visited this place for dental checkup it's best consultant for all treatment plan

manish soni
05:44 15 Nov 21

pathan mohammad yaar
13:55 01 Nov 21
My treatment complete by dr.honey patel it pain off treatment

Ujjain Vekariya
06:23 25 Oct 21
Thnk u for best treatment exilent treatment best service provide

haresh tiwari
14:05 23 Oct 21
Wonderful experience with Sabka dentist. Dr informed me about every treatments required in detail. Clinic is following every COVID Protocols.Best dental Professionals in area.

Parthkumar Prajapati
06:04 23 Oct 21

Jitendra Soni
04:39 23 Oct 21
Hi everyone...... This is the best👍💯

Shreya Patel
14:04 22 Oct 21
My experience of 4 tooth extraction was pretty smooth. I was not scared at all after 1st tooth extraction. I am pretty confident for my extractions because i trust my doctor and doctor is very intelligent and helpful .

Kinal Patel
12:32 22 Oct 21
I'm completed my treatment of cleaning.it's a best treatment ...and no pain.& Dr. Suggest me some proper valuable advise of cross Bite. & their Trratment.I suggest you please visit.

Tejas Shingala
14:12 19 Oct 21
Nice treatment!I am so happy for sabka dentist nice doctor nice nurse very nice behaviour dr and nr

Dharmesh Bhaliya
13:06 18 Oct 21
My cleaning done at sabka dentist nikol my best experience and pain off treatment I always suggest to visit sabka dentist nikol thank you

Heena Porwal
14:43 16 Oct 21

Anupama Chodavarapu
13:00 07 Oct 21
Excellent services at all levels.

Jignesh Modi
14:58 04 Oct 21
I visit this clinic My expirience is so good and treatment is must effective Thnks sabka clinic

Prajakta Parmar
12:51 01 Oct 21
Very good explanation, & nice suggestions

I m visit once again sabka dentist nikol i m setisfied our treatment

Ruchi Maurya
05:14 27 Sep 21

Mr. Parth Savaliya
06:44 23 Sep 21
My Friend visited sabka dentist its best result for cleaning

Kalpesh Chauhan
06:08 23 Sep 21
Good service, adhering to all the covid protocols.

Dhaval Soni
12:17 18 Sep 21

Mukesh Chauhan
06:28 16 Sep 21
My checkup done in sabka dentist nikol I was setisfied in my cheakup I will visist again wid my friend and family it all over treatment plan available in clinic

Mahendar parmar Mahendar parmar
12:54 15 Sep 21
💉# Sabaka dentist clinic #💉Cleans teeth thoroughly and gently removes any damage and review is also niceAnd My brother and I visited the clinic☺️☺️☺️

Nik's Patel
06:29 14 Sep 21
My experience for sabka dentist I preferred to all visiting to sabka dentist nikol free dental cheakup and free consultation for all be strongle suggest to visit

Mayur Pathar
14:33 13 Sep 21
I have been going to sabka dentist-Nikole Branch,Their facility & services is too good, clinic wheather, atmosphere, cleanliness is excellent .my treatment cleaning completely without pain its best treatments plan suggest our treatment I strongly suggest visited sabka dentists it really best.

Snehal kumar
13:42 13 Sep 21
It's good hospital nd treatment result was very good all staffs are good there behaviour also very good they are follow covid all protocols

Praisy Nezareth
13:27 13 Sep 21
Nice treatment I am so happy for sabka dentist nice doctor nice nurse very nice behaviour doctor and nurse

Sampada Asthana
12:29 13 Sep 21
Best service in nikol ahmedabad took great care of my teeth and the covid -19 safety protocols were taken correctly has good hygeine and nice smell. Even the lady at reception is friendly.

Today I visit Sabka Dentist Clinic, Nikol Branch. Their facility & services is too good, clinic wheather, atmosphere, cleanliness is excellent & there are 1 doctor, 1 nurse & 1 receptionist, her talking way, voice, language, diction, speech, way to communicate to others, way to asking the questions for form filling is enormous & their impressive & important point is they trio's are wearing a mask, pp shoe & pp hat means strictly following a corona guidelines...Great experience

Dharmik Maheshwari
14:20 11 Sep 21

Yash Panchal
13:01 09 Sep 21
Nice staf and good service good implement all

narendra singh
15:11 06 Sep 21
I m visit in Sabka dentist Nikola its best experience for me nice consultation and best staf behavior I have pain on my teeth Dr.honey suggeat me a best treatment plan its resnable and affordable prices for all people I strongly suggest please visit Sabka dentist nikol

Sureshkp Sureshkp
12:41 04 Sep 21
👍 good my consulting treatment start in sabka dentist ...best treatment suggestions all treatment plan

shobhana priyadarsi
05:29 02 Sep 21
Doctor have good knowledge about teeth and give a good advice to me for better health of my teeth.

trupal desai
06:26 01 Sep 21
I complete my dental check I m setisfiedd to consult our treatment plan

Sahil Panchal
12:06 30 Aug 21
I complete my cheakup for implant .best provide treatment plan and all protocol are follow In this clinic

Akshay Yadav
12:41 16 Aug 21
Cheakup done for implant its best prefer me treatment plan for all suggestions are good I m setissfied to treatment

Bipinbhai Patel
13:09 13 Aug 21
I done my checkup successfullily it's best experience for teeth chakup

pratik patel
12:34 13 Aug 21