Address: Flat No.1, Ground Floor, Manas Apartment Plot No. 29, Sector-21, Nerul East, Navi Mumbai, Maharashtra 400706.
Monday – Saturday 11 AM – 8 PM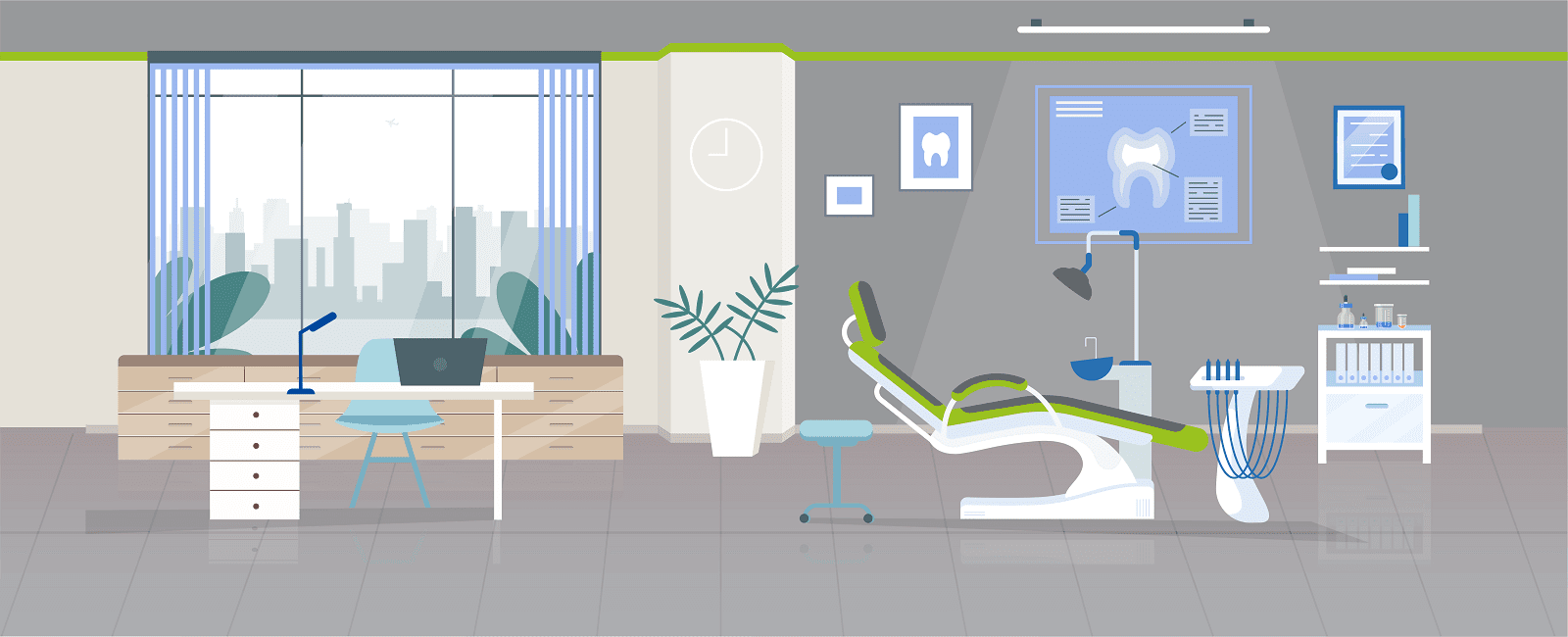 About Sabka Dentist Dental Clinic in Nerul
Sabka Dentist Dental clinic has always been at the forefront of dental healthcare. This clinic is known as one of the best dental clinics in Nerul , which is dedicated to providing high standard dental services at an extremely affordable price range.
Sabka Dentist never compromises with the quality of treatment, so they utilize all the latest dental techniques and technology to make the dental procedures pain-free and comfortable.
Facilities
Dental care has always been ignored in the hustle and bustle of our life. But it is essential to be careful about our dental health. However, even the person who takes care of their teeth daily may also require profesKharghar Sector 20 al treatment.
So if you are trying to find one such dentist in Nerul who can help you to resolve such conditions, then Sabka Dentist can help you out. The clinic can provide you with the following facilities and treatment options-
Dental Implants–

If you have lost a tooth, then you will probably be considered to undergo implant dentistry. However, the value of the procedure depends on the number of sesKharghar Sector 20 s required, surgeon's fees, tests, dental treatments, and even the anesthesia used. The clinic may also provide you some fascinating affordable packages that include no hidden charges.
Root Canal Treatment–

Root Canal treatment is a crucial dental procedure that helps in preserving a decayed or damaged tooth. If you intend to undergo this dental process, then you must look for an experienced endodontist who can help you to achieve the best result. If you have not yet found any such dentist in Nerul , then you may try and visit Sabka Dentist; this is one of their well-known branches, they have than 500 proficient dentists working in more than 100 clinics around different cities in India.
Conscious sedation- Sabka Dentist is aware of the fact that general anesthesia to execute dental operations is very risky. Keeping this in mind, the clinic provides local anesthesia to their patients so that the patients lose sensation in the area of treatment, but they do not fall asleep. However, it also depends on the treatment as well. As Sabka Dentist is one of the best dental clinics in Nerul for their services, they do not compromise with their treatment quality and give complete transparency to the patients regarding the procedure.
Superb scheduling- Patients who have come a long way and have minimum time are offered the quickest and the most effective treatment plans. The dentists attend them on a priority basis, even on short notice. If you feel impressed with this feature and wish to avail the facility, then you know what you have to do? Just opt for Sabka Dentist, the best dental clinic in Nerul .
Latest equipment and Techniques- Sab ka Dentist makes use of the latest techniques and methods while treating the patients. The dentist keeps themselves updated with all the new technology and upgrade their knowledge and when required.
Patient Care- Sabka Dentist is known for its hospitality. They treat their patients very well. Right from the receptionist to the surgeons, everyone gives the patient complete support throughout their journey in Sabka Dentist.
How to select the right dentist and right clinic?
Have you not been able to find a perfect dentist in Nerul ? Then start doing that immediately without waiting for the emergency to arrive. But before you start doing that, it is time for you to consider several factors like the following-
Location and operational hour- When choosing a dentist, make sure that the dental clinic is close to your place or workplace. Most importantly, make sure that the dental clinic will be operational on days and times when you are generally available.
Cost -The cost of different procedures depends on several factors like the surgeon's fees, cost of the tests, medications, anesthesia used, and equipment used. However, Sabka Dentist provides multiple payment options, EMI facilities, and insurance coverage for the patients, which makes it the best dental clinic in Nerul .
Qualification – After you know this is the perfect dentist in Nerul for you, you must mandatorily check the credentials of the dentist. An experienced dentist will never hesitate to show their credentials and pictures of past procedures. If you find the dentist or the staff waiting to answer any of your questions, then you must consider finding another dentist.
How can Sabkka Dentist help?
Sabka Dentist is considered one of the leading dental clinics in Nerul . Wondering why? Because-
The clinic provides the highest standard of treatment at an affordable price.
The dentist and their team are well qualified and skilled.
The clinic is capable of treating any dental issues, even on an urgent basis.
The clinic has secure payment options and easy EMI plans.
Tell me more about Sabka Dentist, Nerul
Tell me more about Sabka Dentist, Nerul If you are one of those individuals who are particular about your dental health care, you must select the best when it pertains to dental checkups and treatments. Sabka Dentist is consistently rated as one of the best dental clinics in Nerul , Navi Mumbai.
At Sabka Dentist, people not just receive first-class treatment for their dental problems, but additionally get to enjoy one of the greatest in-clinic patient experience across India.
Regardless of the background or career of an individual, we make sure that all of our patients feel at ease and experience absolutely no concerns when approaching or getting their dental issues across to our dentists.
We are some of the top dental clinic chains in Nerul , Navi Mumbai, and have a legacy that is unparalleled by any other dental clinic in Nerul , Navi Mumbai, India. Our dentists are some of the best dentists in Nerul , Navi Mumbai.
Sabka Dentist consistently makes it to the list of best dental hospitals in Nerul , Navi Mumbai, owing to our great team of dental experts and doctors, and cutting-edge facilities within our dental clinics.
Sabka Dentist was launched back in October 2010, with a single medical clinic in Nerul . Today, we have grown to around more than 100 clinics in Mumbai, Pune, Ahmedabad, Surat, Bangalore, Navi Mumbai, Thane.
Our team works to encourage better dental health and help men, women, and children to truly feel and look good, and proudly carry their smiles. No wonder, resulting from our team's determination and viKharghar Sector 20 to help spread smiles across the world, we have consistently managed to get to the list of top dental hospitals in Nerul , Navi Mumbai.
So, the next time you want to visit a 'teeth hospital in Nerul , Navi Mumbai, we should be at the top of your list of dental hospitals in Nerul , Navi Mumbai. Consider us your own 'Apna Dentist'; our dentists are undoubtedly some of the best dentists in Nerul , Navi Mumbai, and we can help you with your oral concerns so that you can carry on and spread joy and happiness across with your delightful smile.
Nice cleaning Dr mariya and her staff is very good and best clinic for dental treatment 👍🤗

Amrit Trivedi
13:36 27 Jun 22
I have been getting my Orthodontic treatment done here by Dr. Sandeep Singh.Overall my experience has been very good. I have experienced great recovery so far. Dr Maria has been very helpful whenever I needed any kind of support during the treatment. I would strongly recommend this place for any kind of ortho or dental treatment

Haroon Khan
10:00 27 Jun 22
My Rootcanal and cap my treatment is very good 👍 Dr Mariya is good doctor ans staff is very nice 👌 👍 😊

Narasimhamurthy M
10:48 23 Jun 22
Very satisfied.... Dr Mariya is best very good dr very good staff...

mehtab shaikh
07:56 23 Jun 22
Best clinic for dental treatment ❤️💯

Dr. Maria was so professional and detailed! Best service! Would definitely recommend people to visit the nerul branch and dr. Maria if you have any issues! The staff here is very polite and professional! Thank you sabka dentist!

anand menon
12:21 16 Jun 22
The doctors I had experienced with are pretty polite and well trained.I absolutely enjoy my visit every time

Akshata More
07:29 15 Jun 22
Very good doctor and staff... Its a great experience here very clean clinic

narkar cms
07:21 31 May 22
Very efficient and quick cleaning session by Dr.mariya

Aahil Hanwari
11:37 28 May 22
I have good experience about the dental checkup . I have painful problem but Dr. Mariya is so helpcare person to solve this problem easily .My 1st experience to the sabka dentist . But so Nice experience to the other clinics n all ...Thank you so much Dr. Mariya and health care staff ...

Drx. Sahil Pawar
06:34 26 May 22
Great experience at sabka dentist Nerul. Doctors and staff were very professional, helpful and nice.Doctor Sandeep and Doctor Maria provide needy assistance whenever required and they are very informative and provide necessary guidance. I highly recommend to visit at sabka dentist Nerul.

Zeeshan Khalife
08:41 21 May 22
Amazing experience with doctor Maria

Rohan Patankar
14:30 14 May 22
I got a root canal and a cleaning done. The experience was really good and Dr.Maria did a great job. Sabka Dentist is the only dentist I trust.

Parijat Halder
11:31 13 May 22
The service is exceptionally good. Pocket Friendly. Good staff and amazing treatment.

muzammil deshmukh
14:42 07 May 22

Janavi Sanas
13:07 06 May 22
Was treated by Dr Kapil RathodDoctor makes the process very smooth and takes away all fear

Oommen George
11:17 06 May 22
Nice treatment very goor dr...Dr mariya and her staff I'm satisfied my treatment

Rekha Ayer
11:58 29 Apr 22
Upper Implant is done very nicely patient is feeling very comfortable in future I'll contact sabka dentist...thnk you Dr Mariya and Dr kapil.staff is very good

Jagdeep Singh Sra
05:54 29 Apr 22
Nice clinic and Dr also good and her staff

Sakshi Pawar
07:14 27 Apr 22
Always delighted to visit Sabka Dentist - Nerul.It's always great experience to have personalized attention with quality service delivery and timely assistance from Dr Ansil a very great person. They will call you remind you of you forgot you appointment is the best about them. do come

vishal kadam
07:30 23 Apr 22
Nice treatment Good dr and her staff

Mahendra Batham
10:18 22 Apr 22
Good assistant good receptionist and good doctor👍

Kunal Kasare
11:44 20 Apr 22
Dr.Maria had done my cleaning .. it was a good experience and she did it perfectly

Amazing experience - got done with my braces treatment by Dr. Sandeep Singh and Dr. Mariya

Arjun Ramanarayanan
11:32 18 Apr 22
Dr. Mariya is exllent doctor. Thank you maam. 👌👌👌🙏

Rupali Jadhav
08:16 18 Apr 22
Nice clinic!! Dr. Mariya and the staff is very cooperative.

vinay bhagwani
11:00 14 Apr 22
Great experience throughout my alignment procedure. The doctors and staff both are very friendly and helpful. Treat you like a family member 😊

Pooja Kamble
11:29 11 Apr 22
Good hygiene. Friendly staff. The doctor was very kind and helpful. Overall a great experience.

Naina Gowda
08:55 09 Apr 22
Great experience. Dr maria is simply the best

Aishwarya Ray
18:16 07 Apr 22

siddhesh veer
12:34 06 Apr 22
Had a good experience. The treatment was superfast. The doctor ( Dr. Mariya) and staff were too good and were transperant about all the treatment and prices.

vaibhavi salla
14:39 01 Apr 22
I am having an aligners treatment teeth from here and it's going really well . Dr. Mariya is really polite and patient, she takes care of every little thing in this treatment also the whole staff is so sweet and politeThey connects with you pretty well

Pragati Katiyar
12:17 01 Apr 22
Dr mariya is very well experienced and makes the patient feel comfortable for any form of treatment, great staff

Nitish Kolikar
06:24 01 Apr 22
Good staff and service. Dr. Mariya was quite helpful and friendly

bush b thomas
13:49 31 Mar 22
Excellent doctor!!! Very thorough and carring I'm terrible afraid of the dentist and Dr (Mariya) she's very sensitive to that and goes the extra mile to make you feel comfortable...

Hetal solanki
07:25 31 Mar 22
Filling and cleaning treatment was too good Dr.Mariya is very nice staff is so friendly... I'm satisfied

irene mendonca
12:21 30 Mar 22
Overall it was an amazing experience. Dr Mariya is an amazing doctor she easily recognized the problem and all the treatment was done very quickly and also the staff is amazing.

Anuj Jagdale
11:39 28 Mar 22
Very good and best treatment RCT.Dr Mariya and staff is very nice

Purushottam Udyawar
06:46 26 Mar 22

Kolapalli Srilakshmi
11:15 25 Mar 22
Very nice scaling Dr mariya is very good Dr and staff also

Yousuf Nilofar
07:49 25 Mar 22
It's a great experience here. The staff and Doctor Maria are really helpful. The results were satisfying.

Sakshi Gawande
06:05 22 Mar 22
Dr Maria seems to be a very good Dentist. She makes u understand what went wrong with ur teeth..she has filled up d teeth and.put crown metal on d other. No pain at all.

Suresh warrier
12:21 17 Mar 22

Harsh Rathod
07:47 17 Mar 22
Nice experience full covid precautions professional doctors and friendly staff they smoothly treat the patients all doctors are very good in nature.

sanket thakur
12:15 16 Mar 22
All doctors are very good in nature. Treatment is very good. Satisfied with my braces treatment. Dr Ansil is nice doctor and staff.

Anuj Wankhede
10:20 16 Mar 22
Amazing experience, good staff .

Suraj Chavan
10:26 15 Mar 22
Very professional and courteous staff. Would recommend.

Ashley Antony
06:54 12 Mar 22
Dr. Kapil and Dr. Mariya are highly professional. Definitely recommend for all your dental concerns!

Zohra Chataiwala
06:43 12 Mar 22
Dr. Mariya is best doctor.my implant treatment dr. Mahesh very good doctor.. And staff is very friendly

Rajan Samel
07:09 11 Mar 22
Excellent treatment very good doctor and staff Very good clinic very helpful good service

Narayan Lohar
06:51 11 Mar 22
It was good experience, Nice service from , doctor & other staff.

Ganesh Dhandre
12:12 09 Mar 22
Nice experience.. excellent treatment.. dr Mariya is very kind..

Pratiksha Malekar
11:37 09 Mar 22
Excellent treatmentI am getting my teeth allignment done withDr. Ancil and I must say he is really good with his work.

CANDID Zishan Kapdi
06:21 09 Mar 22
Very good clinic...and doctors are very helpful ...

ayesha shaikh
12:01 07 Mar 22
Good service with friendly staff 👍 keep it up

Sanjay Bisht
12:53 05 Mar 22
(Dr,Mahesh)implant treatment is very good treatment and Dr mariya also good dr.. staff is also very supportive

I had a very pleasant experience with the doctor. she explain nicely what needs to be done. Staff is also very supportive.

Suyash Vyawahare
16:36 04 Mar 22
Professional Doctors & nice service...

Gaurav Matele
13:02 02 Mar 22
Everyone should at least have a visit here. Best staff and doctor I ever had. Wer supportive and very kind.

jayesh amundkar
14:36 28 Feb 22
Hi i review it please give free electric brush

Darshan Chotalia
05:03 28 Feb 22
It was a good experience in visiting sabka dentist.

Pooja Mandal
09:35 24 Feb 22
Amazing experience, treatment was done smoothly, freindly staff, Best doctors, good hygiene.

Aakash Krishna
19:27 21 Feb 22
Dr. Mariya's treatment is excellent. She takes proper care of patients during tratment as per patients age and other complecation.

SWAPAN KUMAR Haldar
07:27 21 Feb 22

Shivraj Pol
11:15 19 Feb 22
It was a good experience at sabka dentist Nerul. The doctor and staff were so nice. They smoothly treat the patients. The doctor( Dr.Mariya) is so informative. She explains very well about what need to be done further. I highly recommend to visit at sabka dentist Nerul.Great experience!!!

Vicky Yadav
10:22 19 Feb 22
All doctors are very good in nature. Treatment is very good. Satisfied with my braces. Dr Ansil is best doctor and staff.

gulshan arafath
09:36 17 Feb 22
I had really pleasent experience with Dr. Maria and her staff. Clinic is always very clean.

Sabka Dentist Nerul ✨.Dr.Ansil

PRAJAKTA ATAPADKAR
10:23 16 Feb 22
Good centre for dental health and care.

Kaushtubha Singh
09:54 16 Feb 22
All the doctors are professional... Specially doctor Ansil he is an amazing orthodontist... everyone is so helpful and kind in the staff... thankyou so much!

Ruchi Oberoi
09:45 16 Feb 22
Really Very good dr....(dr ansil) and staff... excellent service and good team work👍

Voice of Rockson blinton
09:21 16 Feb 22
Great experience, hassle free process. Dr Mariya is friendly, soft-spoken and explains everything in detail... Got my aligners too, totally invisible perfect fit.

Rohan Todekar
11:29 15 Feb 22
I am pleased with the service the treatment especially during this pandemic the care taken is really good about sanitizing. The tooth care and treatment given was good.I recommend sabka dentist to all who need to keep your smile intact.

Vincent Furtado
16:26 14 Feb 22
Dr Maria and Dr Sandeep Singh both are really very good at the time of my both the kids treatment.

Ankita Patel
13:33 14 Feb 22
Very good attentive pleasent doctor. Not at all money minded. Provides required treatment at affordable prices.

Manohar Prabhu
11:44 12 Feb 22

Amit Sonawane
06:33 11 Feb 22
Dr. Mariya from sabka dentist is one of the best if not the best doctor/dentist we have came acrosed, she is so polite, makes the patient feel comfortable, conveys all the information related to treatment and was also good and professional while giving the treatment, sabka dentist is one of the best place for the treatment of teeths and also is well maintained hygienic place.From sadhana Teltumbade

Saurabh Teltumbade
08:57 10 Feb 22
Excellent service & good team work..Thank you

Shakib Khan
13:54 08 Feb 22
A very good experience. Would surely recommend. Staff and everything was very professional.

SAHEJLEEN KAUR
12:09 08 Feb 22
Very courteous and professional

Mahir Khalfay
10:59 08 Feb 22
Very good service by the staff and and are very affordable

Piyush Patel
10:12 07 Feb 22
Nice experience. Full covid precautions taken. Even both feet were covered with gloves. Mouth was cleaned with betadin gargle.Highly Professional doctor and friendly staffs gives a good atmosphere..

Vrushali Tare
09:33 07 Feb 22
Saw an ad through Instagram for this, registered and got scheduled without any hassle, very well educated and friendly doctor here, explained thoroughly and made us understand the things

Akshata Bankolli
08:57 07 Feb 22
Visited the clinic for getting invisible aligners. Doctor and staff are very cordial. Got good consultation and service.

harshada kadam
03:15 07 Feb 22
I had a very pleasant experience with Dr. Mariya and her staff. Dr. Mariya is very professional, she takes the time to explain what needs to be done and provides valuable advice , It's not easy to find a good dentist , I highly recommend Dr. Mariya and her staff for kids and adults.Great Experience!!!

sushmita K
13:04 05 Feb 22
That was a good experience for us. Well educated and well experienced doctors are there.Most importantly it is very comfortable for us as they tell us our consulting time in advance. All staffs Behaved very kindly.Our special thanks to Dr. Kapil and Dr. Mariya.

Manoj Gupta
09:37 02 Feb 22
Very much experienced and supportive Dentists.

Tanmayee Biswal
07:40 02 Feb 22
Dr mariya is best vry nice Dr ansil is best dr

Priya Khanvilkar
07:14 02 Feb 22