Dental Clinic in Borivali West
Address: Shop no.4, Nimesh Kunj, Opp Jain Mandir, Mandpeshwar Road Near Gokul Hotel, Borivali West , Mumbai, Maharashtra – 400092
Monday – Saturday 11 AM – 8 PM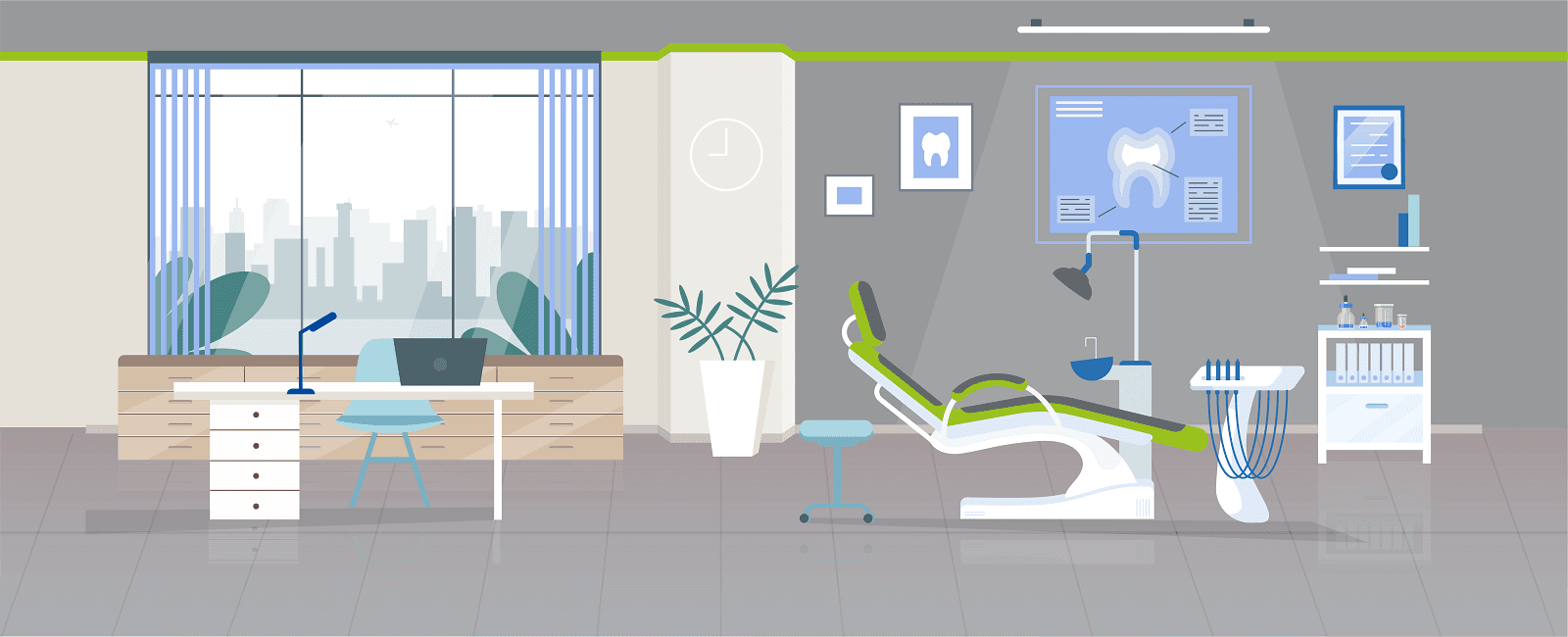 It has been a pleasant experience at Sabka Dentist, Borivali West branch. Dr. Rucha has been my primary point of contact and surely she is an expert in her job. For me, initially, the deciding point was the availability of emi option for teeth alignment and other treatments that are going along with it. However, while my treatment is in process, I'll say more than the money factor, their service, hospitality, and transperancy are to be praised about. By the way, they also play songs during the treatment, which I have experienced for the first time ever, to keep the patient calm. I guess you can also request to play your favourite number, which I haven't tried yet 🙂🙂. I had a wisdom tooth extraction by Dr. Mohil (sorry if misspelled) that was completely painless. Moreover, the doctor kept on updating me while he was extracting which was again quite relieving. Not to mention, they take proper details and precautions to follow the protocols needed during this covid situation. Overall I'll say it's a one stop destination, and I definitely recommend Sabka Dentist.

Amazing experience . Dr. Rucha made me feel very comfortable and my teeth are sparkling

sonali parmar
10:47 05 Feb 21
I recently had my wisdom extraction surgery performed by Dr. Mohile, assisted by Dr. Rucha. It was an extensive affair handled gracefully by this team.Dr. Rucha in particular could not have been more helpful, kind, sympathetic and reassuring. It made all the difference to me as an individual who had undergone a dental surgery for the first time. She was there for me throughout and after the surgery, no matter the time at which I dropped in messages or calls to ask questions. She also very efficiently helped me with the aftercare and bleaching treatment. I am genuinely grateful to her for all her support and hope that she keeps up the good work!

Prachi Bendale
08:13 05 Feb 21
My mom just got done with her Root canal Surgery today from Sabka dentist, The surgery was done by Dr. Rucha.I really appreciate her for such great support, the surgery went really smooth and very comfortable. My mom is really happy post surgery, initially she was really nervous but Dr. Rucha really took a good care of her.Really appreciate her efforts and kindness..Thank you to Sabka dentist and Dr. Rucha so much once again for everything !! 😊

jairaj joshi
16:44 04 Feb 21
Friendly and understanding doctors. Amazing staff and they carry out the treatment really well. For braces do contact Dr.Sagar Salunke, he's one of the best.

Avanya Sharma
12:51 04 Feb 21
I gave 4 stars because it is closer to my place and the doctor and staff was very good.

Peter Pereira
09:19 01 Feb 21
Good Experience and I go same clinic at Mandpeshwar Road Borivali west is 2nd time dr.RUCHA KADAM is very good and with me she behaviour also very good I suggest my group for visit one time at Sabka dentist clinic any where in Mumbai and India my personal Experience is very good i give Rating 5stars *****

PUJA ESTATE AGENCY Rajubhai Dedhia
07:48 23 Jan 21
Sabka dentist provide best service as compare to any other dentists.Doctor and other staff is very friendly and polite.And fees are reasonable compare to any other dentists .


Ankit Gawade
15:01 06 Jan 21
Very satisfied with the consultation done by Dr. RUCHA. She is very good with her diagnosis. Highly recommended.

Mohini Kadam
15:28 31 Dec 20
Very helpful, cooperative and supportive. Done with my cleaning services, happy with the services.

Aniket Jain
10:24 26 Dec 20
Treatment & gesture of Dr. Rucha was very good & friendly. Right guidance was given during our treatment

Theresa D'souza
11:29 23 Dec 20
Great staff.Really happy with the treatment provided by Dr.Rucha.Surely recommend it.

Prajakta Prabhavalkar
16:13 12 Dec 20
I have been visiting the borivali branch for a few years now and had a good experience with all the doctors here, especially Dr. Rucha who goes out of her way to check up on how you are doing post treatment. Would recommend this place if you plan to do any major surgeries or treatments as they have skilled specialists.

Jessica Daniel
10:17 11 Dec 20
It is very pleasant experience at Sabka Dentist-Boriwali. Dr.Varsha Jadhav is a wonderful person and surgeon who made me feel comfortable and was concerned about my pain/ feelings while treating me. Her dedication and skill is appreciated. Even the assisting staff was genuinely very helpful and cooperative. I am going through implant programme and hope and expect excellent results finally. Would certainly recommend to my friends/family. Thank you.

Nilambari Jacob
14:58 14 Oct 20
The best and coolest dentist i have ever met... 🙌🙌

Eliston Fernandes
10:16 08 Oct 20
Very welcoming staff and a very friendly Doctor! Dr.Rucha made me feel very comfortable with her procedures and I'll definitely be visiting and taking consultation from her.

Nakshi Shah
08:14 23 Sep 20
Wonderful experience. Absolute quality treatment by Dr. Rucha Kadam.

Jaymin Modi
07:29 23 Sep 20
In this Covid situation,sabka dentist clinic is taking utmost care with the hygiene and appointments are well spaced out.Dr Rucha is very informative and skilled with her work.Would visit again for sure

Sandeep Kadam
08:56 22 Sep 20
I am undergoing orthodontic treatment at sabka dentist, Chamunda circle. As part of my treatment, I had to extract few teeth to make space for the braces. Dr. Rucha at the clinic did the extraction for me. She did an exceptionally good job and i must really commend her for her patience, encouragement and support. She is very efficient, continuously talking to you to address your fears. Even post care, she keeps in touch to ensure you are recovering and following the instructions. Thank you doctor.My orthodontist is Dr Sagar. He is a very good doctor. Never rushes you, addresses all your queries. He is knowledgeable and suggests options most suited for you. It has been a wonderful experience to be his patient. I recommend Dr Sagar for your orthodontic requirements. Thank you doctor.The staff are well trained and polite. Especially, Ms. Veda

jyotsna nair
08:52 22 Sep 20
Hygiene and sanitisation at its best ... very much satisfied with the service given by dr. Rucha kadam ... highly recommended

Amruta Pawar
08:42 22 Sep 20
The staff here are welcoming, friendly and made me feel at ease before, during and after each procedure. Amazing customer care by all the staff. I highly recommend coming here for any treatment that's needed. Dr Rucha Kadam and Dr Sagar are wonderful! They are thorough, calming and informative.

atish kelkar
14:44 17 Sep 20
Excellent service, great hygiene n a very qualified doctor (Dr. Pratima S.) as well as assistant staff who explains n makes the patient very comfortable.

Shaila Kadav
04:44 18 Mar 20
Treatment was good and explained by dr. Jyoti

Sagar Shah
15:11 09 Mar 20
I came to sabka dentist Dr pratima guide me proper treatment excellent

I had undergone RCT at your clinic and regularly visit your centre for check up and cleaning of tooth.All the Doctors and staff members of this centre are very cooperative and generous. They provide the treatment facility with proper careI appreciate this clinic for its service and related issues. Thanks Sabka Dentist for your support to provide a good facility for Dental care.With warm regards and Happy Holi to your teamUmanath MishraSai BABA NagarBorivali WestMumbai

Uma Nath Mishra
12:05 09 Mar 20

Gopal Yadav
15:29 06 Mar 20
waiting for exiting offers , for self ligating braces . for myself

Very much impressed with the dental service provided by the Sabka dentist Borivali west team. It is best in the locality.Well qualified and skilled doctors. Well organized process and experience staff. The time management is superb, you can ask for immediate appointments and they will manage for you.Prompt response for calls.I have gone through my scaling and cleaning , Dr. Jyoti gave me a proper treatment plan. While cleaning the some part of my tooth area ,she told me if u feel any pain please let me know by raising hand or your finger. None of the doctors have ever been so helpful. Looking forward for next appointment.

arvind upadhyay
17:31 24 Feb 20
Dr. Pratima Is so friendly and good consultant.

UDAY PAWAR
16:57 15 Feb 20
Dentist ke pas ake accha laga achhi taraha se samjaya

Amit Magar
15:00 14 Feb 20
Good place & polite staff.

Amey Chawle
13:56 01 Feb 20
Very good ...treatments...

Ashok Maurya
15:18 08 Jan 20
Very good doctor and support staff. No wait time. Had got scaling and polishing done fantastically.

AJIT MEHTA
18:32 21 Dec 19

narendra davande
18:49 06 Dec 19
Thank you for........Sabka Dentist..My checkup Done so thanks to you and your team... Awesome clinic & good sarvice for Patient

Shailesh Gurav
17:10 11 Nov 19
I visited first time and i am fully satisfied with the treatment. Dr. Pratima is very cooperative and caring.

Sayed Akram Reyaz
14:12 30 Oct 19
Appropriate doctor for specifilized dental work

APARNA ROKDE
11:31 27 Oct 19
The location is convenient, as well the dentist explained in detail the do and don'ts for dental care.

Ranjit Gajare
05:59 24 Oct 19
First time at Sabka Dentist was perfectly fine. The staff was very nice and polite. Dr. Pratima Surana was nice and patient. She gave me a proper treatment plan. While cleaning the some part of my tooth area ,she told me if u feel any pain please let me know by raising hand or your finger. None of the doctors have ever been so helpful. Looking forward for next appointment.

Vikram Mallya
20:35 08 Oct 19
Today is my first session. Dr pratima is very good and Their way of explaining is very good and different. I liked it.

Tanveer Solanki
15:33 05 Oct 19
Thanks for the regular discounted checks you guys conduct it is very helpful

reena alva
13:42 01 Oct 19
Doctors are very cooperative and helping

RAHUL CHAVAN
16:34 17 Sep 19
Completely satisfactory treatment given by doctors. Well done Sabka Dentist.

Sunil Chavan
12:45 14 Sep 19

dr.durgesh tripathi
09:01 13 Sep 19
Impressed with the dental service provided by the Sabka dentist Borivali west team. It is by far the best in the locality.Well qualified and skilled doctors/ dentist. Well organized process and experience staff. The time management is superb, you can ask for immediate appointments and they will manage for you.Prompt response for calls.I have gone through my orthodontic treatment with a condition of having a short time period. And they have fulfilled task within the limited time.On the downside the clinic infrastructure is a bit old. I am sure they will improve on it. Either way they have all the latest dental equipments that will fulfill your dental requirements for sure.

So far good experience, end to end smooth service.

Sons of God
09:32 05 Sep 19
Very good staff.Better take appointment before visiting. Waiting is too time consuming

Deepesh Fatak
13:38 27 Aug 19
It was a wonderful experience, right from reception to exit.So smoothly & nicely dental cleaning was done, without any pain.Great.... Rgds Navneet Batra

NAVNEET BATRA
02:26 27 Aug 19
We are very much satisfied and happy with Dr.Pratima Surana, Chamunda circle borivali west. she is a very good dentist.

shivani chitalia
12:56 24 Aug 19

Ishan Sheldon
12:24 24 Aug 19

Rushab Vora
14:25 19 Aug 19
dr pratima surana and the staffs they were excellent .correct advice giveni hv done cleaning of my teeth .

Mitesh Vyas
10:05 04 Jul 19
I underwent replacement of my front teeth. It looks very natural and am very satisfied with the treatment. Dr. Pratima and staff were very helpful during treatment.

champa maji
08:11 24 Apr 19
Dr. Prateema suggested the best treatment n made my smile look better

Kanak Rawat
15:15 20 Feb 19
I would really would like to say that, this is one of the best dental clicnic i have ever been to...it may not be too sophoticated like other expensive clinics like dentzz dental, but it has the best doctors, atleast the ones who have worked on me and my dad...the staff there are very approachable as well, especially Dr. Pratima just like a good teacher will explain each and everything properly until ur satisfied...moreover if some dental work is not required, she says it clearly where i never seen them showing keen towards only making money...Highly recommend patients to visit this branch of sabka clinic..Though its not conspicuously located can be found exactly using google map though.

Manoj D'souza
06:04 02 Feb 19
"Exellent service..all the staff and doctors are supportive"

Sanket Kadam
12:33 21 Nov 18
We had been to this clinic without appointment and was well guided by the staff and waited for 20 minutes,me and my wife spent nearly 2 hours at the clinic for cleaning and filling and left very satisfied,the doctor Pratima Surana is just outstanding and does the perfect work and we see her passion for her work,I suggest people around this area to please come her for any dental issues and get utmost satisfaction.

Sandeep Colaco
18:43 07 Nov 18
Cleaning and filling done superb by Dr pratima surana she is very kind and genuine person 😀😀😁

Lavesh sharma
18:24 09 Aug 18

Kevin Pereira
07:29 19 Jul 18
Very good service..all the staff n both the doctors are superb

Rosy D'souza
11:52 13 Jun 18
Awesome experience...... Very nice

Aishwarya Waghdhare
13:28 26 May 18
The doctor and staff are friendly. Dr. Pratima is knowledgeable, patient and skilled. She listens, understands and offer relevant solutions for your issues.

Namit Bhavsar
17:34 25 May 18
Good experience for Dr pratima & vaibhvi mam. My root canals and teeth feeling done. Good quality and great experience staff for sabka dentist.

Satyam Pandey
14:07 09 May 18
Have good and nice experience and all staff and doctor are well supportive. Treatment also done very well

Gaurav Jethwa
11:10 09 May 18
Good experience ,cleaning wasdone very nicely

Shekhar Pednekar
07:59 09 May 18
Experience dr pratima and staff at sabka dentist provides. World class treatment for critical dental problems to all patient. Root canel and sever pain immediate pain re life.good service . good team work. Happy with treatment.

Sunil Yadav
09:48 12 Apr 18
Cleaning was done very nicelyAll the staff was very codinatingCost is very reasonable.Good and well treatment

Arun Singh
08:59 22 Mar 18

SANJIVANI SATARKAR
18:03 15 Mar 18
Good treatment & Good receptionest & Good guidance

Bharat Mewada
16:49 11 Mar 18
xcellent nd frndly doctors

Siddhesh Bhowad
14:02 08 Mar 18
Experienced Dr. Pratima and staff at Sabka dentist provides world class treatment for critical dental problems to all patients. When I went to them for my cavity,root canal and severe pain, immediate pain relief was achieved and also made sure that the root cause is identified and treated on the same day. They also followed up on the results after treatment on next week which shows tremendous care towards their patients and responsibility. I recommend this clinic to my sister in law on tooth pain emergency and she observed similar treatment and is very happy with the results. Hats off to this dedicated TEAM at Borivali west Mandapeshwar clinics. Now I recommend them to all my family and friends!!!

Prasad Kudalkar
08:18 08 Mar 18
very good and authentic service,good value for money!!

Shraddha Goyal
09:13 06 Feb 18
The treatment was good, also the prices are reasonable.

Meghal Save
14:37 29 Jan 18

Sneha Yadav
18:15 11 Jan 18
I got six teeth filling done by Dr.Pratima at this clinic. She is great doctor. The best thing about Dr.Pratima is that she interacts with the patient during the treatment. This not only distracts us from the pain but also adds on to the quality of the experience.The staff is very friendly. I highly recommend his place for any dental problems.

Harsh Shah
11:40 11 Jan 18
Very good experience at this clinic root canal and other treatment s handled in most efficient manner by Dr PratimaI am very happy with the treatment given here

priya patil
14:16 01 Jan 18


Dental cleaning done by Dr. Vaibgavi was perfect and best

KALPESH MODI
11:42 19 Dec 17
good and pleasant experience with good staff team

Mukesh Kumar Singh
07:19 13 Dec 17
Very doctors and staff.... Very friendly and professional!

Suraj Kolari
09:42 04 Dec 17
A very well known and professional dental clinic chain across various cities in India providing exceptional dental care services.

Joshua Fernandes
15:01 02 Dec 17
Nice dental clinic as good quality of treatment. Well experienced doctor and assistance

PRAJAKTA GHADI
11:41 25 Nov 17
Very good doctor Dr Pratima.. I used to eat gutka for 15 years and all my teeth were stained badly and used to be ashamed of same and it used to be very conscious.. I got cleaning offer coupon and got my teeth cleaned.. Am very happy and satisfied with treatment.. And have decided to leave gutka habbit forever looking at my new shiny teeth set..

Wahab Shaikh
07:26 25 Nov 17
there are very good doctor's my daughter Sneha Yadav were treated there especially Dr. Pratima Surana and Dr. Neha Shah they treat very nicely and comfortably even she was scary to go to dentist now she never say no to go to dentist clinic. I am very happy with treatment

Devendra yadav
16:53 22 Nov 17
Docters and assistants are very nice😊😊

Ganesh Gund
03:29 09 Nov 17

I will really recommend you to go to this clinic as very good quality of treatment. Doctors out there Dr.Pratima, Dr.Neha and assistance are very well experienced as their treatment plan is very straight. Overall, good quality at affordable prices.

Prashant Ghadi
15:51 17 Oct 17
Very nice treatment ..Happy with d service..Thank you very much Dr.Pratima..

Anuj Mehta
15:39 15 Oct 17
Very good doctors...excellent treatment planning.. Happy with the treatment.Got my smile designed and very happy to flaunt my new smile. Thanks Dr Pratima Surana and Dr neha shah..I recommend this clinic.

Gopal Yadav
10:01 14 Oct 17
The treatment and advice given by doctors of Sabka dentist is too gud & very gud staff & i m very Happy with their treatment .

ashish yadav
09:51 14 Oct 17
Dr Pratima and Dr. Neha Shah guided us for right treatment.. Best quality service at good pricing..High quality treatment provided by Dr Pratima and Dr shah at affordable rates.

Ashish Yadav
09:45 14 Oct 17
Best treatment and best advice Dr Neha Shah had removed my wisdom teeth very nicely

Hemanshu Modi
01:41 13 Oct 17
Going by the name, Sabka Dentist is really 'Sabka Dentist'. The best part was when Dr. Neha Shah smoothly removed my stitches that I had got after removing my wisdom tooth. Thank you for the ultimate experience. Otherwise, I am too scared to visit a dentist :)

forum mehta
17:59 12 Oct 17
Sabka dentist has a organised service line. I had taken an appointmet at the chamunda circle clinicin borivali. The doctors are very co-operative and they take best efforts to make you feel relaxed. Their solutions to your teeth issues are well thought. They ensure that the patients suffer least pain during treatment. Had a great experience.

Mansi Mehta
17:38 12 Oct 17
Amazing offers everymonth and friendly doctors and staff.

Prachi Kapdule
17:15 12 Oct 17
Good treatment .. friendly staff .. doctor are giving right advice n treatment. .😊

Anita yadav
13:35 12 Oct 17
Very Doctors and very good nature staff members.

Shashikant Jariwala
09:02 12 Oct 17
Very good and co-operative

dhanraj medora
08:00 12 Oct 17
Very friendly staff and good doctors

chhaya shah
07:31 12 Oct 17
Amazing discounts offered every month... Took a teeth cleaning voucher for just rs. 1000/- for 3 times... They docs here suggests rite treatment and don't force you for unnecessary treatments... Must visit for all dental solutions

Desirous Foods
07:29 12 Oct 17
Had been to this clinic a month a go and must say the docs and the staff are very welcoming and friendly... I was immediately attended to my problem and given apt solution... I recommend to visit here before consulting other dentist.

dhwani shah
07:10 12 Oct 17
I had visited the clinic for my brother in law's gum bleeding problem.The doctors out there are really good with their treatment plan. Their treatment is very much on point. Good team of doctors 👍👍👍

My father's full mouth treatment was done and he is very happy with the results. Good doctors.

Sunita Yadav
06:59 12 Oct 17