Address: Shop No 1, Ground Floor, Sai Sangat CHS Ltd, Sector No 3, Near Sanpada Railway Station, Close to Sanpada Post Office, Navi Mumbai, Maharashtra 400703.
Monday – Saturday 11 AM – 8 PM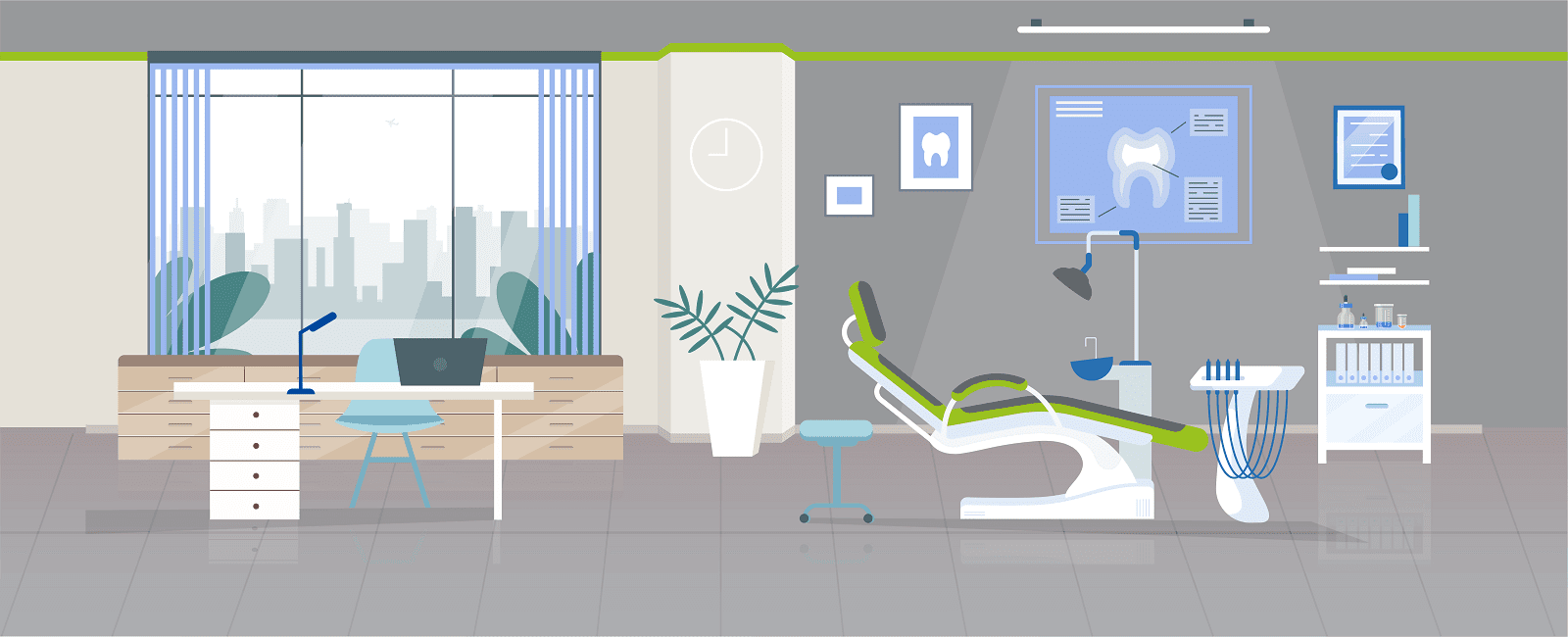 About Sabka Dentist Dental Clinic in Sanpada
Sabka Dentist Dental clinic has always been at the forefront of dental healthcare. This clinic is known as one of the best dental clinics in Sanpada , which is dedicated to providing high standard dental services at an extremely affordable price range.
Sabka Dentist never compromises with the quality of treatment, so they utilize all the latest dental techniques and technology to make the dental procedures pain-free and comfortable.
Facilities
Dental care has always been ignored in the hustle and bustle of our life. But it is essential to be careful about our dental health. However, even the person who takes care of their teeth daily may also require profesKharghar Sector 20 al treatment.
So if you are trying to find one such dentist in Sanpada who can help you to resolve such conditions, then Sabka Dentist can help you out. The clinic can provide you with the following facilities and treatment options-
Dental Implants–

If you have lost a tooth, then you will probably be considered to undergo implant dentistry. However, the value of the procedure depends on the number of sesKharghar Sector 20 s required, surgeon's fees, tests, dental treatments, and even the anesthesia used. The clinic may also provide you some fascinating affordable packages that include no hidden charges.
Root Canal Treatment–

Root Canal treatment is a crucial dental procedure that helps in preserving a decayed or damaged tooth. If you intend to undergo this dental process, then you must look for an experienced endodontist who can help you to achieve the best result. If you have not yet found any such dentist in Sanpada , then you may try and visit Sabka Dentist; this is one of their well-known branches, they have than 500 proficient dentists working in more than 100 clinics around different cities in India.
Conscious sedation- Sabka Dentist is aware of the fact that general anesthesia to execute dental operations is very risky. Keeping this in mind, the clinic provides local anesthesia to their patients so that the patients lose sensation in the area of treatment, but they do not fall asleep. However, it also depends on the treatment as well. As Sabka Dentist is one of the best dental clinics in Sanpada for their services, they do not compromise with their treatment quality and give complete transparency to the patients regarding the procedure.
Superb scheduling- Patients who have come a long way and have minimum time are offered the quickest and the most effective treatment plans. The dentists attend them on a priority basis, even on short notice. If you feel impressed with this feature and wish to avail the facility, then you know what you have to do? Just opt for Sabka Dentist, the best dental clinic in Sanpada .
Latest equipment and Techniques- Sab ka Dentist makes use of the latest techniques and methods while treating the patients. The dentist keeps themselves updated with all the new technology and upgrade their knowledge and when required.
Patient Care- Sabka Dentist is known for its hospitality. They treat their patients very well. Right from the receptionist to the surgeons, everyone gives the patient complete support throughout their journey in Sabka Dentist.
How to select the right dentist and right clinic?
Have you not been able to find a perfect dentist in Sanpada ? Then start doing that immediately without waiting for the emergency to arrive. But before you start doing that, it is time for you to consider several factors like the following-
Location and operational hour- When choosing a dentist, make sure that the dental clinic is close to your place or workplace. Most importantly, make sure that the dental clinic will be operational on days and times when you are generally available.
Cost -The cost of different procedures depends on several factors like the surgeon's fees, cost of the tests, medications, anesthesia used, and equipment used. However, Sabka Dentist provides multiple payment options, EMI facilities, and insurance coverage for the patients, which makes it the best dental clinic in Sanpada .
Qualification – After you know this is the perfect dentist in Sanpada for you, you must mandatorily check the credentials of the dentist. An experienced dentist will never hesitate to show their credentials and pictures of past procedures. If you find the dentist or the staff waiting to answer any of your questions, then you must consider finding another dentist.
How can Sabkka Dentist help?
Sabka Dentist is considered one of the leading dental clinics in Sanpada . Wondering why? Because-
The clinic provides the highest standard of treatment at an affordable price.
The dentist and their team are well qualified and skilled.
The clinic is capable of treating any dental issues, even on an urgent basis.
The clinic has secure payment options and easy EMI plans.
Tell me more about Sabka Dentist, Sanpada
Tell me more about Sabka Dentist, Sanpada If you are one of those individuals who are particular about your dental health care, you must select the best when it pertains to dental checkups and treatments. Sabka Dentist is consistently rated as one of the best dental clinics in Sanpada.
At Sabka Dentist, people not just receive first-class treatment for their dental problems, but additionally get to enjoy one of the greatest in-clinic patient experience across India.
Regardless of the background or career of an individual, we make sure that all of our patients feel at ease and experience absolutely no concerns when approaching or getting their dental issues across to our dentists.
We are some of the top dental clinic chains in Sanpada, and have a legacy that is unparalleled by any other dental clinic in Sanpada, India. Our dentists are some of the best dentists in Sanpada.
Sabka Dentist consistently makes it to the list of best dental hospitals in Sanpada, owing to our great team of dental experts and doctors, and cutting-edge facilities within our dental clinics.
Sabka Dentist was launched back in October 2010, with a single medical clinic in Sanpada . Today, we have grown to around more than 100 clinics in Mumbai, Pune, Ahmedabad, Surat, Bangalore, Navi Mumbai, Thane.
Our team works to encourage better dental health and help men, women, and children to truly feel and look good, and proudly carry their smiles. No wonder, resulting from our team's determination and viKharghar Sector 20 to help spread smiles across the world, we have consistently managed to get to the list of top dental hospitals in Sanpada.
So, the next time you want to visit a 'teeth hospital in Sanpada, we should be at the top of your list of dental hospitals in Sanpada. Consider us your own 'Apna Dentist'; our dentists are undoubtedly some of the best dentists in Sanpada, and we can help you with your oral concerns so that you can carry on and spread joy and happiness across with your delightful smile.
It was quite good and no problem at all

Awesome experienced doctors and they are very polite and provide us proper consultation and good work...Dr bincy was very help and cleaned and cleared all my tooth cavities without pain and also told how to brush in proper position and also given tips on maintaining tooth.. thkuuu Soo much for the service..

Frango Varghese
13:26 18 Jun 22
I had done my teeth cleaning their services is good and doctor also clinic neetand higen.

MD Mabud ali
13:24 17 Jun 22
It was a good and smooth visit here. I have booked online appointment. They gave reminder calls. After visiting they greeted nicely and took basic details. After that they checked my teeths and gave me proper advice to keep my teeths healthy.Proper sanitisation rules followed. Good equipments. Overall nice experience

Nikhil Kadam
14:24 04 Jun 22
I had taken my appointment with the receptionist for teeth cleaning as I entered the clinic I was very welcomed and greeted by receptionist Anupama she was very polite and kind. Then I met Dr bincy, she thoroughly explained me the treatment. Assistant was also very soft spoken and she helped me n everything. Clinic was very clean and hygiene and well maintained

Vicky Kokane
16:15 02 Jun 22
Good and communication is better with dr.

Snehal Bhilare
07:15 23 May 22
Good service received from sabka dentist sanpada


vineet gawande
14:18 05 May 22
Staff friendly and good behaviour & service is well.... Thnks 👍

Siftain Aftar
12:29 27 Apr 22
It's been a hassle free process, the consultant was kind and nice. No unnecessary fear mongering, turns out my teeth were in good condition and need a minor procedure. Would be going back for the same sooner.

Kshitij Mandhare
13:15 26 Apr 22
Hi, it was an great experience at sabka dentist.

Aparna More
05:11 26 Apr 22
Very good service at a reasonable cost. Hygiene is also well maintained.

Vikrant Iyer
14:46 24 Apr 22
I was really worried but Dr Deepika made me so comfortable and I got my aligners done, as I travelling for good she gave me the full set at once so no worries if u r travelling also... best of luck

Kkiran Gaikwad
11:01 31 Mar 22

Udayabhanu Tharamal
16:49 01 Feb 22
Sabka dentist ...Dental sarvis very nice

Atul Kumar Vanjara
06:58 24 Dec 21
I had taken my little one for tooth extraction. The doctor made him feel comfortable and got the job done… Thank you Dr. Dipika…

Manesh Thomas
13:58 21 Dec 21
Sabka dentist sanpada clinic provide good service and care for their patients

Sanjit Pawar
12:07 18 Nov 21
The doctors and staff are very nice

Rhitik Jadhav
07:36 10 Nov 21

TAJUDDIN SEKH
02:18 20 Oct 21
This was the best i got from all my previous visits...

Vinod Raman Nair
11:36 11 Sep 21
This is a great place to go take care of your teeth . The professionalism and friendliness of the whole team is outstanding. I've been going with them for a complicated process of extraction and braces and then for regular keeping up and cleaning.Prices are reasonable .Would highly recommend 👌

Anula Patekar
07:55 28 Aug 21
Cordial behaviourPrompt serviceAfter proper checking advisedConcern / care for next visit

satya babu setty
12:13 21 Aug 21
Staff vary co-operative and supportive. Vary good experience with staff and doctors.

Mahesh Belkar
07:18 13 Aug 21
Visited for Dental pain I was advised Root canal Treatment and Cap. Staff was very polite and helping in nature. Dentist was very skillfull and comforted me through out the treatment

Ankit Dadhich
16:35 09 Aug 21
I went to Sabka Dentist for Wisdom tooth Removal as I entered the clinic i was welcomed and greeted by receptionist Sana she was very polite and kind. Then I met Dr.Deepika ,she thoroughly examined me and diagnosed my issue very correctly and comforted me with treatment. I had many queries of my treatment as it was my first procedure but doc very patiently listened to me and cleared all my queries. Dental assisstent was also very soft spoken and she helped me n everything. Clinic was very clean and followed all the safety protocols.

Simran Shetty
16:12 09 Aug 21

M Mohanraj
16:49 08 Aug 21

D S Nagpure
06:12 06 Aug 21
I visited clinic for implants and sinus lift surgery. Firstly when I visited I encountered with receptionist Sana who was very polite greeted me well. Then I went in. Clinic was super clean and all safety protocols were followed. I was told to get my mouth wash done apply sanitizer and sit on chair. Then I met dentist Dr. Deepika who was very pleasant to talk with. She comforted me on chair as I was bit nervous. She was very polite in talking and patiently listened to all my queries and answered them very precisely. Dr. Deepika has good knowledge and skill in her profession. She gave me best advise and I am thankful to her. Hats off to you guys who are dedicated to profession in this pandemic risking your and family's life. Be safe. God bless you.

UTTAM DADHICH
17:56 04 Aug 21
A family friendly place, excellent care and services from the reception to the doctor! Highly recommend this place.Dr. Dipika and the team are fabulous! They provide very detailed answers in an easy to understand format and point you to the right resource Or give you direct and honest opinions.. 👍👍

Navjyot Jadhav
13:43 03 Aug 21
Very welcoming friendly. The receptionist(SANA) was very nice and informative. Even in the pandemic situation she arranged appointment according to my needs and comfort and also the doctor and helping staff is helpfull. Very happy with the service😁🦷

sanket kamble
12:52 03 Aug 21
The staff and the Doctor is very polite, guided me nicely with the whole braces procedure

Monica Sharma
12:44 03 Aug 21
Very co- operative staff and also provide a very well treatment at low cost

rutuja pawar
10:09 02 Aug 21
Many thank s to sabka dentist team... Thnx....

Masood Shaikh
13:00 22 Jul 21
It was good, neat and hygienic. Appointment was dot on. Doctor was competent. The rates I felt a bit on higher side

Navneet Sharma
14:30 06 Jul 21
Good & Covid-19 Clean Service, Helping to understand Issue's.

Mamraj Thapa
16:23 29 Jun 21
Good service,behavior with patient niice.Receptionist sakshi & Dr.saba good service

Ravikant Kindalkar
13:15 31 May 21
The doctor was very kind and polite. The work done was professional and no pain was experienced while getting the teeth cleaning done. Also, the nurse who was doing suction work was too professional. Very good experience

Muzaffar Fansofkar
14:35 25 May 21
Took the treatment of Dental implant at Sanpada branch.Was concerned of treatment , but their expertise took care of it.The process was also smooth, and with no pain or any complications.Doctor and staff are also very humane and calm. Answer all the silly doubts. 😆Thanks for the treatment.

tejas londhe
06:50 08 Apr 21
I have been taking treatment for over two years for my teeth alignment. Really satisfied with the service and would definitely suggest it to others. During pandemic also they have followed all protocol and precautions for their patients. Best hygiene and well trained doctors, what else you need. I would strongly recommend this clinic.

Krishna Tiwari
10:05 25 Mar 21

Dwarika gorkha Koirala
09:53 20 Mar 21
Very nicely service n Good staff

Paresh Rajgor
06:57 18 Mar 21
Great service, great attitude of staff.

Kamalesh Deka
08:22 11 Mar 21
The staff and the dentist is very friendly and give details to the point and minor details.. and good part is no consultant fee for the first checkup

Trupti Sahu
07:47 17 Feb 21