Dental Clinic in Bodakdev
Address: 2&3, Upper Level, Akash Towers, Judges' Bungalows Road, Near Chief Justice Bungalow, Bodakdev, Ahmedabad 380054.
Monday – Saturday 11 AM – 8 PM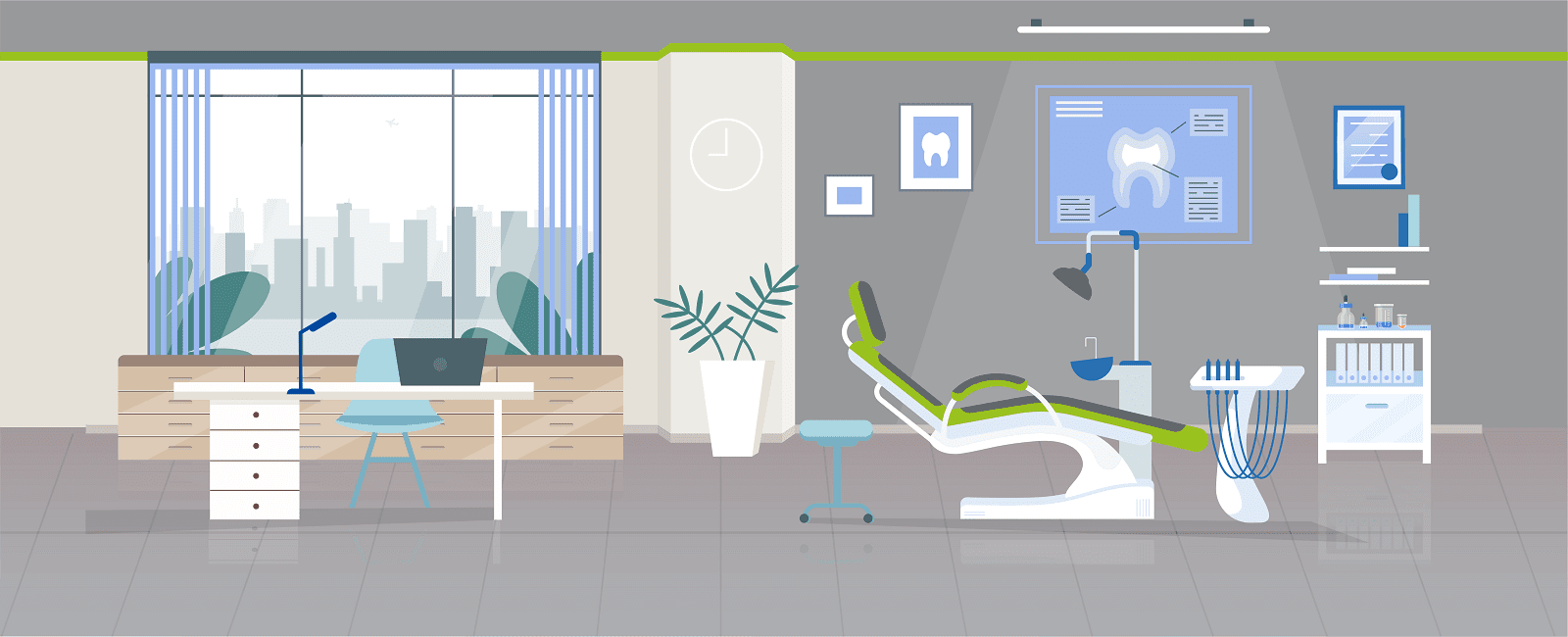 Offers a relaxed and unique dental care experience, coupled with the highest standards of dental treatments. Dentistry absolutely need not to be anything less than a pampered pleasant experience. Dental treatments in Bodakdev, Ahmedabad at Sabka Dentist dental clinic confines in a calm surrounding and, will amaze you with how painless and fast most of the modern dentistry is! At Sabka Dentist, our aim is to provide good oral health and create beautiful smiles. In the process of achieving this, we provide an excellent implant, preventive, restorative, and conventional dentistry. Our commitment to these goals provides you with unparalleled service with the highest standards of dental hygiene in a comfortable and pampering environment. We know you will be delighted, not only with the treatment but with the way you are treated. Here you will find a welcoming ambiance with warm, friendly staff and total transparency.
All dental treatments from dental crowns to major smile makeovers; a wide range of dentistry procedures and full mouth dental implants; everything is available under one roof!
The well trained and specialized dental team constantly staying updated through continuing dental education.
State of the art treatment techniques and instrumentation.
Value for money treatment options and costs.
Zero waiting policy.
Priority treatment completion at no extra cost for time-bound patients.
If you are looking for any type of dental treatment like metal free crowns and bridges, veneers, dental implants, tooth whitening, implant dentures, smile corrections, gap closures, fixed teeth, root canal treatment, gum surgery, kids dentistry, laser dentistry, gummy smile correction, wisdom teeth extractions, dental X-rays, etc., we are the ideal choice for best dentists for dental treatment in Ahmedabad, India.
If you are one of those individuals who are particular about your dental health care, you must pick the best when it concerns dental checkups and treatments. Sabka Dentist is consistently ranked as among the best dental clinics in Bodakdev, Ahmedabad. At Sabka Dentist, patients not just receive first-class treatment for their oral concerns, but will also get to experience among the best in-clinic patient experience across India. No matter the background or profession of an individual, we guarantee that all our patients feel comfortable and experience absolutely no challenges when approaching or getting their oral health issues across to our dental specialists. We are among the top dental clinic chains in Bodakdev, Ahmedabad, and have a legacy that is unrivaled by any other dental clinic in Bodakdev, Ahmedabad, India. Our dentists are undoubtedly some of the best dentists in Bodakdev, Ahmedabad.

Sabka Dentist consistently makes it to the list of best dental hospitals in Bodakdev, Ahmedabad, owing to our amazing team of dental specialists and surgeons, and cutting edge facilities within our dental clinics. Sabka Dentist was started way back in October 2010, with a single facility in Vile Parle. Currently, we have grown to around more than 100 clinics in Mumbai, Pune, Ahmedabad, Surat, Bangalore, Navi Mumbai, Thane. Our team at Sabka Dentist works to encourage better dental health and aid individuals to feel and look good and proudly carry their smiles. No wonder, as a result of our team's perseverance and vision to help spread smiles across the world, we have consistently managed to get to the list of top dental hospitals in Bodakdev, Ahmedabad.

So, next time you are planning to visit a 'teeth hospital in Bodakdev', Ahmedabad, we should be at the top of your list of dental hospitals in Bodakdev, Ahmedabad. Consider us your own 'Apna Dentist'; our dentists are some of the best dentists in Bodakdev, Ahmedabad, and we can help you with your dental concerns so that you can always spread joy and happiness across with your beautiful smile.
I and my wife, both, were looking to get dental health checkup done with treatment for a crown for me and implant for her. My son recommended this place. We called up and scheduled our free consultation. From the first visit to the follow ups, we were happy to have visited them and got the treatment done with them. All the doctors here treat the clients with respect are knowledgeable and know their speciality well. We both are satisfied and happy with the results of our treatment. I would definitely recommend anyone seeking dental attention to visit this place.

Suresh Kuniyal
08:54 02 Mar 21

Yatin Mistry
05:10 01 Mar 21
I am fully satisfied whatever treatment I have taken from. By the way i under gone braces treatment.

Dushyant Brahmbhatt
05:24 25 Feb 21
Special thanks to Dr. Rahul

poonam bhoniya
15:18 11 Feb 21
I ateend my teeth treetment.good treetment done by doctors.

Dilip Rathod
14:33 09 Feb 21
Implants were very pathetic original teeths were also damaged immense pain from the last 1 month and no right guidance from any of the doctors the only guidance I get is to make a new payment and get other implants done. Doctor dhruv/rhythm inspite I said don't mess with another teeth they broke it and made it the worst experience for me. I was asked to sign the paperwork for dental operation after I was drugged and already on my operation chair. I wouldn't suggest this place.

Vijay Zaveri
06:20 09 Feb 21
Very good treatment by the expert dentists. Painless treatment..All the safety measures and precautions are taken . Covid 19 guidelines are followed . Happy to get treatment from sab ka dentists would like to recommend it to friends and family membes.

Sucheta Deokule
10:37 03 Feb 21
I visited for check up and the doctor are very friendly with customer, overall good experience and I personally recommend this clinic

Rutvik Maniya
14:11 25 Jan 21

Very professional and friendly doctors and staff. The clinic is also very hygienic.

Sanjay Surendran
15:22 06 Jan 21
I feel amazing after interacting with professional doctors at sabka dentist.

Navin Sharma
04:43 06 Jan 21
Safety most important aspect in Corona specifically in dental treatment which is maintained here...Second most important thing I observed was they don't offer u unnecessary treatment just to earn the money like I was feeling like tooth decay but only cleaning was needed so offered that amazing yar.M happy nd satisfied with doctor lady she is too calm to convey your questions she understood the scariness behind ur questions.. Thank you M'm for conveying my myths.All are good in servicing includes other staffs too.Thank you for your service. 😊😊😊

Bhavisha Pithadia
16:37 25 Dec 20
first & for most,you met me right time for teeth treatment.seriously I like your work &your best beheviour,which I never see any other clinic.IF any one ask me about best dentist then, first I recommend your name beause genuinely,I like your treatment.(last but not least. you can't image how I disappointed from "#pooja #joshi's"treatment & now I feel much more better after meet you& getting teeth treatmentthank you so much DR.ridham

Deepa Chandwani
12:37 21 Dec 20
Awesome sarvice .. aaj tak jitno SE bhi treatment krvai par enke jitni Achi satisfaction Kahi nai huva . The have best Dr.

dip bhatti
04:20 20 Dec 20
Very nice and effective treatment for braces

Rajkumar Chauhan
06:08 12 Dec 20

Avinash K Bose
07:15 05 Dec 20

devansh tripathi
07:27 03 Dec 20
I got two implants and 3 implant crowns and total 14 teeth bridge at Sabka Dentist Bodakdev Branch. Very happy with the treatment.

Dinesh Varde
13:07 09 Nov 20
Excellentdeep cleaning carried out by specialist. Now I have no gum problem. It was done on aug. 2019. On 5.11.2020 cleaning of teeth and filling of one molar tooth carried out by dr. Rhythm shah. Treatment was done well.

K ARVINDAKSHAN
12:33 05 Nov 20
I have pain in my upper tooth . I consult Dr. Rhythm and she suggested me root canal treatment in that tooth . She did my RCT treatment and zirconia crown and lower zirconia bridge to replace my missing tooth . I am very happy and satisfied with my new teeth .

Kamal Malhotra
05:19 31 Oct 20

Redspy Detective
04:09 31 Oct 20
Awesome work done. Nice treatment.

Ronak Tiwari
06:06 17 Oct 20
I had started my ortho treatment closely 1 and half years ago, self lock ceramic braces. Done today, it was a long treatment but done with care.

Sai prabhat Gubbala
06:52 01 Oct 20
Extremely polite dentist. She explained technically and solved all doubts.

Sweta Katkoria
15:48 28 Sep 20
I had done my gums treatment and root canal treatment with zirconia crown in sabkadentist bodakdev clinic. I am happy and satisfied with the treatment done .

Daxa Desai
06:08 25 Aug 20
Very nice and supportive team ..Treatment was good ,They are very highgine in this covid situation , very satisfied with treatment..Recommended to everyone for any type of dental treatment..Many thanks to the team

bijal thakkar
18:21 14 Aug 20
We got good response from your clinic,all staf are supported and got good advice from sana dentist i am thankful to you...⭐⭐⭐⭐⭐👍

Captain Jay Joshi
11:12 18 Mar 20

md waqar younus
08:16 17 Mar 20
Good treatment, doctors advise too good and useful..

Pramod Roy
08:10 17 Mar 20
Doctors are supportive and good here. The staff and management is really satisfying here. I have gone through root canal and filling here. Root canal wasn't much hurtful. They were quick and efficient.

Tamanna Parvin
14:21 12 Mar 20
The first time I visited a clinic. It is clean and neat and all dentists are the best and the staff is also best .Excellent treatment by the doctors.... The professional knows what to do and recommends best to you.I have take RCT treatment of dental it was very nice.Specially thanks to Dr.Rhydhm Mam ,Dr Virali Mam & Dr Priyanka Mam All are so co-operative n easy going though out my treatment...Thanks Sbka Dentist Bodekdev

Devarshi Jani
04:47 10 Mar 20
Woderfull experience n so good staff friendly atmosphere .and setisfectory work

Yash Thakkar
12:18 09 Mar 20
Doctor guide is very good also staff supportive.

Chintan Patel
12:56 07 Mar 20
Very friendly and knowledgeable dentists!!!

A very good service thank you sabka dentist

hardik Trivedi
14:29 04 Mar 20
good experience.. staff members behaviour is also nice. doctors are also experienced :)

Sunny Tank
15:08 03 Mar 20
Dr. Priyanka Gulati is very professional and polite. Highly recommended.

Pynzant Dawyrer
07:15 03 Mar 20
Supporting staffDetailed consultation by DrHappy with service

Pratik shah
14:48 02 Mar 20
Very effective & professional approach. Detailed information given about the problems & treatment.

Saumil Vachhrajani
13:30 29 Feb 20
Very nice informative and satisfying meeting indeed. Satisfactory response to the entire treatment by Dr. Virali Ambavi

Mahendra Goswami
08:57 29 Feb 20
Please visit for your best dental guidance and treatments - THE STAFF WAS VERY PROFESSIONAL AND HELPFUL WITH PROPER GUIDANCE AND TREATMENTS

KIRPALANI OFFICIAL
14:12 27 Feb 20
Really had an amazing service by Dr. Priyanka

Pallab Bhai
08:09 10 Feb 20
I coming to teeth cleaning sapna dentist and i think is a good dr staff and all procces is very good.....

Pinal Sharma
13:24 08 Feb 20

kishor dolai
11:31 08 Feb 20
Good device. Nice education.

Love India
11:52 07 Feb 20
I am very happy with the treatment given by team of doctors in bodakdev branch. I was in pain since long but pain was relieved the same day of treatment. Aesthetically... I was advised by doctor to go in for all 6 anterior teeth RCTs and Crowns as there was infection in lower teeth. I got a new smile today and I'm extremely happy. Thanks for giving me a great smile. Sabka dentist, bodakdev, u rock..

PRATHMESH SHARMA
09:33 07 Feb 20
Best in class reception service and follow up

Bharat Patel
14:55 04 Feb 20
Great deals and professional doctor

mahmoud shafeek
11:41 03 Feb 20

Brijesh Soni
07:51 01 Feb 20
Satisfied with the service and consultation provided.

Shinoj Oommen Sajan
11:35 31 Jan 20
Excellent dental check up and advice.. must recommend

philimon raika
06:34 31 Jan 20

hardik sonani
11:25 30 Jan 20

KHUSHI PARASHAR
08:23 29 Jan 20

Dipak0078 Purabiya
06:38 29 Jan 20
One of the best dentist ever in the world. Mrs Priyanka Gulati.Must go there.

Pradeep Bari
09:47 25 Jan 20
Treatment of Scaling done by Dr. Priyanka Gulati was Excellant & Very Professional.Keep it Up.

Jitendra Rajgor
10:03 22 Jan 20

rajat gor shrimant bhai
07:49 22 Jan 20
I have take treatment of dental it s very nice and staf of clinc are very good and help ful for me

prakash panchal
05:49 22 Jan 20
Good experience and very nice treatment

Jaishil Doshi
05:42 22 Jan 20
Very nice service and cooperative staff.

Vrajesh Mehta
12:57 17 Jan 20
All attendant are very good , Doctors are well knowledgeable and experienced, give the best and proper advice, which is appreciable

Rajendra Vasa
06:01 04 Jan 20
Great treatment had an amazing day quick treatment and learnt lot about teeths today, thank you for protecting my teeths (team) i appreciate the knowledge that gained at #sabkadentist#team

Deep Borsaniya
11:44 01 Jan 20

ashok modi
09:57 23 Dec 19
Has a very good experience and advice..Specially dr.virali helped me with my teeth very nicely...Strongly recommended

JEET KACHA
08:20 20 Dec 19
Great experience for myself and even for my 6year old kid. Dr. Priyanka and the entire front office staff is extremely humble, knowledgeable and helpful. Definitely recommending bodakdev branch to all reading this.

kunj palan
08:38 19 Dec 19
The first time I visited a clinic. It is clean and neat and all dentists are very good and the staff is also good and the service is also good. I was diagnosed with infection in 6 teeth and was advised with rct and zirconia crowns. The treatment was done successfully and I am satisfied with the same. I will surely recommend to my friends and relatives.

Mann Parekh
12:32 16 Dec 19
Whenever I have gone for a dental checkup I have been informed that there is additional dental problems and I have been presented with a quotation which is never less than five figures

yashoraj sinh Gohil
13:13 13 Dec 19
I m too much happy n satisfied with Dr. Service..my daughter done her treatment v easily she feel like playing game withDr. Priyanka ....and....Dr. Rhydham..... She is so co-operative n easy going though out my treatment....n also staf is well trained.... all is well 😊😊👍👍 Thank you so much

Ragini Jobanputra
04:21 12 Dec 19
Nice experience with staff and doctor.

Milan Desai
08:10 07 Dec 19
Excellent treatment by the doctors.... The professional knows what ti do and recommends best to you.

SANDEEP DEY
11:20 29 Nov 19
Dental Implants is done. It takes only 20 minutes. No pain. I was afraid but everything looks alright. Credit goes to Dr. Rhytham and Dr. Pratik. Best luck to all of you. I was forgot to write that , I took Root Canal Treatment from Dr. Rhytham before one month. Work done by Dr.is also very nice. Staff is also polite and cooperative.

Mahesh Patel
04:57 26 Nov 19
I had undergone RCTs and zirconia crowns here at Sabka Dentist, Bodakdev clinic at affordable pricesMy experience was really good and the treatment was totally painless. The staff here is really nice and cooperative.I would surely recommend this clinic for dental treatments.

Jayendra Jingar
10:04 21 Nov 19
Excellent treatment with practically no pain and that too in reasonable cost. Homely and family environment accelerates the relation between Dr and patient

MAHENDRA Bhavsar
15:22 20 Nov 19
For the first time i went for teeth cleaning, they treat really nicely and without any pain Dr. did her job very nicely.

shrey shah
17:18 19 Nov 19

Bianca Shah
16:31 19 Nov 19
Highly recommend 'Sabka Dentist Bodakdev'.They are experts and can solve all dental troubles at ease. They are subject matter experts at fillings, Ortho as well as crowns and bridges apart from usual dental issues. I highly recommend going there!


Maitrey Trivedi
08:10 11 Nov 19
Very patient doctors and very polite. And the cheapest prices in the city

harish agrawala
04:53 09 Nov 19
Good for Teeth, polishing is ok

alpesh arvadiya
10:38 06 Nov 19
Very promising n genuine consulting.

Ankit Gangani
10:24 02 Nov 19
My experience was amazing. Very good dental treatment.all staff are very good suggestion for best treatment..doctor reathum shah was very good communication and given best treatment.

manoj hariyale
21:00 26 Oct 19
Happy with implant treatment of 5 teeths and grafting.Dr Rhythem and Dr Sachin and other supporting staff are good and co-operative. They are very punctual in all work.I strongly recommend my relatives and friends for Sabka Dentist for dental treatment.

Chauhan Bhanuprasad
05:10 20 Oct 19
Doctors are good trained nad very cooperative.

hardik mewada
10:28 14 Oct 19
I had taken an appointment and reached 15 minutes prior. As I filled my form and waited, 2 walk-in customers came. They plead the reception lady to take them in "just for a check-up" apparently. The lady asks them to wait and it's already 6:30 by now. What's the use of taking an appointment if you're not gonna take me in that time. She started making excuses that there's only 1 chair as there's an operation going on. By this time the situation is that anyone who pleads more will be taken in. I had to leave from there. Never visiting this place again.

Gaurav Doulatani
12:49 12 Oct 19
Good Doctors and All staffAbsolutely treatment

Mukesh patel
08:15 12 Oct 19

Vijay Kumar
05:38 12 Oct 19
Workmanship of doctors is fantastic. After care is good. i wish all the best

MUKESH PARIKH
10:33 05 Oct 19
Dr Priyanka is very polite and she is very good in her work..!!Highly recommended.

Sourabh Modi
06:13 04 Oct 19
Amazing.Friendly staff and dentist.

Jaideepsinh Jadeja
06:59 27 Sep 19
Experienced and qualified doctors. Very polite and they make you understand your dental problems very easily. And pricing is also good. Thumbs up

Vedant Patel
16:54 21 Sep 19
Treatment is very great and staff are very helpful

RAKESHKUMAR VAGHELA
06:59 18 Sep 19
Worth Going to this place Entire Staff is very Co-ordinating we'll trained Doctors very kind enough and gave proper advice and I saw they were taking proper Care of each and every patient nicely Best Doctors Specially Thanks to Dr.Priyanka Gulati who gave proper dental advice

Kuntal Joshi
11:31 17 Sep 19
The clinic provides wonderful services the doctors and the staff are very cooperative and understanding!I got my braces treatment done!Feeling great😄👍

Tithi Mishra
12:53 12 Sep 19
Very good service....And very good staff

Bharadiya Kaushik
06:53 12 Sep 19
Nice advice and guidance but costly, if treatment is done, needs reasonable price for middle income people

Bipin Gandhi
05:51 12 Sep 19
It's very badWith appointment you have to wait one hourAnd if you refuse for further treatment or their plan then they not care about current treatmentDifferent doctor told different treatment and packagesThey just want to moneyNo Good consultancyOr no good treatmentI have bad experienceDon't go and don't waste your time

Riddhi Ambavi
08:12 07 Sep 19
They are one amazing team of outstanding Dentist. They are economical, experienced, and quite professional. The best thing about Sabka Dentist is their centralized operations team who handle Sabka Dentist of pan India. Outstanding management.

Swapnil Shah
15:01 03 Sep 19
very nice treatment and very professional keep it up.

Ghansham. Dingreja
13:27 28 Aug 19
Reception area is too small. All staff and doctor are constantly moving in reception to clinic to admin office causing us to make space for them again and again in this tinny reception. Despite of appointment of 5.30 pm , i am waiting here for more than 45-50 mins and still in queue. Rest services okayish, not so good. Only good thing was that the reception nurse was well spoken and well behaved and decent. Too much noisy here. Better prefer some silent and good place.

Parikshit Thakkar
12:49 28 Aug 19
Good place for Dental TreatmentDoctor and staff are so good .

HIREN PATEL
05:12 27 Aug 19
Great service by receptionist and doctors.Recommended

studio avishkar
13:38 24 Aug 19
I had really good experience at Sabka dentist bodakdev branch with the treatment. The staff is really good and polite and provided me complete guidance regarding my treatment. Also the treatment was painless.

IPSA PATEL
15:14 23 Aug 19
Saw online adv of Sabka dentist and visited bodakdev outlet. Good services and right guidance from Doctors.

prabhav patel
14:51 23 Aug 19
I was surprised to hear about the visit and checkup to be free of cost. The diagnose was very accurate and easy to understand for a non-medical person. The staff are extremely polite and well mannered. The further treatements are super affordable. As they have many franchises, It's best option for me as I keep traveling different cities for work. I give them 10 stars for all they did for me and going to do in future.

Sunny Sharma
22:42 19 Aug 19

nikhil savaliya
06:52 19 Aug 19

vishal singh
09:13 17 Aug 19

Hardik Dave
05:48 17 Aug 19

Arvind Bhai
05:41 16 Aug 19
I am happy with check up, & if any dental problem go to sabka dentist bodakdev Ahmadabad.

I am very happy with the treatment at bodakdev branch. Service is very good.I have undergone full mouth rehabilitation and i am satisfied.

Narendra Goyal
12:55 14 Aug 19
Place is awesome, dentists are specialists & service are awesome😊😊😊😊 but would like to tell her "Pain hota hain"🤣

Pradeep YADAV
15:05 13 Aug 19
Excellent trearment ,v good doctors. Serves patients with smiling faces.

Manjitsingh Bagga
09:36 13 Aug 19
Nice treatment, no trouble at all, good Dr. & StaffGood experience me, I will tell my relatives & friends if any dental problem go to Subka dentist.

vasant soni
09:32 13 Aug 19
Very systematic and wonderfully equipped. Doctors are super nice and very patients with patients. All the staffs are very friendly in nature. Had a great experience meeting and associating with them especially Dr Ritham and Dr Ayush. Thank you all so much. 👏👏👏🙏🏻🙏🏻🙏🏻

migmar lhamo
09:40 12 Aug 19
Giving good consultancy. I am satisfied with Cleaning services and there treatments. Very nice doctor and other nursing staff. Hope they will be providing such a services to all customers and in future to me.

Ravindra Singh Naruka
06:47 10 Aug 19
Amazing experience all doctors and staff are very polite.i happy with my treatment. I recommend to visit sabka dentist bodakdev specially for any tooth related problem.

NEPALSINGH CHOUHAN
12:09 09 Aug 19
Amazing experience staff & dr. Very comparatively i am happy

sanjana pandya
07:54 09 Aug 19
Amazingly Guided and Given a Proper session of scaling.Particular about the work and consumer.

Hitendra Hans
07:15 09 Aug 19
Amazing treatment. Liked it

Himali Gajjar
11:55 08 Aug 19
I had really good experience at Sabka dentist bodakdev branch with the treatment. The staff is really good and polite and provided me complete guidance regarding my treatment. Also the treatment was painless.I would definitely recommend Sabka dentist. 👍

Savita Kumari
15:03 07 Aug 19
Amazing exeperiance all doctors & staff are very polite. I got my teeth cleaning & Polishing from there... All good @ sabkadentist bodakdev. I am happy with the treatment

Bhavna Damor
14:58 07 Aug 19
Great work..... The thing I acknowledge the most is the treatment and the staff in here, especially Bhoomi di(the evening receptionist), the way they make us feel is truly oooooowsome. It adds truly appreciate this clinic and that everyone should try this, and that i m surely gonna be their regular customer❤.

Kavya Shah
15:55 30 Jul 19
Dental was recommended to me by a good friend. My experience was #1. I had extensive work including teeth cleaning done

SANKET PATEL
13:53 29 Jul 19

Pulkit Rathi
12:39 29 Jul 19
Amazing experience all doctors & staff are very nice, service is nice, I got my teeth cleaning & polishing from there.. All good@sabka dentist bodakdev, I will recommend to visit Sabka dentist, bodakdev specially for any tooth related problems. 👌

Pravinkumar Gameti
15:33 26 Jul 19
My experience with sabka dentist, bodakdev dental clinic, amazing exeperiance all Doctors & staff are very polite. I got my teeth cleaning & polishing from there.. Very good experiance doctors& staff. I reccomend to visit sabka dentist, bodakdev specially for any tooth related problem 🙂& I am very happy with my treatment.

Jinal Vora
12:23 20 Jul 19
Amazing experiance all doctors & staff are very good.

Laxman Singh Rathore
13:25 18 Jul 19
My experience with Sabka Dentist, Bodakdev Dental Clinic, was pleasant. I am satisfied with the Dental treatment suggested and given to me. Treating Doctors namely Dr. Rhythm and Dr. Hetal were very informative, cooperative and technically very sound and good professionals. They completed my treatment very fast in minimum number of visits. My special thanks to Bhoomika, Evening Receptionist, who is very cooperative and helpful to me. All in all, I am very happy with the medical experience I had with this clinic and suggest to take dental care and treatment in Sabka Dentist, Bodakdev Clinic.

Vinod Khanvalkar
15:57 04 Jun 19
Amazing exeperiance all doctors and staff are very polite.i got my teeth cleaning and polishing from there..all ggood @ sabka dentist bodakdev

Ravi Solanki
13:18 03 Jun 19
Very amazing i am very happy with the treatment and fast results and doctor's nature and communication

Megha Bhojwani
16:15 23 May 19
I had under gone dental filling treatment which was done by Dr Rhythm who is very nice in her work and it was excellent experience for me .

sanket shah
10:16 18 Mar 19
It was very nice experience with my treatment at sabka dentist , bodakdev. Whole staff was very helpful and friendly specially receptionist bhoomi didi as she always help me for setting appointments at my convinient time . Dr. Rahul had done my treatment and he was very friendly to me. I'm totally satisfied with my treatment as it helps me recover my teeth and also gave me a beautiful smile. I will recommend to visit Sabka dentist, bodakdev specially for any tooth related problems. 😊

354 Foram Shah
16:17 13 Feb 19
it was a scary experience for me. the infected tooth was removed that was a very unpleasant experience for me and then a bridge was suggested to be put there worth almost 40000rs, which could have been managed with a normal bridge, as that region was the molar region. my teeth are as sensitive as they were before. I would never recommend anyone to go there.

tarini tandon
05:26 23 Jan 19
for a year i am visiting this pericular sabka dentist clinic facility at Bodakdev for consulting and dental treatments and i am very satisfied with the professional service they provide. I recommend Dr. Kumar and Dr. Urvi for their efforts to make the experience better.

Amit Patel
07:40 05 Jan 19
My treatment with Dr Urvi . Good experience and cooprative.Follow up for my appointment in regular basis.Thanks dr urvi and Bhoomi for support.

Vandana Jadeja
09:35 25 Dec 18
Very nice clinic atmosphere and according to treatment I'm very happy for the treatment aspect . Drs are very polite and specially receptionist bhoomiben . She never forget to call me on my appointments. Dr. Vijay has done my Ortho treatment and I'm satisfied.I suggest all to visit sabka dentist and specially bodakdev branch for the treatment.

Vijay Parmar
15:01 12 Dec 18
I was apprehensive of coming here because I've never been to a dentist. But they explained how it all works and I asked a lot of questions which they answered patiently. My doctor was Dr. Urvi Rathod and she did a wonderful job cleaning and polishing my teeth. She also advised me on how to improve and maintain my teeth and removed a lot of my doubts about dental health.

Jigar Solanki
10:30 12 Dec 18
Excellent service and I have done root canal treatment ..I must say guys if you have need dental treatment u should go only sabka dentist

Palak Dabhi
09:20 07 Dec 18
this was an one of best experiences with dental doctors in ahmedabad.I was having an problem with cracked teeth and worst thing was those teeth were front facing. but these well skilled doctors. not only given me new cap but checked every little part about dental strength and of couse beauty does matter.Dr. Urvi done my RCT with very keenness. Dr. Rhythm designed my smile and checked size, shape and shade. and of course still to make it perfect Dr. Kumar didn't hesitate to give me compeletly new cap just to make it perfect at every point at NO extra cost.this was the cherry in vannila happiness for me. and of course sabka dentist provided me lifetime cap replacement in case of any future damage at NO cost at any branch.if someone asks me for any dental treatment I will only suggest sabka dentist and specially Bodakdev branch was one of my best experiences. Thanks to Dr. Rhythm Dr. Urvi and Dr. kumar

Parvez Kaladiya
08:58 06 Dec 18
I visited sabka dentist ,Bodakdev branch few months ago because of teeth sensitivity and pain. Dr.Rhythm had suggested me to go for root canal treatment and zirconium tooth cap. Ofcourse ,treatment is costly but excellent service , treatment and care . Now I'm happy to say that, I'm completely relieved from tooth sensitivity and tooth pain. Dr.Rhythm and even reception staff ( Bhumi madam) are friendly in nature . M very thankful to Dr. Rhythm for her excellent treatment. Now , I can suggest others to visit Sabka dentist , Bodakdev branch who have dental problems.

Venu Gopal
13:28 01 Dec 18
I Got my breces treatment from here. Good service. Nice doctor and staff as well .

Kelvin Sarvaiya
15:53 22 Nov 18
It is wonderful experience, Staff is very polite and professional, All doctors are highly skilled and experienced, They provide best treatment in best price.

Dinesh Parmar
13:22 20 Nov 18
The ambience and special care by the doc and the other members is quite appreciable.The work is done with fineness.

HAVEFUNNOOB
10:07 20 Nov 18
fake , don't trust the staff, fraud

Dhwaja Trivedi
15:30 02 Nov 18

Gaurav Mehta
06:39 31 Oct 18
Thanks Dr.Rhytham...so fast & good service...very helpful & caring...master...

Gaurang Patel
15:46 27 Aug 18
It's a great solution for all dental problems at amazing discounts. The services right from the receptionist to the worthy Doctor's are superb.

Shivang Ganjoo
12:05 18 Jul 18
Third Class Behaviour With Patient

kaswekar roger
06:11 06 Jul 18
Dr Kumar treated me very well. Must recommend .

Ramesh Punjwani
06:45 03 Jul 18
Great customer service and great Doctor, overall very nice, thanks,

Narayan Meena
14:21 15 Jun 18
I went with the braces and root canal treatment and it was very good.

aayush bhawnani
11:51 25 May 18
New Denture treatment is going.good service.

Bipinchandra Modi
05:53 25 May 18
I have problem in my tooth, I search on internet for dental clinic and I got info of sabka dentists from internet. I was done my tooth extraction from sabka dentists and also replace extracted tooth with dental bridge in aprodable cost and also general fees like consultation x-rays are not include in bill in this clinic which is aplide for other dental clinic now I am happy and very thankful to sabka dentist.Great chain of dental clinic all over india, I suggests that for teeth problem sabka dentist is best choice for treatment.

vilas kamble
03:57 21 May 18

Dr. Udayan Prajapati
15:31 17 May 18
I got Proper dental care with advance technology.

AMAN SINGH
14:49 16 May 18

Dashansh Prajapati
14:25 14 May 18

Paresh Purbiya
15:23 12 May 18
Great Service. Great Dentists.

Badrinarayan Padhi
15:45 11 May 18
It's good treatment over here.

Vrushali Shah
13:34 11 May 18

Dhaval Trivedi
13:32 10 May 18

Raotkanu Raotkanu
13:16 09 May 18
Very Nice Experience ..Dr Rytham is treated me very well.

Jaysukh Shiyani
09:47 30 Apr 18
Amazing experienceAnd great service

Naman Kanjani
07:25 28 Apr 18

jay manani
11:57 27 Apr 18
Rct treatment is better Now cap treatment is pending which may be suppose better.

ÑELSON CHRISTIAN
09:14 27 Apr 18
Great Service. Great Dentists.Pricing is right, and the information provided before, while, and after the procedure is great

Vedant Rawat
11:56 26 Apr 18

Hardik Patel
09:45 26 Apr 18
good experience, my rct done my pain is gone now.

Parasi Alahit
06:48 26 Apr 18
Dochters and all staff is good..

Kalpin Trivedi
12:40 25 Apr 18

Bhumika Bhumik
08:52 25 Apr 18
I had check up at sabka dentist bodakdev.doctors are very professional and gave me best treatment for my teeth.

Rajput Parth
05:58 25 Apr 18

mohnish chavda
03:33 25 Apr 18
Very good experience. The doctor and staff are cooperative and gives good advice.

siddhi modi
10:51 24 Apr 18
I Have problem in my teeth so one of my friend suggest me Sabka Dentist....At there i have met Dr. Ridham and she suggest me best treatment for my teeth problem....Now i am happy and very Thankfull to Sabka dentist for Solution of my teeth problem...

ND Entertainment
14:08 04 Apr 18
You can take their opinion. But cant be operated by the doctors they have appointed.

Paresh Jadeja
18:02 02 Apr 18
The hole in the wall dentist shop sits in the heart of bodakdev, near judges bungalow. There are two practicing dentists usually who deal in normal treatments. The place is a deal winner for their free dental check-in but can be a rip-off for any major treatments. The doctors have a tendency of pushing for major consultantation by visiting doctors which can range to a couple of thousand rupees.The admin is also very unprofessional and don't tend to respect customers time. Overall a fancy idea poorly implemented in Ahmedabad atleast.

Parth Jain
13:00 14 Feb 18
Worst experience, want recommend at all

Excellent dental service provided by eminent doctors.

Monarch Doshi
16:48 06 Dec 17
Very big thank you for your sincere efforts and dedication for my pain removal at sabka dentist Bodakdev. I really value it. You worked really hard to remove pain and it's cause ASAP.Your team of Dr. Sonal, Pratik, Mona and Shruti are awesome! 👏👍Sureshbhai

Suresh Ruparel
16:20 25 Nov 17
Amazing experience...wonderful work delivered!

Fema Narania
08:50 24 Nov 17
Very good experience doctors and all staff r very co operative n caring.Dr Sonal is treating me very well.

vaishali parekh
06:30 18 Nov 17
Very good experience. Must recommend.

Kalpana Prjapata
09:46 16 Nov 17
Dr. Shruti is treating for root canal. She is very cooperative and I am satisfied with the treatment.

Kamini bhatt
04:08 23 Oct 17
It is good. Satisfied with the treatment.

Urvi Bhatt
06:35 16 Oct 17
Very good experience.. I'm hvng whole mouth rehabilitation treatment is going on well. Cooperation from both the ends. I would like to prefer others also.