Dental Clinic in Kharghar Sec 20
Shop No-7, Ground Floor, Amrut Dhara Complex, Plot No. 48 Near to Reliance Fresh, Opposite Union Bank of India, Sector 20, Kharghar, Navi Mumbai, Maharashtra 410210.
Monday – Saturday 11 AM – 8 PM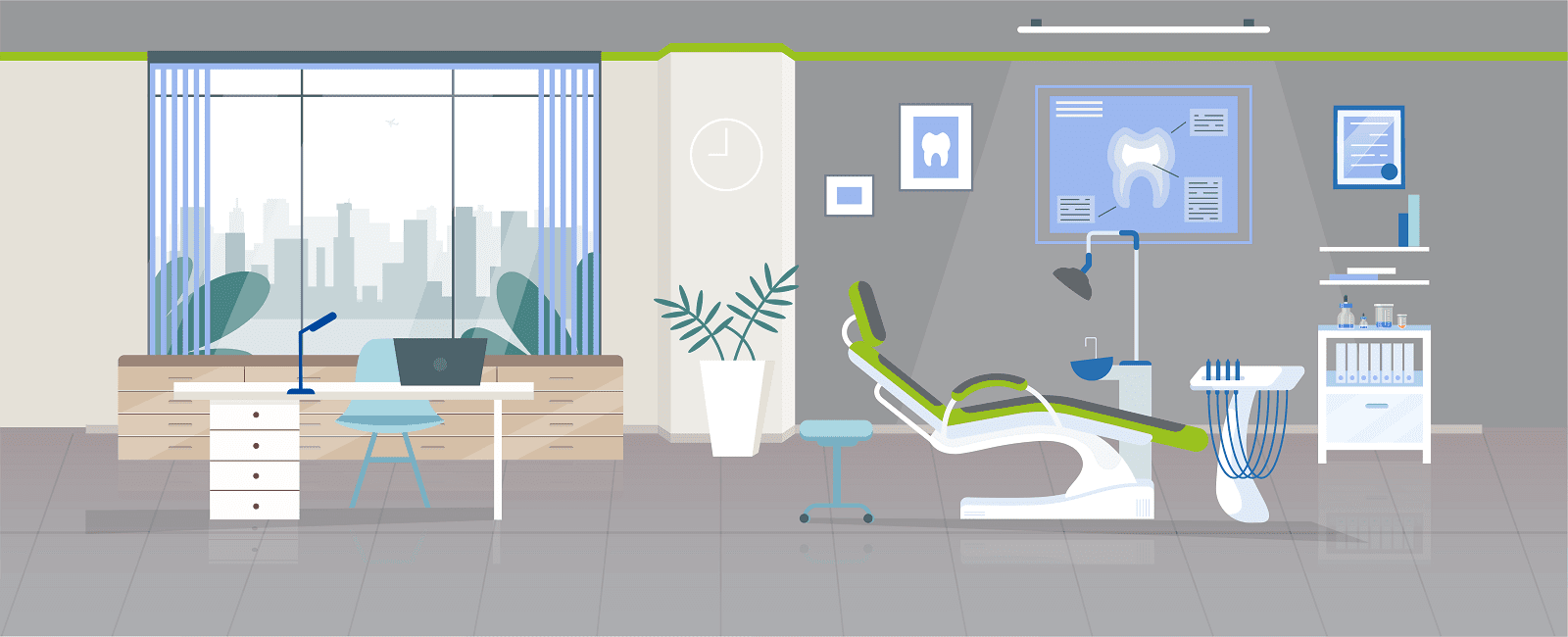 About Sabka Dentist Dental Clinic in Kharghar Sector 20
Sabka Dentist Dental clinic has always been at the forefront of dental healthcare. This clinic is known as one of the best dental clinics in Kharghar Sector 20 , which is dedicated to providing high standard dental services at an extremely affordable price range.
Sabka Dentist never compromises with the quality of treatment, so they utilize all the latest dental techniques and technology to make the dental procedures pain-free and comfortable.
Facilities
Dental care has always been ignored in the hustle and bustle of our life. But it is essential to be careful about our dental health. However, even the person who takes care of their teeth daily may also require profesKharghar Sector 20 al treatment.
So if you are trying to find one such dentist in Kharghar Sector 20 who can help you to resolve such conditions, then Sabka Dentist can help you out. The clinic can provide you with the following facilities and treatment options-
Dental Implants–

If you have lost a tooth, then you will probably be considered to undergo implant dentistry. However, the value of the procedure depends on the number of sesKharghar Sector 20 s required, surgeon's fees, tests, dental treatments, and even the anesthesia used. The clinic may also provide you some fascinating affordable packages that include no hidden charges.
Root Canal Treatment–

Root Canal treatment is a crucial dental procedure that helps in preserving a decayed or damaged tooth. If you intend to undergo this dental process, then you must look for an experienced endodontist who can help you to achieve the best result. If you have not yet found any such dentist in Kharghar Sector 20 , then you may try and visit Sabka Dentist; this is one of their well-known branches, they have than 500 proficient dentists working in more than 100 clinics around different cities in India.
Conscious sedation- Sabka Dentist is aware of the fact that general anesthesia to execute dental operations is very risky. Keeping this in mind, the clinic provides local anesthesia to their patients so that the patients lose sensation in the area of treatment, but they do not fall asleep. However, it also depends on the treatment as well. As Sabka Dentist is one of the best dental clinics in Kharghar Sector 20 for their services, they do not compromise with their treatment quality and give complete transparency to the patients regarding the procedure.
Superb scheduling- Patients who have come a long way and have minimum time are offered the quickest and the most effective treatment plans. The dentists attend them on a priority basis, even on short notice. If you feel impressed with this feature and wish to avail the facility, then you know what you have to do? Just opt for Sabka Dentist, the best dental clinic in Kharghar Sector 20 .
Latest equipment and Techniques- Sab ka Dentist makes use of the latest techniques and methods while treating the patients. The dentist keeps themselves updated with all the new technology and upgrade their knowledge and when required.
Patient Care- Sabka Dentist is known for its hospitality. They treat their patients very well. Right from the receptionist to the surgeons, everyone gives the patient complete support throughout their journey in Sabka Dentist.
How to select the right dentist and right clinic?
Have you not been able to find a perfect dentist in Kharghar Sector 20 ? Then start doing that immediately without waiting for the emergency to arrive. But before you start doing that, it is time for you to consider several factors like the following-
Location and operational hour- When choosing a dentist, make sure that the dental clinic is close to your place or workplace. Most importantly, make sure that the dental clinic will be operational on days and times when you are generally available.
Cost -The cost of different procedures depends on several factors like the surgeon's fees, cost of the tests, medications, anesthesia used, and equipment used. However, Sabka Dentist provides multiple payment options, EMI facilities, and insurance coverage for the patients, which makes it the best dental clinic in Kharghar Sector 20 .
Qualification – After you know this is the perfect dentist in Kharghar Sector 20 for you, you must mandatorily check the credentials of the dentist. An experienced dentist will never hesitate to show their credentials and pictures of past procedures. If you find the dentist or the staff waiting to answer any of your questions, then you must consider finding another dentist.
How can Sabkka Dentist help?
Sabka Dentist is considered one of the leading dental clinics in Kharghar Sector 20 . Wondering why? Because-
The clinic provides the highest standard of treatment at an affordable price.
The dentist and their team are well qualified and skilled.
The clinic is capable of treating any dental issues, even on an urgent basis.
The clinic has secure payment options and easy EMI plans.
Tell me more about Sabka Dentist, Kharghar Sector 20
Tell me more about Sabka Dentist, Kharghar Sector 20 If you are one of those individuals who are particular about your dental health care, you must select the best when it pertains to dental checkups and treatments. Sabka Dentist is consistently rated as one of the best dental clinics in Kharghar Sector 20 , Navi Mumbai.
At Sabka Dentist, people not just receive first-class treatment for their dental problems, but additionally get to enjoy one of the greatest in-clinic patient experience across India.
Regardless of the background or career of an individual, we make sure that all of our patients feel at ease and experience absolutely no concerns when approaching or getting their dental issues across to our dentists.
We are some of the top dental clinic chains in Kharghar Sector 20 , Navi Mumbai, and have a legacy that is unparalleled by any other dental clinic in Kharghar Sector 20 , Navi Mumbai, India. Our dentists are some of the best dentists in Kharghar Sector 20 , Navi Mumbai.
Sabka Dentist consistently makes it to the list of best dental hospitals in Kharghar Sector 20 , Navi Mumbai, owing to our great team of dental experts and doctors, and cutting-edge facilities within our dental clinics.
Sabka Dentist was launched back in October 2010, with a single medical clinic in Kharghar Sector 20 . Today, we have grown to around more than 100 clinics in Mumbai, Pune, Ahmedabad, Surat, Bangalore, Navi Mumbai, Thane.
Our team works to encourage better dental health and help men, women, and children to truly feel and look good, and proudly carry their smiles. No wonder, resulting from our team's determination and viKharghar Sector 20 to help spread smiles across the world, we have consistently managed to get to the list of top dental hospitals in Kharghar Sector 20 , Navi Mumbai.
So, the next time you want to visit a 'teeth hospital in Kharghar Sector 20 , Navi Mumbai, we should be at the top of your list of dental hospitals in Kharghar Sector 20 , Navi Mumbai. Consider us your own 'Apna Dentist'; our dentists are undoubtedly some of the best dentists in Kharghar Sector 20 , Navi Mumbai, and we can help you with your oral concerns so that you can carry on and spread joy and happiness across with your delightful smile.
Experienced doctor with excellent skill.Reasonably priced with good service.Highly recommended for good oral health.

Swapnali Gupte
13:47 23 Jun 22
Amazing Experience. The Doctor there is very professional and knows her job really well. Had a great experience with Root Canal of my Mother. The Staff there is very supportive.

Shubham Dubey
07:57 22 Jun 22
Very good experience with Dr. Arpit

Fun with Tails
13:58 04 Jun 22
I have been to coming to sabka dentist for over half a decade now. I have got done a few treatments. My experience with them has been amazing every single time. Would recommend it.

Riddhima Parkar
13:45 28 May 22
One of the best Advance dental clinic in Mumbai/Navi Mumbai,First of all, the clinic itself is very modern, comfortable, and clean. Secondly, the staff are extremely friendly, accommodating, and professional! Finally, the entire experience at SABKA DENTIST by Dr Varsha almost seems like it was meticulously planned to be as efficient and comfortable as possible. The automatic appointment message reminders, the follow up and the cleanliness of the Dental equipments is a game changer.Dr Varsha and her team were kind and courteous and most importantly walked me through a detailed explanation of my treatment, I had got my aligners treatment done here which was completed before time and with the best quality of service . The aligners in Sabka dentist is the most affordable one with the best quality and i would not hesitate to recommend this location to friends and family. Great Job

suraj srinivasan
07:04 27 May 22
Nice experience. Recommended for all dental procedures

It was too good an experience to have been treated in sabka dentist. Very courteous doctor and staff. God bless them.

It was a nice and good experience visiting sabka dentist.I had done RCT and filling. I was attended by Dr. Varsha,she is polite and humble. She explained me each and everything in detail. The supporting staff are also helping and co-operative. I would recommend this clinic.Only one concern is hygiene.Better hygiene is required.Overall it was a nice experience visiting Sabka dentist. Treatment cost is also nominal. I recommend to others.

Dr.Varsha, a polite person and highly satisfied with the root canal and tooth extraction process. The regular pre and post follow up is excellent and other staff members are also kind and humble. I would recommend to visit this clinic.

Sudarshan Iyengar
14:09 13 Apr 22
I got veneer treatment at sector 20. Treatment was good and I am happy with my smile now.Thank you

vikas yadav
11:13 08 Apr 22
Friendly dentists and good treatment

I liked sabka dentist because you haven't wait for start your treatment when you need ,correct diagnose and calm and polite staff .I had recently visited sabka dentist I met dr Varsa she had done my root canal and caping perfectly I had never felt pain in my tooth during the treatment also she had done very good care about my treatment timely gives me appointments and asking about pain and swelling good gesture .I will definitely recommend to visit 👍

Kavita Ghosh
16:21 02 Apr 22
I came here for a root canal and would definitely recommend anyone who's in need of a tooth fix. Nice, polite and extremely friendly staff. They gave me reminders of not only my appointments but also followed up diligently if I was having any pains. They also adjusted my crown twice, without any hesitation. 5/5 for the overall experience! :)

vaibhav gangakhedkar
07:31 17 Mar 22
I was very comfortable during my cleaning procedure today. Thanks to Dr. Varsha, she has a calming presence about her, always willing to explain and alay any fears. I shall surely visit again for myself and my family.

Rakesh Gupta
10:21 16 Mar 22
Great experience quick and fast

Abhishek Tiwari
11:34 05 Mar 22

Shruti Pandey
12:37 04 Mar 22
Good and friendly doctors who explain all the process while performing the operations

Abhishek Konwar
14:57 01 Mar 22
great experience, great hospitality by Dr. Varsha and staff.

Jitendra Singh
07:22 01 Mar 22
Good Job. Doctor explained everything and calmly completed the procedure.

megha Yadav
15:06 14 Feb 22
It's nice clinic all instrument are there you must visit

Rohit Khairnar
10:06 12 Feb 22
Really cooperative, skilled doctors (especially Dr. Sarbari) and staff. It was an excellent experience. I will recommend everyone to contact her incase of any dental issue

Neha Priya
04:54 12 Feb 22
professional doctors & staff.Timely follow up is been dine for appointments.Fully Satisfied with the work done.

Anirudh Sinha
08:14 09 Feb 22
Their service and hospitality is tremendously good. Doctor Varsha in Kharghar sector-20 has taken care of my treatment and she has explained me the entire treatment procedure so nicely. This was my second treatment from SD and I am quite satisfied and happy with the results.Just the cost of treatment is comparatively higher. It costed me 21k for a Re-RCT + crown treatment.But still, I will consider Sabka dentist in future again.

Soumik Sinha
14:15 08 Feb 22
My experience here has been excellent. We have been coming here for about 3-4 years now. Even though we have now shifted to CBD we still come here.

Great experience and good staff thanks

akshay88naik
14:09 05 Feb 22
Good doctors. Been visiting here for last 5 years

The treatment done was very nicely...der was no wait time ... appointments managed very nicely ...very frndly doc ....Dr Varsha handles n manages her patients very nicely. Wil always recommend dis clinic to everyone...

Sonali Gaikwad
07:26 02 Feb 22
It was a nice experience visiting sabka dentist. I was attended by Dr. Varsha, she's so polite, humble and talented. She explained me each and everything in detail and I believe it is very necessary for a patient to understand each step and it encourages patient to follow instructions meticulously. The supporting staff are also helping and co-operative. I would recommend this clinic as they would prioritise your treatment case by case basis.Overall it was a nice experience visiting Sabkadentist. They are going extra-mile to help you with your tooth related queries.

Shilpkala Gade
06:42 02 Feb 22
Visited for the first time. Nice experience.Would like to visit again.

Rajkumar Shah
13:25 01 Feb 22

mayur patil
15:20 31 Jan 22
There is no waiting. Treatment done very smoothly. Appointments managed nicely. No rush.

Manash Sahoo
10:08 24 Jan 22
very good service,dr varsha is very polite very helpful....alwys concerned abt her patients keeps a follow up wid dem ...i would always recommend dis clinic to everyone!!

Sharvari Gavali
09:51 24 Jan 22
Well behaved staff! Pricing has been shooted up, they say it is cause of COVID almost double than what they were charging pre Covid.But overall a good experience!!

Srijith Shivan
10:13 06 Jan 22
It is always very pleasant experience to visit this clinic. Special mention about Dr. Varsha Khade, the way she is handling this clinic is highly appreciable. Her connect with patient, caring nature and consultation is really praiseworthy. She makes all patients very much comfortable. Value for money experience ...

Hemant Kadu
14:36 04 Jan 22
Dr. Varsha is very friendly, she has explained overall implant process in very efficient way and adviced for future couse of treatment,, thanks Dr Varsha

vimal chourey
10:08 17 Dec 21

Sahil Chalke
16:56 17 Nov 21
Root canal treatment was done at Kharghar sec 20 by Dr Varsha. Treatment done is fantastic and zirconia cap, I just loved it. It feels natural tooth like. Thank you.

umesh gavali
10:46 02 Nov 21
The staff was great very welcoming and friendly. The dentist was very nice and informative , everything was done in a relaxed environment and I would fully recommend the services of Sabka Dentist.

Satyam Jha
10:10 01 Nov 21
Very nice experience with kharghar sec 20 clinic excellent service with root canal thank you

Sonpal Sharma
10:40 29 Oct 21

Gayatri Naik
06:25 25 Sep 21
Good experience and very helpful.. smiles😊😁

neha kumar
11:37 24 Sep 21
The doctor at the clinic explains everything in detail that makes a person comfortable sharing and clarifying doubts. I also love the name of the clinic 'Sabka dentist', it gives a sense of being inclusive.. anyone who would like to have a great experience with any tooth related issues, must go to this clinic.

Dhanashree KM
01:53 19 Sep 21
The services are excellent. The doctor was very much experienced and explained me all the queries. Thankyou so much for the services. Will always recommend this clinic to my friends and family.

neha shaikh
13:21 16 Sep 21
Very polite n helpful staff

Ravi Anand Vaish
11:32 15 Sep 21
Helpful staff. Dr. Varsha was very sweet and friendly.

Gayatri Radhakrishnan
07:48 31 Aug 21
I have good exprice with Dr. varsha and staff thank you

hari karotra
07:40 28 Aug 21
Good And Safe Environment. Quick check up and solution provided by Dr .

Jagroop Singh Hothi
10:34 27 Aug 21
Good service and treatment

Shyamkant Patil
14:16 24 Aug 21
First visit experience was nice, Doctor and support staff was supportive and well behaved. Hope for the same experience in the next visit also.

Inferno Legends
07:46 21 Aug 21
It was an immersive experience. This place is excellent. This is one of the best clinic in kharghar, Navi Mumbai. Extremely clean and they follow all the sanitization rules. I visited sabka dentist for a filling and cleaning and the process was extremely smooth and completely painless. The service is the best that I have experienced yet. Dr. Varsha is very sweet and she feel me so comfortable. The followup visits were quick and hassle free. I recommend sabka dentist for all your dental needs.

Preksha Garg
18:19 06 Aug 21
Nice treatment dr Varsha nice cooordination Wid patient nice staff

Kajal Ahiwale
10:24 02 Aug 21
The click was very good. The staff was interactive,supportive and helpful. I would definitely adhere to the suggestions given and refer thus clinic to all known people. The best dental clinic in Kharghar.😇🤩😍🥰

The Nitu Show
12:41 27 Jul 21
Treatment was very quick and efficient. Guidance was very valuable for my oral health.

Hriday Sharma
11:57 06 Jul 21
Nice treatment and doctors are good. Dr.Varsha did my treatment.

Darshana Pansare
07:00 25 Jun 21
Today I visited sabka dentist and got my cleaning done and I'm very happy with the service.

Anushree Walishete
08:24 23 Jun 21
Very friendly doctors, And proper treatment was given. Very happy with my aligner treatment ✨keep up the good work.

Agent HOBBS
18:13 22 Jun 21
Currently my treatment is going on and it's an amazing experience. Special mention for Dr Varsha Khade and the other staff for an extremely caring amd hassle free treatment. They are taking all the safety measures during this COVID 19 phase. Would recommend everyone to visit them.

First of all best dentist dr. Varsha Too calm Too nice towards the patient. My first time to dentist but it all goes smooth she gave me confidence to believe her so all goes nice for me. Happy to review ☺️

Jitendra Kajala
09:43 22 Jun 21
Very good experience. My mother was getting her treatment over here and Dr Varsha was really patient and friendly while treating her. Its rare to see doctors with such great enthusiasm.

Yashika Rawat
07:07 22 Jun 21
Very good experience. The Doctor is really patient and friendly while treating. Overall great experience

Vinita Rawat
07:02 22 Jun 21
Best dr and best service feeling best experience

Service was good and cooperative …experienced doctor

Faisal Rehmani
10:22 29 May 21