Dental Clinic in Dahisar East
Address: Shop no 1 A ,Ground Floor, BPT Employees Swed Ganga CHS LTD, C.S Road, Next to Bank of Baroda Anand Nagar Dahisar East, Mumbai, Maharashtra – 400068.
Monday – Saturday 11 AM – 8 PM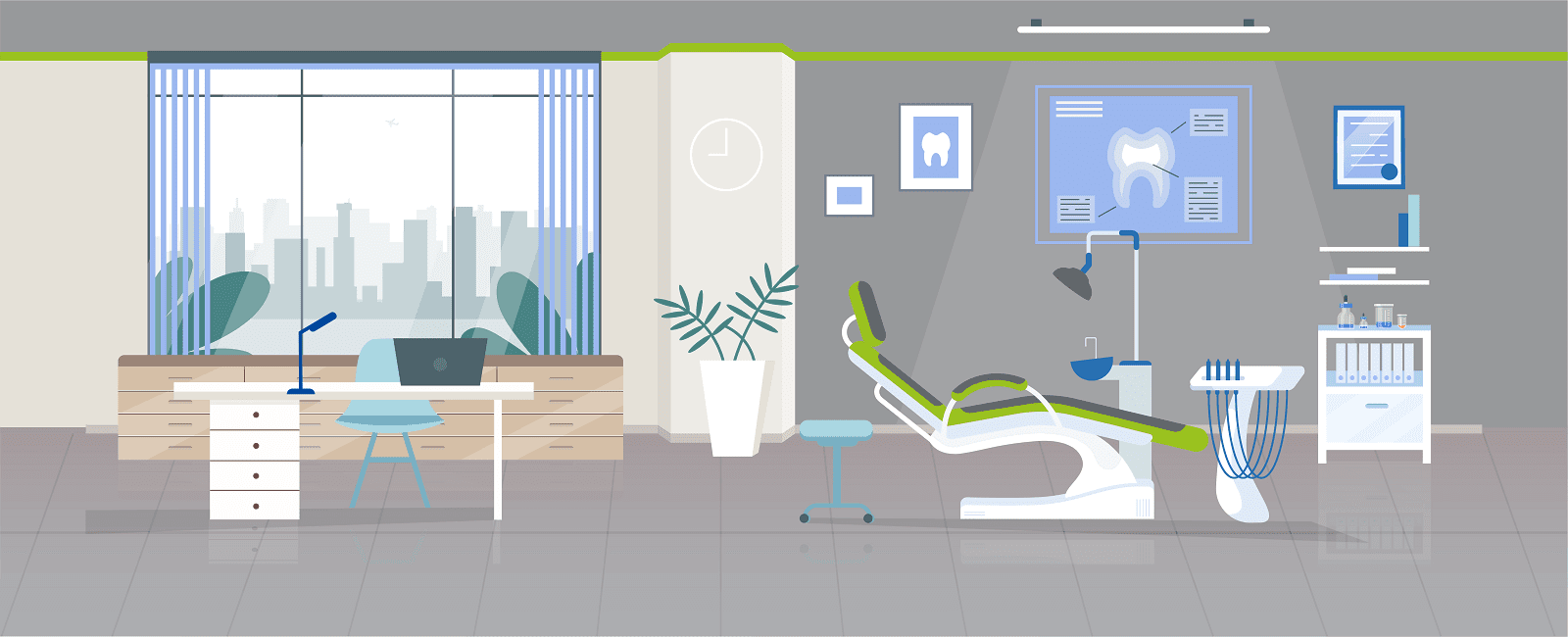 About Sabka Dentist Dental Clinic in Dahisar East 
The pledge of providing you with our services with premium dental treatment in a pleasant environment is what we strive to achieve. Our confidence in our own expertise and authority on dental treatment and processes provides us with a high level of trustworthiness among our patients and associations.
At 'Sabka dentist' dental clinic in Dahisar East, our motive is to make patients believe that we provide the best services with the best dental treatment. Our loyal and growing patient base is the proof of the foundation of trust and appreciation within the family making it bigger and broader just like your most beautiful smile.
Our commitment towards our goals to provide the highest standard of dental treatment to our patients with utmost care which creates a pleasant environment. We believe in ourselves and in our services, and we are confident to delight you with our treatments.
We greet with good ambiance, warm, cooperative staff and hygiene in our clinics across the city and country is what we take pride in. So join our family, experience the world of dentistry and the journey of creating your best, most beautiful smile with us, your very own Sabka dentist in Dahisar East.
Treatments provided at Sabka dentist in Dahisar East
Checkup and consultation: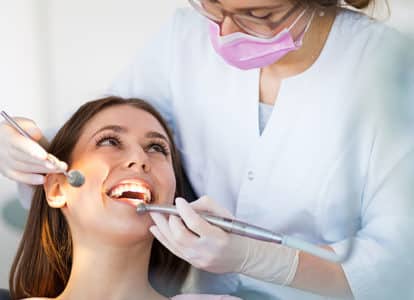 At Sabka dentist in Dahisar East we provide patients with Consultation, X-rays and dental checkups at free cost. Our experts recommend to get a dental checkup done every six months to help you maintain your oral hygiene.
Dental veneer:
Dental veneer is a thin layer of tooth like material, which is bonded to the tooth surface with minimal preparation to improve aesthetics. Veneers can be used to change the shape, size and colour of the teeth. Indications include discolored teeth, broken teeth, malformed teeth, fluorosis etc, veneers are used.
Veneers look beautiful and natural and can last for more than 10 years. Our dentists in Dahisar East offer the option of Ceramic and Composite Veneer.
Teeth Whitening:
Don't feel shy about stained and dull teeth. Our dental clinic in Dahisar East also offers teeth whitening treatment, which lightens the teeth shade and thereby helps in removing stains & discoloration from tooth surface. Your dream of having stunning white smile can be turned into reality!
Periodontics : Teeth cleaning, scaling & polishing: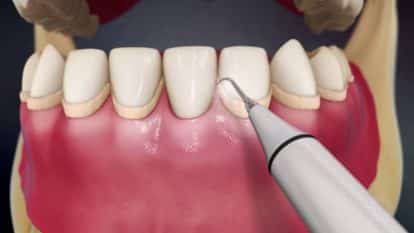 Our dentists in Dahisar East recommend each patient to get cleaning/scaling done every 6 months to maintain healthy gums. It should be done to remove plaque and tartar from the tooth surface, which can otherwise harbour bacterial colonies. Polishing follows this.
Prosthodontics : Replacement of missing teeth:
Sabka dentist in Dahisar East provides various options to replace your missing teeth. Replacement of missing teeth can be done with the help of fixed prosthetics like Implants, crowns or bridges. Removable partial/complete denture prosthetics are also available.
Endodontics: Root canal treatment:
Root Canal treatment is a sequential treatment involving removal of infected pulp from carious tooth and its replacement with inert gutta percha material. The need for root canal treatment will be indicated to the patient if the need be. At Sabkadentist in Dahisar East, we also have endodontic specialists.
Orthodontics:
Are you not confident about your smile because of misaligned teeth? We have orthodontists at Sabka Dentist in Dahisar East who can help to close gaps between teeth, align crowded teeth and push back protruding teeth. We also provide the option of tooth coloured ceramic braces.
Oral Surgery:
Our dentists will indicate extraction/ removal of tooth if the tooth is mobile, grossly decayed or if there is any other reason. We also have Oral Surgeons who are efficient in performing other oral surgeries like extraction of impacted wisdom teeth, surgery required for implant insertion etc.
Pedodontics/Child Dentistry:
Parents often ignore problems in their children's teeth because of the notion that they will fall away anyway. Milk teeth are important because they are needed for speech, eating and to maintain space for permanent teeth. If milk teeth are healthy, then the permanent teeth will most likely be healthy and will erupt in correct position. We have trained Pediatric Dentists to treat your child at our dental clinic in Dahisar East.
How to choose dental clinic?
Finding dental clinic or a good dentist near you to get the best dental treatment could be a difficult task. With 500 and counting expert dentists, 100 operating clinics, We at Sabka dentist provide our highest standard of dental care at its best in all over 5 cities namely, Mumbai, Pune, Ahmadabad, Surat & Bangalore.
At Sabkadentist we have got a panel of dentists with their efficient & excellent skills in all our clinics. People always have a fear of getting dental treatment because sometimes the process is painful, but experiencing the dental treatment with utmost care by friendly staff and good hygiene gives patients a pleasant environment, which we Sabka dentist in Dahisar east always take care of it.
Before visiting any dental clinic, people prefer knowing more about the dentist and their clinic. They do check the website of prestigious dental clinic, and ask their family and friends, whether they had experienced the dental clinic before? Were they treated well by our staff?
And also acquire knowledge of treatments given. We Sabka dentist have many set up operating for your convenience. Go to your near Sabka dentist dental clinic and experience the dentistry differently. We are always one call away from you. Book an appointment or please call us on 022 4880 6488.
How can Sabka dentist in Dahisar East help?
Giving smiles on the faces of thousands of people is what we always strive to achieve. Our panel of experts always makes sure that every patient walks out of the clinic with bright and cheerful smile. We are always there to help our patients to maintain their oral hygiene.
We have treated more than 10 million patients and counting, conducted more than 1,50,000 Root Canal Treatment & more than 1,60,000 prosthetic. We are looking forward to more such numbers along with providing our best dental experiences. We stand tall as one of the largest chains of dental clinics in India with more than 100 clinics across major cities in India namely, Mumbai, Pune, Surat, Ahmedabad and Bangalore.
We Sabka dentist in Dahisar East encourage providing good treatment with good ambiance, well-trained and qualified staff and high accountability.
Tell me more about Sabka Dentist, Dahisar East
If you are particular about your dental hygiene, you need to pick the best when it concerns dental care checkups and treatments. Sabka Dentist is frequently rated among the best dental clinics in Dahisar East, Mumbai.
At Sabka Dentist, people not only receive top class treatment for their dental problems but in addition get to enjoy among the best in-clinic patient experiences across India. No matter the background or career of an individual, we make certain that all of our patients feel at ease and face absolutely no troubles when approaching or conveying their issues across to our dentists.
We are among the top dental clinic chains in Dahisar East, Mumbai and have a legacy that is unparalleled by any other dental clinic in Dahisar East, Mumbai, India. Our dentists are some of the best dentists in Dahisar East, Mumbai.
Sabka Dentist often makes it to the list of best dental hospitals in Dahisar East, Mumbai, owing to our wonderful team of dental experts and doctors, and high tech facilities within our dental clinics. Sabka Dentist was founded back in October 2010, with a single medical clinic in Vile Parle.
Now, we have grown to around more than 100 clinics in Mumbai, Pune, Ahmedabad, Surat, Bangalore, Navi Mumbai, Thane. Our team at Sabka Dentist constantly strives to encourage better dental health and help people today to feel and look good and proudly carry their smiles.
No wonder, due to our team's devotion and vision to help spread smiles across the world, we have consistently made it on the list of top dental hospitals in Dahisar East, Mumbai.
Therefore, the next time you plan on visiting a 'teeth hospital in Dahisar East, Mumbai, we should be at the top of your list of dental hospitals in Dahisar East, Mumbai.
Consider us your own 'Apna Dentist'; our dentists are some of the best dentists in Dahisar East, Mumbai, and we will help you with your tooth concerns so that you can carry on and spread joy and happiness across with your delightful smile.
It was very nice experience. The staff is also good here.

dharmesh makwana
13:59 24 Jun 22
very good experience visiting sabka dentist dahisar east

sanjivani thorat
18:44 06 Jun 22

Chelciya Pereira
06:00 23 Apr 22
Good doctors.Checked the teeth properly and then cleaned.Satisfied with the cleaning.

Ranjit Gajare
07:59 21 Apr 22
Polite staff good and patient doctor

maya mehta
13:14 20 Apr 22
Great and legitimate service

Ankita Kolambe
11:07 18 Apr 22
Very cooperative & humble staff & Doctor. Very good Dental treatment is being given with reasonable rates. I would rather personally recommend Sabka Dentist.

Arvind Mistry
06:14 29 Mar 22
I have done 4 implants here , have zero complications, very happy with their work.Dr Varsha has done a fabulous work . Thank you Sabka Dentist Dahisar team for giving me such a good treatment.

Anuja Chavan
09:34 24 Mar 22
Very nice clinic and good treetment

Jnp Ashish Kumar Singh
12:23 17 Mar 22
I'm happy with my root cancel treatment thank u sabkadentist dahisar ..

Nitesh Kadam
13:09 16 Mar 22
I had a great experience in Sabka Dentist, visited first time for Cavity treatment and Dr. Grishma Shetty have explained very well about dental condition and treatment was super smooth... Highly recommended...

Rakesh Shetty
01:09 07 Mar 22
I'm happy with my root canal treatment 🙂Thank u sabka dentist dahisar

Anita Khandagale
10:55 03 Mar 22
I am happy wid my braces treatment nd thanks dr ansil .

21 khushi Dubey
09:27 04 Feb 22
My appointment was fixed last week at 3 pm today. I reached there 10 mins early. At 3.05 Dr.called me inside. After preliminary talk she checked thoroughly dental positions including bridge, implants and root canal led teeth. Dr.reported that everything is ok. If there is any problem I should visit the clinic on the same day. I enquired about implant whereupon I was told it will cost Rs.30000 for a tooth.I was extremely happy and satisfied with Doctor's tailored manners. positive approach and pleasant looks of staff. Thank you SABKA DENTIST. Last 7 years I am coming to the clinic and every visit is unique, memorable for me.

Chandrashekhar Kirtane
12:22 01 Feb 22

nuzhat shaikh
12:45 29 Jan 22
Friendly and professional

Raveena Nair
07:21 04 Jan 22
Very nice doctor and staff was very nice

Bijal Makwana
09:34 29 Nov 21
It's a good client with proper guidance happy to make treatment from here 😄

Saurabh Shinde
11:40 24 Nov 21
Very good treatment. Clean

Vinson Varghese
13:02 08 Nov 21
Facilities and staff are good. Services provided are good quality and charges are reasonable. Good place for any dental issues or questions

Chirag Jani
06:06 29 Oct 21
The best dental care i have ever experienced 👍🏻

Nidhu Jagdale
07:29 25 Oct 21
I had done the braces treatment with Sabka Dentist from Dr. Ancil, the co-operation and treatment was very good. The staff and ambience of the clinic is good.

Shweta Metar
10:33 25 Sep 21
Implant is done properly . It is Woking very well

Vasant Amodekar
10:38 24 Sep 21
I had done my braces treatment at sabka dentist dahisar east...it was nice experience Dr ansil was really smooth and supportive through out treatment...i would recommend to all ...

Anurag Vishwakarma
07:12 23 Sep 21
It's very good experience with sabka dentist Thanku!

omkar More
13:54 21 Sep 21
Had a pleasant experience. The whole process was smooth. Dr & the staff are professional. They take time to explain what needs to be done and provide valuable advice and are thorough whil explaining the process. I would recommend Sabka Dentist to everyone!

Jigar Mehta
16:41 16 Sep 21
I'm happy with my treatment

B.S Sawant
07:05 13 Sep 21
The experience at sabka dentist Dahisar East is aweso..Team is commendable

Laila Baghadiya
10:32 06 Sep 21

manisha deo
11:37 03 Sep 21
Good response from young doctors. They have lots of patience to explain and serve patients

Very good facility. All are very good staff.

Mintu Singh
09:57 01 Sep 21
Good service and good treatment.

jitu sonkar
10:43 27 Aug 21
Excellent doctors and staff

PRIYA PAWAR
06:34 26 Aug 21
I had done my treatment rct and filing I'm so happy with my treatment.

suraj kamble
13:05 25 Aug 21
Excellent service and very hospitable. Very clean too would recommend this to everyone who need a dentist

Reuben6060 Mathew
06:32 18 Aug 21
The service was quick and painless. Dr. Reena Singh was clear and supportive throughout. She did my teeth cleaning really well.

Akanksha Sawant
13:10 13 Aug 21
The service is good. Dental check is free of charge and charges are also reasonable. Dr. Reena Singh did my root canal very carefully & properly and the cap made was very natural looking & one couldnt find the difference between real & the fake... Overall excellent experience...

Harshawardhan Tawade
12:21 13 Aug 21
Very quick and quality service

Divyam Shah
12:02 13 Aug 21
The staff was great, respectful and caring. Very welcoming and friendly.The entire office was very up-to-date with modern equipment and it has such a pleasant environment.The Dr. take time to answer questions and I never feel rushed and dr. was very nice and informative. She provided excellent service and I will be coming here for all my future dental needs!Highly recommend.

Parth Nathvani
08:28 11 Aug 21
Great service..loved itt♥️

Madhura Chavan
09:00 10 Aug 21
I had done my treatment at sabkadentist dahisar .I m very happy with my treatment I had complete denture could not able to eat properly because of my missing teeth I got replace are my teeth full name month replace. Thank u for sabkadentist dahisar .

Kanchan Joshi
10:05 03 Aug 21
It was best dentist experience the staff is really good happy with the service

Sumit Dangodara
07:08 03 Aug 21
Good treatment for all kind of dental issues.I had treatment for alliners.Good service and quality of alliners also good

Prashant Narvekar
06:58 02 Aug 21
Professional service and qualified staff

Sameer Arya
12:02 30 Jul 21
I got a cap placed over my tooth cavity and the treatment was done very professionally, with proper care. The staff was very helping and special thanks to Dr. Reena Ma'am.

Samarendra Singh
06:52 30 Jul 21
The quality of treatment offered trumps every other dental clinics in the area. The doc is very competent and patient. She doesn't rush through anything and give you all the time that is needed for the perfect treatment. The staff is cordial. The place is hygienic . Special thanks to Dr. Reena.

Prashant Singh
06:45 30 Jul 21
Very nice experience totally painless. Very happy with the overall experience. Will recommend it to all.

vishal parmar
09:52 29 Jul 21

Vandana Gupta
11:18 27 Jul 21

AARTI .S. VISHWAKARMA
09:36 27 Jul 21
Excellent service...good hygiene..good staff and Dr. Reena Singh .

Makwana Dhirajlal
07:37 22 Jul 21

Chhaya Desai
07:56 20 Jul 21
Good experience Nice Doctor consulting proper explanation . Pain less treatment

Amitkumar Pandey
14:30 17 Jul 21
Good device and sanitization

Manisha Sawant
05:07 15 Jul 21
I am so happy with my ortho treatment, Thank u for sabka Dentist Dahisar 😊

Varsha Sawant
12:51 14 Jul 21

10 on 10 for hygiene, 10 on 10 for consultation. Dr. Jasleen is a gem of a person. Found correct solution for my dental issues. Thank you Sabka Dentist.

Kshitij Barot
13:23 30 Jun 21