Address: 18, Avighna IX Building, Dr Baba Saheb Ambedkar Rd, opp. Ganesh Gullly, near Bharatmata Cinema, Lal Baug, Mumbai, Maharashtra 400012
Monday – Saturday 11 AM – 8 PM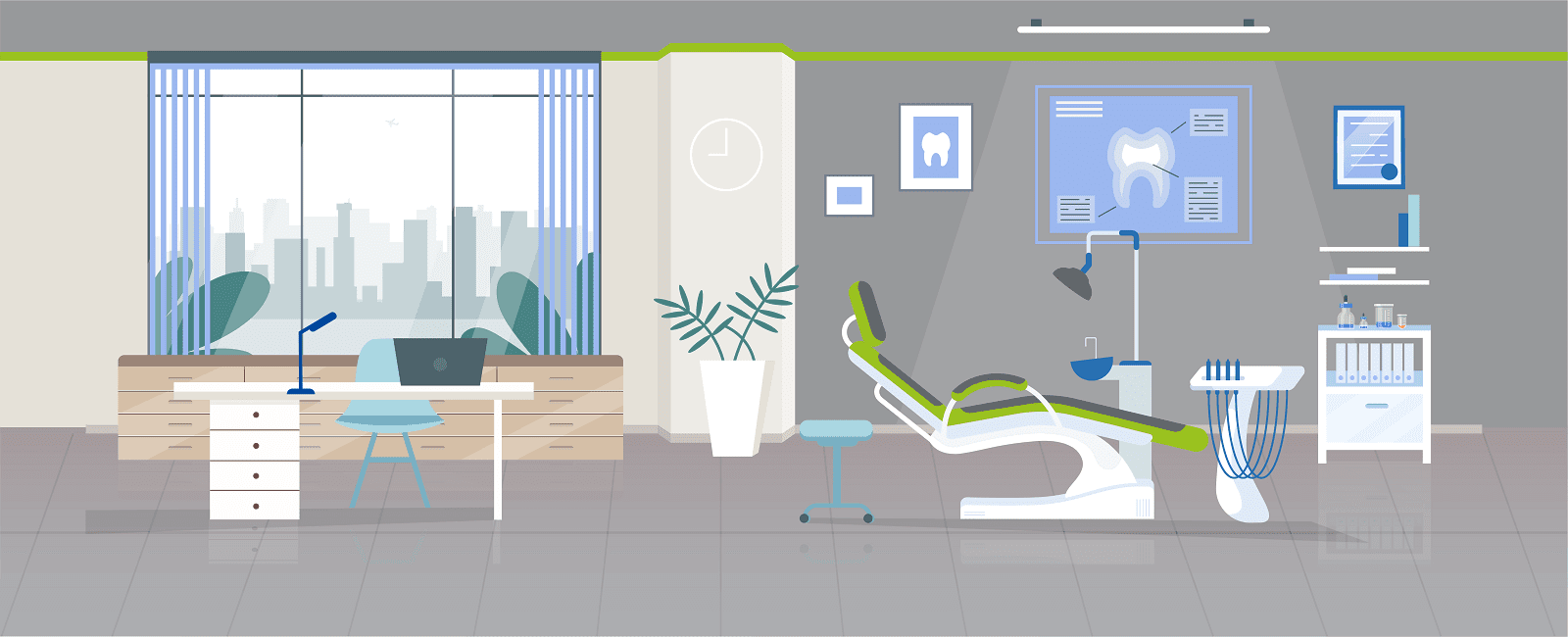 About Sabka Dentist in Lalbaug
Our dentists in Lalbaug believe in providing state-of-the-art quality dental treatments to all our patients. We maintain optimum clinical standards. Our dentists in Lalbaug are eminent service providers of dental care, who are up-to-date with the latest dental techniques and technologies.
For all treatments, be it teeth whitening or an advanced dental implant, our dentists in Lalbaug offer highly customized treatment plans, which aim at matching the requirements of individual patients.
We believe that a dental clinic visit should not be anything less than a pleasant experience. So, our dentists in Lalbaug walk an extra mile to make the patients feel at home. Our dentists in Lalbaug are known for their exceptional results, such that they receive positive feedback, which helps us grow more.
Sabka Dentist has a mission of making dentistry accessible to everyone at affordable prices. We aim at making the smile of the patients whole again.
Thus, your search for the best dentist in Lalbaug stops at Sabka Dentist!
Our dentists in Lalbaug carry out the following treatments
General Dentistry: We recommend that each individual should get dental check-up done every 6 months. We provide free check-up and x-ray consultation. We also provide oral hygiene instructions like brushing technique, flossing correctly, etc. Most importantly, we believe in making our patients aware of common dental problems and their prevention. This will help to address dental problems at a very early stage, which will otherwise delay the progression of oral diseases.
Oral Surgery: One can have painless removal or extraction of tooth, with minimal trauma to investing tissues, such that there is no postoperative problem. The dentist will indicate extraction if the tooth has mobility, gross decay or if there is any other reason. We have qualified dentists in Lalbaug with a postgraduate degree of Master of Dental Surgery (MDS) in Oral and Maxillofacial Surgery. They are also efficient in performing other oral surgeries like extraction of impacted wisdom teeth, surgeries to insert dental implants and many other oral surgeries.
Periodontics: Cleaning, Scaling and Polishing: Ultrasonic device removes tartar and plaque from the teeth surface. Polishing follows this. Our dentists in Lalbaug recommend to get scaling done every 6 months to maintain healthy gums.
Periodontics or Treatment Of Gums: Periodontal diseases, also commonly referred to as Gum disease, is the leading cause of tooth loss in adults. This disease may also have an association with heart disease, diabetes, and many other systemic diseases. Thus, our periodontists and dentists in Lalbaug provide comprehensive periodontal treatment. It involves root planing, curettage, flap surgery, and bone grafting.
Orthodontic Treatment with Braces:

Orthodontic treatment closes gaps in between teeth, aligns crowded teeth and pushes back protruding teeth. We have orthodontic experts in our dental clinic in Lalbaug. They provide orthodontic options like metal and ceramic tooth-colored braces.
Endodontics: Root canal treatment:Root canal treatment is a sequential procedure of replacing infected dental pulp in a carious tooth with inert gutta-percha material. Our dentists in Lalbaug indicate root canal treatment if needed. We also offer single sitting root canal treatments. We also have Endodontic experts (root canal experts) at our dental clinic in Lalbaug.
Prosthodontics: Crowns, Bridges and Dentures:One should replace missing tooth as soon as possible. Otherwise, mesial drift, which is the tendency of teeth to move in mesial direction within the arch, will close the gap produced by missing teeth over time. Our dentists in Lalbaug offer multiple options. Different fixed prosthetics available are crowns, bridges, and implants. Removable options include partial/complete dentures.
Prosthodontics: Dental Implant:

Dental Implant is a permanent fixture that resembles our natural tooth root. The dental implant has 3 components: Implant screw, Abutment, and Crown. Implant screw is a titanium screw-like structure, which anchors into jawbone. On top of the implant screw, abutment is placed. This is followed by Crown, which is the replacement tooth that sits on top of abutment. It is placed in two-three phases and 3 – 6 months lapses between the first two phases for promoting healing.
Pedodontics: Child Dentistry: Parents often ignore problems in their children's teeth because of the common notion that milk teeth will fall away anyway. However, milk teeth are important. They are needed for speech, eating and maintaining space for permanent teeth. If milk teeth are healthy, then the permanent teeth will most likely be healthy and will erupt in correct position. Experienced Pediatric Dentists in Lalbaug to treat your child, provide services for children like general check-up, cavity detection, correct method of brushing, fluoride application, pit and fissure sealants, and fillings. We also provide habit-breaking appliances to children with oral habits like thumb sucking, tongue thrusting, and other oral habits.
Cosmetic Dentistry:An attractive smile is a great social asset. We realize this and provide the following dental services to enhance your smile:
Teeth Whitening: Don't feel shy about stained and dull teeth! Our dentists in Lalbaug also offer teeth whitening treatment, which lightens and brightens the teeth. Thereby, it helps in removing stains and discoloration from the tooth surface. Your dream of having a stunning white smile can be turned into reality!
Smile Makeover: Veneers can be a possible solution to help you achieve the look you desire! Veneer is a thin layer of tooth-like material, which is bonded to the existing tooth surface with minimal preparation, to improve aesthetics. They are a popular choice to close spaces between teeth, provide uniform color, shape, and symmetry, repair broken or fractured teeth, and make the teeth appear straight. Our dentists in Lalbaug offer ceramic as well as composite veneer.
Cavity filling: Restoration of tooth cavities and core buildup is done with permanent tooth-colored and long-lasting cements like imported composite resins.
Laser Dentistry: We also use Laser for treating:
Gummy smile by crown lengthening
High frenum attachment to improve speech and tongue movement
Hypersensitivity
How to find a Dentist in Lalbaug?
Sabka Dentist is the largest chains of Dental Clinics in India, with 100+ successful branches running in Mumbai, Pune, Surat, Ahmedabad, and Bangalore. They have a team of 550+ excellent dentists. Our Dentist in Lalbaug are experts from the best dental institutes and hospitals in India.
At Sabka Dentist, we believe in creating beautiful smiles and in providing the best possible treatment solutions. We focus on preventive, restorative, and cosmetic dentistry. provide unparalleled dental services with high-quality standards of dental hygiene in a comfortable and relaxing environment.
We follow standard clinical protocols to achieve consistent and predictable outcomes. Our post-treatment follow up team communicates with patients to ensure good patient compliance and clinical results.
It is reinforcing to receive patient feedback. We value and appreciate each feedback. Accordingly, we try to work better.
We believe that Smiling customers are the happiest!
Tell me more about Sabka Dentist, Lalbaug
If you are particular about your dental health care, you should select the best when it comes to oral checkups and treatments. Sabka Dentist is consistently graded as among the best dental clinics in Lalbaug, Mumbai.
At Sabka Dentist, people not just obtain top-notch treatment for their oral complications, but will also get to enjoy among the best in-clinic patient experience across India.
Irrespective of the background or career of an individual, we make sure that all of our patients feel at ease and experience no issues when approaching or conveying their dental complications across to our dentists.
We are amongst the top dental clinic chains in Lalbaug, Mumbai, and have a legacy that is unparalleled by any other dental clinic in Lalbaug, Mumbai, India. Our dentists are undoubtedly some of the best dentists in Lalbaug, Mumbai.
Sabka Dentist often makes it to the list of best dental hospitals in Lalbaug, Mumbai, owing to our great team of dental experts and surgeons, and state of the art facilities within our dental clinics.
Sabka Dentist was started back in October 2010, with a single facility in Vile Parle. Today, we have grown to around more than 100 clinics in Mumbai, Pune, Ahmedabad, Surat, Bangalore, Navi Mumbai, Thane.
Our team works to encourage better oral health and help people today to feel and look good and proudly carry their smiles. No wonder, resulting from our team's determination and vision to help spread smiles across the world, we have consistently managed to get to the list of top dental hospitals in Lalbaug, Mumbai.
Hence, the next time you are planning to visit a 'teeth hospital in Lalbaug', Mumbai, we should be at the top of your list of dental hospitals in Lalbaug, Mumbai.
Consider us your own 'Apna Dentist'; our dentists are some of the best dentists in Lalbaug, Mumbai, and we will help you with your tooth troubles so that you can carry on and spread joy and happiness across with your beautiful smile.
Good experience. Doctor is very cooperative

Rohidas Kamble
05:53 25 Jun 22
Very friendly, knowledgeable and courteous.

Tanuja Krishnan
11:38 24 Jun 22
Very good treatment ever they treat very nice to every patientalways Recommended

kiran jangam
15:20 23 Jun 22
Good and efficient doc. Soft spoken and reassuring

Renu Nanda
11:49 22 Jun 22
Wonderful experience! I am very happy with the entire Corporate experience. Right from the appointment, to the doctors consultation was smooth and hassle free. Dr.Ashish Desai was really helpful and patient. I've had terrible experiences with dentist over the years and this by far was the best experience. The consultation is free and there are no cost emi for the bigger treatments. Highly recommended Sabaka Dentist.

gaurav Bhosle
14:13 21 Jun 22
What a nice new facility! Coming into the office, it is clean, bright, and nicely appointed. The staff is professional and greeted me right away. I liked being able to download the new patient paperwork to have completed before coming to their office. The wait was under 5 minutes.First is professional, friendly, and attentive. The equipment is clean, new, and up to date. The computer screen is right in front of you, so you can see what they see. They also explain it to you – very informative."

kr sanjay Singh
13:36 20 Jun 22
Professional dental care at one stop

Dr yax shah
04:37 15 Jun 22
They have cooperative staff and dentist.....and sabka dentist make sure you get your treatment done in reasonable price.

Nishanth Mudliyar
07:29 14 Jun 22
Had alot of improvement in my teeth now i can experience my smile with full of joy, if anyone thinking sabka dentist can surely go for it, as the doctors and staff are well experienced and friendly, I must say thank you so much sabka dentist for the great treatment to happen👍👍

Jyoti Devkar
06:24 14 Jun 22
It was a satisfactory visit quite happy with the service

sarah rezwan
04:29 09 Jun 22
All precautions are taken during this covid pandemic. Well sanitized and social distancing was maintained. Excellent service too. My dental issues were well explained. Thank you.

Very cordial and friendly like atmosphere with thorough free checkup with appropriate suggestions and recommendations.That too at affordable price and discount too.Marvelous.SEEGARLA SHRIKANT

shrikant seegarla
11:27 31 May 22
Cleaning was quick, easy and smooth. I would recommend to do visit Sabka dentist for your treatments.I also had implant with Dr. Zita Antao and she was awesome.

Rameez Iqbal Mahida
06:28 28 May 22
The treatment Till now went good, Mine was invisible aligners, first two sets provided were wrong, but later it was rectified and restarted my treatment, and my teeth gaps have been closed, waiting for after retainer results, will post it in few months.

Sakshi Said
07:33 26 May 22

Deepa Patil
12:07 23 May 22
I had A great experience the staff is very good Doctor found to be very humble and answered all my queries very well the service was very good I would definitely recommend it to others And also Liked their Affordable package services which they are offering . Thanks for the Treatment 😊

Sharmeen Rehmani
19:28 21 May 22
Decent and helpful staff.Proper guidance on your problems.Very affordable

omkar warekar
08:30 21 May 22
Dentist and Staff treating the patients with happy faces. Clinic is very spacious and clean.I have another appointment for further treatment. So on that experience I'll definitely recommend for dental check up.

Mangesh Malusare
06:25 20 May 22

moin Patel
14:24 18 May 22
Dr.Ashish very competent and pleasant human being. This new place is 10x better than the last one. We wish him well.

Shafiq Ansari
14:58 07 May 22
Very good service. Every one is very helpful.

Nikki Yadav
10:14 02 May 22
Very well organized and hygienic place. The dentist was professional and very good in his work.

Manoj Dere
02:38 30 Apr 22

Manju Marki
12:21 28 Apr 22
Really good service, amazing staff

Avantika Sharma
06:12 27 Apr 22
Great service by doctors.Best in the country in terms of affordability.

Dr.ashis is a good doctor very nice and expert,treats patients nicely

sunil parmar
09:17 08 Apr 22
We had a very pleasant experience with Dr. Saurabh and Dr Ashish and his staff. My daughter was very anxious about the appointment and any procedure, but Dr. Saurabh and Dr Ashish was very patient with her and spend a lot of time trying to calm her down, the staff was very helpful and kind. Dr. Saurabh is very professional, he takes the time to explain what needs to be done and provides valuable advice , It's not easy to find a good dentist for your kids, I highly recommend Dr. Saurabh and Dr Ashish and his staff for kids and adults.

Reema Sharma
11:29 29 Mar 22

Dinesh Rane
06:55 24 Mar 22
Great medical clinic. Wonderful and warm experience from start to finish.staff takes ample time to go over the diagnosis clearly and suggest treatment options.

Nauman Chowdhary
06:01 22 Mar 22
Thanks for kind treat and advice during our visit

Amit Wairlkar
17:13 21 Mar 22
Doctor was amazing !! ( Dr. Ashish )The person who was sitting on reception was very polite and nice her name was sakshi

Alykhan Gabrani
13:38 02 Mar 22
Punctual and effective service. Seamless process from start to end

Pratik Rangnekar
10:09 01 Mar 22
They are very kind and gentle 😌 .

Manju Yadav
13:18 28 Feb 22
Dr Ashish is an extremely good Dentist who treats his patients with good care.Also the clinic is very spacious and clean.Will definitely recommend others to get treated here.

Tricia Fernandes
17:02 25 Feb 22
All over services is good

Rajesh Lanjekar
10:11 24 Feb 22
Good knowledge by doc. Good job done.

Jenil Sangoi
06:51 22 Feb 22
Best place for all dental treatments

mihir pandya
09:18 14 Feb 22
Nice place and nice service

Dhruv Jadav
09:55 09 Feb 22
Staff is good behavior, doctor is very polite and consulting softly.Good doctor and smart doctor ashish desai.

manikrao gadewad
14:03 08 Feb 22

Abhay Patil
10:34 04 Feb 22
Very friendly staff of clinic.

Saniket Patil
15:18 05 Jan 22
Beautiful and Better Doctor DentistMy children was so happy for thire advice Thanks to Sabka dentist

nitin bhoj
12:36 03 Jan 22
Appreciated. Overall experience was Good

devendra khandekar
12:49 30 Dec 21
it was my first time to a dentist and the doctor was also humble and care taker of good teeth

Shah Shakeel
07:12 21 Dec 21
Very nice experience visiting Dr. Ashish and his team. Recently got aligners done. Beautiful results and completed in a short time as well. Kudos 😁👍🏻

Anaita Patel
13:30 13 Dec 21
Good experience this clinicDr was very good I'll done'my cleaning ....😁

Ravalu Bavadhane
14:23 02 Nov 21
Very good experience was sabka dentist staff was very helpful n polite and Dr ashish done my cleaning treatment I m very happy 😊

Avinash Kharavtikar
14:17 02 Nov 21

Shubham Mandavkar
11:04 02 Nov 21
The staff and the dentist are very polite and the treatment was done effective and properly

manjusha shinde
10:07 02 Nov 21
Beautiful and Better Doctor DentistThanks to Sabka dentist

Was impressed with the promptness of follow up as well as the service.The dentist are very professional and knowledgeable and did a very fine job with my teeth.Most importantly it's economical and not to heavy on the pocket.

Sunil Prabhu
07:17 12 Oct 21
Professional, courteous, quick and prompt service by Dr. Ashish and his team.. Would highly recommend SB, Lalbaug to anyone in need of dental treatment!! 👍

Jyoti Fernandes
10:41 07 Oct 21
Best service providers and supportive doctors

Rhucha Rewandkar
14:04 30 Sep 21
Very good services all across Mumbai … well trained staff and experienced doctors.. cost effective services

Today I visited Sabka Dentist at Lalbaug in morning for cleaning and checkup. Dr Ashish was very informative and kind in explaining the process and benefits of cleaning. Even during the treatment, he took care of keeping me calm and it was a smooth and easy treatment for me. This instils alot of confidence in me to visit alone for dentistry. Thank you !

Percy Golwalla
07:18 20 Sep 21
Dr. Ashish were superb, really appreciate 👍 keep it up.. All staff were supportive

Kiran Gilatar
09:41 18 Sep 21

Ahmad Raza Ansari
07:50 07 Sep 21