Dental Clinic in New Ranip
Address: 27/Indraprasth-9, Manki Circle, near SBI Bank, New Ranip, Ahmedabad, Gujarat 382470
Monday – Saturday 11 AM – 8 PM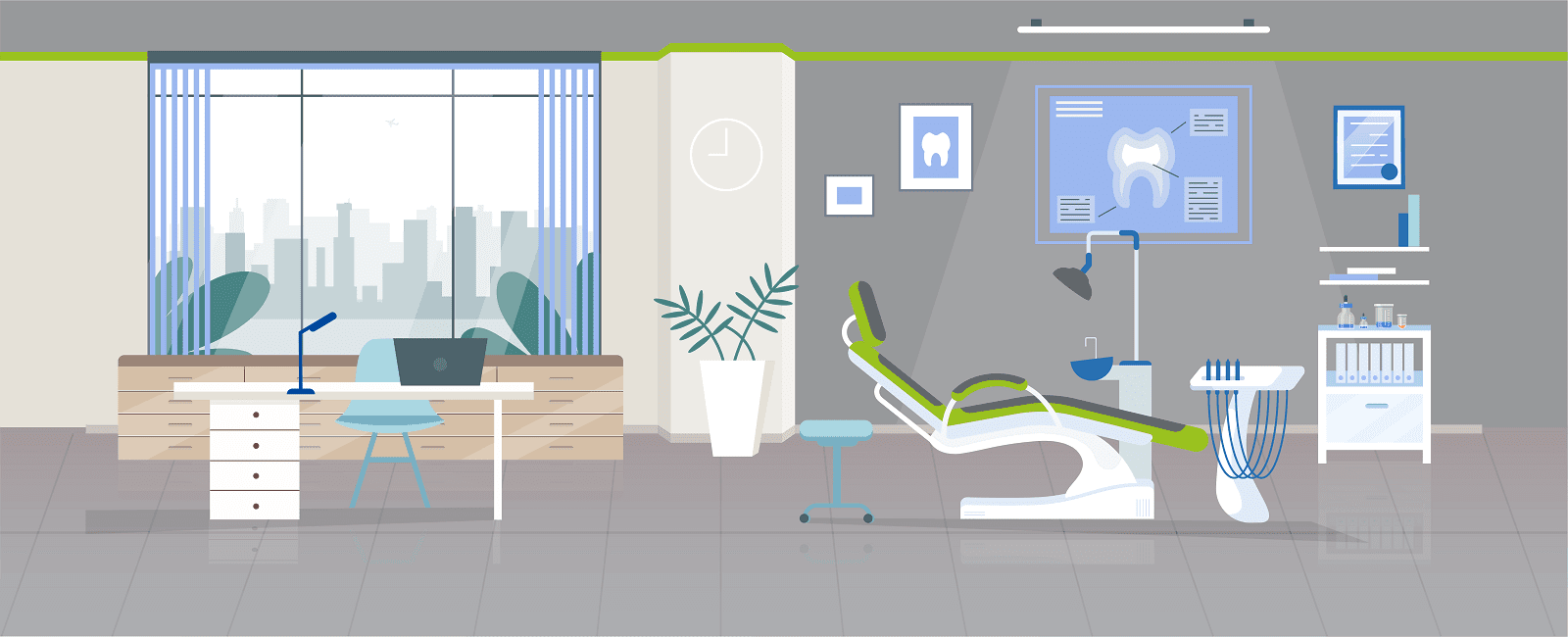 Offers a relaxed and unique dental care experience, coupled with the highest standards of dental treatments. Dentistry absolutely need not to be anything less than a pampered pleasant experience. Dental treatments in New Ranip, Ahmedabad at Sabka dentist dental clinic confines in a calm surrounding and, will amaze you with how painless and fast most of the modern dentistry is! At Sabka Dentist, our aim is to provide good oral health and create beautiful smiles. In the process of achieving this, we provide an excellent implant, preventive, restorative, and conventional dentistry. Our commitment to these goals provides you with unparalleled service with the highest standards of dental hygiene in a comfortable and pampering environment. We know you will be delighted, not only with the treatment but with the way you are treated. Here you will find a welcoming ambiance with warm, friendly staff and total transparency. 
All dental treatments from dental crowns to major smile makeovers; a wide range of dentistry procedures and full mouth dental implants; everything is available under one roof!
The well trained and specialized dental team constantly staying updated through continuing dental education.
State of the art treatment techniques and instrumentation.
Value for money treatment options and costs.
Zero waiting policy.
Priority treatment completion at no extra cost for time-bound patients.
If you are looking for any type of dental treatment like metal free crowns and bridges, veneers, dental implants, tooth whitening, implant dentures, smile corrections, gap closures, fixed teeth, root canal treatment, gum surgery, kids dentistry, laser dentistry, gummy smile correction, wisdom teeth extractions, dental X-rays, etc., we are the ideal choice for best dentists for dental treatment in Ahmedabad, India.
In case you are particular about your dental health care, you must pick the best when it involves dental checkups and treatments. Sabka Dentist is consistently rated as one of the best dental clinics in New Ranip, Ahmedabad. At Sabka Dentist, patients not only receive first-class treatment for their oral complications but additionally get to experience one of the greatest in-clinic patient experience across India. Irrespective of the background or occupation of an individual, we ensure that all of our patients feel comfortable and experience no concerns when approaching or getting their dental issues across to our dental surgeons. We are one of the top dental clinic chains in New Ranip, Ahmedabad, and have a legacy that is unrivaled by any other dental clinic in New Ranip, Ahmedabad, India. Our dentists are undoubtedly some of the best dentists in New Ranip, Ahmedabad.
Sabka Dentist frequently makes it to the list of best dental hospitals in New Ranip, Ahmedabad, owing to our excellent team of dental experts and doctors, and advanced facilities within our dental clinics. Sabka Dentist was launched way back in October 2010, with a single facility in Vile Parle. Currently, we have grown to around more than a 100 clinics in Mumbai, Pune, Ahmedabad, Surat, Bangalore, Navi Mumbai, Thane. Our team constantly strives to encourage better dental health and aid people to truly feel and look good, and proudly carry their smiles. No wonder, due to our team's dedication and vision to help spread smiles across the world, we have consistently made it on the list of top dental hospitals in New Ranip, Ahmedabad.
Therefore, the next time you plan on visiting a 'teeth hospital in New Ranip', Ahmedabad, we should be at the top of your list of dental hospitals in New Ranip, Ahmedabad. Consider us your own 'Apna Dentist'; our dentists are some of the best dentists in New Ranip, Ahmedabad, and we can help you with your tooth problems so that you can carry on and spread joy and happiness across with your wonderful smile.
Good & hygienic place.Service is really awesome.Very polite behaviour of staff & doctor.Thanks Sabka Dentist for treating us☺️.

Deval Mistry
07:13 11 May 21
Very good service,Dr Rinkal Lad was very professional & polite, all procedures very well explained.Overall very nice experience.

ANJANI KUMAR
13:13 03 Apr 21
I have a good expiryance.. and also treatment is good.

sachin Rathod
13:10 25 Mar 21
Great expericence overall.excellent tretment by doctor and thye are takling too much care of hyigne.and overall staff very must .best sabka dentis new ranip team..

Monika Sinde
09:50 25 Mar 21
I MUST SAY THE TREATMENT BY APPOINTED DOCTOR AND THE STAFF ARE VERY APPRECIATED. THE WAY THEY TREAT THEIR PATIENTS IS VERY GOOD, ALSO THEY LOOK AFTER THEIR PATIENTS BY CALLING THEM TIME TO TIME FOR REGULAR CHECK UP SO ONE CAN NOT MISS THEIR REGULARLY CHECK UP TIMINGS. OVER ALL I WOULD SAY THE STAFF AND DOCTORS ARE VERY KIND AND HELPING. EVEN DOCTORS ALSO GUIDE THEIR PATIENT FOR BETTER IF IT IS NECESSARY.

A-One Visa
14:27 24 Mar 21
How grateful I am that I can cite my experience with Dr. Rinkal and her staff, From my very first visit at the office, I was made to feel welcome and comfortable both by the friendly competence of the staff and the pleasant environment of the offiice itself.I highly recommend sabkadentist new ranip for any kind of dental treatment

Bhargav Solanki
12:48 24 Mar 21
quick & good service & Gentle responsible nice staff. "I would highly recommend this place for any of your dental problems."

shirish parekh
12:00 22 Mar 21
Great experience overall. Absolutely recommended to everyone. Excellent treatment by doctor and they are taking too much care of hygiene. Best Dental Clinic for Dentistry. Highly recommend

Sonusingh Rathore
06:58 19 Mar 21
Great staff and behaviour. good experience

Navubha Solanki
06:52 19 Mar 21
I have a good experience..

niket songara
15:51 18 Mar 21
It's a very good..experience is very good service....also treatment is very goodVery satisfying answer..given by Doctor 👍👍👍

Richa Dwivedi
15:40 16 Mar 21
Very cooperative staffs...

GRISHMA NAIR
04:54 16 Mar 21
Very good staff behaviour and they explained very well

falgunipatel143
17:36 08 Mar 21
Sana dentist is one of the best dental care clinic most of the city....I would recommend to my friend and colleague go for dental care and treatment..

Ashwin Patel
05:31 22 Feb 21
had very good experience with Sabka dentist at New Ranip branch. Specially the doctor was very humble, supportive and informative

Nidhi Choudhary
18:39 18 Feb 21
They are one amazing team of outstanding dentist. They are economical, experienced, and quite professional.The best thing about Sabka Dentist is their centralized operations team who handle Sabka dentist of pan india. Outstanding management.I Personally recommend this clinic

kirtan patel
06:33 04 Feb 21
I highly recommend this clinic, Best service anyone can ask for! Dr Rinkle exactly knows what is to be done, he did great work on my teeth. Staff is also beyond amazing.They are very friendly, professional and kind. Always greeted with a smile each time. Environment is always clean and staff makes you feel comfortable. Excellent place, definitely recommended a Visits....

Janak Pathak
06:39 22 Jan 21
Quick and Easy service. Reasonable fee. Supportive Staff. Thank you.

Vivek Navadia
06:49 16 Jan 21
I had very good experience with Sabka dentist at New Ranip branch. Specially the doctor was very humble, supportive and informative.

Neha Patel
15:12 09 Jan 21
My entry is in sabka dentist great full. They convince better and respond better. So it is better than other hospitals.

Patel Bhavik
11:34 26 Dec 20
Not also Good staff and very familiar but also good advice

sushil desai
02:14 14 Dec 20
Very professional & hygiene standards are top level. Staff behaviour is very professional & all covid precautions are followed diligently. Dr. Dhwani Dave is very efficient and polite, she explains everything in detail. Highly recommended.

Chainsingh Rathore
13:55 07 Nov 20
Dr .dhwani Dave , new ranip ahemdabad ty so much mam.,Sabka Dental Clinic is very good. When we went there, we were able to wash our hands and gargle our mouths and then Madam did a dental checkup. I did a very good dental checkup. Really I am very happy with that mam and they have given me very good treatment.

Santoshi Yadav
02:11 20 Oct 20
Place is very good..all covid precautions taken..doctor is very good..best place for dentel problem in new ranip

Darshan Pandya
13:21 19 Oct 20
Very nice to have good smile and that gives confident in my personality . Thank you to sabka dentist team

Jain Herry
04:18 14 Oct 20

Dave Pankaj
12:02 09 Oct 20
Very well organized, really taking good care of sanitizing the patient so any sort of infection can not spread among other patients.

Nikhil Ranpara
12:13 22 Sep 20
Best experience with doctors. They treat me so well. My 5 root canal treatment is done by them. I am so happy with my treatment. Thank you

padmini Sivadas
14:12 06 Mar 20
Co operative dr. - she give you answer very nicely & give perfect suggestions..& also cost effective

Ami Dhulia
07:27 06 Mar 20
Excellent services given by Dr. Dhwani Dave. Thank you doctor.

Maryo Chang-time
12:16 29 Feb 20

Satyaprakash
12:05 29 Feb 20
I got my teeth cleaned in sabja dentist with sprakle .

SHIVA CHAUHAN
06:56 27 Feb 20
It was a very nice experience. Doctors are very goodExcellent treatment.

Shivani Badgujar
15:09 22 Feb 20
I came with discolored teeth. They advice me to go with root canal treatment. And I am so happy with my new smile. Thank you for best treatment


Tanay Dave
06:53 20 Feb 20
best experience at sabka dentist specially with Dr. Dhwani Dave , best advice given by them. Clean and hygienic place. i surely recommend to others.

Hetvi Dave
17:15 15 Feb 20
Nice experience. Thank you sabka dentist new ranip

Chagan Kumawat
05:33 15 Feb 20

Vipul jhawar
13:02 14 Feb 20
I was there for Root canal, and the treatment given there is good.Also recommend others

SHALEEN PRAJAPATI
05:47 14 Feb 20
Good serviceNice staffOn time work management

Priya Gurnani
12:59 10 Feb 20

mithil gaming
08:27 10 Feb 20
It was a good experience, and good service too.Thanks sabka dentist

Nirav Panchal
07:33 10 Feb 20
Nicely chakup and best advice thank u subaka dentist

Shubham Dutta
07:42 08 Feb 20
I have best experience of root canal treatment. At first i am so afraid of dental treatments but when i met doctors there they are so supportive and they expain it so well.

Sonal Panchal
13:01 06 Feb 20

Arvind Shukla
13:36 04 Feb 20
It was an amazing experience that i had. The tooth extraction was a bit difficult but i met MS DHWANI DAVE who made it easy. She is just perfect with her task, i could bot sense a slight of pain which i was afraid off. I would highly recommend this place for any of your dental problems.

Tilak Singhal
08:10 04 Feb 20

Mitesh Panchal
06:52 01 Feb 20

Kamlesh Patel
14:51 31 Jan 20
Thanks for commendable service

Rajeshwar Raaju
14:27 31 Jan 20
Nice treatment by sabka dentist new ranip.😀

Girraj Ojha
13:59 31 Jan 20
expertise to the next level really good

Rohit Solanki
07:42 31 Jan 20
very good technology, very well consultinh, but treatment is costly.

krish solanki
07:25 30 Jan 20
My name is Nikita. I had amazing experience with the lady dentist i have visited at sabka dentist, near Manki circle, new ranip. I visited there for regular check up, wisdom teeth cavity removal and cleaning.Ms. Dave is so intelligent, calm, sweet and polite. She gave detailed information about each and every step she is performing. Also give nice advice to prevent future dental damage.Staff is very polite too. Clinic is clean and hygiene. I am so happy with service i got here at sabka dentist, new ranip.

Quick & Easy Travels
09:55 24 Jan 20
The treatment was amazing!!

dinesh sonagara
12:14 23 Jan 20
Well qualified and professional doctors. Must visit if you have any kind of dental problems.

Ramakant Singh
14:22 22 Jan 20
Superbbb experience of cleaning polishing and consulting....good team...very supportive staff.... Thumbs up..

Ravi Chauhan
14:22 18 Jan 20
VERY GOOD SERVICE FROM DOCTOR AND STAFF.

Yogesh Panchal
14:11 18 Jan 20
Really nice experience... I will highly recommend sabka dentist new Ranip... Doctor is very friendly and highly professional.... I am really happy with the treatment and service...

Kevin Parsania
13:57 16 Jan 20
I visited for cleaning and scaling. Dr. found to be generous and gave proper understanding for forth coming problems with tooths. overall good experience.

kamal kardani
06:13 01 Jan 20
Doctors are friendly and professionals as well

dharmik parmar
06:41 31 Dec 19