Dental Clinic in New Ranip
Address: 27/Indraprasth-9, Manki Circle, near SBI Bank, New Ranip, Ahmedabad, Gujarat 382470
Monday – Saturday 11 AM – 8 PM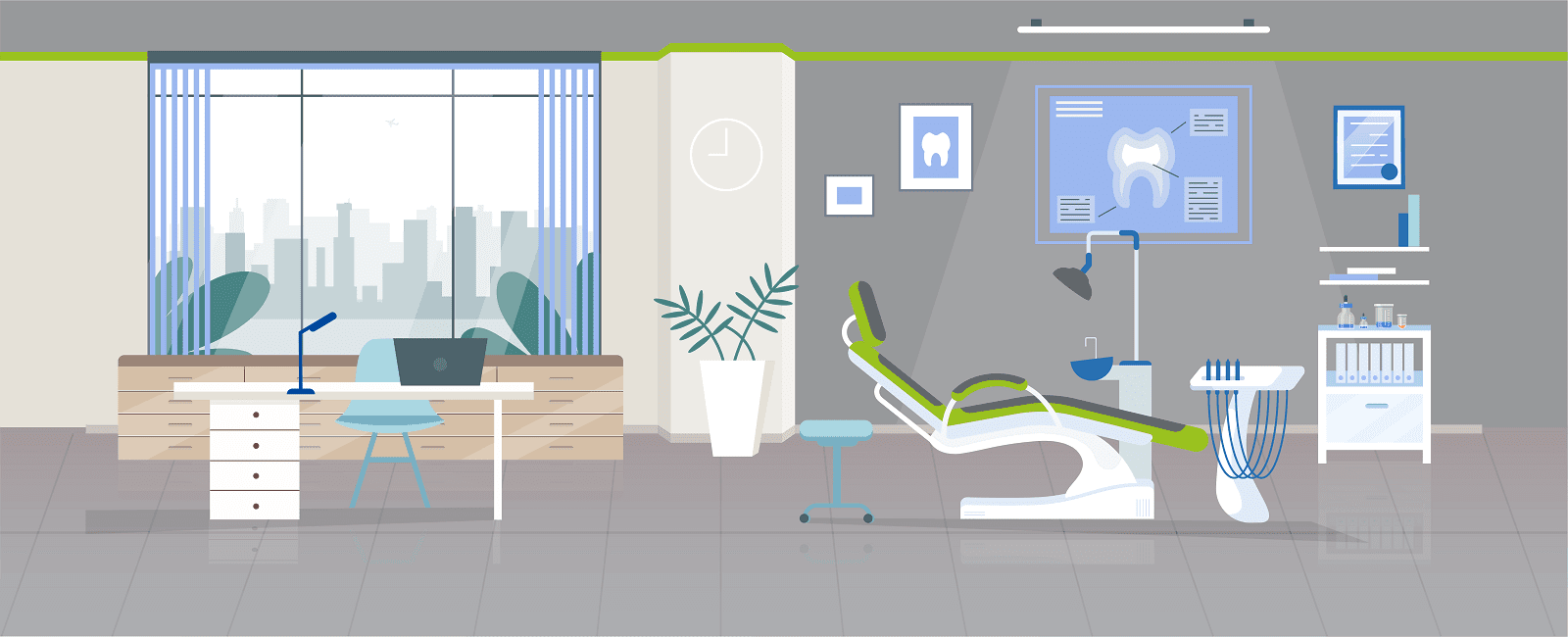 Offers a relaxed and unique dental care experience, coupled with the highest standards of dental treatments. Dentistry absolutely need not to be anything less than a pampered pleasant experience. Dental treatments in New Ranip, Ahmedabad at Sabka dentist dental clinic confines in a calm surrounding and, will amaze you with how painless and fast most of the modern dentistry is! At Sabka Dentist, our aim is to provide good oral health and create beautiful smiles. In the process of achieving this, we provide an excellent implant, preventive, restorative, and conventional dentistry. Our commitment to these goals provides you with unparalleled service with the highest standards of dental hygiene in a comfortable and pampering environment. We know you will be delighted, not only with the treatment but with the way you are treated. Here you will find a welcoming ambiance with warm, friendly staff and total transparency. 
All dental treatments from dental crowns to major smile makeovers; a wide range of dentistry procedures and full mouth dental implants; everything is available under one roof!
The well trained and specialized dental team constantly staying updated through continuing dental education.
State of the art treatment techniques and instrumentation.
Value for money treatment options and costs.
Zero waiting policy.
Priority treatment completion at no extra cost for time-bound patients.
If you are looking for any type of dental treatment like metal free crowns and bridges, veneers, dental implants, tooth whitening, implant dentures, smile corrections, gap closures, fixed teeth, root canal treatment, gum surgery, kids dentistry, laser dentistry, gummy smile correction, wisdom teeth extractions, dental X-rays, etc., we are the ideal choice for best dentists for dental treatment in Ahmedabad, India.
In case you are particular about your dental health care, you must pick the best when it involves dental checkups and treatments. Sabka Dentist is consistently rated as one of the best dental clinics in New Ranip, Ahmedabad. At Sabka Dentist, patients not only receive first-class treatment for their oral complications but additionally get to experience one of the greatest in-clinic patient experience across India. Irrespective of the background or occupation of an individual, we ensure that all of our patients feel comfortable and experience no concerns when approaching or getting their dental issues across to our dental surgeons. We are one of the top dental clinic chains in New Ranip, Ahmedabad, and have a legacy that is unrivaled by any other dental clinic in New Ranip, Ahmedabad, India. Our dentists are undoubtedly some of the best dentists in New Ranip, Ahmedabad.
Sabka Dentist frequently makes it to the list of best dental hospitals in New Ranip, Ahmedabad, owing to our excellent team of dental experts and doctors, and advanced facilities within our dental clinics. Sabka Dentist was launched way back in October 2010, with a single facility in Vile Parle. Currently, we have grown to around more than a 100 clinics in Mumbai, Pune, Ahmedabad, Surat, Bangalore, Navi Mumbai, Thane. Our team constantly strives to encourage better dental health and aid people to truly feel and look good, and proudly carry their smiles. No wonder, due to our team's dedication and vision to help spread smiles across the world, we have consistently made it on the list of top dental hospitals in New Ranip, Ahmedabad.
Therefore, the next time you plan on visiting a 'teeth hospital in New Ranip', Ahmedabad, we should be at the top of your list of dental hospitals in New Ranip, Ahmedabad. Consider us your own 'Apna Dentist'; our dentists are some of the best dentists in New Ranip, Ahmedabad, and we can help you with your tooth problems so that you can carry on and spread joy and happiness across with your wonderful smile.

vishal singh
07:13 13 Oct 21
5 STAR TREATMENT, VERY CLEAN & WELL EQUIPPED CLINIC. DR. RINKLE AND HER STAFF'S " WE SERVE WITH A SMILE" ATTITUDE CAN'T GO WITHOUT SO MUCH APPRECIATION.DR.RINKLE YOU ARE REALLY A VERY SINCERE AND HARDWORKING PROFESSIONAL.GOD BLESS YOU ALL

kirti panchal
08:32 05 Oct 21
Best clinil in AhmedabadDr.rincal very well treated

Sahil Mosun
08:31 30 Sep 21
I have pain in my upper tooth.I consult Dr.Rinkal lad and she suggested me root canal treatment in that tooth.she did my RCT treatment and zirconia crown and lower zirconia bridge to replace my missing tooth.I am very happy and satisfied with my new teeth.good staff and nice behavior. Excellent treatment.

Neelam Goswami
13:23 25 Sep 21
Best check up for dr. Rinkal and staff Are very support.

Barot Kiran
14:57 24 Sep 21
Best chek up and treatment is fine. Staff is very supportive

Jigss Chauhan
14:54 24 Sep 21
Amazing Treatment, and staff is also very cooperative..

Gayatri Panchal
12:56 23 Sep 21

Pratham Naik
06:15 22 Sep 21

Krishna Prajapati
15:08 21 Sep 21
Thank you for sabka dentist new ranip clinic. Best my check up for dr. Rinkal. Sttaf is very nice and kind for every time. Regular check and call.

HETAL Choudhary
14:07 21 Sep 21
I got online appointment from social media and I visited sabka dentist clinic and I glad to consult with Dr.Rinkal lad She gave me a perfect advise for my teeth and my rout canal treatment is done and staff is also supportive.i suggest to visit

Nikul Patel
14:07 21 Sep 21
My filling treatment is done. Very good and claver dr. Sttaf is very supportive and humble. Clinic is clean and beautiful. Thanks for sabka dentist new ranip branch

Milan Choudhary
14:04 21 Sep 21
Staff and doctors are very humble towards us.They really give genuine advice.Very satisfied with the response and treatment.Highly recommend this clinic.

The clinic is very clean n nice.Staff nd doctors are also co-operative nd humble

PadamBahadur Pun
10:54 21 Sep 21
Great experience, friendly atmosphere and completely satisfied with your treatment

Shikha Gajjar
13:34 20 Sep 21
My filing treatment at sabka dentist new ranip done. Dr. Are very good and treatment is very fine. Great staff and clinic is very clean and higenic. Great expireance.

Dhara Panchal
07:06 20 Sep 21
My root cenal treatment is done.very good treatment and dr rinkal is very good. Staff is clever and sapportive.clinic very clean and higenic

vinod gajjar
06:55 20 Sep 21
Good sarvice dr. Rinkal root cenal treatment. Staff is very supportive and claver

Pankaj Shah
06:28 20 Sep 21
Excellent behaviour and treatment . Staff is very nice and excelant.dr. is good

26 Yadav Aakash
05:55 18 Sep 21
I came here for correction of my smile.dr.rinkal lad guide me very well.i started my invisible aligner treatment here for my smile correation. I am very much satisfy with her treatment,they do regular follow up and check.support staff is also so kind and helpfull.staff is very telented.😊

Atul Joshi
16:22 17 Sep 21
I have done my braces treatment with orthodontist here. It was wonderful experience to get treated at sabkadentist. He treated me so well. Thank you so much Dr. for giving amazing smile, very much satisfied with treatment . I got from Dr. and their support staff.

Meet Patel
15:06 15 Sep 21
Highly recommended , best dentist I ever meet . Excellent treatment by dr rinkal. All staff members are very polite and supportive.

Shubham Patel
12:55 13 Sep 21
I got Online Appointment from social media and I visited Sabka Dentist And i glad to consult with Dr.Rinkal She gave me humble advice and treats very friendly Also Clinic is very Clean and Hygienic. And staff is also supportive. I suggest you to visit once 😃

devam bhatt
07:20 11 Sep 21
I have started wearing aligners from April 2021 and results are very good. Special thanks to Dr Rinkal and her team from Sabka Dentist Clinic, Ranip Ahmedabad, for regular followups for checkup and warmth reception whenever I visit the clinic...Strongly recommend SD Aligners...keep it up SD team👍🏻

Sandesh Srivastava
08:35 10 Sep 21
Best service ever and also staff is friendly.... Thanks sabka dentist.

Sharma Alok
14:41 09 Sep 21
Awesome treatment and very helpful adviceLow budget treatmentIt's very excellent treatment

Ronak Miyavara
12:33 09 Sep 21
We are very Happy for support are good and best Treatment by Dr.Rinkal and an all staff.sabka dentist new ranip branch.

sonal patel
10:27 09 Sep 21
I came here for correction of my smile.dr.rinkal lad guide me very well for my smile correction.i started my invisible aligner treatment here for my smile correation. I am very much satisfy with her treatment,they do regular follow up and check.support staff is also so kind and helpfull.staff is very telented.

Unnati Panchal
07:25 08 Sep 21
I have done my teeth cleaning treatment at subka dentist new ranip clinic. It was very good experiance

vikas panchal
15:28 07 Sep 21
It wasa great experience of patient and doctor s chemistry.

Patel Babulal
14:06 07 Sep 21
I have done my Implant treatment at sabka dentist New Ranip clinic, Implant is done by implantologist very well,before coming here I was very afraid about implant treatment but here it was great experience all over.Dr Rinkal is consultant very well and arrange every procedure of my Implant very well. Staff was very kind helpful. I am really satisfy with my treatment.

KARUNA SONASANIYA
13:26 06 Sep 21
Its been a great experience so far. I had a wisdom tooth issue and other cavity issues. Dr. Rinkal & other Staff are polite, Amazing, friendly and always smiling face.Great JOB guys! Appreciated!

dhaval dave
12:08 06 Sep 21
I did deep cleaning treatment at sabka dentist new ranip clinic,it was very good experience, I had done this treatment first time in my life.Dr rinkal lad was very kind and supportive,I am very much satisfy with the treatment given by her the staff is always very nice to the patients.

Doli Sadhu
05:30 04 Sep 21
Excellent behaviour and nice treatment really good..

Aditya Shah
03:30 04 Sep 21
I consulted Sabka Dentist for third molar extraction. My treatment was done very smoothly. Dr. Rinkal and assisting staff are very courteous. Overall it was a good experience. I highly recommend this clinic for dental problems.

Mala Rupareliya
17:56 03 Sep 21
Sabka dentist. New Ranip provide really excellent service.all staff is co operative and dr. Rinkal Lad is very expert in all kind of the treatment. I'm very happy and really get good returne in my money. Very appreciative work.clinic are very clean and take all kind of preconceived.thanks.

harshad gosai
16:11 03 Sep 21
I have done my laser treatment for mygums by peruodontist i have also done root canal treatment with value crown by dr rinkal lad. I am very much satisfy with my treatment. Support staff is very kind and maintain good hygiene in clinic.

Nayan Shah
15:25 03 Sep 21

Akshar Parmar
15:13 03 Sep 21
Very nice clinic.and very nice staff support.my check up is very nice.dr. is good advise.

Dhirubhai Patel
13:51 03 Sep 21
Nice experience, good staff and nice behaviour. Excellent treatment

Jignesh Joshi
17:58 02 Sep 21
One of the best dentist i ever meetSpecial thanks to dr. Rinkal lad for done my all teeth very beautifully

Mansi Patel
12:42 30 Jul 21
I ( Dhwanit Kamleshbhai Parani) have done braces treatment from Dr. Sunny (sabka dentist , New Ranip) . It was Great experience to get treated by Dr. Sunny . He explains things in very Easy way & treated as well. I and my Family are very thankful to him.Very Happy with treatment given by Dr. And His team.Thank You Very Much.

Kamlesh Parani
16:29 17 Jul 21
My experience was smooth and friendly. Dr. Rinkal has real expertise and good qualities for dental treatments. I went for filling and it was perfect and painless. Thank you!!

shemal devmurari
06:24 09 Jul 21
Good experience with dentistDr Lad is very friendly and helpful.

Hiren Sagar
02:28 07 Jul 21
I had huge pain in my teeth when I went there. But after Root Canal Treatment by Dr. Rinkal and her staff i.e. Ms. Dollyben & Nilamben were very helpful and had a painless experience due to their efforts.

Harshit Purohit
15:20 03 Jul 21
Very supportive staff. Perfect treatment.Thank you.

Dhaval Patel
14:14 03 Jul 21
I had the most incredible and diligent service by the doctor rinkal. Doctor made sure that my treatment was regular and i was wearing my aligners. The whole experience is very good. I will recommend people to visit sabkadentist new ranip, which was well maintained and the doctor and nurses are very friendly.

Bhargav Solanki
05:47 03 Jul 21

Hello there, I recently completed my root canal treatment, it was smooth and extremely unbelievable bcz it was my first treatment. The staff members and doctor Rinkal Lad they are very caring and also take care of all precaution which are important during pandemic.I highly recommend you all, go forward with this clinic you will definitely get results .

Meet Patel
03:15 24 Jun 21
Quite satisfied with consultation. Appreciable staff, facility and patient handling. Very remarkable detailing practised for gathering information regarding patients concerns. Handles patients with utmost care and safety.Dr. Rinkal possessed with good skills on dentistry operations. She listen patients very carefully and then treat/suggest the best possible treatment. You can feel chrges little bit higher side but they are affordable in terms of the level of treatment and services you receive in return.

Minesh Patel
13:41 15 Jun 21
Dr.Rinkal is a very good dentist and very kind dentist .Her work is smooth and unpainfull work in the patient teeth's .

Femin Patel
05:06 10 Jun 21
We are happy to check up good support good treatment all staff are supposedThank you so much Sanka dentist New Ranip branch

Punit Shah
06:35 04 Jun 21
Verry good staff and very good clinic clean

joy limbachiya.
15:46 03 Jun 21
Very supportive staff and nice experience

Nihal Parmar
14:44 03 Jun 21
It was nice experience staff and doctors are very helpful.

Malvaniya Riddhi
14:19 03 Jun 21
I highly recommend for the bracess treatments💌 they're so good and sharp at everything they do also the doctors & the whole staff is so humble & helpful. Doctor rinkal at her best✨ she's very humble.

jankee pun
10:29 31 May 21
Services are good staff is also good work is so fine in that clinic thanks for the awesome treatment .

Ritik Parmar
06:28 26 May 21
I highly recommend this. The staff is very courteous. The dentist is very knowledgeable and very helpful. Also nice and informative. I'm impressed with herkher and patience, you're very thorough. I was so satisfied with the results of my dental work, I won't go to any other dentist.The office was really professional and clean.

Monika Suthar
16:13 22 May 21
It is very safe place during covid situation. Thay are following precaution.

Patel Hitesh
06:41 19 May 21
Good & hygienic place.Service is really awesome.Very polite behaviour of staff & doctor.Thanks Sabka Dentist for treating us☺️.

Deval Mistry
07:13 11 May 21
Very good service,Dr Rinkal Lad was very professional & polite, all procedures very well explained.Overall very nice experience.

ANJANI KUMAR
13:13 03 Apr 21
I have a good expiryance.. and also treatment is good.

sachin Rathod
13:10 25 Mar 21
Great expericence overall.excellent tretment by doctor and thye are takling too much care of hyigne.and overall staff very must .best sabka dentis new ranip team..

Monika Sinde
09:50 25 Mar 21
I MUST SAY THE TREATMENT BY APPOINTED DOCTOR AND THE STAFF ARE VERY APPRECIATED. THE WAY THEY TREAT THEIR PATIENTS IS VERY GOOD, ALSO THEY LOOK AFTER THEIR PATIENTS BY CALLING THEM TIME TO TIME FOR REGULAR CHECK UP SO ONE CAN NOT MISS THEIR REGULARLY CHECK UP TIMINGS. OVER ALL I WOULD SAY THE STAFF AND DOCTORS ARE VERY KIND AND HELPING. EVEN DOCTORS ALSO GUIDE THEIR PATIENT FOR BETTER IF IT IS NECESSARY.

A-One Visa
14:27 24 Mar 21
quick & good service & Gentle responsible nice staff. "I would highly recommend this place for any of your dental problems."

shirish parekh
12:00 22 Mar 21
Great experience overall. Absolutely recommended to everyone. Excellent treatment by doctor and they are taking too much care of hygiene. Best Dental Clinic for Dentistry. Highly recommend

Sonusingh Rathore
06:58 19 Mar 21
Great staff and behaviour. good experience

Navubha Solanki
06:52 19 Mar 21
I have a good experience..

niket songara
15:51 18 Mar 21
It's a very good..experience is very good service....also treatment is very goodVery satisfying answer..given by Doctor 👍👍👍

Richa Dwivedi
15:40 16 Mar 21
Very cooperative staffs...

GRISHMA NAIR
04:54 16 Mar 21
Very good staff behaviour and they explained very well

falgunipatel143
17:36 08 Mar 21
Sana dentist is one of the best dental care clinic most of the city....I would recommend to my friend and colleague go for dental care and treatment..

Ashwin Patel
05:31 22 Feb 21
had very good experience with Sabka dentist at New Ranip branch. Specially the doctor was very humble, supportive and informative

Nidhi Choudhary
18:39 18 Feb 21
They are one amazing team of outstanding dentist. They are economical, experienced, and quite professional.The best thing about Sabka Dentist is their centralized operations team who handle Sabka dentist of pan india. Outstanding management.I Personally recommend this clinic

kirtan patel
06:33 04 Feb 21
I highly recommend this clinic, Best service anyone can ask for! Dr Rinkle exactly knows what is to be done, he did great work on my teeth. Staff is also beyond amazing.They are very friendly, professional and kind. Always greeted with a smile each time. Environment is always clean and staff makes you feel comfortable. Excellent place, definitely recommended a Visits....

Janak Pathak
06:39 22 Jan 21