Dental Clinic in Shahibaug Ahmedabad
Address: Office Unit No 106, 1st Floor, Block C Of Advance Business Park Opp. Swaminarayan Temple, Shahibaug Rd, Ahmedabad, Gujarat 380004.
Monday – Saturday 11 AM – 8 PM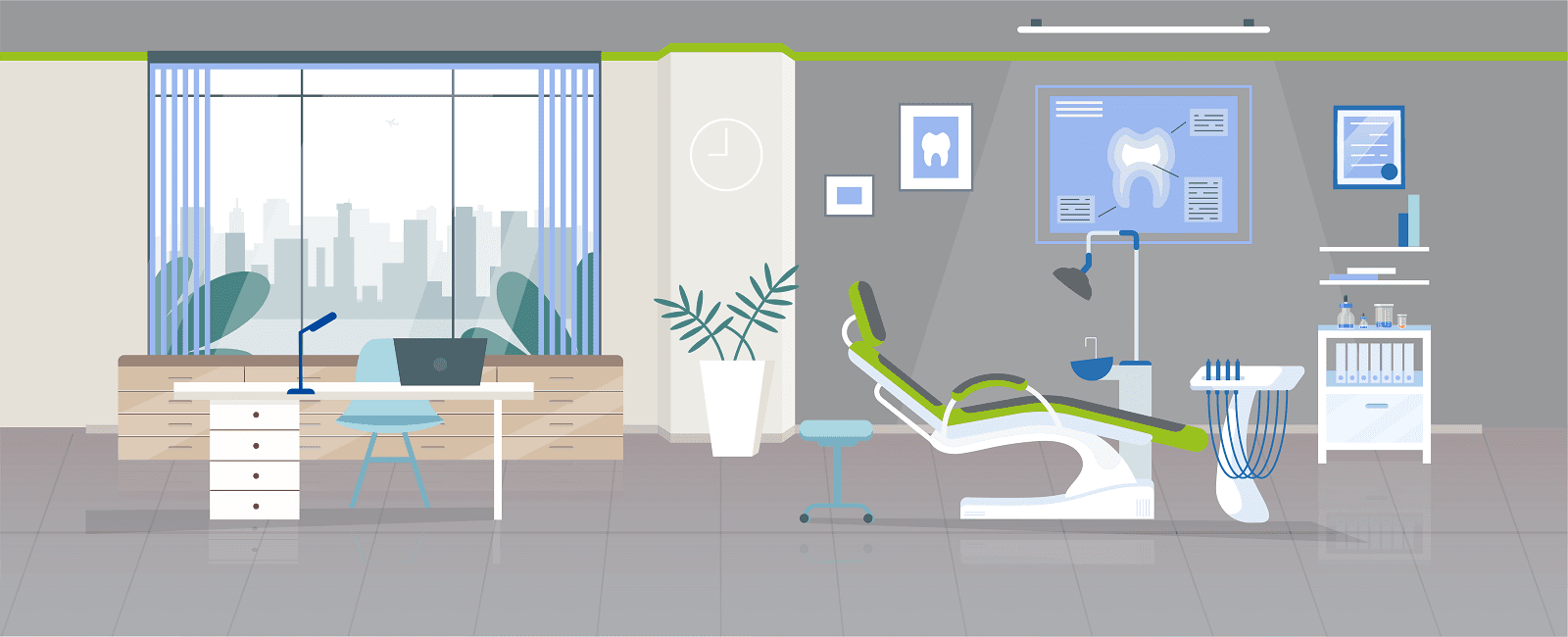 About Sabka Dentist in Shahibaug, Ahmedabad
A dental visit is something most of us procrastinate. But, is it worth delaying? Here, at Sabka Dentist we create an atmosphere that makes our patients feel like visiting the dental clinic for even the smallest of oral problems.
Filled with ambition and zest, our dentists at Sabka Dentist, Shahibaug, Ahmedabad, accomplish their and the patient's goals with high accuracy.
Sabka Dentist continues to grow and conquer all the notions about dentistry. We make available the best modern dental facilities to our patients. We also provide free dental checkups, X-rays and consultation.
Our maestros, i.e., our dentists, used their skilled aptitude and describe the issues to the patient, if any. They then ask the patient to get an X-ray if the toothache or problem is severe and cannot be seen by the naked eye. The oral problem and its treatment is then spoken about, to the concerned patient.
Sabka Dentist at Shahibaug, Ahmedabad is committed in providing an exceptional dental experience to whoever visits their dental clinic. We are equipped with high end facilities and technology that can deal with the latest dental treatments. Our rates are reasonable with quality medical care provided by our skilled team of dentists.
A toothache is definitely not worth bearing, or leaving untreated. Like they say, the more you delay oral problems, the more difficult it becomes to treat them. But you don't need to fear or worry, because Sabka Dentist is here for you.
Treatments we offer at Sabka Dentist, Shahibaug, Ahmedabad
Consulting Checkup:

Sabka Dentist cares about you and your oral health. A free consulting checkup is provided, at absolutely no cost. Nobody wants to be terrified when they hear about their health, so Sabka Dentist has your back when it comes to this. The smart and intelligent team of dentists at Sabka Dentist decipher each and every aspect of the oral problem to the respective patient, and also provide further instructions to them. They do not pressure them to make any decisions there and then according to the graveness of the given situation.
Root Canal Treatment:That cavity you've been ignoring for so long? That toothache that forces you to eat only from one side? These are the dental problems that requires treatment, usually the root canal treatment. In a root canal, the main idea is to remove the smallest of bacteria, or micro organisms, to prevent further infection. It mainly focuses on eliminating the damaged tissue, sealing it with Gutta Percha and lastly, covering it up with a crown or cap. The endodontists at our dental clinic Sabka Dentist at Shahibaug, Ahmedabad are highly skilled to carry out this treatment and relieving the patient of the constant pain.
Crowns and Bridges:When your tooth suddenly breaks into a half, with hardly any tooth remaining, or when you have a poorly shaped tooth, or for missing teeth, a crown or bridge is used. They are prosthetics that are cemented on top of the damaged or missing tooth, usually by a prosthodontist. The prosthodontists at Sabka Dentist, Shahibaug, Ahmedabad are very gentle and considerate during the procedure, making it seem like there are zero changes taking place.
Smile Care:

The value of perfectly aligned and placed teeth is only realised when you take a picture smiling widely. We at Sabka Dentist want to see you happy, and full of zeal with those perfect set of teeth! We entail treatments such as a smile makeover or smile designing, wherein we can realign the misaligned teeth, provide steps for teeth care like flossing, brushing, mouthwash and so on. Always remember, a smile reflects the level of confidence.
Teeth Whitening and Bleaching:A procedure of cosmetic dentistry, teeth whitening and bleaching simply regains the original color of the teeth, or beyond that at times. It is done through methods like brushing with a special toothpaste, laser dentistry, bleaching pen, bleaching gel, bleaching strips and natural bleaching.
Orthodontics (Braces):Orthodontic care or braces are usually given to a patient when his or her teeth are not in the same standard position as the rest. Braces are used so that all the teeth are placed in a way that they can fit together comfortably, without being misaligned. Sabka Dentist makes sure their patients can have perfectly positioned teeth that helps in chewing better, lesser chances of speech disability, cavities, chipping and fracturing of teeth.
Tooth Extraction:No, that wisdom tooth is not going to increase your wisdom, but will definitely increase your pain. A wisdom tooth is just one of the many examples of a toothache, that requires immediate extraction. An extraction is wherein the dentist pulls out the tooth in pain, to stop the pain from elevating. Usually, local anaesthesia is given to the patient, and hence, the area around the tooth is made numb, making it easier and a lot less painful for the extraction procedure. Our dentists at Sabka Dentist will assuredly make it a pleasant dental extraction to avoid any mishaps later.
Pedodontics:Pedodontics is dental care for children. It explains the importance of dental treatments in children and inculcates the need for regular dental checkups. It emphasizes children's teeth because they have milk teeth when they are really small, so they break a lot. Hence, for its restoration, we at Sabka Dentist at Shahibaug, Ahmedabad have proficient endodontists who take care of children and keep them calm.
Periodontics:Periodontal disease is an inflammatory disease that causes harm to the gums and other parts of the jaw that support the entire structure. However, one does not need to worry, as this disease is treatable. It involves cleaning of tartar and plaque, furthermore removing the dead tissue, and a lot more methods.
How to find a dentist in Shahibaug, Ahmedabad ?
Choosing the right dentist can be a task for many. There are so many aspects to consider. There are the facilities, the dentists, the location and a lot more which is elaborated on in the points further :
Have you been to this dentist before ?
Have you read its reviews online ?
Are the prices favorable for you ?
Is the dental clinic in your vicinity ?
Does the dentist describe the details of each procedure ?
Does the clinic seem sterilised and clean to you ?
We at Sabka Dentist in Satellite, Ahmedabad follow the STEEEP fundamental policy:
Safe
Timely
Effective
Efficient
Equitable
Patient-centered
STEEP is used by the ADA as a standard measure of quality care. The dental care provided at Sabka Dentist is impeccable, astounding and exceptional. Sabka Dentist keeps their patient's oral health as the top priority. We are extremely professional but always attempt to build good relationships with our patients.
How can Sabka Dentist help?
Sabka Dentist has over 100 operating dental clinics in Mumbai, Pune, Bangalore, Surat and Ahmedabad. It follows fundamentals and protocols to make sure every dental treatment is followed cautiously. It has all treatments ranging from root canals to cosmetic dentistry to paedodontics to periodontics and so much more.
To carry out these procedures and treatment, a team of experts, i.e., dentists is required. Sabka Dentist offers all kinds of dentists, be it endodontists, pedodontists, periodontists, prosthodontist, oral surgeon or pathologist, and of course, general dentists.
These experts treat every disease with utmost patience and care, with new equipments each time, as any type of treatment requires a high level of sanitation and hygiene.
The main idea is to devise a dental experience that shows the concern that Sabka Dentist feels for its patients. It is to maintain the professionalism throughout, but to also make the patients feel at home.
The patients need to feel comfortable enough to visit again, and also to avoid panicking. They need to know each and every reason and necessity for their treatment. Without strong reasons, and wide scope of knowledge of the dentists, they will not trust the treatment or comprehend the need for it.
We at Sabka Dentist only wish for our patients to understand the significance of oral health, and its problems. We aim to keep our patients extremely satisfied with their experience at Sabka Dentist.
We are the pinnacle in the dental field, and only aim to expand further. Our dentists have learnt from the best and have an optimum level of knowledge of what they are doing, hence they are very confident. We provide top priority to our time-bound customers, along with the offer of affordable prices.
We do not want any patient, who visits our dental clinic, to leave feeling disappointed or confused. We value your time, money and feedback ; it matters to us gravely, so feel free to visit our website and check out all our facilities.
Tell me more about Sabka Dentist, Shahibaug
If you are one of those individuals who are particular about your dental health care, you need to pick the best when it pertains to dentistry checkups and treatments. Sabka Dentist is frequently ranked as among the best dental clinics in Shahibaug Ahmedabad.
At Sabka Dentist, people not only receive top class treatment for their oral concerns but in addition get to enjoy one of the greatest in-clinic patient experience across India.
No matter the background or career of an individual, we make certain that all of our patients feel at ease and experience absolutely no issues when approaching or getting their oral health issues across to our dental specialists.
We are some of the top dental clinic chains in Shahibaug Ahmedabad and have a legacy that is unrivaled by any other dental clinic in Shahibaug Ahmedabad, India. Our dentists are undoubtedly some of the best dentists in Shahibaug Ahmedabad.
Sabka Dentist frequently makes it to the list of best dental hospitals in Shahibaug Ahmedabad, owing to our wonderful team of dental experts and doctors, and high tech facilities within our dental clinics.
Sabka Dentist was started way back in October 2010, with a single clinic in Vile Parle. Today, we have grown to around more than 100 clinics in Mumbai, Pune, Ahmedabad, Surat, Bangalore, Navi Mumbai, Thane. Our team works to encourage better dental health and help men, women, and children to really feel and look good, and proudly carry their smiles.
No wonder, as a result of our team's determination and vision to help spread smiles across the world, we have consistently managed to get on the list of top dental hospitals in Shahibaug Ahmedabad.
Therefore, the next time you plan to visit a 'teeth hospital in Shahibaug Ahmedabad, we should be at the top of your list of dental hospitals in Shahibaug Ahmedabad.
Consider us your own 'Sabka Dentist'; our dentists are some of the best dentists in Shahibaug Ahmedabad, and we can help you with your dental concerns so that you can continue to spread joy and happiness across with your wonderful smile.