Sabka Dentist – Root Canal Treatment Clinics in Surat
An infected pulp of the tooth is very painful which can further cause more problems to oral health. A root canal treatment is ideal to deal with it where the cleaning of the canal is done in the root of the tooth. After cleaning the empty space is then filled with proper dental fillings. In Surat, you can go to any Sabka dentist branch to get quality root canal treatment at an affordable cost.

Feeling like it's too late to get your problem treated, fear not Sabka dentist is at your rescue you need a root canal? If so, you're not alone. Studies have shown that millions of teeth are treated and saved every year with the root canal treatment. Here is a further glimpse of the know-hows of root canal treatment in detail having just the amount of information and motivation for you to get relieved from all that toothache, suffering and help yourself to preserve your best smile.
What is Root Canal Treatment?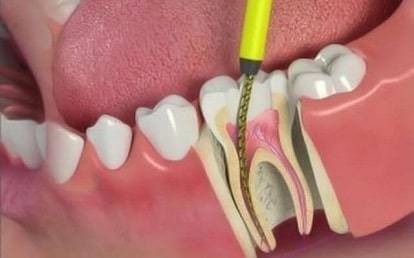 Millions of teeth are detected and operated for root canal. A treatment subjected towards treating the infected pulp of a tooth for elimination of infection and protection, obturating the tooth to avoid future microbial invasion, indeed a comfortable procedure that will relieve your pain as well as rescue your natural tooth and revive the health of teeth bringing it back to its natural best.
Root canal treatment in today's time is nothing close to how it has been projected over the years. Much like a routine filling, it is usually completed in one or two appointments, depending on the condition of your tooth. Getting a root canal is in fact, a highly constructive step, helping you get relief relatively painless and with effect. And within no time you can be back leading a normal healthy lifestyle, smiling and eating with ease.
Some of the many advantages of getting yourself a root canal treatment are as follows:
Efficient and structured chewing
Normal biting force and sensation
Natural appearance
Protects other teeth from excessive wear or strain
Relief off, decayed pulp
Rescues from pain and extreme tooth sensitivity
Why do you need Root Canal Treatment?
People generally come for dental treatment in search of either tooth pain relief or in search of the satisfaction of having the perfect "Smile" everyone deserves. When it comes to getting Root canal treatment all we can say is that root canal treatment is important not only to get rid of any decayed pulp or its related problems, but it is a viable way to save oneself from the much-dreaded tooth extraction. Virtually painless and root canal leaves you with less to no discomfort during recovery, thanks to modern techniques and effective anesthesia, patients who treated with root canals are more likely to experience it painless and more comfortable!
The process of root canal treatment is pretty straight, inflamed or infected pulp is removed, the inside of the tooth is carefully cleaned, decontaminated, then filled and sealed with a rubber-like material called gutta-percha and later on followed by restoration of the tooth with a crown or filling for protection so as to continue the actuality of "the tooth " like any other tooth.
When would you need Root Canal Treatment?
Root canals can be a requirement based on several dental circumstances like cracked teeth from injury or genetics, a deep cavity, or issues from a previous filling. Patients generally approach the dentist for a root canal treatment only after they notice their teeth happen to be sensitive, particularly to hot and cold sensations.
The only answer to the "When" in the question above can be derived from the symptoms that indicate and instigate us to take the step of getting a root canal. Some of those symptoms are:
Excruciating pain while chewing or biting
Pimples on the gums
A chipped or cracked tooth
sensitivity to hot or cold, even after the sensation has been removed
Swollen or tender gums
Infection in-depth or darkening of the gums
Root canal treatment is required when the infection (pulp), the soft tissue inside the root canal, becomes inflamed. There is a buffet of reasons why you may require a root canal treatment:
Deep decay
Repeated dental procedures on the tooth
Faulty crown
Crack or chip in the tooth
Therewith, an injury to a tooth can cause pulp damage even if the tooth has no chips or cracks. If pulp inflammation or illness is left untreated spread throughout the root canal cause pain or lead to many dental diseases like abscess, etc. Saving the natural tooth is always a wise decision and in call of that,
There are several clinical reasons for needing root canal treatment, but there are also endless practical reasons. Root canal treatment helps you to maintain your natural smile, and also make continue eating the foods you love and restrain the need for ongoing dental work. With proper care, most teeth that have been treated with root canal treatment can last a lifetime.
Does Root Canal Treatment Hurt?
Decades ago, root canal treatments were painful. But in modern days, with dental advances system and local anesthetics, most people hardly realize any pain with a root canal today. Since anesthesia is given to patients, a root canal is no more painful than a regular dental procedure, such as a dental filling or wisdom tooth extractions. However, a root canal is generally a little bit sore or perhaps numb following your procedure, and so can even cause moderate discomfort for a few days.
What is the cost of Root Canal Treatment?
The root canal cost varies depending on how complicated the problem is and which tooth is damaged. Molars are difficult to treat and usually, the fee is high.
Generally, Root canal treatment and restoration of the natural tooth are less costly than the alternative options of having the tooth extracted. An extracted tooth must be substitute with a dental implant or bridge to restore the size, shape, chewing function and prevent adjacent teeth from shifting. These procedures are more costly than root canal treatment and restoration.
To find the right root canal cost in Surat, several aspects have to be considered. Even so, It happens to be tough to estimate any cost without some fundamental factors. Sabka Dentist has got enlisted a few of the prevalent aspects that will help to determine the appropriate Root Canal Treatment Cost in Surat. The root canal treatment involves a particular procedure which determines the value of your treatment. These are listed below:
Selection of your Dental Surgeon (Novice/Specialist)
The key aspect of the root canal treatment cost in Surat highly relies on choosing the right dental surgeon for the root canal treatment. In case you are approaching a surgeon who has practiced dentistry only for a year, the root canal cost will likely be less. But in case you are visiting a specialist who is serving as a dental surgeon with a significant amount of experience (let's say much more than a decade), he or she will charge you more for the root canal treatment. Price often depends on the experience and skill of the surgeon.
X-Rays and Consultation Costs
Consultation costs also can vary based on the doctor's working experience, expertise and the location where the medical center is situated. The root canal cost in Surat could be different in comparison to cities like Mumbai / Delhi. The cost of the X-rays can also add up to the total cost of root canal treatment.
Anesthesia and other required medications
Anesthesia numbs the area of treatment, as well as this price associated with it often depends upon how many times the anesthesia is actually applied for the treatment.
Root Canal location (Front or Back)
The root canal done on the tooth in the front portion of the mouth (front teeth) will charge you less since it consists of 1 or 2 roots, whereas it will charge you more if it's performed on the tooth in the back of the mouth (bicuspid and molar) since it contains much more roots/canals. Sabka dentist provide affordable root canal cost in Surat dental clinics.
Level of damage
This is also a prime aspect that determines the root canal cost in Surat. If the harm is less, the price for the root canal treatment would also be less.
Who are the best dentists for Root Canal Treatment in Surat?
Sabka Dentist, a deemed institute truly believes in providing the best dentistry has to offer and with the graces of advanced science and technology, we are equipped to provide you a pain-free experience at its best. Many people worry a lot that a root canal treatment will be painful, something that was true a decade ago. Today, with advanced anesthesia options and high-quality techniques – a root canal is as comfortable as getting a filling.
How much time does it take for Root Canal Treatment?
One of the many concerns for patients today in this era where everyone is constantly on the go, it does make patients curious about how long a root canal go on and within how much time does it take to complete the treatment.
A tooth is likely to be treated in one or two appointments of 90 minutes each which depends on if the patient is getting treated for the first time or if it is a retreatment.
Though you will most most likely be numb for 2-4 hours pursuing the procedure, most patients can return to their activities directly following a root canal. However, the patients are advised to eat until the numbness is completely gone.
Tell me More about Getting Root Canal at Sabka Dentist, Surat
Sabka Dentist is among the best dental clinics in India that specializes in carrying out several dental treatments, like root canal treatment. The medical centre was initially established in October 2010 with only one clinic at Vile Parle. However, right now Sabka Dentist has more than 100 clinics across various cities in India – namely Mumbai, Pune, Ahmedabad, Surat, Bangalore, Navi Mumbai, and even Thane.
Root canal treatment is among the most efficient treatment procedures that can minimize dental pain and save an extremely decayed tooth. In this process, the dentists eliminate damaged nerves along with pulp of the tooth carefully and then simply seal it. If the problem remains untreated, then there are possibilities that the neighbouring teeth can also get affected. Sabka Dentist has got the professional as well as experienced crew of dental surgeons who definitely are invested in offering the professional services and spread out smiles across India. This might be the only cause that one could find Sabka Dentist on the top of the list of dental hospitals that offer root canal treatment.
How is Root Canal Treatment executed at Sabka Dentist?
The teeth root canal treatment is executed in three steps, and also almost all of the dentists follow this process in three different sessions. However owing to the specialised root canal dentists, staff and also superior services offered at Sabka Dentist, this RCT treatment procedure can be done in just a single session.
The dentist first administers local anaesthesia to your treatment spot to lower root canal treatment pain as well as make the spot numb. Then a tiny hole is created on the surface of the tooth to take out the affected nerves and dead pulp. Next, the root canal dentists at SabkaDentist clean and reshape the particular decontaminated hollow spot. This specific hollow empty canal is lastly filled up with a dental filling in order to seal off the root canal completely, thus finishing the root canal treatment. Just after this, the tooth is absolutely dead and has no sensation. At last, in order to safeguard this particular dead brittle tooth, a crown may be installed on the dead tooth to ensure that the patient can use the tooth just as before.
The root canal treatment price widely can vary individually for each person based on the seriousness of the condition. However, Sabka Dentist offers a few of the best root canal treatment costs in India. So, the next time if you are planning to have an RCT treatment, consider Sabka Dentist as the first option to solve your dental troubles and keep smiling.