Address: 201, Bansari Bhuvan Building, Ground Floor, Sion Main Road, Next to Union Bank of India, Opposite Domino's Pizza, Sion East , Mumbai, Maharashtra – 400022
Monday – Saturday 11 AM – 8 PM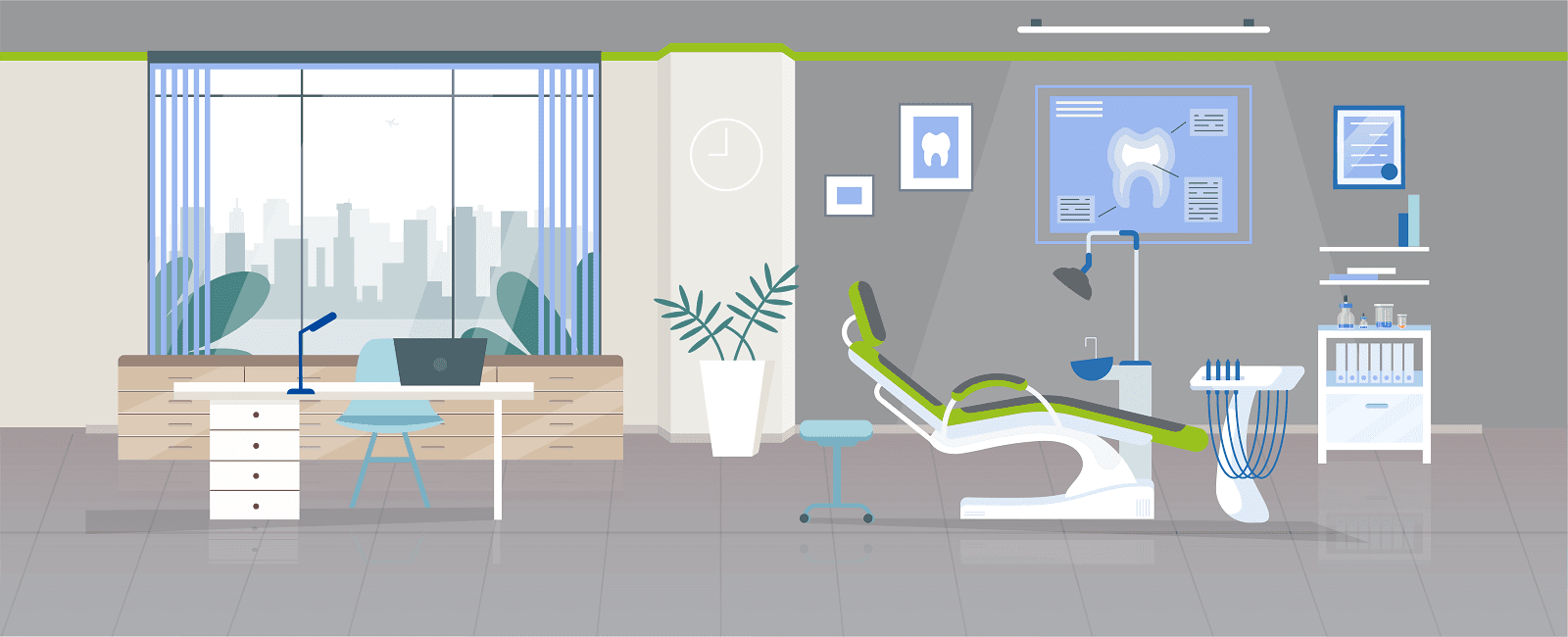 About Sabka Dentist Dental Clinic in Sion
Sabka Dentist Dental clinic has always been at the forefront of dental healthcare. This clinic is known as one of the best dental clinics in Sion, which is dedicated to providing high standard dental services at an extremely affordable price range. Sabka Dentist never compromises with the quality of treatment, so they utilize all the latest dental techniques and technology to make the dental procedures pain-free and comfortable.
Facilities
Dental care has always been ignored in the hustle and bustle of our life. But it is essential to be careful about our dental health. However, even the person who takes care of their teeth daily may also require professional treatment.
So if you are trying to find one such dentist in Sion who can help you to resolve such conditions, then Sabka Dentist can help you out. The clinic can provide you with the following facilities and treatment options-
Dental Implants– If you have lost a tooth, then you will probably be considered to undergo implant dentistry. However, the value of the procedure depends on the number of sessions required, surgeon's fees, tests, dental treatments, and even the anesthesia used. The clinic may also provide you some fascinating affordable packages that include no hidden charges.
Root Canal Treatment– Root Canal treatment is a crucial dental procedure that helps in preserving a decayed or damaged tooth. If you intend to undergo this dental process, then you must look for an experienced endodontist who can help you to achieve the best result. If you have not yet found any such dentist in Sion , then you may try and visit Sabka Dentist; this is one of their well-known branches, they have than 500 proficient dentists working in more than 100 clinics around different cities in India.
Conscious sedation- Sabka Dentist is aware of the fact that general anesthesia to execute dental operations is very risky. Keeping this in mind, the clinic provides local anesthesia to their patients so that the patients lose sensation in the area of treatment, but they do not fall asleep. However, it also depends on the treatment as well. As Sabka Dentist is one of the best dental clinics in Sion for their services, they do not compromise with their treatment quality and give complete transparency to the patients regarding the procedure.
Superb scheduling- Patients who have come a long way and have minimum time are offered the quickest and the most effective treatment plans. The dentists attend them on a priority basis, even on short notice. If you feel impressed with this feature and wish to avail the facility, then you know what you have to do? Just opt for Sabka Dentist, the best dental clinic in Sion .
Latest equipment and Techniques- Sab ka Dentist makes use of the latest techniques and methods while treating the patients. The dentist keeps themselves updated with all the new technology and upgrade their knowledge and when required.
Patient Care- Sabka Dentist is known for its hospitality. They treat their patients very well. Right from the receptionist to the surgeons, everyone gives the patient complete support throughout their journey in Sabka Dentist.
How to select the right dentist and right clinic?
Have you not been able to find a perfect dentist in Sion ? Then start doing that immediately without waiting for the emergency to arrive. But before you start doing that, it is time for you to consider several factors like the following-
Location and operational hour- When choosing a dentist, make sure that the dental clinic is close to your place or workplace. Most importantly, make sure that the dental clinic will be operational on days and times when you are generally available.
Cost -The cost of different procedures depends on several factors like the surgeon's fees, cost of the tests, medications, anesthesia used, and equipment used. However, Sabka Dentist provides multiple payment options, EMI facilities, and insurance coverage for the patients, which makes it the best dental clinic in Sion .
Qualification – After you know this is the perfect dentist in Sion for you, you must mandatorily check the credentials of the dentist. An experienced dentist will never hesitate to show their credentials and pictures of past procedures. If you find the dentist or the staff waiting to answer any of your questions, then you must consider finding another dentist.
How can Sabkka Dentist help?
Sabka Dentist is considered one of the leading dental clinics in Sion . Wondering why? Because-
The clinic provides the highest standard of treatment at an affordable price.
The dentist and their team are well qualified and skilled.
The clinic is capable of treating any dental issues, even on an urgent basis.
The clinic has secure payment options and easy EMI plans.
Tell me more about Sabka Dentist, Sion
Tell me more about Sabka Dentist, SionIf you are one of those individuals who are particular about your dental health care, you must select the best when it pertains to dental checkups and treatments. Sabka Dentist is consistently rated as one of the best dental clinics in Sion, Mumbai. At Sabka Dentist, people not just receive first-class treatment for their dental problems, but additionally get to enjoy one of the greatest in-clinic patient experience across India. Regardless of the background or career of an individual, we make sure that all of our patients feel at ease and experience absolutely no concerns when approaching or getting their dental issues across to our dentists. We are some of the top dental clinic chains in Sion, Mumbai, and have a legacy that is unparalleled by any other dental clinic in Sion, Mumbai, India. Our dentists are some of the best dentists in Sion, Mumbai.
Sabka Dentist consistently makes it to the list of best dental hospitals in Sion, Mumbai, owing to our great team of dental experts and doctors, and cutting-edge facilities within our dental clinics. Sabka Dentist was launched back in October 2010, with a single medical clinic in Vile Parle. Today, we have grown to around more than 100 clinics in Mumbai, Pune, Ahmedabad, Surat, Bangalore, Navi Mumbai, Thane. Our team works to encourage better dental health and help men, women, and children to truly feel and look good, and proudly carry their smiles. No wonder, resulting from our team's determination and vision to help spread smiles across the world, we have consistently managed to get to the list of top dental hospitals in Sion, Mumbai.
So, the next time you want to visit a 'teeth hospital in Sion, Mumbai, we should be at the top of your list of dental hospitals in Sion, Mumbai. Consider us your own 'Apna Dentist'; our dentists are undoubtedly some of the best dentists in Sion, Mumbai, and we can help you with your oral concerns so that you can carry on and spread joy and happiness across with your delightful smile.
Good services..! happy to start my treatment.... Dr. nd staff all are very nice to talk. Hospital environment also good.

Kavita Mishra
07:19 06 May 22
Given proper informationVery nice doctor

Nayana Malap
13:16 05 May 22
Very good service. Dr.Shsrmin Shaikh's treatment was very good. She treated my cavity & now there is no pain. Thank for the immediate treatment

Usha Sivadasan
05:06 27 Apr 22
It's very nice people behave sach a good experience thank you lot of guys

Mohd rais ahamad
11:12 12 Apr 22

Good and satisfied with ur service

The Dentist are very kind and good, nice dental clinic.

sunder mani
11:08 03 Apr 22
Nice clinic is well checked up, all the staff are good everyone talks with love thank you Dr and all staff👌👌👌

Ramdhani jaiswar
19:21 18 Mar 22
All staff is very help full n treatment was good experience also excellent factly sabka dentist thanks for giving nice suggestion n treatment

priya jaiswar96
19:18 18 Mar 22
Friendly behavior, no consulting fee charges too less as compared with other dental clinic.

Wilson Tamil
05:19 15 Mar 22
Very good experience here

Balvijay Gunaraj
08:11 01 Mar 22

Mukul Gupta
07:33 26 Feb 22

RAVI YADAV
07:50 23 Feb 22

Ramachandra Devalla
05:57 16 Jan 22
Absolutely an amazing place to get the free check-up done. Covid- precautionary measure are taken on priority and an incredible warm welcome

vijay dangwal
06:10 08 Jan 22
Very nice experience with Dr vaishnavi she did her job very well along with kadambari very Happy with the service

Kavita Swamy
14:45 22 Dec 21
I would really want to appreciate sabka dentist sion clinic branch. Clinic is very clean and staff so supportive..... I like again visit sabka dentist

Kadambari Thorat
11:24 01 Dec 21

GOLD 555 yt GAMING
06:27 20 Nov 21

Kavita Jain
09:49 16 Nov 21
Clinic is best and staffs are also good in behavior and must visit.

Manish Yadav
10:47 28 Oct 21

Manish Gupta
13:43 26 Oct 21
Very nice experience with the shakeup

Zarin Ansari
10:02 19 Oct 21
Clinic madhe yeun chan vattal

Kunal Sagare
06:26 14 Oct 21
Nice experience of scaling of teeth ..

Pratikshya Sahu
09:31 11 Oct 21
Dr. Sharni was good advisable for dental careand first consultation is free and it's very hygienic clinic.

Amudha Nez
11:14 09 Oct 21

mangesh Kadam
16:53 06 Oct 21
Sabka Dentist is best it's really affordable cost and also sabka dentist staff and doctor both are so much humble and supported people thanks to Sabka Dentist........

Asha Kadam
16:48 06 Oct 21
I would definitely recommend this clinic my check up is done Dr and staff very helpful nice

Shadab Khan
09:54 29 Sep 21
Good and friendly doctor and staff behaviour are also pleasant.

Very hygienic place ,check-up is absolutely free of cost

Swapnil Shikhare
10:07 15 Sep 21

Govind Singh
07:55 15 Sep 21
I visited sabka dentist for my Braces treatment and my overall experience was good. The staff members and Dr.'s were pretty co-operative and kind. The treatment went smooth and I'm quite satisfied with the treatment.

Snehi Parmar
14:10 13 Sep 21
Nice treatment and friendly atmosphere

Yunus Khan
11:45 13 Sep 21
Clinic is clean and well maintained, staffs are friendly always ready to help you. Overall good dentist clinic in sion.

Pratik Thoravade
11:19 28 Aug 21

Rakhi Parekh
11:05 27 Aug 21
Very good service.Thank u sabka dentist

Pranita Khanvilkar
01:25 16 Aug 21
Good experience🤠👍 very supportive staff

Sanket Sangle
11:03 14 Aug 21

pia sharma
07:43 06 Aug 21

Surekha Pangam 1
12:36 05 Aug 21
Excellent, all the necessary precautions were take care...supporting staff and the doctor were excellent....done implant here and it was a great experience. Handled very wellby dr. Rupali and dr. SharminStrongly recommended

Rajgopal Pillai
10:05 04 Aug 21
20 minutes and 2 fillings doneHygiene was excellent, good doctor

sunil obhan
17:16 31 Jul 21
My daughter sneha have a brace very nice experience in the Sabka dentist sion and also Dr treat there patients very excellent.

Shobha Pawar
10:00 29 Jul 21
Visited first time. Best Service.

Dhananjay Patil
11:04 27 Jul 21

Tausifk Khan ailk
08:17 26 Jul 21
Had a great experience. All the staff members very friendly.

Akhil Mohod
10:41 24 Jul 21

Seema Gupta
07:26 24 Jul 21
I take oral health very seriously and the sabka dentist is my go to dentist clinic from last 4 years. A great 4 year experience. I am undergoing the aligner treatment and the results are wonderful. The nature of doctor and staff is very polite and supporting. During lockdown the doctor helped at every stage over phone call when required. If you have any problem with teeth visit them, and if you don't have any issue then give them a visit for routine checkup (I always got it free). Their price for every treatment can beat the usual cost for any oral treatment. The invisible aligner treatment may have cost me over 100k but at sabka dentist It cost me just 47k. I thanks the Sabka Dentist (Sion) team for the treatment and support whenever needed.

Rohit Sangwan
06:49 21 Jul 21

chandrakant belekar
11:32 20 Jul 21
I had a very good experience, The consultant explained the condition of my teeth and all the best possible treatment.

Pallavi Dukare
13:06 17 Jul 21