Dental Crowns Treatment and Cost in Pune
Dental Crowns are dental caps that are put on the tooth for protecting them from getting damaged. They are used after the root canal treatment where the cavity is cleaned. Dental Crowns are put after cleaning the tooth properly. In Pune, you can visit any of the nearest branches of Sabka dentist to get nice dental crown treatment.

What are dental crowns?
A decayed tooth, cracked tooth, or trauma that is severely damaged can opt for Crown treatment. Crowns also known as dental caps, are tooth-shaped protective covering figurine that covers the severely damaged tooth, avoiding further risk of spreading the infection. Crown, is placed in a situation where an individual tooth or teeth that are severely affected and can't be solved by placing a filling, as there are no teeth left for filling treatment.
Caps or dental crowns are placed on the tooth for many reasons. A tooth that is severely broken or damaged due to injury can go for Dental crowns. Dental crowns also holds the bridge accurately in place. As the crowns are tooth-shaped at some point it improves the appearances of the smile by completing the socket. Crowns are sometimes placed to cover the deformed tooth or badly discolored teeth. If a tooth that is cracked can cause fracture hence, to protect it, the crown is placed.
Crowns are artificial tooth that is made before time known as prefabricated or made to order in the laboratory when in need. Prefabricated crowns are for temporary use, made up of plastic or stainless steel metal. These crowns are placed on the affected teeth until the permanent crowns are not ready. Temporary crowns are placed on the tooth to avoid further spreading of the infection in the next tooth.
Dental Crowns are classified into various types of materials and they are:
Metal
Porcelain fused to metal (PFM)
All ceramics.
Furthermore, Metal crowns are classified in gold alloys and other alloys like palladium or a base metal alloy that includes nickel or chromium. At Sabka Dentist clinic in Pune, opportune you to select any variants of crowns material according to your preference. Even our dental experts will suggest you with the best option of crowns for you'll. Tooth cap price or crown cost in Pune is different as per the type of crown you choose. As the dental expert suggest that, PFM crowns are stronger and can be stabilized for a long period, Whereas ceramic and PFM crowns are identified as artificial natural color tooth, which means that they look the same as a normal tooth. Permanent crowns usually last for 7 years and if taken care of gently and precisely it can last up to 40 years.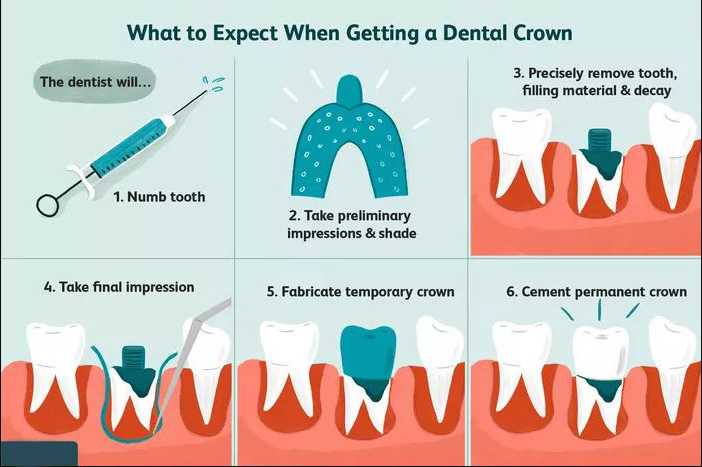 How is Tooth Preparation done?
Crown is usually placed after endodontic treatment is done. Root canal or endodontic treatment is recommended when the root is contaminated that has devastated the pulp of the tooth. As to stop the infection from spreading to the other chamber of the tooth, hence, Crowns is placed, so to protect the inviting of bacteria from further damage.
To prepare a crown, firstly dentist will build a structure to protect the tooth. In a case, where the tooth is severely damaged or decayed a hand-made structure is needed to protect it. If there is a condition of root canal treatment, then the dentist will supply a ready-made foundation.
In the process of placing a crown, the dentist will trim the tooth to make enough and equal space for the crown to place. In a case, if all metals crown is placed less tooth is trim as it can be made thinner than PFM or ceramic ones.
The next procedure requires two visits to the dentist. In the first visit, a temporary crown is placed until the permanent crown is prepared in the laboratory. If the permanent crown or a cap is ready then on the second visit permanent crown will be placed. So if you are looking for cost efficiency get Sabka Dentist for affordable tooth cap price in Pune.
How is the crown prepared?
The approach of making a crown is as followed:
The dentist will first use a thread to push the gum of the tooth to take the replica (impression of the tooth) of the tooth. the impression is ideally taken of the upper as well as of the lower teeth, making the biting process easier after placing the crown.
After taking the shape of the tooth through the impression, it is then sent to the laboratory. Until the permanent crown is prepared the dentist will place a temporary crown that is made up of plastic. A temporary crown is made in advance by the dentist.
Temporary cement is used to remove the crown easily. At the second visit to the dental clinic, the dentist places a permanent crown with a permanent cement on the tooth to fix it properly for a long period.
What care should be taken after crown placement?
After the successful placing of crown onto the tooth, as suggested by the dentist there will be no sign of discomfort or sensitivity. However, if there is a root canal treatment done, you might feel some sensation onto the tooth.
And in case if you feel some discomfort or sensitivity, it is highly recommended to visit the dentist. These issues directly indicates that the crown is too big. Hence, it has to be adjusted.
To protect the tooth from further tooth decay, dental experts will recommend you a high fluoride gel that has to be applied every night before sleep.
Continue with brushing and flossing teeth every day, but make sure to do it twice a day to avoid the risk of growing of gum disease.
If a crown is not fitted well, chances are that the cement will start wearing and tearing off. In such a situation like this, one need not panic as the dental crown may not fall off immediately. But what will happen is that the bacteria enters through the open ends, and then may start decaying the tooth again. So in the case of an improperly fitted dental crown, it is suggested to visit your dentist without fail to avoid the risk.
One of the most important points that has to be noticed is to, do not try to fit the crown back on your own, in case it falls apart. Pack the crown in a zip-lock bag and take it to your dentist. And if not that, then check for any cement debris stuck on the inside of the crown of the tooth, and use either a toothpick or a damp cotton sponge it properly to clean it and free it from any dirt collection. Visit a dental clinic in Pune and replace the crown with temporary cement & get the best tooth cap price in Pune.
What is the Tooth Cap Price in Pune?
The tooth cap price or dental crown cost in Pune depends on the variety or type of crown you select from our available collection. Click here to know the price. Visit our clinic or book an appointment to avail the most affordable yet modern dental care at Sabka Dentist with efficient tooth capping cost in Pune.
Tell Me More About Getting A Dental Crown At Sabka Dentist Pune
Concerned about your dental crown treatment? Then it would probably be the greatest option to choose a dental clinic which can provide you the best treatment options when it comes to getting the dental crown treated. And also if you are looking for a well-known clinic to carry out your dental crown treatment in Pune, Sabka Dentist should be your top choice. Sabka Dentist has consistently retained its place among the best dental clinics for dental crown treatment in Pune, as well as overall India as well. Simply because Sabka Dentist believes in offering cost-effective along with world class treatment services to everybody when it comes to dental care.
The dentists and medical team present at Sabka Dentist ensure that the patient feels comfortable as well as encounters no trouble at all while having a dental crown procedure. Sabka Dentist's clinics have among the best hand-picked dentists that are specialists at providing dental crown treatment as well as other dental treatments.
To perform a dental crown treatment, the dentists first examine the condition of the tooth and then determine which kind of dental crown would be ideal for their patient. They also make sure that their patients are okay with the tooth cap cost in Pune. It is because in most cases, permanent crowns are used which are made up of stainless steel, some other metal alloys, porcelain, ceramic or resin. The actual process for the dental crown treatment involves placing a dental cap over a damaged or injured tooth to improve its appearance. The dentist usually attaches the crown to the tooth surface to cover up the tooth portion that is above the gum line.
Sabka Dentist always picks dentists based upon their experience, expertise and educational qualification in order to ensure that they are really committed to providing personalized treatment to each patient. There is no doubt that dentists from Sabka dentist are among the best dentists in Pune. We offer the best dental crown treatments plan at the most pocket-friendly teeth cap price range. This is possible because of Sabka Dentist's motto of providing cost-effective dental care at top notch quality.
Not to mention, in addition to our very affordable tooth crown prices, we make it absolutely certain that our patients feel at ease when visiting our clinics. No doubt, Sabka Dentist has been rated as one of the top clinics for dental crown treatment in Pune. Sabka Dentist was founded.