Traditional ceramic and metal braces are durable and versatile enough to be used in most cases. However, as people became more conscious about their appearance, there was an increasing need for aesthetic braces.
Lingual braces are essentially metallic braces stuck on the back or tongue side of teeth, making them less visible. However, unlike traditional metal braces, lingual braces are customized to fit each individual. Lingual braces are also suitable for a few cases that enable placement of brackets, making them case-specific braces.
Can Lingual Braces Treat an Overbite?
While anyone can wear metal and ceramic braces, lingual braces are recommended only in patients whose bite permits them. To wear lingual braces, individuals must have upper and lower bite relationships that accommodate braces.
So, people with a deep vertical overbite may not be candidates for lingual braces as they will apply strong biting forces on the brackets, causing them to dislodge.
Results with Lingual Braces
Lingual braces are ideal for individuals who are conscious of their smile. Though earlier lingual braces had minor shortcomings, today, the success rate of orthodontic treatment with them is at par with that of traditional braces.
To ensure precise and predictable treatment, lingual braces are fabricated using CAD/CAM machines and robotic wire-bending technology. The technology used in these braces is similar to traditional metallic braces, but the advanced technology gives the orthodontist more control over tooth movement.
Do Lingual Braces Take Longer?
Regardless of the type of braces you choose, orthodontic treatment takes time. But do lingual braces take longer to complete treatment? Compared to traditional metal braces, lingual braces may take slightly longer, depending upon the complexity of the case.
Impression making is a critical step in the case of lingual braces as they are custom fabricated due to the position of the premolars. Lingual orthodontics can be used for all malocclusions but may not be recommended for severe cases of deep bites and overjets due to the lack of space for brackets when the individual bites.
Top Advantages of Lingual Braces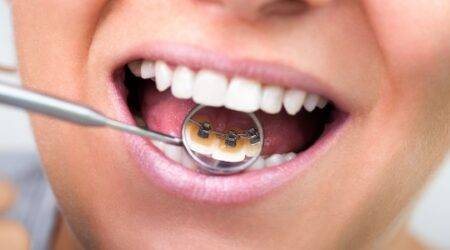 Lingual braces have many advantages that make them a preferred choice for many people:
They are not visible unless someone looks carefully into your mouth. Many people delay their lingual braces treatment for an event or special occasion, but with these braces being well-hidden behind your teeth, you need not worry about them showing up.
Lingual braces are just as effective as traditional metal braces
They are strong and durable and can pull off several complex tooth movements.
Disadvantages of Lingual Braces
Lingual braces have several disadvantages, such as:
They are challenging to wear throughout treatment as they are close to the tongue. It is normal to experience speech problems, frequent tongue ulcers, and extreme discomfort with lingual braces.
Your periodic or monthly orthodontist appointment takes longer with lingual braces than with conventional ones.
Cleaning and oral hygiene maintenance are challenging and more complex with lingual braces. Though you can improve brushing and floss with lingual braces, it is difficult and time-consuming.
Despite the cons of lingual braces, we can be hopeful that continued advancement in lingual orthodontics will eventually do away with these disadvantages.
Since the disadvantages of lingual braces are more than the benefits they offer, many people refuse to wear them. If you are looking for aesthetic braces that are as effective as conventional metal and ceramic braces, clear aligners are the best option!
Ready to get your dream smile with clear aligners? Reach out to Sabka Dentist for your orthodontist appointment and treatment with SD Align aligners!
Frequently Answered Questions
1. What is the cost of lingual braces in India?
The cost of lingual braces begins at INR 72,000 and can go up to INR 1,90,000 in India. The cost of lingual braces in India is higher than conventional metal and ceramic braces since the brackets are sleek, the entire apparatus is customized, and the technician and orthodontist require additional training to manufacture and perform lingual orthodontics, respectively.
2. Are lingual braces costlier than traditional braces?
Due to their technological advancement, technique-sensitivity and aesthetic nature, lingual braces cost slightly more than traditional metal and ceramic braces. Due to their placement on the backside of teeth, they are also called inside braces.