When the upper surface of the teeth gets damaged, it not only affects aesthetics but also causes a threat to the protection of the teeth. To restore the appearance, the dental expert will use a dental crown. It is a better and more practical method.
During the dentist check up, doctors know that there are some teeth that require restoration. The choice of restoration method largely depends on the extent of the damage.
Crowns or caps are used commonly because they are reasonably priced, and they last long. The price depends on the type of crown selected. This artificial dental restoration or prosthesis is placed over the damaged tooth.
Is the purpose of using a dental crown to bring back the appearance only? No, it also gives support to the structure. Therefore, doctors spend some time in research. They check the properties, strengths, and weaknesses of each type of crown.
Types of crowns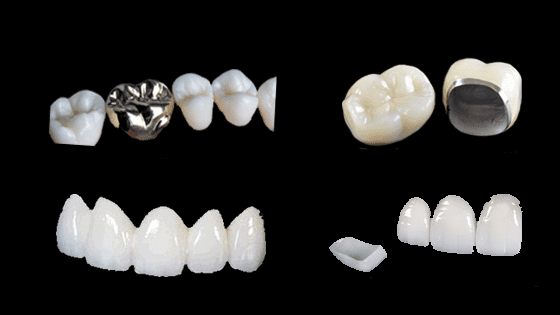 Cost is indeed the most important aspect that affects the decision. However, your dentist will give precedence to the quality and utility of the crown. As the cost of dental care in India is becoming more affordable, more choices are being offered to people. The best should be chosen based on the material, cost, procedure, and the needs of the patient.
Here are three types of crowns.
Metal Crown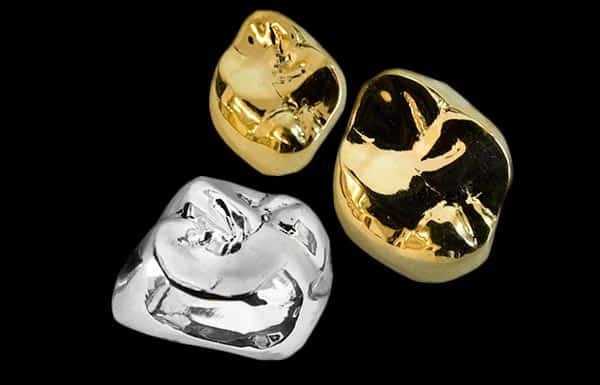 Metal crowns are known for their durability and strength. They are a combination of chromium or nickel with copper. Their color and aesthetics are not suitable for froth teeth restoration. However, they are preferred for back teeth restoration (posterior restoration), mainly second molars.
The positive aspects of Metal crowns are many. They are strong and highly resistant. With a little care they last long.
To fix these crowns, a lesser proportion of the natural tooth is required to be removed. Like our natural enamel, they wear very slowly.
The downside of these crowns is they do not look like a natural teeth. Also, some people may get side effects like swelling. Doctors can find out the right treatment after performing dentist check up,
All Porcelain Crown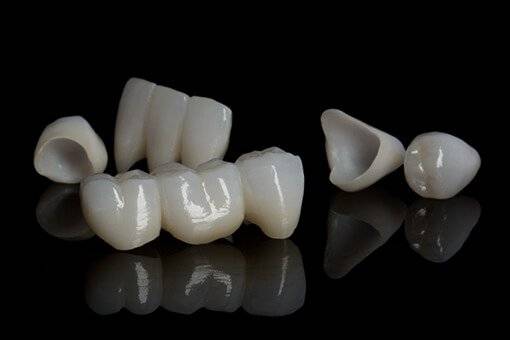 The most popular category of crown used by dentists today is Porcelain Crown. As the name suggests, it is entirely made of porcelain material. Since porcelain or ceramic offers exactly the same look as natural teeth, they are used for all types of restorations. These teeth match the surrounding teeth in size, color, and shape.
Some advantages of these teeth are that they are biocompatible. Since there is no metal in these teeth, they are toxic-free. All Porcelain Crowns are suitable for front teeth restoration due to their natural look.
Some advantages are there. They are not as strong as metal crowns. You need to take proper care to ensure their long life.
People who have the problem of bruxism should not use porcelain crowns.
They are costlier than metal crowns.
Zirconia Crowns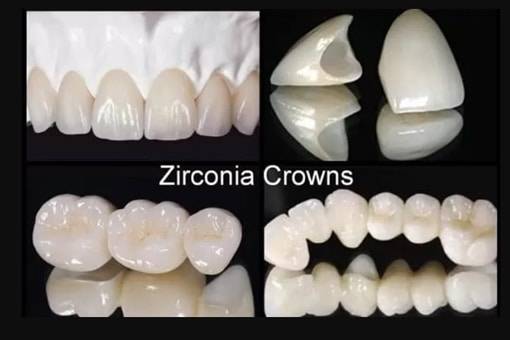 They are the new-age crowns. Zirconium is a relatively new material that combines the goodness of metal and porcelain crowns. You get the aesthetics of porcelain and the strength of the metal.
The two popular choices of Zirconia crowns are High Translucent zirconia and layered zirconia. Both are used by dentists for restoration purposes.
Some advantages are there. These crowns offer the exact appearance of natural teeth. The possibility of chipping and breaking would be very minimal. With a little maintenance, they can last long.
Since Zirconia can be cut and shaped easily, it becomes easy to cut and shape it.
They are less likely to wear. Since they are metal free, these crowns do not cause any allergic reaction.
The disadvantage is that solid zirconia is tough to adjust.