Sabka Dentist – Teeth Cleaning in Surat
A happy smile always shows a new confidence in a person that also shows good oral health. However, despite regular brushing and flossing, many people have stains or other discoloration problems. Here, teeth cleaning is one of the ideal ways to make teeth clean. In Surat, visit your nearest Sabka dentist branch to get wonderful teeth cleaning treatment.

Teeth cleaning is just as simple as it sounds, of course when it is carried out by the proficient and devoted dental health experts of Sabka Dentist in Surat, Gujarat. Recommended twice a year by our dental health experts, teeth cleaning in Surat isn't as dreadful as it may seem. In addition to that, it is also a painless procedure. The settlement of tartar and plaque on your teeth is what causes bacterial infection like cavities, for example. To steer clear of any instigator of such infections, it is important to visit your dentist and get your teeth cleaned.
You may now wonder why get it professionally done, when one can, very conveniently, sit in his own comfortable space and achieve so with the means of brushing and flossing. Well, give it a second thought, because those two methods aren't going to suffice. Many times, a toothbrush isn't capable of reaching deep into the spaces, where food may be stuck. In such a moment of crisis, deep teeth cleaning in Surat at Sabka Dentist is what can be the hero in the hour of need. Let us see what this procedure is exactly.
Who is this treatment meant for?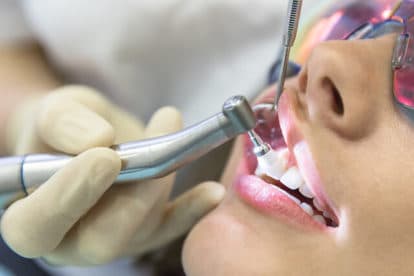 Oral prophylaxis, another term used to refer to teeth cleaning, is usually meant for each and every individual, specially designed for the ones with bad oral habits. Specifically, it is also meant for the smokers, or the ones chewing tobacco or betel nuts, or the ones on whose teeth the tartar and plaque can be seen deposited, leading bad breath and gum problems. Not getting your teeth cleaned can definitely cause basic issues like bad breath or discoloration but also lead to serious oral health issues such as gum and bone disease.
Teeth Cleaning – explained
A basic as well as uncomplicated procedure, teeth cleaning is a procedure that does not require surgery. Moreover, it is the precision and accuracy of the dental health experts, that perform this procedure, to eliminate the tartar, plaque and other causes of discoloration of the teeth as well as bad breath and other symptoms of poor oral health.
Benefits of teeth cleaning:
Teeth cleaning, on its own, is an impeccable procedure that serves as a benefit for each individual trying to improve their oral health. Keeping aside the fact that it resolves many oral health issues, some of the benefits that teeth cleaning has in store for individuals are as follows :
Reducing the chance of gum disease: The establishment of plaque initiates the development of gingivitis, which is a step forward towards gum disease. Plaque begins to form due to the accumulation of food, and hence, teeth cleaning, with ease, helps one to get rid of this plaque, thus eliminating any room for bleeding gums or gum disease.
Cavity prevention:As mentioned earlier, plaque is a serious threat to oral health. Bleeding gums is not the only scary consequence. Furthermore, plaque also can lead to decaying of the tooth, causing a bacterial infection, or a cavity. Teeth cleaning helps to get rid of plaque that has been settled on the teeth for a long time, thus avoiding the development of any cavities.
No bad breathWith teeth cleaning, you can be assured of having no bad breath. Bad breath can topple your confidence and really stir up all that self-esteem. Plaque and tartar, yet again are the reasons behind bad breath. Teeth cleaning is an effective method to avoid having bad breath.
Teeth cleaning procedure:
As simple as it is, teeth cleaning is a procedure that also requires a systematic order of steps to be followed. Teeth cleaning can be simplified into four simple steps, which are carefully performed keeping in mind the high level of precision required. The steps are as follows:
Dental check-up: To get an idea, the dental health expert will first perform a routine dental check-up. Very precisely, the presence of tartar, plaque, and any other bacteria is checked for. The presence of any of these elements paves the way for the second step of the teeth cleaning procedure.
Removal of plaque and tartar: To scrape off the tartar and plaque, a dental instrument known as scaler is used. The scaler, while being used, will make a scraping sound, which should cause no worry because it is perfectly normal. The scraping will start from your gum line and then recede between your teeth, as that is the area where the plaque and tartar are settled.
Toothpaste cleaning: Using an electric toothbrush, the dentist will then deep clean your teeth with a gritty toothpaste which will have the makeup as similar as to a scrub. This will helps in exfoliating the teeth, very gently and also in deep cleaning.
Reexamination: A double checkup is required to check if there is any slight hint of tartar and plaque present. On rinsing your mouth after the third step, the dentist rechecks if the teeth are thoroughly cleaned. This also involves checking the presence of any other oral health and hygiene issues.
Time required for the procedure:
Depending on the severity of the issue, is the duration that it will take to complete the procedure. For instance, in the case of the presence of a lot of tartar and plaque, that has accumulated over the years, the teeth cleaning procedure may require two or more visits to the dental clinic. However, in the cases of an individual having it done before, it will be made easier for the dentist to work upon, and therefore, will be completed in one visit itself.
Post-treatment care:
Any acidic, hard, colored foods causing stains or discomfort must be avoided after the procedure to avoid reaching back to square one.
Mild sensitivity is natural after the procedure. Hence, utilizing a teeth-sensitive toothpaste will be ideal if you it causes discomfort.
All bad oral habits like smoking, chewing betel nuts, tobacco, etc must be avoided for good.
Key points to pay attention to:
Teeth cleaning in Surat is a very effective procedure, but better oral health requires brushing and flossing twice, every day to maintain it to a healthy level.
Habitual routine dental checkups, twice a year, should become permanent in your life.
Drink more water, beneficial to your physical and mental health, as well as dental health as it helps is flowing out any waste elements accumulated in the teeth gaps.
No stick food items should be eaten, like lollipops, chewing gum, etc.
Acidic foods like oranges or beverages like tea and coffee are a big no.
Treat your teeth with care. Do not open bottle caps, or tear any paper or wrapper, and instead, carefully use them for what they are required, not more, not less.
U-1 Regent Square, Office No 111, Above D- Mart Near Mahalaxmi Mandir, Gangeshwar, Somnath Mahadev Rd, Adajan, Surat, Gujarat 395009
M/1, Mezanine Floor, Bhagwati Darshan Appartment, Near Umabhavan, Bhattar Road, Surat, Gujarat 395007
Office C/1, Mezzannine Floor, Swami Narayan Complex, H.No: 2/1932/1, Majura Gate, Near ITC Bldg, Kailash Nagar, Majura Gate, Surat, Gujarat 395001