Dental Clinic in Bhattar Road
Address: M/1, Mezanine Floor, Bhagwati Darshan Appartment, Near Umabhavan, Bhattar Road, Surat, Gujarat 395007.
Monday – Saturday 11 AM – 8 PM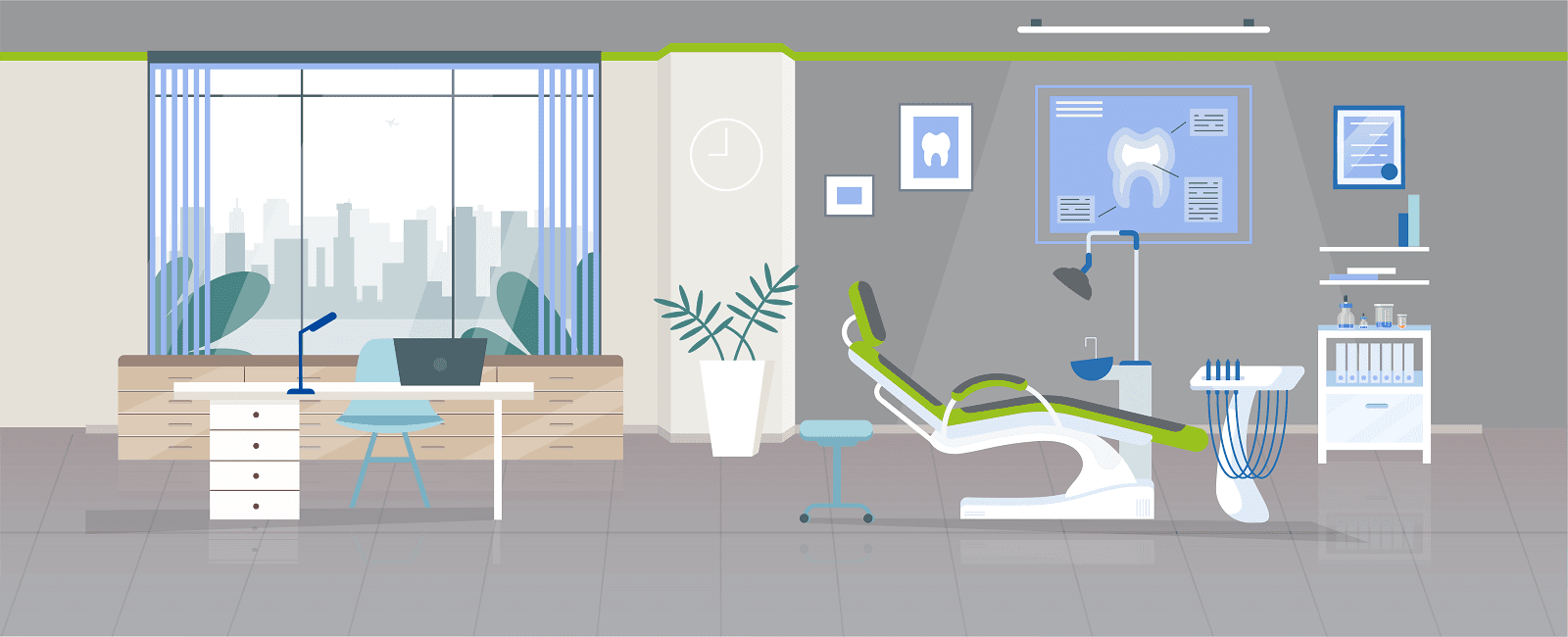 Offers a relaxed and unique dental care experience, coupled with the highest standards of dental treatments. Dentistry absolutely need not to be anything less than a pampered pleasant experience. Dental treatments in Bhattar Road, Surat at Sabka Dentist dental clinic confines in a calm surrounding and, will amaze you with how painless and fast most of the modern dentistry is! At Sabka Dentist, our aim is to provide good oral health and create beautiful smiles. In the process of achieving this, we provide an excellent implant, preventive, restorative, and conventional dentistry. Our commitment to these goals provides you with unparalleled service with the highest standards of dental hygiene in a comfortable and pampering environment. We know you will be delighted, not only with the treatment but with the way you are treated. Here you will find a welcoming ambiance with warm, friendly staff and total transparency.
All dental treatments from dental crowns to major smile makeovers; a wide range of dentistry procedures and full mouth dental implants; everything is available under one roof!
Well trained and specialized dental team constantly staying updated through continuing dental education.
State of the art treatment techniques and instrumentation.
Value for money treatment options and costs.
Zero waiting policy.
Priority treatment completion at no extra cost for time-bound patients.
If you are looking for any type of dental treatment like metal-free crowns and bridges, veneers, dental implants, tooth whitening, implant dentures, smile corrections, gap closures, fixed teeth, root canal treatment, gum surgery, kids dentistry, laser dentistry, gummy smile correction, wisdom teeth extractions, dental X-rays, etc., we are the ideal choice for best dentists for dental treatment in Surat, India.
In case you are particular about your dental health care, you ought to pick the best when it involves oral checkups and treatments. Sabka Dentist is consistently ranked among the best dental clinics in Bhattar Road, Surat. At Sabka Dentist, people not just obtain top class treatment for their oral concerns, but will also get to enjoy one of the greatest in-clinic patient experiences across India. No matter the background or profession of an individual, we make certain that all of our patients feel at ease and experience no issues when approaching or getting their oral health issues across to our dentists. We are one of the top dental clinic chains in Bhattar Road, Surat, and have a legacy that is unrivaled by any other dental clinic in Bhattar Road, Surat, India. Our dentists are some of the best dentists in Bhattar Road, Surat.
Sabka Dentist often makes it to the list of best dental hospitals in Bhattar Road, Surat, owing to our excellent team of dental experts and doctors, and state of the art facilities within our dental clinics. Sabka Dentist was started way back in October 2010, with a single medical clinic in Vile Parle. Currently, we have grown to around more than 100 clinics in Mumbai, Pune, Ahmedabad, Surat, Bangalore, Navi Mumbai, Thane. Our team works to encourage better dental health and aid people today to truly feel and look good and proudly carry their smiles. No wonder, resulting from our team's devotion and vision to help spread smiles across the world, we have frequently managed to get on the list of top dental hospitals in Bhattar Road, Surat.
Hence, the next time you plan to visit a 'teeth hospital in Bhattar Road, Surat, we should be at the top of your list of dental hospitals in Bhattar Road, Surat. Consider us your own 'Apna Dentist'; our dentists are some of the best dentists in Bhattar Road, Surat, and we can help you with your tooth concerns so that you can carry on and spread happiness across with your wonderful smile.

Aashirwaad Creation
13:54 11 Feb 21
The clinic was very clean all hygiene aspects were very well maintained. Welcome attitude and inspection with X-ray examine was quick and highly satisfactory. The Lady Doctor Nidhi Desai nicely explained the present condition of my teeth and immediate measures like Tooth extraction,Implant, crowning to Bridge to be taken with charges for these services were very well explained with patience. A very nice and satisfying experience. Keep it up.

Harshad Vashi
10:33 10 Feb 21
Value for money. You guys are doing your work very professionally. I have got the updates on time via call/messages & I would also like to give special thanks to Dr Nidhi, who responded to almost all of my calls.Thank you

dharmendra pawar
09:27 05 Feb 21
Great qualified doctor who did the cleaning. Appointment on time

Aman Narang
12:37 09 Jan 21
I am personally very much happy with the service given by Sabka Dentist. My husband recently did a filling on his tooth and we find the service really food. It's value for money. Cost effective with good service. I also do my regular cleaning to teeth at sabka dentist. I suggest that all should take service of Sabka Dentist and you will yourself see how cost effective it is with beat service.

Yogita Panchal
04:50 29 Jul 20

ami Katwala
14:32 19 Mar 20

Veniit Mour
06:45 19 Mar 20
Nice service good cleaning i am happy

Manoj Panchore
05:47 19 Mar 20
Nice service good all saff 🙂

Ali Mansuri
07:10 18 Mar 20
I have done root canal treatment n cap.. I am very satisfied with treatment n done by sachi modi.. but she doesn't give me discount...

sumiti mehra
13:20 17 Mar 20
Sabka Dentist is really defining what it name says...Doctors are highly experienced and they explain every procedure during treatment...Staff are very helpful...I highly recommend to all people out there...

Pannkaj Pareek
09:35 16 Mar 20
Good facility And Good Service

Sandeep Shinde
15:09 14 Mar 20

Manoj Parekh
12:58 14 Mar 20
"Sabka Dentist" They've got really experienced and skillful doctors with proper management along with maintaining proper hygiene.I got really quick results (approx. 9 months) in teeth alignment by braces by the adept hands of Dr. Zuber. He is really skillful that he patiently did the treatment in every appointment along with giving me whole explanation of the procedure of treatment.. So that I am aware of what all procedure is going on with my teeth at every step.I highly recommend you all to get treated by Dr. Zuber at Sabka Dentist because I had a very satisfactory experience throughout my treatment.Management has also been so well that they haven't missed any reminder call for appointments other than texts throughout my treatment of more than a year.Sabka dentist is so trustworthy that currently 4-5 relatives of mine have been the patients here at Sabka dentist.

Garvita Surana
07:47 13 Mar 20
Nice service good work scaline I am happy thank you all satff good

Shishank Singh
07:48 12 Mar 20
It was a nice session. Visited for my daughters and my checkup

Ramji Tiwari
07:27 12 Mar 20
Good dr sachi modi thanks

Basant Nemani
15:12 11 Mar 20
Guidelines is best for treatment.

Bablu Patro
12:06 11 Mar 20
Good thank you Dr Sachi modi

AmiT Parekh
08:50 07 Mar 20

Good best service thank you

PRAMODKUMAR SINGH
07:44 05 Mar 20
Excellent service. Expert doctors and very good behavior.

jitu Patel
06:41 05 Mar 20

Piyush Agarwal
15:26 03 Mar 20
Good nice servie thank you all dr and all satff

Abhishek Bedse
12:38 02 Mar 20
Good nice plac god all satff

SULTAN MIRZA54
12:12 02 Mar 20
Good nice service thank yoh all dr and all aatff good

vinod mourya
08:24 02 Mar 20
Nice good experience with Santa dentist good

सुरेंद्र मिश्रा सुरेंद्र मिश्रा
07:09 02 Mar 20
nice service thank you dr sachi modi god all saff and recptionist very hygienice place

AKSHAY Pal
06:55 02 Mar 20

Ravidutt Sharma
15:01 29 Feb 20
Very Good Corporation & Cheaf Price

mukesh patra
06:55 29 Feb 20
Very good nice service good all staff Dr sachi modi best Dr

Suresh Minama
07:59 27 Feb 20
Nice service thank you dr sachi modi all saft good

Laddu Tulsyan
06:45 27 Feb 20

Kalpesh Topiwala
15:19 26 Feb 20
Nice service good work I am so happy all very good satf

Vishal Otari
13:17 26 Feb 20
Good nice service and very helpful all staff i am happy best place

Vivek Rajput
06:26 26 Feb 20
Good nice service so good 🙂☺️

sankesh sarkale
12:27 24 Feb 20

Hardik Mehta
08:09 22 Feb 20
Nice facility given, humble staff.

Nidhi khanna
14:59 21 Feb 20
Good thank you dr sachi modi

YadavShivasre Chhotelal
08:41 19 Feb 20
Good best service nice i am Happy all staff best vgood

Bharat Kapadiya
14:18 18 Feb 20

SATISH RATHOD
12:19 18 Feb 20

Nikita Sanghvi
12:24 15 Feb 20
service of sabka dentist and checking is very fine and satisfied.

bhavin shukla
13:56 14 Feb 20

Bobby Desai
05:39 14 Feb 20
Good best nice service I am happy

Alok Agarwal
13:55 13 Feb 20

niks Chauhan
08:05 13 Feb 20
Nice dentist very calm and friendly

Agarwal Sunny
07:38 13 Feb 20

Subodh Master
12:57 11 Feb 20

shabaaz nirban
08:06 08 Feb 20

mayur jadhav
13:13 07 Feb 20

Deepak Singh
06:05 06 Feb 20

sarswati myuzicle group umara de gopal gawai
05:12 06 Feb 20
Good nice i am happy all staff good

Akash Chaudhary
15:13 05 Feb 20

Tanya Koreth
09:27 05 Feb 20

Ajay Pardeshi
05:25 05 Feb 20
Doctor is very kind hearted, very intelligent and well behaved. I like her behaviour, her way of talking. Clinic is well cleaned


saket joshi
07:37 01 Feb 20
Nice service i am happy all staff very nice good

AJAY BELSARE
13:12 31 Jan 20
Good service good patient counselingThank you sabkadentistHappy with treatment

Ronak Bhandari
07:48 31 Jan 20

mkp aman Raaz
07:04 31 Jan 20
Good I am happy nice place

Phoolchand Kahar
06:54 31 Jan 20
Good nice place thank you very good Dr poja

Baramh chari mistri
06:50 31 Jan 20
Good nice service thank youdrsachimodi

Ujwal Prajapati
08:39 30 Jan 20
Good nice service thank you Dr Sachi modi all satf good

Vinod Dayani
06:51 30 Jan 20

Pammi Narang
06:10 30 Jan 20

hitesh mistry
12:37 28 Jan 20
Good place nice I am happy thank you Dr vijay 😊

Deepak Patil
15:13 27 Jan 20
Nice good best I am happy my teeth good

Aziz ansari
13:39 25 Jan 20
nice place all good staff Dr best

Sangita Wankhade
13:32 25 Jan 20
Nice thank you sabka dentist happy 😇😇

Manish wankhade
13:30 25 Jan 20
I am happy thank you dr sachi moni all saff good😊

Amit Parikh
07:42 25 Jan 20
Good best i am happy nice service all good staff

Asaram Jaat
07:01 25 Jan 20
Nice place I am happy than you

Suresh choudhary jat
07:00 25 Jan 20
Today I visited the sabka dentist in bhatar surat. I like the service and treatment here.

Dilip Mishra Andaj Shayrana
14:42 24 Jan 20
the experience was good and Dr are gental with patients and staff is also supportive.

Milan Trevadiya
13:16 24 Jan 20
Good nice place thank you dr Vijay

Shirish Bhavsar
12:38 23 Jan 20
Had a great experience & satisfied treatment 👍

Rohit Gupta
09:10 23 Jan 20

ANIL KUMAR RAY
08:22 23 Jan 20
A really good experience with sadka dentist thank for Dr Sachi nice place good all stfa very hygiene receptionist all good,🤗🙂☺️

KAMLESH MARATHE3623
05:35 23 Jan 20

Jain Vipin
15:51 22 Jan 20
Good, and awesome and normaly charges.

Mahesh Dodiya
15:28 22 Jan 20

Dhruv Mehta
12:45 22 Jan 20

Jaimin Jariwala
07:52 22 Jan 20
Good thanks dr sachi modi nice place

Tarun Bhai
06:52 22 Jan 20
Good i am happy nice place all staff

Kantilala Surati
13:25 21 Jan 20
Good experience with Dr Vijay mehta

Pravin Tanawala
08:55 20 Jan 20

Hanuman Maloo
05:19 20 Jan 20
Happy and satisfied with my teeth cleaning and I don't have to wait for long

MyLife Ab Ali
12:27 16 Jan 20

Dnyaneshwarl Rathod
12:20 16 Jan 20

Rahul Pawar
13:44 13 Jan 20

Mahendra Phafat
13:48 09 Jan 20
I m so happy, nice device all staff & reception place are hygienic.Good service good behaviour with patientFrom : Sunita Goyal

sudha goyal
11:19 09 Jan 20

Jay Prakash Shah
08:45 09 Jan 20

Umesh Patil
08:34 09 Jan 20

Rajul Jain
15:21 08 Jan 20
Staff response is too good and got proper guidance. Thanks

Shaunak Bhatt
06:39 07 Jan 20
Sabka dentis is a very good nice sevice thank you dr pooja nice place god staff reseptionist i am happy

Sunny Rathod
15:23 06 Jan 20

Manan Patel
08:30 06 Jan 20
Friendly experience, good service

Pankaj Gajraj
13:05 04 Jan 20

vikas kumar
12:42 04 Jan 20
Best clinic for dental treatment.i did my orthodontic treatment with self ligating ceramic braces and result is now excellent.i also did few fillings and teeth cleaning at very affordable rate.i want to thank sabkadentist bhatar clinic and dr sachi modi for their concern and doing each treatment with utmost care.

Vijay Mehta
08:12 03 Jan 20

Sunil Chauhan
13:47 02 Jan 20
Very satisfied and reliable treatment

Sandip Ingle
12:34 02 Jan 20

Pravin Gore
06:32 02 Jan 20


Jignesh Pujari
15:12 31 Dec 19

Amarnath Maurya
12:09 30 Dec 19
I am so happy very nice good Dr Sachi all staff very nice

Piyush Parekh
12:48 28 Dec 19

Krunal Patil
05:49 28 Dec 19
Very good I am so happy thanks Dr sachi

Kishor Kumar
15:02 27 Dec 19
Sabka dentist is a very good place to visit nice service good staff dr good

Namrata Sahajwani
13:32 27 Dec 19

Nilesh Rathod
08:54 26 Dec 19
It was a great experience with Dr. Vijay. He is a good consultant for dental.

Vaibhav Tekriwal
08:10 26 Dec 19
The experience was very great.


vivek patel
07:29 26 Dec 19
Nice experience..clean and well maintained clinic.. appointment based treatment ..got cleaning and polishing done..also dr cleared all my doubts..

Ritu Gupta
08:38 25 Dec 19

virendara singh
12:20 24 Dec 19
Sabka dentists nice service all staff good

Raj Salunke
07:25 24 Dec 19

Vijay Kumar Rathi
06:49 24 Dec 19

Akhil BhATIA
15:20 23 Dec 19
I am so happy thank you Dr sachi modi

Sunita Soni
08:35 20 Dec 19

SHLok Karwa
08:13 20 Dec 19
Nice service thanks Dr sachi modi god staff and receptionist Very hygiene place thank you so much I am happy

Well behaved staff and good atmosphere.

yugal rathi
14:44 13 Dec 19
It is so great!!!Doctor is very cooperative and nice. Also other staffs services are great.

Varun Jain
13:58 13 Dec 19

Madangopal Khandelwal
13:36 13 Dec 19
Excellent service and behavior

Namita Khandelwal
13:13 13 Dec 19

Riddhi jaguwala
13:44 12 Dec 19
All the persons were so good and helpful to us ...

Kamal Agarwal
15:05 11 Dec 19
All the staffs and doctors are very kind and amazing ..and very helpful to us

vaibhav agarwal
14:59 11 Dec 19
I am so happy nice device all staff and reception very hygienic place

Kiran Agarwal
14:56 11 Dec 19
My experience was good it was worth it

Amol Somani
12:01 11 Dec 19

Seema Shah
04:54 11 Dec 19

YASH AGARWAL
15:20 10 Dec 19
Professional doctorCo operative staffGo for it.

harsh agarwal
08:34 10 Dec 19
Very good treatment and very very good doctors! Patient and perfect!

digisha jain
06:40 10 Dec 19
Good place for dental problems

MODI DISHANK
15:09 09 Dec 19

Akash Gajera
08:23 09 Dec 19
Experience was good got details about problms i hd snd solution also

miral agarwal
14:13 06 Dec 19
Best treatment Nd staff behaviour is also very good

Devendra Tripathi
08:07 06 Dec 19
Good experience and good service good behavior with patients

Abhishek Vekariya
07:03 05 Dec 19

Nidhish Teliya
05:29 05 Dec 19

ZAHEDA MESANIA
15:19 04 Dec 19

Yashvi Jain
14:17 04 Dec 19
Wonderful experience, would like to prefer everyone to visit and have cleaning process of teeth. Dr. Vijay is not only cooperating but also very good at explaining everything in short!

Rocky Diwan
12:43 04 Dec 19

mirza ilyas
12:22 04 Dec 19

janvi sharma Sharma
07:15 04 Dec 19

Shailesh Patel
15:24 03 Dec 19

Arik Jariwala
05:15 03 Dec 19
Awesome service given at the Place.True knowledge which is forwarded to the Patients.Hat's Off to Sabka Dentist, Bhatar Road. Specifically thanks to Miss. SACHI

Nikunj Pati
12:20 02 Dec 19
A good experience with sabka dentist with 100% hygiene and doctor are best and friendly Dr Sachi

vinay patel
08:45 02 Dec 19
Treatment was good and the doctors n staff were very friendly over all it was worth...to go here

Romil Bhansali
05:38 02 Dec 19
Sabka dentist is a very good place to visit whenever your teeth need any kind of treatment I am so happy thank you Dr Sachin & Dr pooja jeswal


GAURAV KABRA
14:41 29 Nov 19
your service is very best

Vickey Jain
14:00 29 Nov 19
Good and intelligent staff.

jitendrasingh jandu
08:32 29 Nov 19

Payal Agarawal
07:57 29 Nov 19
nice service thanks dr sachi god staff and receptison very hygiene place😊😊😊

1002-SOLANKI KAPIL N
07:20 28 Nov 19

MOHIT SARAF
14:15 27 Nov 19

Good so so happy thanks dr pooja jeswal best dr ☺☺☺☺☺☺

Rajendra singh Chundawat
06:52 27 Nov 19
Good I am so happy dr best work dr sachi modi

Chandraveer Rathore
06:51 27 Nov 19
good work I am so happy ❣️🙂

Suresh Rajput
15:30 26 Nov 19

RAHUL SARDAR
12:50 26 Nov 19
Good treatment and good suggestion

Vinod Borase
12:22 26 Nov 19
Good teritmen i am so happy best saka dentist bhatar road thank yoy😊😊😊😊😊😊

Yograj Patil
12:13 26 Nov 19

Vaghela Vaibhav
15:04 22 Nov 19

Gopal Mahajan
14:27 22 Nov 19

Praful Kothari
05:22 21 Nov 19

Rohan Jariwala
12:28 19 Nov 19

divya jain
15:46 11 Nov 19

jagmohan jangra
07:26 11 Nov 19

Harish Garude
15:38 09 Nov 19

Yash Bhosle
13:19 09 Nov 19

kuldip rai
12:08 08 Nov 19
Dr.Pooja jeswal Thank you I am so happy

Nitin Borde
08:12 08 Nov 19

Bachchu Singh
09:14 07 Nov 19
Good dr pooja jeshwal thanks madam

Bapi Mishra
07:32 06 Nov 19
Dr nd staff was very nice nd they had done my treatment very nicely nd according to me this is a best clinic

Keshav Maheshwari
14:29 31 Oct 19
Dr pooja jaiswal ' good service make my teeth very healthy & my white teeth smile looking very goodThanks✌💯

smart india entertainment
13:47 26 Oct 19
My mom did cleaning of her teeth n is good as per the rates

Shilpa Goenka
13:56 23 Oct 19

Pratishtha Gupta
15:58 21 Oct 19
Superb support and thanks to the Dr. For unbelievable work hats off and great work and really thankful to Dr. For great support and hospitality......I will surely recommend to others to visit #Sabkadentist thanks once again

Smit Panalkar
14:50 16 Sep 19
I visited today and felt comfortable and relaxed after reaching. As it my first time they handed me a paper with some introductory questions though I felt it was lengthy.Staff was co-operative, Doctor was lineint and sweet to talk. I found my problem solved. Would recommend others to visit their for their dental problems.

Priyanka Chopra
14:57 09 Sep 19
Very good service at affordable rate.istrongly recomonde sabkadentist bhatar clinic to everyone .Super satisfied.

rajesh panda
08:24 06 Sep 19
Reasonable rates, fair treatment & proper guidance

Bhavin Lalani
14:35 27 Aug 19
It was a great experience, I see my teeth all new and shiny.Awesome service.

Govind Deora
15:33 24 Aug 19
Dr. Vijay Mehta is a very good Doctor and i liked the treatment very much.

amit choudhary
13:19 24 Aug 19

ankit talaviya
12:56 23 Aug 19
Satisfied with dr. Staff ,for service. Best treatment.

jayshri gandhi
06:48 16 Jul 19
Implant and ortho treatment i m satisfied

VIJAY GAMIT
06:53 10 Jul 19
Affordable and great guidelines

Riya Agarwal
13:15 22 Jun 19
Cleaning and filling have been satisfied

Paul Anthony Anthony
13:35 15 Jun 19
Best place to get the best services regarding your dental problems.STRONGLY RECOMMEND.

Nikhil Tailor
07:23 14 Jun 19
Scaling done professionally

Varun Sharma
12:29 07 Jun 19
Helpful docs. Awesome job

Dhruvin Mistry
13:16 04 Jun 19
SetisfiSa my treatment rct +crown

Patel Vipul
14:55 21 May 19
I have taken treatment of RCT and scaling. I am very satisfied here. Must come here

Minaxi Jariwala
13:23 22 Apr 19

Ravi Shrivastav
07:18 11 Apr 19
Satisfied scaling nice work

Dharmesh Chaudhari
17:24 10 Apr 19

vijaya tiwari
12:37 10 Apr 19
I m very satisfied for Treatment of RCT and Crown . It's very cheap place for Dental treatment.

mehul patel
14:14 06 Mar 19
Satisfied with the treatment and staff.

Antara Chakrabarti
14:25 04 Jan 19
Excellent treatment provided by sabka dentist team,my scaling and composite filling done in sabka dentist.special thanks to Dr.Ajay hadiya for providing satisfactoty result.

Dr Vishal Verma
08:40 29 Dec 18
For dental problems they are giving best and guaranteed treatments...

Good People
07:41 25 Dec 18
Satisfied with teeth cleaning treatment and very cooperative and polite doctors and staff

Vihang Desai
14:22 21 Dec 18
I have completed my treatment from Dr.Ajay from sabka dentist.I am satisfied with the work of doctors.

rajneesh pawar
08:24 21 Dec 18
I have done my RCT and crown from sbka dentist and i am fully satisfied With this treatment. Spécial thnks to dr Ajay hadiya.

Ritik kanodia
07:53 21 Dec 18

5G Patel Tirth p PATEL
15:06 19 Dec 18
Got my braces done at this place and I am super satisfied with the service. Keep it up!

shreya chakrabarty
14:34 19 Dec 18

Dhawal Gupta
12:45 13 Dec 18
Fully satisfied. Thank you doctor

Sajjad Siddiqui
13:45 08 Dec 18
Doctors really behaved bad - they arent proffetional at all. They just fool people with vouchers and tricky schemes and also cost is way higher than quality of service they provide. They force people to give them 5 stars - but my real rating is 0 star. I strongly advice not to go there.

harshil dave
15:33 24 Jul 18

Sakina Khalasi
05:30 10 May 18
This is the best dentist we can opt for! From the clinic,to the doctors and the treatments were too nicely n properly done that too with utmost care! Everything is so perfeeccctttt about Sabka dentist !👍

Harshita Satija
15:04 11 Apr 18
Good experience.. polite staff.. overall not that hurtful treatment here

BHAVIK VAGHELA
06:27 10 Apr 18

mahendra panwar
14:19 07 Apr 18
Treatment is too good and I am Satisfied with the treatment And highly recommended

vipul ghiya
13:35 07 Apr 18

Shailesh Ramani
05:16 07 Apr 18

radhaswami 2002
12:18 29 Mar 18

3g Sanvi krunalbhai Patel
12:05 29 Mar 18

nilesh rathod
15:36 26 Mar 18

Ravi Musale
06:41 15 Mar 18
Good treatment I had done my son's wire Wada treatment and I liked it...

Mayur Patel
05:21 15 Feb 18

Reshma Kapadia
12:54 14 Feb 18
Good service its my own experience and highy recommended. ....

tejpratap mydentist
12:15 14 Feb 18
Good treatment I liked the service and painless...

Pallavi Sutar
13:04 07 Feb 18
It's great experience with them...they take timely follow ups..perfect guidance..and superb result after treatment..

Vigilant Tactician
06:08 01 Feb 18

Mansukh Ladani
12:41 21 Dec 17
Very professional services.

Payal Ladha
12:32 21 Dec 17

Akash Patil
06:36 21 Dec 17
Good treatment and good experience and I did my ortho wire walk treatent aala. Good clinic and staff.

Gunnuuiky Gunnuuikey
14:31 16 Dec 17
It's good for me treatment

rajesh rathod
07:16 14 Dec 17
Response is too good and treatment wise is also good and result is also good. Good experience.

i like the treatment of sabkadentist bhattar road and rate is very cheap and treatment is also good and quality of treatment is also good. i was happy with the treatment.all the best

Patel Shem
14:17 08 Dec 17
Treatment of braces is good and reminders are very regularly coming from the clinic if we forgot also but they are not so it's too good service. Good experience.

surekha shah
12:00 08 Dec 17
Good treatment. ...nice clinic environment

sandip pagdar
09:24 29 Nov 17
Treatment is too good Dr is also good.

Ramchandra Chanda
13:28 22 Nov 17

Patel Hemant
06:08 19 Nov 17

Bhavin Patel
05:35 19 Nov 17

bharat patel
12:43 18 Nov 17

KULDEVI KRUPA STATUS
12:22 16 Nov 17
I am ortho I patient means wire wala treatment done i sabkadentst bhattar i feel good after completion of my treatments and skills is also good

Jagruti Rai
15:16 15 Nov 17

Sagar Gavde
13:06 15 Nov 17
In my dentist clinic my treatment is better than other clinic & it team work is good.

vidhya chaudhari
12:10 15 Nov 17

rashmi kumari
10:28 15 Nov 17
I felt very good.good envarment.good sarvish

Nagsen Ingle
17:25 13 Nov 17

It's good Treatment for. I feel very good good

Patel Tushar
17:45 11 Nov 17
It's very good environment. I felt very good

Rahul Nayaka
16:44 11 Nov 17
It's a very good experience and nice environment . I would suggest you to all people for the dental treatment you can go there and visit once you will feel also good. Visit once.. 😊😀☺

Hansaben Vaghani
09:34 11 Nov 17
Nice experience and good treatment. Painless treatment of my tooth.

Bhavik Vaghani
08:52 11 Nov 17

Nehal Patel
14:03 10 Nov 17
I am patient of bhattar road sabkadentist dentist I took the full mouth treatment almost 2.5lac it's a very good experience and my treatment awesome and my look is different after the treatment

Vansh Patel
14:14 09 Nov 17
i like the treatment of sabkadentist bhattar road and rate is very cheap and treatment is also good and quality of treatment is also good. i was happy with the treatment.all the best

Patel Vipul
16:49 08 Nov 17
Great service. Very experienced and knowledgeable doctors. Highly recommended

Nijesh Hirpara
09:21 06 Nov 17

Nikita Kubadia
05:57 04 Nov 17

Anil Kumawat
05:40 04 Nov 17
Its nice experience with doctor..and i am happy to have that i am doing my treatment here..happy to smile..

Bhumi Jariwala
04:27 04 Nov 17
I am a ortho patient and i really feel its too good service kindly go and visit this for dental c treatennts.

aashi nagpal
15:01 03 Nov 17
Nice.my sister's treatment result was good

Radhika Jetha
14:29 03 Nov 17

umashankar mishra satyanarayan mishra
14:03 03 Nov 17

Jayesh Patel
13:26 03 Nov 17
😊jesa socha tha..use...kai accha rejlat mila h muje... thanks.....all staf membrs...doctar....😊😊👍👆😀😄

Rajkumar Mali
13:12 03 Nov 17
Nice experience overall.. make sure you payEMI on time😂

Rajput Mukesh
13:00 03 Nov 17
I like the treatment and I am satisfied with the treatment and I feel happy

Goswami Hardik
10:46 03 Nov 17

Chaudhari Priyal
08:04 03 Nov 17

Rajendar Singh
06:20 03 Nov 17
i felt very happy. and i went another clinic also but compare to others this dental clinic is tood for the treatment. so would suggest all the people to go there for the dental treatments.

Ronak More
15:15 31 Oct 17
i like the treatment and i am satisfief with the treatment and i feel happy to visit this beast luck .

Divyesh Rathod
15:08 31 Oct 17
i like the treatment of sabkadentist bhattar road and rate is very cheap and treatment is also good and quality of treatment is also good. i was happy with the treatment.

roshan patel
14:47 31 Oct 17
service is too good. i like the way i treated.

Surat Bhattar Road
14:33 31 Oct 17