There has always been a common misconception that, 'home remedies is the permanent solution for all the problems', which means that brushing, flossing, and rinsing with a mouthwash will 100% clean all the teeth and gums. But there is little to know that such a home solution or treatment will not help to resolve the condition of the teeth. In such a case, Pro cleaning treatment is necessary.
Now you will be thinking how can brushing, flossing, and mouthwash does not completely helps to get rid of the stains on the teeth? The reason behind this is there are some toothpaste for whitening of teeth and stain-free that claims that 2-time brush a day will give you 100% clean teeth such statements are false, because there are plaque and tartar which are build-up on teeth that gets hard and difficult to get removed.
There are a lot of studies that link oral hygiene with the overall health. It is widely accepted that good oral hygiene is linked with good cardiac health. But for maintaining oral hygiene and dental well being the following are the most important habits:
Brushing twice a day with a fluoride toothpaste and following correct brushing technique.
Flossing at least once every day.
Visiting a dentist every 6 months.
Accomplished dental cleaning and scaling treatment every 6 months.
Professional teeth cleaning performed by experienced dental experts is essential for dental health and aesthetic appeal. If you have not had your teeth professionally cleaned in the past six months, it is time to schedule an appointment with the dentist at Sabka Dentist. Here's why.
Professional Cleaning is done thoroughly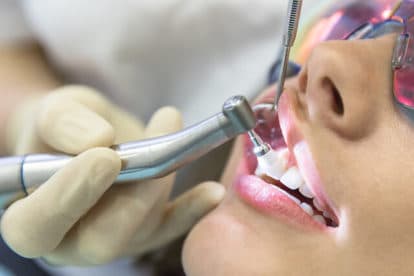 Though brushing, flossing, and mouthwash does fairly a job of maintaining the hygiene of the teeth and removing the trapped food particles and bacteria, that is frivolous as compared to that provided by the dentist. If you have ever noticed that there are gaps between the teeth and areas in the mouth where the toothbrush bristles cannot reach. Flossing also cannot remove all the sticky particles. Hence, Professional cleaning is necessary to remove all plaque and tartar from the bottom to the gap that can't be eliminated from everyday cleaning of teeth.
Professional cleaning will give you a perfect smile
Everyone wishes for a bright and stunning smile that flawlessly changes one's appearance. By brushing, flossing and mouth rinsing smile cannot be achieved. Hence, professional teeth cleaning process ease your smile by removing plaque much more effectively than any DIY method.
Professional Teeth Cleanings Battles Gum Disease
Sometimes bad oral health causes gum disease. Gum disease can impact the tissue around the teeth which gets affected, causing bad breath and possible bone loss if untreated. If the gum disease increases it will weaken the condition and make the gum problem worse.
A professional teeth cleaning provides you with the opportunity to find out whether you have gum disease, reverse the effects and treat the problem before it worsens. There is a good chance that you will have no idea about your gum disease unless you meet your dentist for professional teeth cleaning, analysis and do the treatment. Avoiding regular dental check-up can make you much more prone to gum disease.
Professional Teeth Cleanings Maintain Oral Health
It is necessary to visit the dentist at least twice a year, if you don't your oral health will suffer. It is the important aspect of once appearance. Cleaning is not only the motive to visit a dental clinic, dentist at Sabka dentist will help and guide you to pick this professional's brain about your oral health. The Dentist will provide the right suggestions for your teeth and oral health. If you skip or unwish of not going to the dentist it will worsen your oral health as time progresses.
Early detection is important to thwarting dental issues before they progress to major problems that significantly compromise oral health. As an example, 6-month dental visits provide the dentist with an opportunity to identify the early signs of oral cancer and take immediate action by giving the right treatment.
Professional dental instruments are necessary to clean the plaque that is deeply set on your teeth. Scaling and planing tools are necessary to clean away tartar that has built up around the teeth in areas that are especially difficult to clean with merely brushing. This is an in-depth clean process done with specialized instruments at Sabka Dentist for Rs 1000/- that will really eliminate that nasty dental film, plaque, food particles and other threats that affects the oral health.
With the reading of the above wants Sabka dentist has developed Pro-Clean Package which incorporates the following:
Complete Dental Check-up
A detailed oral health assessment report
Complete Cleaning and Scaling of Teeth using an Ultrasonic Scaling Machine
Polishing of Teeth with flavored polishing paste
Follow-up reminders
All of the above are included in the Pro-Clean Package for just Rs.1000/-
Other potential advances of dental cleaning
Proficient teeth cleanings are booked two times every year, while X-rays are ordinarily done once per year. All things considered, contingent upon what your dental specialist or dental hygienist sees in your mouth, they may do different tests during your visit. For kids, a dental specialist may prescribe molar sealants to help forestall pits in difficult to-brush territories.
Regardless of whether you need any extra advances or not, the key is to prop up back to the dental specialist for ordinary teeth cleanings to forestall issues by and large. By understanding what's happening ahead of time, you'll feel more quiet — and perhaps anticipate these arrangements.