What is the trismus?
Trismus, also known as lockjaw, is the condition where your jaw movement will be restricted with pain in that area. The chewing muscles will become inflamed and infected, and this will lead to restriction of your jaw movement. Usually fully opening refers to opening beyond 35 millimeters wide, a little wider than the width of two fingers. When unable to open the mouth, several problems may arise. Such as it is difficult to eat and swallow the food. It is also difficult to maintain oral hygiene. Sometimes it may be difficult to speak too. This condition is commonly found in a particular group of people, certainly those who:
Who had oral surgery to remove their wisdom teeth
Who had neck cancer in a region involving structures that influence mouth movement.
Who have undergone surgery or radiation treatment to the head and neck.
Common Causes
Trismus usually occur when you have damaged or injured the muscles of the jaw. This can happen due to:
Trauma:
Trismus may occur when Bones of the jaw are fractured or when they're immobilized due the old fractures affect.
Oral surgery:
Trismus can emerge after any oral medical procedure, and after wisdom tooth extraction, particularly in the lower jawline. Trismus can happen because of the irritation during the medical procedure makes the hyperextension of the jaw. The anesthesia injection also damages the surrounding tissue leading the trismus.
Temporomandibular joint issue (TMJD):
On each side of the jaw, there's a joint which connects the jaw bone to the skull. Jaw movement is the main function of this. At the point when some dysfunction occurs in the joint, it may lead to trismus and pain.
Stress:
Many people are not aware that stress is one of the reasons behind trismus. You may experience pain or discomfort in chewing muscle area when there is a sudden increase in your stress level.
Radiation for head and throat cancer:
Tumors that irritate the function in the jaw area can lead to trismus. But it more commonly occurs due to radiation procedure which is treated in the jaw area. Though radiation heals the tumor it can damage and lead to scar the tissue around the joint area, often it is temporary.
What are the symptoms?
A mouth that will not fully open. Opening difficulty is the primary symptom of trismus. Other symptoms may include
Pain in the jaw.
Difficulty or discomfort while performing the routine activities such as brushing your teeth or biting into an apple.
Inability to chew or swallow certain foods.
Pain in the surrounding areas such as head neck and ears.
How it's diagnosed?
Your dentist will first perform an oral examination. He will check the signs of oral cancer, bone, and joint abnormalities. He may also diagnose by the below-mentioned procedure.
Measure how wide you can open your mouth.
Ask about any recent dental treatments or procedures.
Ask about any possible injuries to your jaw — for example if you were hit in the jaw during a sport or car accident.
Ask about any history of prior surgery or radiation therapy to your head and neck.
Order imaging studies such as a CT scan or an MRI scan to help determine whether your trismus is stemming from a problem with your joints or tissues.
Treatment options
Typically Trismus is more temporary than permanent. Early treatment always gives better chances of recovery. Some treatment options include:
Use of a jaw-stretching device: These devices used to fit between the upper and lower jaw. A dentist will tell you which stretches to do and how often. Experts say the devices may help increase the mouth opening by 5 to 10 mm.
Medication: If you are experiencing severe pain your dentist may prescribe a pain reliever or anti-inflammatory medication for a limited time.
Physical therapy: Some jaw movement and jaw stretching can help to improve the condition. Massage around the affected area can give the good result.
Managing trismus at home
Some home remedies along with the medication can help relieve trismus and prevent it from worsening. You can try these a few times during the day. Massage: Identify the areas of your jaw that are painful and, move your fingers in a circular motion, massage the area for about 30 seconds.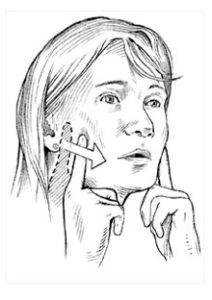 Move your jaw left to right: Though it is painful to move try move your jaw and hold for a few seconds, then repeat.
Open your mouth wide:Open your mouth smoothly as wide as you comfortably can and Hold this position to stretch it for a few seconds.
How a dentist would help me?
In Sabka Dentist Clinics our Dentists will help you to identify the reason and will treat you according to your condition. Consulting the dentist as soon you find the symptom can help you recover quickly.