Half a year through, and that is when the actual  problem begins. Or should I say, the actual dental problem begins? It is stressful, not just for them, but for everybody around them. Confused as to what I mean? Well, if you're a parent, I think you know what this is about.
The most problematic period for a baby as well as the family, teething. Teething problems in babies is a slow process ; a process wherein the teeth starts to come out, rather erupt out, slowly and steadily.
Easier way to explain it? See a baby taking its thumb, or any other object in its mouth? Yes, that's when you know teething and its problems are right around the corner. This is where the teething problems in babies begin.
Teething problems in babies usually start at the ages of six months to two years. The baby is cranky because the teeth are coming in, the parents are irritable and everything is chaotic.
The baby only aims to relieve pain when it puts any object or finger in its mouth. Swollen gums in a baby's mouth are also a very common sign, if you're still confused as to what teething is. The discomfort of the baby is a result of a new part forming in its body.
The teeth, take their own time to form, depending on their shape, largely. This is because the larger molars, cannot easily pop up or cut through the gums, whereas sharp teeth like incisors, treat this like a piece of cake. These are the common teething problems that occur in babies.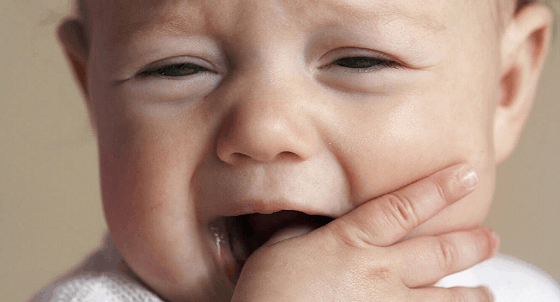 Patience is the real test for the baby. And that level is simply at its lowest and worst state, because babies are easily irritable while teething. And if that isn't enough, they still have to deal with the terrors of drooling, fussy eating habits, constant thumb-sucking and what not. So, this definitely concludes with the babies being the hero.
The teeth eruption seem like a nightmare for the baby. But alright parents, we got a way out of this for you too, so let me take the liberty to provide some helpful tips and solutions to this problem of teething. No, but really, this is an all-in-one solution, for you as well as the baby.
These are basically the solutions to baby teeth problems.
Anything cold, literally anything cold will do. No, this does not call for ice cream. Not for you, or the baby! A refrigerated fruit, or even a chilled metal spoon, will soothe the baby, putting him or her at ease.
Being a parent means doing things that you've never done before, or no one has done before. And hence, this calls for the massaging of the gums. Slowly and gently, massage your baby's gums, with clean hands, and watch them fall into a state of relaxation that you're both happy to see.
Clean your baby every now and then. This does not only involve the dirty nappy, but also the baby's mouth because teething pretty much covers a baby in their drool. Keep wiping it off because it may only drag the irritability.
Ask the baby's dentist, or pedodontist, for any medical suggestions. Any medicines, or any gel, to relieve the baby of pain, will be helpful.
And last, but not the least, keep your baby close to you, at all times. Hug them, even when it seems enough. They need all the cuddles in the world, and moreover, have to be aware that they are not alone in this.
Teething devices such as chewing rings exist so that the baby can chew on it and feel relieved. Teething devices are not so much as devices as they are toys, so they are fancy and colorful. Children enjoy these teeth devices, and it not helps relieve pain but also distracts them as they start playing with it.
Another tip is applying a little pressure to the area in pain with a hardened object like a hardened slice of bread, or pacifier.
These baby teeth problems and its solutions can help you in the long run. Ignoring the pain is not going to solve the problem on its own. Teething problems in babies are very natural, and should be taken care of immediately. Baby teeth problems and its solutions are easily available at the dental clinic.
Teething problems in babies can get critical only if you let them be. Also, myths like the application of honey on a pacifier, does not work. Instead, this stuff can actually lead to serious dental health disorders like deep cavities. So for any further queries, you can make yourself stress-free by visiting Sabka Dentist.
Frequently Asked Question
What are the most common dental problems in childhood?
Tooth decay is one of the most common dental problems in childhood.
Does breast milk cause tooth decay in Children?
No, Breast Milk does not Cause Cavities and tooth decay.
Why are my 2-year old's teeth black?
Several factors may be responsible for making your child's teeth appear black. Some of the most common causes include bacterial infection and lack of or inadequate oral hygiene.