Dental Clinic in K.K. Nagar
Address: Simandhar Complex, 12& 17, KK Nagar Rd, near Prabhat Chowk, Ghatlodiya, Ahmedabad, Gujarat 380061.
Monday – Saturday 11 AM – 8 PM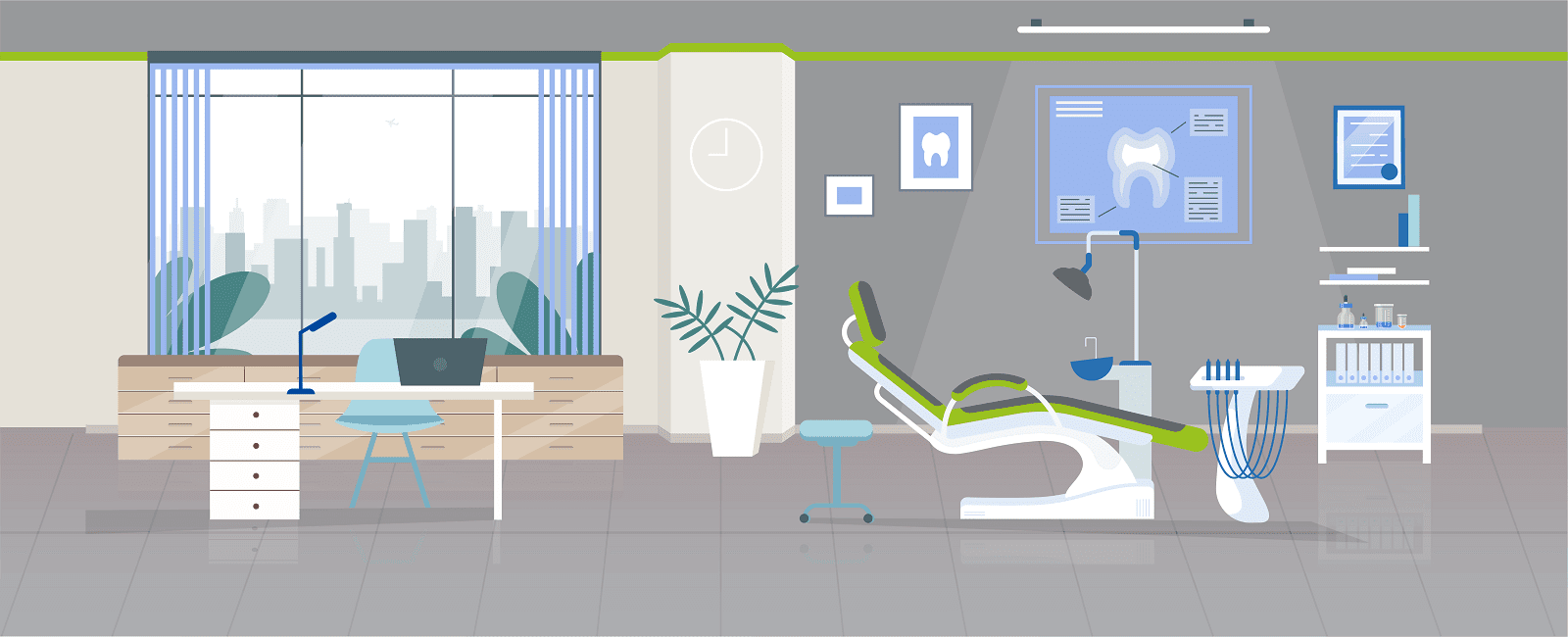 About Sabka Dentist Dental Clinic in K.K. Nagar, Ahmedabad
You thought tooth pain is just a normal thing that will go off in a few minutes or seconds! Well, may the pain in the tooth vanish but, the reason for the tooth pain is never lost. It can lead to poor oral health. Hence, it is necessary to take prior precautions before the situation gets worse.
Now the question arises where to search for the clinic that is affordable? Well, you have to search no more as Sabka dentist is here to provide you with all the dental related services at affordable prices.
Sabka Dentist is considered to be the topmost dental brand in India that provides all the dental services under one roof at affordable prices. It is a clinic that encompasses extraordinary, modern age technology, along with excellent dental services makes them a strong suit.
All the visiting patients or the existing clients are provided with top class services and treated as their own with great compassion and love, without any judgements. The appreciation we get is all because of our dentists that are qualified professionals who offer their time, hard work, and dedication to patients and their dental care.
They are a group or team of dentists in K,K, Nagar, Ahmedabad, that caters with different dental service, be it an endodontist who is a specialist of root canal procedure, or a pedodontist to handle a childs oral health, or a periodontist to solve and fix the gum issues, or an implantologist to insert a dental implant, or even an orthodontist to fix those braces.
Treatments at Sabka dentist in K.K. Nagar, Ahmedabad
General Dentistry –If you face a slight irritation or inflammation in the teeth or the socket, it becomes necessary to see a dentist. Even if you dont have any dental related issues still it is necessary to visit a dental clinic every 6 months. Now, clients can feel free to visit Sabka dentist in K.K. Nagar, Ahmedabad, as they are offering Dental checkup, consultation, and X-rays for free of cost. In this procedure the dentist first examines the mouth thoroughly and checks for the reason of the tooth pain. If they dont notice anything through naked eye, an X-ray will be taken to see if there is an internal problem.
Root Canal Treatment –

It is technically called as endodontics and the dentist who performs the treatment are the endodontists. In this procedure the tooth that has been damaged from inside due to untreated cavities is operated to keep the tooth uninfected and protected.
The damaged nerve from the pulp of the root is extracted and cleaned precisely eliminating all the infection completely. It results in making teeth available for the functionality. The next procedure involves the protection of the tooth from the infection. A coverage material is placed on the tooth that is biocompatible called gutta percha ( a rubber like material). The pulp area that is now empty is filled with this material to keep the tooth stable and functional.
Orthodontic Treatment –In simple words orthodontic treatment is also called as Braces. It is performed by the orthodontist who has gained special knowledge and experience in this subject. At Sabke dentist we have performed more than 30,000 cases of aligning teeth and correcting the appearance. It is a procedure where the dental checkup will be done to check the condition or the position of the teeth. Once the examination will be done the treatment procedure will be started wherein the first step will include the taking of the impression and photograph of the teeth. It is done just to plan for the treatment accordingly. Second step includes extraction of the teeth if needed or to place the brackets, bands, and wires. Third step involves examining the movement of the teeth and planning for the next accordingly.
Tooth Extraction –

When your teeth pain becomes major and inflammation, in such a case, tooth extraction is the ideal choice left. Even there are other choices of protection treatment there, but tooth extraction works differently. When the tooth is cracked or degraded with cavities and think there is no access to it, tooth extraction treatment is done. This procedure is also carried during the braces treatment where the tooth is extracted for the purpose of making space. The procedure of tooth extraction will be carried by inserting anesthesia onto the area, making it numb and accessible for the dentist to remove the painful tooth.
Periodontics –Is it your tooth that pains or the gums? If gums then you are majorly facing a problem called gum diseases problems. It is also called periodontist diseases. It is majorly seen in old adults where their teeth become weak causing problems in the gums. Even with other medical conditions gums are affected and hence precaution has to be taken to cure the problem.
Pedodontics –

Did you ever know that there are dentists for children too that are also child specialists? Well, at Sabka dentist we have the special dentists for children below 12 called pedodontists. They are not just the dentists who look after the oral health of the children but also works as a counselor to counsel the parents and children about the oral hygiene and health. The pedodontists at Sabka dentist are assigned with a special task of looking after the cavities, and development of permanent teeth, both of which need extreme dental care.
Cosmetic Dentistry –Whenever you notice people with white teeth, dont you feel like having teeth like them? Well, Sabka dentist offers you with the cosmetic dental services that will change the overall appearance of the teeth. We have grasply adopted the international means of dentistry in our clinic that offers unique treatments like whitening, laser treatment, and veneers. We have the best dentists who perform such complicated treatments with ease and painless.
How to find Sabka Dentist in K.K Nagar, Ahmedabad?
It is necessary to know and select the best dentist for your oral health, and hence, are some common points to find out the best clinic in the locality:
Recommendation from others is very necessary. Hence ask for the recommendation
The best way to ask for the dental clinic is ask the pharmacist
Check once by visiting the clinic and then opt for the treatment
Dentist should be qualified and experienced
Go through the reviews and ratings
Check the website
Check the clinic on other apps
See for the hygiences that is very important
How does Sabka Dentist in K.K Nagar, Ahmedabad will help?
Sabka Dentist a brand that is a fast running dental chain in India that stands out to be different amongst every one. It is surrounded with the positive atmosphere and spaced with pleasant working of the team.
Visiting our clinic in K.K Nagar, Ahmedabad, will make you feel like visiting the place again and again as it comfortness and painless treatments breaks all the par that a dental clinic does.
Here, we take utmost care of maintaining the privacy of every individual, respective of caste, religion, and gender. We are also a clinic that is judgment- free. We maintain the highest transparency with the patients related to their dental issues. Visit our clinic or book an appointment at Sabka dentist in K.K Nagar, Ahmedabad.
"Had a very good experience and very friendly and very comfortable teeth cleaning by Dr Heena Panchal "

Krunal Mistry
06:54 05 May 22
Good Service ,friendly environment.

Bhavin koshti
14:14 11 Sep 21

Daksha Malaviya
13:09 01 Jul 21

PRINCE singh
13:24 24 Jun 21
Doctors are very good and the staff is also very helpful. Overall it was a good experience

KP Kush Patel 17
05:34 08 Jun 21

Proper guidence and proper checking

rajesh vavdiya
14:31 27 Apr 21
Very much satisfied by dental procedure and treatment.

Hardik Goswami
05:30 22 Mar 21
Dr heena and priyanka was very cordial and I felt i have went through all the process in no time. Very informative, effective and good service. I recommend sabka dentist for any teeth related solutions.ThanksAdityaCardekho

SONU KUMAR
13:44 18 Mar 21
So there are a couple of dentist around here, 2/3 of them, I visited the others only to find their fees on the higher side. Visited Sabka Dentist, as I entered the receptionist greeted me and asked what service I have come for, she said it would cost me 500, then she gave me a form which I had to fill, took an appointment and headed out. Next day I came in for a clean up, scaling and polishing, the doctor who was present was Dr. Heena and had a look at my teeth, and told me it would be 500 again, confirming before the work began, as this cost changes on the amount of work and how bad your teeth are, I do this Bi-Yearly, so no biggie. Before I sat, they made me wash my hands thoroughly and then had me sit. She went around her job, along with her assistance. They had mask, gloves and even a face shield on, so covid is far away from this place for sure, everything was slick and professional. I paid via my CC and then she suggested I put in braces as I had mal-aligned teeth and also educated me on the need, process, different types, and pricing as well patiently. She was great in her sales pitch, cross-sell up-sell, she did it all brilliantly, i quizzed her on a couple of googly myself and she answered those too. She gave me her card, the brochure and suggested I get the work done, my overall experience was superb, quick, Hassel-free and most of all cheap. Thanks Heena, Sabka Dentist and team, keep it up.

Jude Fernandes
06:00 18 Mar 21
Its a best dental clinic in K.K nagar. Hygiene of all treatment it a best.

Nilesh Mistry
06:34 15 Mar 21
I got my braces treatment done with sabka dentist.I have started my treatment from February 2020 and complete on March 2021(treatment delayed due to lockdown). Doctors of this clinic are much polite and cooperative. I would like to special thanks Dr. Sunny who did the treatment. And also thankful for the other staff😊 The treatment cost is much less than any other clinic 👍 Your all doubts and confusion will go away with the experience and knowledge doctor here!! I am too satisfied with the results.I would recommand to visit at least once!!❤️Thank you for the beautiful smile 😁

Shreya Parmar
15:52 13 Mar 21
Overall excellent service and treatment overall. Doctors are very co-operative.

Vishal Jani
13:16 03 Mar 21
awesome workrct work is smooth and perfectdr work is also excellent

Ankit Sinha
04:42 03 Mar 21
It's the best dental clinic in ghatlodia. Doctors and staf are very supportive. If you require any dental issue than must visit this clinic.

Milansinh Jetavat
14:18 02 Mar 21
Very good clinic and great service they are providing.

Nishith Prajapati
04:20 02 Mar 21
Please visit sabka dentist kk Nagar the scaling service is good and the doctor is so nice and friendly.

Pratik Jha
14:33 04 Feb 21
Nice staff and nice treatment for us..

Yogesh Chauhan
15:50 03 Feb 21

Dhiral Patel
06:52 07 Jan 21
The doctor experience the whole procedure so pataiepa and also carried out very nicely. Had a wonderful experience and have good experience and cling by Dr. NaysaK

Vikram Patel
13:18 06 Jan 21
Got RCT done with very less pain as compared to my last RCT from other clinicDr Manisha and staff very co-operative. They take care of every small things related to all process. THANKS to Sabka Dentist.

Deepak Salunke
11:11 30 Dec 20
Had RCT treatment and it was good and less painful, Dr Naisha was polite was explaining everything about treatment & the staff was co- operative.Also all necessary precautionary measure were taken for Covid-19.Overall it was good experience.

Lalit Prajapati
12:47 16 Dec 20
Had a very good experience, very comfortable teeth cleaning by Dr naisha,co operative staff

Ashwin Parekh
12:35 16 Dec 20
Had Avery good experience vary conmfertable teeth cleaning by Dr nauisha co opratiive staff

meet patel
15:22 03 Dec 20
Had a very good experience ,veryconfertable teeth cleaning by Dr naisha ,co operative staff

Daxil Patel
13:41 03 Dec 20
Got Rct done with very less pain as compared to mu last Rct from other clinic Dr.Naisha,co-operative staff.

Jignasha Patel
07:04 02 Dec 20
Had a very good experience very comfortable teeth cleaning by dr. Naisha .Co operative staff.

Sanjay Singh
12:16 24 Nov 20
Dr.naisha malik did very good extraction of my tooth painless treatment,good expelience, very good co-oprative staf.

Bhavsar Nil
07:17 19 Nov 20
I was very nervous about. getting braces but dr. Naisha helped me. Understend. The. Prosess did it. Meking me. Comfertable

Anil Patni
12:00 12 Nov 20
Had a very good experience very comfortable teth cleaning by Dr naisha co operative staff

Krishna Patel
14:01 11 Nov 20
Had a very good experience and comfortable teeth cleaning by dr Nisha & staff is co operative

umesh bhavsar
13:04 29 Oct 20
Got RCT done with very less pain as compared to my last RCT from other clinic dr.saudah,co-oprative staff

Parth Patel
06:24 13 Oct 20
We have i.e. two persons has taken treatment and paid upto Rs. 65000.and also taken tŕeatment but not paid kit.

Kiran Shah
07:20 10 Oct 20
Very good experience at sab ka dentist k.k.nagar branch.Dentist have thoroughly examined ,diognised and explained the treatment with full satisfaction.We will recommend other patients also to consult sab ka dentist k.k.nagar branch.Thanks

Tarak Dave
09:36 07 Oct 20
Dr. Nisha malik did. Very good tooth extraction without any pain and comfortable, highly recommended to visit k.k Nagar good cooperative staff

Manubhai Panchal
06:25 07 Oct 20
The doctor explained the whole procedure so patiently and akso carried out very nicly had wonderful experience cleaningHaf a very gif experience, very comfortable teetj cleaning by Dr.naisha , cooperative staff

The doctor explained the whole procedure patiently and also carried out very nicely ND wonderful experienceHad a very good experience very comfortable ND also teeth cleaning by Dr. Naisha, cooperative staff

Jain Lalit
05:11 26 Sep 20
The doctor explained the whole procedure so plariently and also carried out very nicely Had wonderful experience

Dr. Kishan Vora
13:24 25 Sep 20
Had a very good experience very comfortable teeth changing by naisha coporative staff

viraj mistry
06:45 25 Sep 20
Got rct done with very less pain us compared to my last rct from other clinic

Shah Prince
13:19 05 Sep 20
Explained everything nicely. Friendly staff.

Raj Panchal
06:53 11 Aug 20
excellent services and well equipped clinic with very good staff. Dr krishna treated my teeth and gums very nicely.I was having problem of bleeding gums and infection in the gums. Dr krishna helped me to overcome my dental problem.I once again thank her

arpita jain
07:43 31 Jul 20
I was provided excellent and quick service when I visited Sabka Dentist K K Nagar branch for my tooth filling. Dentists and other staff members here are experienced, patient and caring. They not only provided me the treatment I needed, but also educated me about how I can maintain a good oral hygiene. Also, the location is convenient to reach and the overall clinic is neat and spacious. I would definitely recommend them to my friends and family members.

shahid koth
14:07 07 Mar 20
Good behavior staff and doctor

vikram jain
07:38 07 Mar 20
Good treatment for Dr. Krishna

Amit Pareek
14:45 06 Mar 20
Painless tooth extraction done by Dr Krishna

patel prakash
12:52 05 Mar 20
Nice. No pain. It's my first time.Nice exp.Very good staff and dr.Thank you

sunil gohel
14:45 04 Mar 20
It's good experience all ever.. good work and good management...

Jignesh Brahmbhatt
06:04 04 Mar 20
It was great treatment done by dr.krishna great experience

jaysinh Parmar
12:59 29 Feb 20
Doctor Krishna is so good

Aneri Nayak
12:57 29 Feb 20

Vipul Dave
05:38 29 Feb 20
Docter krishna are so good

doctor krishna is so good

Tejas Desai
14:57 26 Feb 20

Mayank Gajjar
13:18 24 Feb 20
Had a great experience. Dr. Krishna is well experience dentist. Staff is also great. Nice hospitality as well as dental service. Must visit!

Vani Gadhvi
14:51 22 Feb 20
The treatment offered is very nice and the staff too along with great ambience.

Yesha Kadiya
14:51 22 Feb 20
Doctor is so good and staff are nice

Shilpa Prajapati
07:49 22 Feb 20
I have good experience during my first visit ...i got proper guidance and remedies to take further steps for good health.

Bhavya Lakhlani
14:08 21 Feb 20

Bhavin Limbachiya
13:14 20 Feb 20

Dhiren Chauhan
15:22 19 Feb 20
nice tritment and nice staff person

Malav Shah
14:54 18 Feb 20
Dr was good i m so happyThank dr Krishna

Pinkesh Nayak
13:53 18 Feb 20
In Sabka dentist My experience is very good

Margi Patel
15:12 11 Feb 20
Staff members are also good & doctors is so good

Santosh Patel
15:12 11 Feb 20
Good treatment and nice service

Miten Kadia
12:55 11 Feb 20
Staff is so good and doctor is so good...

Paras Gandhi
12:21 11 Feb 20

Isha Rajput
12:17 11 Feb 20
The treatment offered is very nicely and staf too along with grat ambeiene

Pandya Chirag
13:04 05 Feb 20
Better dental care at the affordable prices!!

Staff are good & D. R is Very good

Premkanta Upadhyay
15:04 01 Feb 20
Had a great experience with well experienced doctors and staff and an hygienic environment with best treatment given. Recommended to all.

JAYESH DESAI 5479 JAYESH DESAI
13:47 01 Feb 20
Staff members are also good ...

Achal Patel
13:47 01 Feb 20
Good experience. Nice job from all staff members.

SAURABH SHAH
12:40 25 Jan 20

Padhya Ishani
08:18 18 Jan 20
The treatment offered is very nice and the staff too along with great ambience.

Mital kadiya12
05:11 18 Jan 20

Ravi Kadia
15:26 17 Jan 20

We got good service and staff at the clinic is very helpful and co operative.Dr's service also is excellent.

ravi mehta
12:46 17 Jan 20
Staff Service and respond was excellent, also I recommend to my family friends. Treatment was good.

Piyush Patel
05:39 17 Jan 20
I have taken my 77year old mother to sabka dentist kk nagar, we met Dr.krishna Dr.krishna tere ,treatment was done wonderfully she has done rct without giving any trouble to my mother .for that I am thankful to her. Dr. Krishna nd her staff is very humble nd generous. Dr..Krishna gives a really good advice nd make u feel home during treatment days.visit kk nagar sabka dentist for painless treat

Jitendra Kadia
12:51 16 Jan 20

Prashant Bogati
14:47 04 Jan 20
It's been the wonderful experience of sabka dentist...Thank you Dr. Krishna, a smile designer for the beautiful smile you've given me...From tedha medha daant........ I've got all teeth perfectly shaped...that helps me taking smiling selfies confidently 🤪Now I can make anyone fall for me by hust giving a smile.Thank you very much.Strongly recommended who has been looking for healthy teeth and smile.

Dr. Aartiba Jadeja
10:20 27 Dec 19
I had a been to many dr. For scaling but this Dr. Krishna Solanki is young who could genuinely understood my problem and help me out in a proper manner. Thanks.

Sagar Nayak
13:14 10 Dec 19
Very good doctor and staff.

JANKI PATEL
15:38 30 Nov 19
Opt for treatment to be done by Dr. Krishna Solanki gud hands on with her treatment way

Jigu Patidar
13:17 18 Nov 19
Great work done by doctor solanki thank you for heeling up my issue

Nargis Qureshi
13:12 18 Nov 19
Never ever thought of having such a good experience with a dentist but Alas!Had a great experience with Dr. Krishna Solanki here at Sabka Dentist the way she handled my Root Canal Treatment that too in 2 teeth's was superb for me as previously I had severe painful experiences in extractions and RCT with other doctors in ahmedabad itself recently clinic has been opened in our area i.e KK Nagar so approached this Dr. She made me understand the entire procedure from how she will start my treatment and how it will end up having ZERO pain.Highly Recommended place with genuinely good doctor Thanks and Keep it up.- Ravinder Singh

Ravinder Simgh
13:07 18 Nov 19
Nice clinic..very good and experience dr...

Mitesh Rathod
06:02 15 Nov 19