Dental Implant Clinics in Bangalore
A missing tooth is very problematic for any individual as it mainly creates problems in eating and degrades the quality of a smile. A Dental implant is one of the better solutions for a missing tooth problem. Here, the artificial tooth replaces the missing tooth and performs the task of a natural tooth. In a city like Bangalore, you get expertise in dental implant treatment at the Sabka dentist branch.

Dental Implants are profoundly known for giving patients with a proper and perfect smile, providing them the freedom to live and eat with nothing holding them back. Still contemplating whether to get a dental implant considering, how bad it will hurt or pain during or after treatment?
Well there is news for you as it is found that most dental implant patients find the procedure to not only be a hurtful experience but also witnessed the treatment within the boundaries of minimal to no discomfort at all.
There are several significant reasons why dental implants are the best thing you can do to fill up those missing spaces:
Look like real teeth
Functionally as efficient as natural teeth
Designed to last a long time.
So if you have a tooth that is beyond repair or you lost a tooth by accident, Sabka dentist is here helping you getting an implant and restore your beguiling smile.
What is Dental Implant?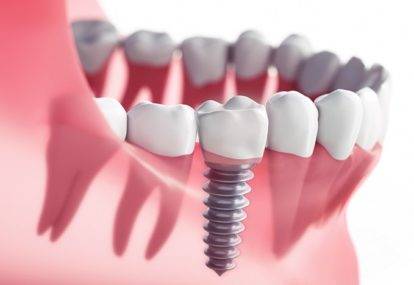 A dental implant's function is to support one or more false teeth. Dental Implant is a titanium screw that can replace the root of a tooth when it fails. Just like a tooth root, it is placed into the jawbone.
Dental implant surgery is a process performed over the course of a few months. Most of this time is spent on standby while the dentist and patient work in unison to ensure the expected outcome.
First, an incision is made in the gum.
Next, the implant is placed into the jawbone using a screw, allowing the implant to replace the root of the original tooth.
After placing the implant, the gums are sealed back using stitches. The implant must heal for three to six months, during which time the jawbone will form around the implant.
Temporary crowns are optional, but they help to ease out activities like eating, drinking, and smiling and make them possibly convenient.
Next, after the healing of Implants, a prop must be placed on the implant. The prop is an extension of the implant metal post and would serve as a base for the new tooth. An impression of the prop is taken to create tooth restoration.
When the restoration is complete, a return visit to the dentist office is what is needed to end the process.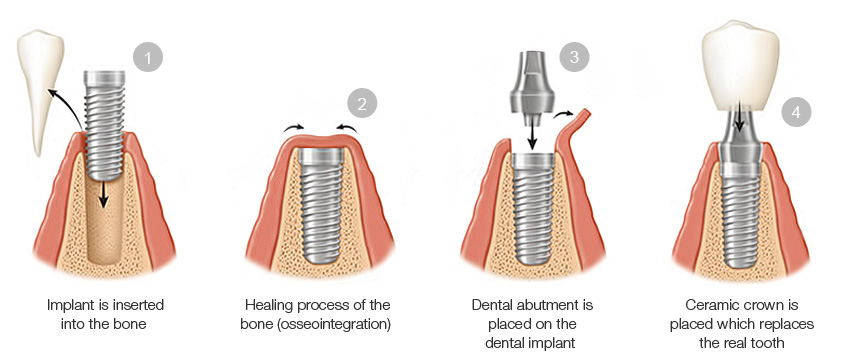 Why do you need Dental Implants?
Well now that you know the basic function of a dental implant it is essential to look into the advantages and understand why you should get a Dental Implant in case of a dental situation like missing teeth. Here are four important pros of dental implants, and why they are better options compared to alternatives such as dentures and bridges:
Great look and feel: Dental implants feel comfortable, look real, fit naturally, function healthily and help you retain your natural face shape and smile. Cleaning and maintaining them require normal brushing and flossing them just like you do your natural teeth – no need to remove them for cleaning.
They protect facial bone and healthy teeth: Dental implants are the only form of tooth replacement treatments that actually helps focus on bone growth, and getting dental implants at the earliest helps prevent bone loss at the site. Leaving empty spaces in your mouth after losing one or more teeth can lead to structural issues like jawbone deterioration Also, dental implants don't require grinding down adjacent teeth to anchor bridges or attach partial dentures.
You can live life with confidence: The best part about dental implants is they stay up, fixed on its position and would not slip or click when you talk, eat or laugh. You'll in fact find clarity in speech making your speech far more natural. With dental implants, you'll have the peace of mind to eat what you love, say what you want to say, be as active as you want and smile broadly.
They're built to last: Dental implants that are properly cared for can last many decades. Dental implants are meant to last, unlike dental bridges and dentures that need replacement as often as every 5 to 10 years, requiring a more significant investment of time and money.
When would you need Dental Implants?
Our ears are familiar to hearing phrases like "Caution is better than cure", but how well do we actually relate to it in this situation is what you must be thinking about. But no matter how much precaution you take, with age and time at some point throughout our lives we all will lose one or more teeth for whatever reason. So what's the next step? Simple: Substitute them!
In case of asevere toothache it's possible that your tooth may need removal and a dental implant be placed instead.
Regardless of the cause, teeth that need to be removed and replaced with dental implants should be done at the earliest to give patients the best hope for a triumphant and exquisite outcome, as well as minimize or altogether eliminate the risk of having adjacent or opposing teeth shift, which can lead to furtherdental calamities.
Does Dental Implant hurt?
Drilling and screwing…. sounds painful isn't it, surprisingly you will be pleasantly shocked to know that placing an implant is easier than taking a tooth out. Usually a local anesthetic is used, which means you are awake during the surgery.
No pain is actually realized during the surgery, especially when done with healthy tissues. Also, the bone where the implant is placed does not have many pain-sensing nerves, in case of nervousness about the surgery; you have a variety of sedative options to make you feel comfortable during the operation.
Immediately after the surgery and for a few days you will likely experience some discomfort. After all, this is a major dental procedure. However, any pain is manageable.
Discomfort may be felt in the chin, cheeks, or underneath the eyes. You may also experience bruising of the skin and gums, pain at the implant site, and minor bleeding. Pain reliever and medication should help you sail through.
What is the cost?
Before we discuss the usual cost of dental implant, it's essential to keep in mind that the prices of your treatment depend on several medical aspects which have to be taken into consideration.
The number of implants you would need to determine the cost of your expenditure towards getting yourself a dental implant
Your dentist could opt for implants that are constructed using zirconium or titanium as materials, along with the materials available for the crown, could affect the price of your implant. Discussing with your dentist about the good and bad of various materials is a good idea which can help you choose the option with both quality and affordability.
It is important for the dentist to consider the need of another treatment before going about for a dental implant and calculate it's influence the final cost of the procedure. So, for example, if you need to have a tooth extraction before the implant, you will need to cover the cost of that procedure as well.
If you are interested in learning more about the actual dental implants cost in Bangalore, continue reading. There are various aspects that affect the price of dental implants, some of that have been listed below.
Number of tooth replacements – Normally, replacing more teeth would cost you more. It's always best if you check out the charges in your city, in case yo have many teeth to get replaced. Opt for a dentistry medical center which is based out of a city in which the typical price would be around the lower side. For example, teeth replacement cost in Bangalore would vary from the actual cost of dental implants in some other city.
Position of the tooth – The angle of the tooth to be replaced, the structure of your mouth, and also the actual position of the tooth to be replaced; all have an affect on the price of tooth implants.
Bone strength and density – A good bone density is essential for a successful tooth implant. If you have a low bone strength and density, initial bone grafts have to be carried out, which in turn will increase the total price of having a dental implant.
Location of the clinic – The location of the dentistry medical center can even impact the price of a tooth implant. For example, the tooth implant cost in Bangalore will differ from the tooth implant cost in some other location.
These are some elementary factors which affect the price of getting dental implants. We hope that you now have a much better understanding of the cost of tooth implants in Bangalore, and the aspects impacting on it.
Who are the best In Dental Implant services?
Sabka dentist believes in giving their best, is the abode of not just several dental experts but happens to be one of the leading dental treatment spots in India. Spreading its wings across science reaching out to locations across cities of India, we are the face of modern dentistry in India. Talk to our equipped dentists and we shall provide you the advice you need.
Make sure you get a treatment plan made with us. You will be quite some time, effort and money and we at Sabka Dentist prioritize the needs and comfort of our patients to say the least, hence assuring you the results you desire at the end of the treatment.
How much time does dental implant procedure take?
Usually the artificial tooth is fitted 3 to 4 months after the implants are fixed in the jaw properly, but it completely depends on the amount of time taken by the patient for natural recovery. Such treatments take ample number of days [unfixed].
Dental Implants are a safe method for the replacement of the gap and well-established treatment. It's probably a true fact that implants works much like a natural tooth, last for as long as you care for them.
How well you look after your implants are fixed – and whether you go for your regular maintenance appointments at the dental clinic – such quotation will have the biggest impact on how long dental implant will last.
Tell Me More About Getting A Dental Implant At Sabka Dentist, Bangalore
If you are one of those individuals who are particular about your dental care health care, you must choose the best when it pertains to tooth care checkups and treatments. Sabka Dentist is consistently graded among the best option for best dental implants in Bangalore.
At Sabka Dentist, people not just obtain top class treatment method for their tooth troubles, but additionally get to enjoy the benefits of full mouth dental implants cost in Bangalore. No matter the background or career of an individual, all of us guarantee that all of our individual's sense at ease and face absolutely no concerns when it comes to teeth setting cost in Bangalore.
We are amongst the top dentistry clinic chains in Bangalore and have a legacy that is unparalleled by any other oral clinic in Bangalore, India.
So, the next time you plan on visiting for oral implants, we should be at the top of your list of best dental implants in Bangalore. Consider us your own 'Apna Dentist', and we can help you with your dentistry problems so that you can carry on and spread joy and happiness across with your wonderful smile.
The single-tooth implant cost in Bangalore can vary depending on the region and who is performing the procedure. Factors that affect teeth replacement cost in Bangalore are:
Number of Replacements
Location of the Tooth
Bone Density
The Need for Extractions
But at Sabka Dentist we make sure that you don't feel the pressure of tooth implant cost in Bangalore. That's why Sabka Dentist offers the best teeth replacement cost in Bangalore, which you can afford in first thought.
Contact us today to discuss your smile or with questions regarding dental implants cost in Bangalore.
Frequently Asked Question
How much time does it to fully recover after dental implants?
It takes anywhere from six to eight months for dental implants to set in and fully bond with your jawbone and oral region, which gives them ample time to start healing on their own.
Do dental implants hurt?
Dentists use anesthesia to numb the pain. However, it may hurt after the anesthesia wears off. You can take a pain killer advised by the dentist.
JP Nagar
No. 123, 1st Floor, 24th Main, Opp Royal High School, Next to WE Fitness Gym, 5th Phase, JP Nagar, Bangalore – 560078
Jayanagar
1st Floor, Diamond arcade, 38th D Cross, 11th Main, Opp Airtel Gallery, Next to Vijaya College, 4th Block, Jayanagar, Bangalore – 560011
HSR Layout
No. 803, 27th Main, 12th Cross, Opp Kaya skin clinic, Near HSR police station,1st Sector, HSR Layout, Bangalore – 560102
Koramangala
No.429, 80 feet road, Opp National games village, Near Koramangala bus depot, 6th Block, Koramangala, Bangalore – 560069
Rajaji Nagar
Ground Floor, Chirag Plaza, 63-B, 10th Main, Next to ESI Hospital, Ram Mandir Road, 4th Block, Rajaji Nagar, Bangalore – 560010
Malleshwaram
No.58, Ground floor, 6th Cross, Next to A2B, Sampige road, Malleshwaram, Bangalore – 560003
BTM Layout
1st Floor, No.773,7th Cross,16th Main,BTM 2nd Stage,Near Mcdonalds,Bangalore 560076
Vijayanagar
No. 45, 17th Cross, MC Layout, Vijayanagar, Bangalore – 560040
HRBR Layout
218, Antonite Sunshine Complex Kammanahalli Main Road, Above Reliance Footprint , HRBR Layout Bangalore 560043
Whitefield Main Road
No. 364, Gurushree Tower,3rd Cross, Whitefiled Main Road, Opp. Unilever R & D Center, Next to Food World, Whitefiled, Banglore 560066
HSR Layout BDA Complex
No. 59/101/A, 1st floor, 17th Main Sector 6, Opp Icici bank Sector 7 branch and Lenskart , HSR layout, Bangalore: 560102.