Pediatric Dentistry in Borivali
A pediatric dentist is someone who is committed to treating various oral health conditions of infants, children and teenagers. They become eligible for taking care of a child's teeth, gum, and the entire oral hygiene only after acquiring proper experience and qualifications in this field. A pediatric dentist has to complete four years of dental school and the two additional years of special training in dentistry. A child requires special care and the pediatric dentists are aware of this. So, if you want to come in contact with the best pediatric dentist in Borivali East, then Sabka Dentist should be on the top of your list.

Children tend to develop their baby teeth during the first 6 months and by the age of 6 or 7 years, they start developing permanent teeth. According to the pediatric dentists, it is very important to take proper care of the permanent teeth.
This is because without proper dental care, there are chances that the children may experience oral diseases, dental decay, gum infections and a lot of other complications.
These complications may further give rise to pain, swelling, gum bleeding or other related complication. Are you in search of a pediatric dentist in Borivali East who can take good care of a child's oral health? Then Sabka Dentist can be your best choice.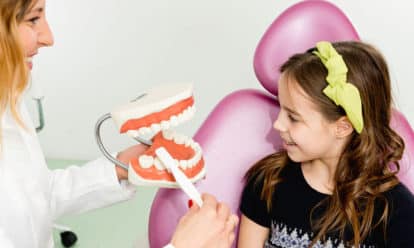 Common Pediatric Dental Procedures:
X-rays- Not only adults need to undergo an x-ray procedure, but children may also need to undergo an x-ray treatment procedure to keep a track of the changing tooth structure. These changes are not visible in naked eyes so the pediatric dentist recommends undergoing an x-ray every six months.
Dental Cleaning– A dental cleaning procedure is performed only after reviewing a child's medical history and the oral health condition. This procedure usually involves cleaning up the tartar and plaque layer from the tooth surface. These layers form the tooth surface that may also give rise to certain gum diseases, tooth decay, and cavities.
Flouride Treatment- Cavities in teeth may result in weakening of the teeth enamel. The pediatric dentist under such circumstances may complete a fluoride treatment as that helps in demineralizing the decayed spots and prevent dental cavities. A low amount of fluoride is readily available in municipality water, toothpaste, bottled water, etc. But a specific amount of fluoride that your child needs can only be assessed by an experienced pediatric dentist.
Dental crowns- A pediatric dentist uses a dental crown treatment to restore the damaged and decayed teeth. A dental crown is a dental cap that is permanently fixed to the tooth surface to prevent any extensive damage to the enamel, dentin and even the tooth pulp. In children, the dental crown is attached to the milk teeth to prevent the damage until it is naturally lost.
Dental fillings– Dental fillings are used to restore or repair either the front or back teeth to achieve a decent aesthetic look. These are made of either resins or glass isomers that are either transparent or match the natural color of the tooth.
Sealants- The sealants are a thin plastic coating that is applied to the top of the chewing surfaces or the back teeth to prevent tooth decay. The chewing surface of the teeth can not only collect plaque, but it may also end up with small grooves, pits, and fissures. The sealants are used to cover up these grooves as that can prevent a tooth decaying.
Interceptive orthodontic care– An early assessment of a child's crooked gum structure or overcrowded teeth can help the pediatric dentists to achieve maximum changes in minimum time. This is because a child has developing teeth and gum structure which can be altered easily and the child may not need to undergo extensive orthodontic treatment later on.
Tooth extraction- Tooth extraction is a child's nightmare and this is why most of the pediatric dentists prefer to avoid this procedure as much as possible. However, a teeth extraction procedure may be required to permanently remove an extensively damaged tooth or due to orthodontic reasons.
Root canal treatment-Root canal treatment or pulp treatment is used to treat infected tooth root, pulp or nerves either due to some external injury or due to some extensive tooth decay.
Space maintainers- The space maintainers are used to hold the space of the prematurely lost or extracted tooth. Failure in maintaining space between teeth may result in neighboring teeth to drift into its place giving rise to a bad bite mark.
If you want your child to undergo any of these crucial dental procedures from a trustworthy pediatric dentist in Borivali then Sabka Dentist can help you out of this condition.
How to Choose a Pediatric Dentist
If you want to choose the best pediatric dentist, then follow the steps given below-
Make a list of potential dentists that you have collected from different sources.
Choose any one dentist and keep researching until you are sure about the qualification, experience, and reputation of the pediatric dentists.
Once chosen book an appointment to make sure that your child feels comfortable with the dentist and the staff.
Well, finding an appropriate pediatric dentist in Borivali can be really difficult but once you get in touch with Sabka Dentist, your child will definitely get the best treatment services.
Why Select Sabka Dentist?
Sabka Dentist is one of the finest dental clinics that are present in the five most important cities in India. There are numerous dentists and staff working in this clinic who holds more than 4 to 5 years of experience in this field.
The clinic maintains an absolute hygienic environment that makes the patient feel even more comfortable. So, if you want to get in touch with the best pediatric dentist in Borivali then select Sabka Dentist to relish the best treatment services.
Dr. Jena Shah Dental Director of Sabka dentist says "Dental checkups are important to maintain good oral hygiene and a disease-free mouth"
Dr. Zita Antao Dental Director of Sabka dentist says "It is recommended that everyone should get a dental checkup done once every 6 months"
Dr. Rupali Gujar Dental Director of Sabka dentist says "A dental checkup is a two-step process that includes evaluation of oral tissues followed by cleaning and polishing."