Braces Treatment in Navi Mumbai
Braces treatment has been one of the most used treatment methods for proper teeth alignment. A gap in teeth, crooked teeth, crowded teeth, and other inappropriateness in teeth causes the problem in smiling and eating. You can find braces treatment in Navi Mumbai at Sabka dentist branches. The treatment methods can help to achieve the desired results better.

An apparatus used in orthodontics that help to align and straighten teeth and help in the positioning of the dental structure are commonly known as Braces.
The application of braces release force and pressure on the teeth to move it to its required position. Braces have constant pressure which moves teeth into the desired positions in a span of time. The process loosens the tooth which brings the new bone to grow and support the tooth in its new position.
Apart from being a corrective treatment for underbites, overbites, open bites, deep bites, cross bites, crooked teeth, malocclusions and various other dental shortcomings, Braces can also be cosmetic or structural. Quite often dental braces are used alongside other orthodontic appliances to help widen the palate or jaws further assisting the process of shaping teeth and jaws.
What are Braces?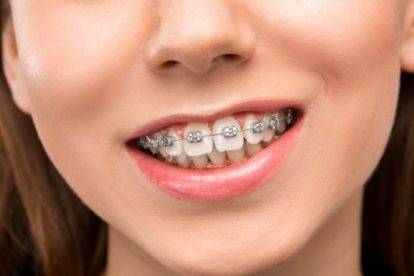 Dental Braces [also known as braces, orthodontic cases or cases] is a solution to help position and give direction to your palate/ jaw in a way to correct the orientation of your teeth and help correct the foundation of your jaw.
At times a kind of push and force is required to guide teeth in the position where it is supposed to be and for accuracy in the process, a definite instrument is used. Brackets and bands temporarily stuck to the teeth for gradual remodeling of the dental structure are braces.
There is a usual procedure involved before the braces are applied. Steps like looking at your teeth, taking x-rays and making plaster models of your teeth are put into practice. After which your dentist will discuss the most suitable treatment that your teeth require and after introspection, discussion and conformation between the dentist and you, the treatment finally begins.
Why do you need Braces?
Facts prove that dental disturbance can be a cause of tension on the oral muscles present in our jaw which can further lead to jaw and join problems. Braces, famously known to perfect the alignment of teeth are not just stipulated to that, in terms of dental science.
It happens to be just ONE of the SEVERAL benefits of Braces. One way to identify the need for braces is this simple observation which you yourself can make, looking in the mirror.
If your upper front teeth cover your lower teeth and the cusps of your molars don't touch
If this is how your teeth are, then you have the perfect dental alignment; However not everyone have this kind of a dental structure naturally. Apart from being a cosmetic investment,
Braces also help fix your bite; they also alleviate an array of health problems, including:
Difficulty speaking
Breathing issues
Problem in chewing and swallowing
As discussed earlier it's not just about the cosmetic effect of it but the health effect that counts and we at Sabka Dentist very well understand the requirements and needs of our patients as we believe in giving quality treatment.
When do you need braces?
In the world of dentistry what's more important is the proper number of teeth and not the age of the individual wanting to get a dental treatment. For application of braces it is essential to have enough teeth in order to start the treatment.
We all at some point or the other might have been victims of rumors about how braces are only meant for children up to a certain age and not for people beyond that age group. In reality it's not just kids but, parents and grand-parents who can also turn up for application of braces and enjoy the fruits of the gifts dentistry carry to offer.
However, on the flip side people learn late that the younger you are, the better it is to invest in an orthodontic treatment, since certain malocclusions are best treated young.
Do braces hurt?
Application of Braces is a very gentle procedure which if carried out with our professional dentist can be a pain ridden experience. Genuinely, sometimes of it can seem tough to handle and inconvenient in terms of brushing and eating very hard food items but trust us, it's all worthwhile.
Our dentists are always at your service and beck and call when it comes to providing you the help you need during your experience with us and will be instrumental in providing you your most beautiful smile at your comfort.
What is the cost for Braces application?
An Orthodontic treatment or dental braces can cost you anything between 33,000/- to few lakhs depending majorly on
The type of braces you opt for.
And the cost of diagnosis.
A patient is provided an array of options for the braces treatment. The patient can select the kind of braces that fit their customs, vocation, and most importantly their budget, the best.
The various types of dental braces are
metal braces : apart from being the most basic form of braces, this is the most economical option available
ceramic braces : Another very commonly used braces, this orthodontic bracket is virtually invisible and affordable
Self-ligating braces: existing in two forms- metal and ceramic ensures faster results in much lesser time as compared to traditional braces and are hence, comparatively expensive.
Your orthodontist is the one who will be help you best, in terms of realizing the kind of braces that will suit your requirement best.
Ask your Orthodontist the best option that suits you.
For anybody who is primarily based out of Navi Mumbai, you may well be wondering what will be the braces price in Navi Mumbai. The cost to get braces will vary based on numerous aspects. Apart from the location where your preferred dental hospital is located in, there are lots of other factors involved here.
Age – Age in which you begin treatment has an impact on the cost of the braces. For those who go for orthodontic braces at a young age, it might be a lot more cost effective, since it is generally much easier to correct tooth positioning issues at an early age.
Location – The location of the dental hospital has a key role too on the subject of the cost of braces. For example, the teeth braces cost in Navi Mumbai might be different when compared to costs you would discover in a dental clinic established in other metro.
Form Of Braces – The type of braces also has a significant effect on the cost of braces. For example, invisible braces often cost you significantly more in comparison with metallic braces.
Additionally, the location of the dental medical clinic can even have an impact on the cost of every type of braces. For example, for invisible braces, the cost of braces in Navi Mumbai might be different from the cost of braces in some other city or metro.
There are even a lot more factors that may have an effect on the cost of braces. Hopefully you now have a clearer picture on the teeth braces cost in Navi Mumbai, as well as the elements impacting this.
How much time does the Braces procedure take?
It all depends on the kind of treatment and the current analysis of the dentist handling your case. Your duration with managing braces depends of the number of corrections required and the amount of time it takes for the palate to adapt with the braces and get set in the most corrective position possible.
Treatment involving Braces can take anything between a couple of months to a couple of years, including various trips to the dentist for cleaning and checkup.
As mentioned the different types of braces also have a say in the amount of time that the entire procedure can take.
Which is the best dental clinic to go to for application of Braces?
Sabka dentist, identified for our class treatment and service is an association you shouldn't miss out on. Our expertise in a variety of dental treatments is what we take pride in and what better way of helping the society then to contribute in our society by helping people with the help of our range of orthodontic treatments at the most reasonable prices possible.
Diseased, crooked or missing teeth or a misshapen jaw can interfere with your speech; make chewing your food properly difficult and painful; and lead to expensive corrective procedures. Sabka dentist is at your rescue to help you decide how to address all your problems.
Braces, once for adolescents only, can help people of all age groups correct their teeth and jaws problems. Not only do orthodontic procedures help your appearance, but they can also improve chewing and proper digestion of food along with correcting speech problems.
Be a part of a brand that is identified by hundreds of people with 104 dental clinics across 5 cities one of which being yours. Known for our service and gratitude we believe in quality treatment to one and all which makes it stand out as not some common dentistry practice but Sabka dentist.