Braces Treatment in Surat
Braces treatment solves the teeth misalignment problem to straighten the teeth. You can have any type of braces as per suitability like metal braces, ceramic braces, lingual braces, or SDalign [aligners]. In Surat, find the nearest Sabka dentist branch for expert Orthodontists. They can get you the desired proper teeth alignment for improving the smile.
Crooked or misaligned teeth are a common problem. Misaligned teeth cause food lodgment which in turn causes tooth decay and cavities. There can also be other alignment problems with teeth like the upper teeth do not set correctly on the lower teeth or there is a gap between the upper teeth and lower teeth.
Crooked or misaligned teeth or problems with the alignment of the upper teeth and lower teeth can be solved with dental braces or orthodontic treatment.
Orthodontic treatment or braces treatment is used to straighten teeth and solve problems of alignment the teeth and jaw. Dental Braces are of different types, namely metal braces, ceramic braces, self ligation braces, lingual braces and invisible braces.

Metal Braces use metal brackets which are made of alloy or stainless steel. Metal braces work by connecting the brackets using stainless steel arch wires or Nickel Titanium arch wires and tightening them to pull the teeth into their correct place.
Ceramic Braces follow the same principle given above but use tooth coloured brackets made of ceramic instead of stainless steel brackets. Ceramic braces work in a similar way as metal braces.
Lingual braces also work like metal or ceramic braces by pulling teeth into places using brackets and arch wires. But in lingual braces, the brackets are bonded on the back surface or the lingual surface of the teeth so that they are not visible.

Orthodontic treatment of Braces treatment is generally started after most of the permanent teeth have erupted. Most of the permanent teeth normally erupt by the age of 14 and hence, braces can be started any time after the age of 14.
Anyone with crooked teeth, crowded teeth, overlapping teeth or one with a gap in between the teeth should definitely go for braces treatment at Sabka dentist. Irregular teeth or misaligned teeth are difficult to clean and may contribute to many dental problems.
Braces treatment at Sabka dentist clinics in Surat also known as Orthodontics treatment improves your dental health by proper alignment which indeed can boost your self-esteem and clearly change the way of smiling. The treatment additionally helps to eliminate dangerous habits like thumb sucking. It improves speech by correcting tongue position in mouth.
Braces treatment at Sabka dentist clinics in Surat can be done at any age. Early diagnosing and treatment will guide erupting teeth and developing jaws into a lot of superiority and shortens treatment time. It reduces the likelihood of fracturing protruded front teeth while playing. It may even provide advantages that are not available in adulthood.
At Sabkadentist Dental clinic in surat, we have the dental experts Orthodontists who have gained advanced knowledge in the field of orthodontics.
What are the types of Braces?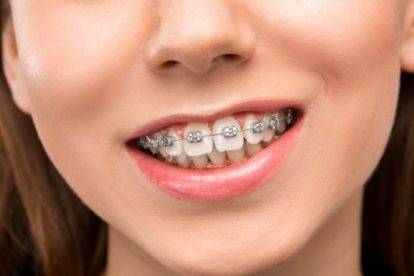 Metal braces/Traditional braces
The square shape metal brackets and wires are just that all people imagine when they hear the word "braces." However, modern brackets are smaller and less noticeable than the notorious "metal-mouth" braces than many adults remember.
Ceramic Braces
Ceramic braces are similar in size as metal braces, except that they have tooth-colored or clear brackets that blend into teeth. Some even use tooth-colored wires to be even less noticeable. Less noticeable than metal braces. More expensive than metal braces; Brackets will stain simply if patients don't take care of them as well.
Self-Ligating Braces
Sabka dentist dental clinic offers high-quality orthodontic products. The advance self-ligating braces make appointments shorter, appointment intervals any apart, and reduce friction so teeth move into their correct position faster. Traditional braces use thin yet hard metal wires or elastic bands, called ligatures, to secure the archwire to teeth.
Elastic ligatures will become stained, stretched, or broken requiring additional visits to the orthodontist for replacement. This can be tedious and uncomfortable, as well as time-consuming. The elastic ligatures can be tough to wash as food particles are stuck to it.
Both metal and elastic ligatures cause friction on the archwire, which makes teeth move slower, thereby increasing treatment time. There are two types of self-ligating braces, metal, and ceramic(tooth-colored). The clear self-ligating braces are the perfect aesthetic choice if you want your braces to blend in with your smile. Both styles eliminate ligatures altogether.
Instead, they use nickel-titanium clips to carry the archwire and provide comfort, convenience, and cleanliness.
This significantly minimizes friction and allows teeth to move faster, which can reduce the amount of time it takes to complete your treatment. Also, these self-ligating braces are less likely to retain food particles creating them easier to wash.
In addition, these braces use lighter and gentler forces to align your teeth quicker and with less discomfort. Lastly, archwire changes fast and as a result, the archwires merely clip-in and out and there's no place or ligatures. This will reduce the number of dental appointments and the amount of time spent at each visit.
Lingual Hidden Braces
These are the braces that are fixed to the teeth on the inner side, making them invisible. These are a little inconvenient to the patient as they're close to the moving tongue.
Pros: Invisible from outside
Cons: Tough to clean; expensive; not applicable for severe cases; are often uncomfortable at first; regular changes take longer and are tougher than with ancient braces
TAD System (temporary anchorage device) (orthodontic implants)
In the dental industry, molars (back teeth) are used as anchor points to move front teeth. Unfortunately, this may cause the molars to move as well, which is undesirable. TADs (also called MiniscreWs) can be placed in the mouth to provide an independent anchor point to move teeth. The TAD System allows for a fixed anchorage point that can be used to move a single tooth or multiple teeth.
TADs are fast and simple to put, most often with topical anesthetic only. They can correct bites rather than rubber bands, headgears or even jaw surgery in some cases. TADs treatment is quicker, better or allow treatment that was previously only possible with surgery. They are truly remarkable and innovative.
Clear aligners
Clear aligners consists of a series of eighteen to thirty customized, mouth guard-like clear plastic aligners.
The aligners are removable and can be replaced every two weeks.
What factors influence the Braces Cost in Surat?
For anybody who is primarily based out of Surat, you could potentially be wondering what is the teeth braces price in Surat. The cost of braces could vary dependent on numerous aspects. Apart from the location where the preferred dental care clinic is located in, there are lots of other things involved here.
Age – Age in which you begin treatment has an impact on the cost of the braces. If you go for orthodontic braces at a young age, it would be much more cost-effective, as it is generally much easier to fix tooth positioning problems at a young age.
Location – The location of the dentistry hospital plays a key role as well when it comes to the cost of braces. For example, the teeth braces cost in Surat can be different compared to the fees you would find in a dental medical clinic established in other metro.
Form Of Braces – The type of braces has a significant impact on the cost of braces. For example, invisible braces often cost significantly more in comparison to the metal braces. In addition, the location of the dentistry clinic will also have an impact on the cost of each type of braces. For example, for invisible braces, the cost of braces in Surat might be different from the cost of braces in some other city or metro.
There are also more things that could influence the cost of braces. Hopefully, you now have a clearer picture of the teeth braces cost in Surat, as well as elements impacting this.
A confident Healthcare Professional with over 8 years' experience successfully diagnoses & treats patients' dental conditions. Skilled in Endodontics, Implantology, Healthcare, and Surgery, a confident communicator who can relate well to dental patients. Having a proven ability to ensure that dental practices in surgery are continuously updated to provide first-rate care to patients and their families.
Majura Gate
Office C/1, Mezzannine Floor, Swami Narayan Complex, H.No: 2/1932/1, Majura Gate, Near ITC Bldg, Surat 395002.
Adajan
U-1 Regent Square, Office No 111, Gangeshwar Mahadev Road, Near Shivaji Circle, Adajan, Surat 395009.
Bhattar Road
M/1 Mezanine Floor, Bhagvati Darshan, App.Near Umabhavan Bhattar Road, Surat 395007.
Vesu
Shop No. 8, 1st floor, above Bhinayak fast food, Aagam Arcade, Opp. Hampton Park, Near Jolly Residency & Vijyalaxmi hall, Vesu, Surat-395007.