Overdentures have the same quality that as dentures, however, they are specifically placed with dental implant support. Using some of the simple dental applications, they can replace one or more teeth. Jaw bone structure gets affected to some extent when there is the loss of the tooth. The original structure of the jaw bone is restored with Overdenture properly.

What does an overdenture mean?
The overdenture procedure is a dental appliance that is either attached to the underlying tooth structure or positioned on the top of the teeth to stabilize the structure.
This is a detachable dental application that is used to replace one or more teeth within a dental arch. Anyone losing one or multiple teeth might require to undergo a complete or partial overdenture as they tend to lose the original structure of the jawbone. Under such circumstances, dentists attach the denture either to the remaining teeth in the mouth or to an implant to prevent the deformation of the jawbone.
Currently, the overdenture procedure is considered as one of the topmost treatment procedures for people who hate missing teeth. The dental implants used has a small screw-like structure or anchor-like structure. This is usually made up of titanium which is long-lasting and can be permanently implanted either on the upper jaw or the lower jaw.
It helps to provide support to the jaw bone and act like a normal tooth root without creating any side effects to jawbones or even gum. This attachment of the implant creates stability of teeth and helps you to chew food or talk or laugh confidently.
This is probably the only reason that people prefer to undergo an overdenture procedure rather than undergoing a simple denture implant. Overdenture is, therefore, the easiest and safest teeth replacement procedure that can boost up the quality of your life.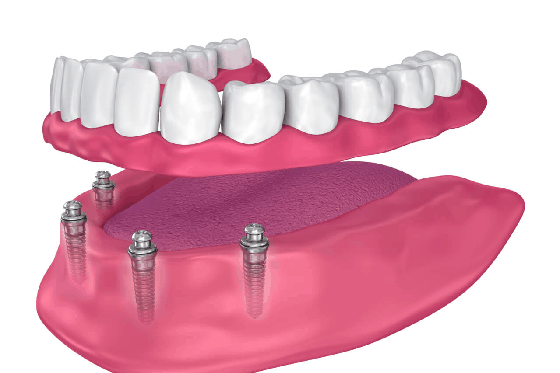 What is the purpose of a complete overdenture?
The Overdenture procedure can be ideal for people who are currently suffering from certain conditions like cleft palate, Oligodontia, Cleidocranial Dysostosis, and Class III occlusion. It is mainly for people who are gradually losing one or many teeth due to some gum diseases. An overdenture procedure is the safest procedure as it does not use any adhesive to fix the implant it to the gum, rather it uses some anchoring system that is being attached either to the gum or to the teeth itself.
As a whole, overdenture helps in better functioning of teeth and gums, especially if compared with those of normal dentures. Ordinary dentures are not very stable and may require refitting in the future. In fact, gum remodeling is not possible with this procedure. Overdentures are removable and sustainably used so that it can provide support to the underlying bone for a long time. This is the reason overdentures are made up of acrylic materials.
Some of the other notable benefits of having overdentures are-
Overdentures that are attached with some adhesive might not be stable enough, but overdentures that are being attached with screws are quite stable and long-lasting. This provides improved stability of the gums and that lets you chew your food thoroughly. This, in turn, results in the breakdown of food particles and promotes better digestion.
If you experience the worst tooth loss, then the natural process of shrinking jaw might change your appearance by shrinking the space between chin and nose. This shrinking can be avoided by undergoing an Overdenture procedure.
After undergoing the implant Overdenture procedure, the jaw bone gets stimulated constantly either by natural teeth or by the dental implants. With this stimulation process, the gum will stop shrinking and you can restore your facial structure.
If the dentures are attached with adhesives, then that they may start moving while talking or chewing and create unnecessary pain and bruising. Attaching overdenture with implants is more secure and stable and eliminates any chances of embarrassment.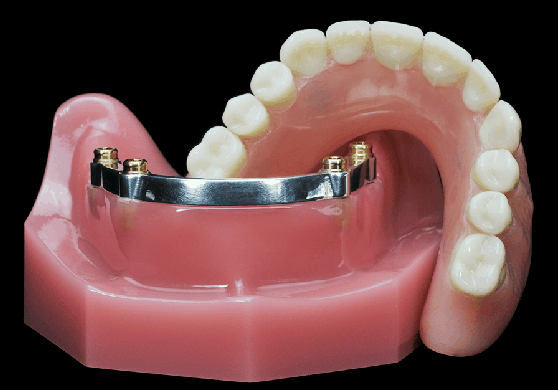 What are the types of Overdenture Treatment?
There are three most common types of Overdenture procedure-
Gum Supported implant – In this treatment, the overdentures are placed on the gums and attached with the upper and/or lower jaws. The removable overdenture is safely attached to the implants through retentive attachments and amalgamated into the denture. The underlying tissues and bones support the dentures and require minimum care for most of the patients.
Implant overdenture supported to a bar- The overdentures are attached to the metal bar that is again secured with the implants. This might be attached to both the lower and upper jaw and can be removed if required.
Fixed implant overdenture – In single implant overdenture treatment, the overdenture and the bar are fixed on the same jaw forming a single framework. This framework is attached to the jaw with a screw that can only be removed by dental surgeons.
Tooth supported overdenture – Tooth retained overdenture can also be attached to the teeth or to the dental implants. This can be a better option as it does not include extraction of the persisting teeth and this process may create anxiety among some people. A tooth-supported overdenture retains some of the canines permanently. However, before undergoing a tooth-supported overdenture procedure, it is very important to perform a root canal treatment first. After that, the metal bar is attached individually with the base of the overdenture and the attachment is placed securely. This procedure can be applied for both the upper and lower jaw.
Do not forget to maintain proper oral hygiene after undergoing an overdenture procedure as that may start developing certain issues like cavities and other gum diseases. Patients undergoing this procedure are instructed to remove dentures at night and clean them thoroughly. Following the surgeon's instructions and regular checkups can ensure patients to get healthy oral hygiene.
Am I the right candidate?
The ideal candidates for undergoing an overdenture procedure can be both men and women who are currently struggling with tooth loss. Any person who treasures a healthy gum tissue and jawbone can undergo this procedure. Now, the extent of the procedure typically depends on the number of tooth loss. If a person loses only one or two teeth, then undergoing an overdenture procedure might not be very apt, but people with major tooth loss might consider overdenture as the best procedure. Therefore, the number of teeth that you have lost will determine which procedure to undergo.
If you are suffering from some specific gum diseases, then there are high chances that your teeth may start falling out. This procedure can be slowed down or stopped with proper medical intervention. However, if most of the teeth start falling out then it would be the best idea to use some replacement teeth like overdenture.
One or more than one missing teeth can actually disturb the entire jaw shape and a full set of teeth. In such a case, dental implants are the best when it comes to maintaining natural teeth. According to most dentists, using overdenture is actually the best budget-friendly option. Even though it is not at all similar to natural teeth, but when it comes to feeling comfortable, it is probably the best option.
People with decayed teeth may also feel the need of undergoing an overdenture procedure because waiting for a long time after losing teeth can lead to moving and drifting of the existing teeth to the empty space.
Finally, people who do not feel confident with their appearance may also choose to undergo an overdenture procedure. It would be the best idea to discuss every little thing with your dentist and get the best option.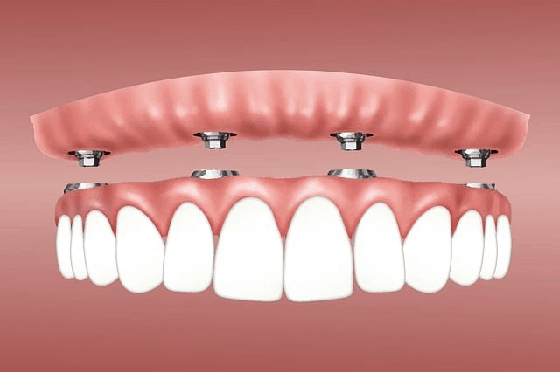 How much does Overdentures cost?
Just like any other cosmetic procedure, it is very difficult to assess the exact implant overdenture cost. If you want to know the exact cost of this procedure, then consulting with a dentist is probably the best option. The exact price can only be known after proper diagnosis of the condition and then they create a customized treatment plan which can help calculate the cost more accurately.
The overall implant overdenture cost is dependent on many factors like the quality of implants and replacements used the extent of the treatment area, surgeon's fees, location of the clinic and the latest technologies used. In some cases, the cost of undergoing an overdenture procedure may also be covered by insurance. If you are not sure about it, then it is compulsory to consult about it to your insurance agent.
How can Sabka dentist help?
If you are searching for "overdenture near me", then Sabka Clinic is the best option. Sabka Dentist Clinic is not just a simple clinic; it is one of the largest chains of dental clinics in India that is spread around the five most important cities in India like Mumbai, Pune, Surat, Ahmadabad, and even Bangalore. There are over 500 dentists working under one roof who are treating millions and millions of patients under one roof. According to some stat reports, Sabka Dentist has conducted more than one lakh root canal procedure, implant surgeries and a lot more.
The dentists in the Sabka Dentist clinic have vast experience and are adept at performing most of the dental treatments efficiently. The Clinic's main aim is to provide most affordable implant overdenture cost to treat maximum number of people. They also make sure that the patients walk out of the clinic with a happy and delightful face. The services that they provide are based on honesty, integrity and middle-class values and concentrate on escalating the quality of life.
Frequently Asked Questions
Q: How can I know if the Overdentures for replacing my missing teeth is right for me?
Each patient is unique and needs a personal checkup and consultation by the dentist. A simple FREE dental checkup at Sabka Dentist Dental Clinic will provide you all the information you need on whether overdentures are right for me and also how the same can be done.
Q: How long does overdentures treatment take?
Treatment time varies from patient to patient. The treatment plan will be decided by your dentist after the checkup. At this point, the dentist can provide you an estimate of the treatment time.
Q: I am a denture wearer; can my current dentures be adjusted to be used for making the overdentures for implant-retained dentures?
Yes, there is a possibility that your current dentures can be used will small modifications. But this can be checked only by the dentist during the first checkup with the implantologist.
Q: I often suffer from inflammation and sore spots due to the denture moving and brushing against my gums when I chew food. Will overdentures help me in the prevention of these sore spots?
Yes, Since the overdentures are anchored and snap fitted on the implants that are placed in the jaw or the mandible, they cannot move when you chew and hence, the sore spots are prevented and chewing is made a lot more comfortable by overdentures.
Q: What can I eat with implant-retained overdentures?
Overdentures provide you a new life especially in the case of foods that you can not eat when you have dentures. With implant retained overdentures, you can eat most of the hard and sticky food that you have to avoid when you are wearing conventional dentures.
Q: Will I still to still the denture with adhesives?
No, the overdentures are kept in place in the mouth through a snap fit on the implants and hence no adhesives are required.
Q: What is an Overdenture Partial?
An Overdenture is a removable denture, whose base covers one or more teeth or prepared roots or implants. An overdenture is primarily suited for elderly patients that have lost some teeth but not all. They can either be tooth supported or implant supported.
Q: What are Overdentures with Implant/ What are Implant retained dentures?
Edentulous patients with sufficient amount of bony ridge can opt for implant supported overdenture. This type of overdenture gains support from both the dental implants and intraoral tissues. Implant-supported overdenture provides better stability of the prosthesis and reduces bone resorption. However, this treatment can be time consuming.
Q: What is the difference between Denture and Overdenture?
The principle of Overdenture lies in retaining natural teeth/roots as abutments in order to support the prosthesis and considerably reduce the progress of residual ridge resorption. Another advantage of overdenture is that the sensory aspect is improved. The nerves in the roots/teeth are still present and therefore sensation is enhanced. On the other hand, complete denture will require extraction of all remaining teeth, while fixed partial denture will require the adjacent teeth to be prepared or ground down.