Pediatric Dentistry in Ahmedabad
A Pediatric dentist treats the oral health of the children till their teenage years. The vast difference in some of the aspects of the oral health of children and adults makes it important to deal with them separately. If you are residing in Ahmedabad, then you can find some nice options for a Pediatric dentist at any branch of Sabka dentist. Visit your nearest branch to deal with your child's dental health.

What is a Pediatric Dentist?
Pediatric Dentistry involves treating the oral health of children from birth to adolescence. A child requires special attention when it comes to dental health so the pediatric dentist examines their overall oral health right from their birth up to their teenage.
Now finding the best Pediatric Dentist in Ahmedabad, Mumbai, Surat, Pune and in other cities is important because every child requires proper dental care without which children may possibly experience oral decay or other oral diseases.
Overall the Pediatric Dentists in Ahmedabad and other cities usually complete their four-year degree course from any reputed dental school and then complete training of two years before providing complete oral health care to the children.
Their treatment includes reviewing the oral health risks in infants, habit counselling, early assessing, treating some serious dental conditions, managing gum diseases and taking care of some serious dental injuries.
Common Pediatric Dental procedures
Fillings – Teeth filling is either composite resin or glass isomer that is also used to fill a dental cavity. The Pediatric Dentist in Ahmedabad at Sabka Dentist first chooses to clean out the cavity and then seal the cavity with a dental filling.
Crowns –

A deep and large cavity may affect both the side of the tooth, so the children may need a stainless steel dental crown around the damaged tooth. The best pediatric dentist in Ahmedabad at Sabka Dentist usually places the crown on the surface of the tooth in a single session.
Tooth extraction – The tooth extraction procedure is probably the most terrifying treatment for any children that includes extracting the affected tooth to limit any damage.
Space maintainers – When a child loses their molar due to dental cavity, gum infection or accident, the pediatric dentist usually uses a space maintainer to prevent the remaining teeth from shifting to the empty space. The space maintainer usually holds space until the adult teeth are ready.
Dental cleaning and fluoride treatment– In this treatment, the pediatric dentist cleans up the calculus layer from the teeth surface to prevent the dental cavity or other gum diseases. After completing the dental cleaning procedure, the pediatric dentist applies fluoride to the teeth surface to protect the teeth from decay.
Orthodontic care – If any child is marked with a bad bite mark or overcrowded teeth, then it is very important to keep an eye on their oral development. A child undergoing orthodontic treatment at an early age may get the best results and can also avoid undergoing extensive treatment in the future.
Pulpotomy – Pulpotomy or Pulp therapy is the treatment of affected nerves and blood vessels of the teeth. Most of the children require undergoing this treatment procedure either due to extreme tooth decay or as a result of tooth injury.
How to choose a Pediatric Dentist?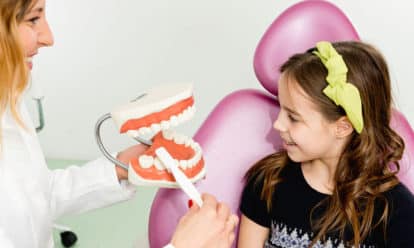 Best Kids Dentist in Ahmedabad and other places specializes in providing customized treatments to children. However, selecting a trustworthy pediatric dentist is an important decision as that is related to the health of your child.
Children are usually very scared of the dentist, so it is important for the dentists to create a positive impression in their mind and make the child feel comfortable. So following are some of the most important points to remember when choosing a pediatric dentist-
Education and experience – If you have a list of pediatric dentists ready for you, then doing a little homework is vital. It is very important to be aware of the educational background and the specialty training that the dentist has undergone. Before getting an appointment you must be absolutely confident about the selection and verify if they have a license. It is also crucial to know the years of experience and reputation that the pediatric holds.
How does your child feel? This is another most important aspect that a parent must consider when selecting the Best Child Dentist in Ahmedabad or any other city. Parents must make sure that the dentist has a decent attitude and the child feels comfortable with his or her company. The pediatric dentist must pay attention to every little concern of the child and create such an atmosphere that the child relishes it.
First consultation matters – The first consultation with the pediatric dentist is important to understand every single aspect related to the child's dental condition, the treatment procedure that is to be undergone and the oral care that is to be taken. This usually helps the patient and their parents to make the right decision about the child's dental health.
Last but most important factor is following the recommendations provided by your friends and family when selecting a pediatric dentist for your surgeon.
Why choose Sabka Dentist?
Most of the people cherry-pick Sabka Dentist to avail the following services-
They offer the latest high standard treatment procedures at an affordable price and also include easy payment options like zero cost EMI, Bajaj Finserve, Snapmint, etc.
The clinic is located in five most important cities- Mumbai, Bangalore, Ahmedabad, and Pune at the most convenient locations.
Sabka Dentist also maintains utmost hygiene and uses the sterilized equipment to execute certain treatment procedures.
The dentists present in Sabka Dentist is dedicated to keeping themselves updated with the latest advancements by attending several training sessions and seminars.
Dr. Jena Shah Dental Director of Sabka dentist says "Dental checkups are important to maintain good oral hygiene and a disease-free mouth."
Dr. Zita Antao Dental Director of Sabka dentist says "It is recommended that everyone should get a dental checkup done once every 6 months."
Dr. Rupali Gujar Dental Director of Sabka dentist says "A dental checkup is a two-step process that includes evaluation of oral tissues followed by cleaning and polishing."
Frequently Asked Questions
Do thumbsucking hurt a child's teeth?
Thumbsucking for a long time can be harmful to child teeth and gums. Crowded teeth, overbite, underbite and crooked teeth are some problems that may arise from children's thumbsucking habit.
When should my child start brushing?
Brushing with fluoride toothpaste should be introduced to children after they turn 3. Ensure using only pea-sized toothpaste for brushing. Dentists recommend cleaning the teeth and gums of your child with water and a wet cloth.
Why do children need to see a pediatric dentist instead of a regular dentist?
Pediatric dentists are qualified and specialized in taking care of the oral health of children, teenagers and infants. After completing four years of dental school, they go through additional two years of residency training in dentistry to become a pediatric dentist.