After many months or may a year or two, you heard are waiting to hear those golden words from your orthodontist– "We will be removing your braces soon!" Whether you have been told this or not yet, you are surely waiting for that day, isn't it?
No matter how long you've had to wear those chunky bits of brackets and wires on your teeth, removing braces feels like freedom for everyone!
But what does removing braces involve? Can you do it by yourself at home? Well, one thing for sure – you cannot remove your braces by yourself! They need to be done by your orthodontist and involves a process.
When will my braces come off?
As soon as most people get their braces on, they almost immediately ask "when will my braces come off" or " when to remove braces?" But the truth is braces have been put-on for a reason i.e. to help straighten your teeth and give you a beautiful and attractive smile you desire. So, until your teeth have not been aligned properly, your braces need to stay on your teeth.
Most dental treatments last around 2 years, with some lasting longer and some getting completed much faster. The duration of your treatment is decided by the complexity of your case. And your braces will come off when your orthodontist feels your treatment is complete.
Also, the duration of treatment is shortened when you care regular with your appointments to the orthodontist, take good care of your teeth and gums during treatment, and wear all the accessory appliances given to you as part of your treatment.
Process of Braces Removal
First things first – your orthodontist has just told you that he/she shall be removing your braces in the next appointment! You felt that excitement and joy of finally flashing that perfect smile you always dreamt of and the freedom to eat whatever you like.
But, what does removing braces involve? It is important to understand what and how braces are removed.
The D-day has arrived and you are awaiting your turn with your orthodontist. However, remember that your braces removal may get postponed.
Reason? Though your orthodontist may have felt it is time to remove your braces, your teeth may have not aligned as per his/her expectations or may have made some unexpected movements between appointments due to which your orthodontist may want to extend the treatment for a few more days. So, don't be disappointed.
The process of removing braces can take slightly longer than your usual appointments, so be prepared for the same. After your braces are off, there are few more steps that your orthodontist or the dentist will perform before you can show-off your perfectly aligned pearly whites.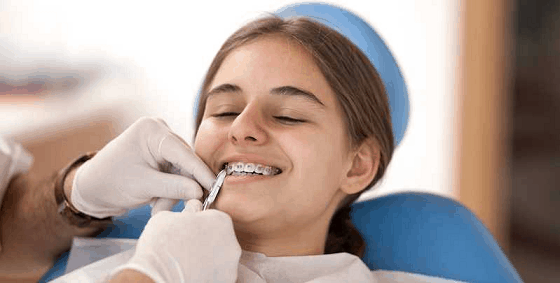 How are Braces Removed?
When your orthodontist begins to remove your braces, he/she uses a special plier meant for this purpose. These pliers are placed on each bracket, one by one, to remove them from the surface of the teeth.
It is normal to hear some cracking and chipping noises, but there is no need to worry. It is just the braces coming off! Along with the brackets, the wires and any elastic bands are removed. Be rest assured, the process of removing braces is a painless one.
Once the braces and all other bits of metal or ceramic are off your teeth, your orthodontist/dentist removes any remaining dental glue on your teeth that was used to stick the braces earlier. Once this is done, your teeth are all clean, and straight. However, the process isn't complete yet.
What Next?
Once the process of removing braces is complete, your orthodontist will take measurement of your upper and lower teeth in their new positions to make a mould. This mould is used to fabricate an appliance called the 'retainer'.
A retainer is usually made up on resin or polyurethane and fits snuggly around your upper and lower teeth to hold them in their new positions for a few months to years, and sometimes even a lifetime.
Why do we need to wear retainers?
Wearing something on your teeth immediately after removing braces might seem like a cumbersome task for most patients. But, after braces treatment, retainers are absolutely essential.
The reason being that once teeth have been moved to their newly allotted places, there is a tendency in them to go back to their original positions, thereby disrupting the teeth alignment achieved using braces treatment.
So, in order to prevent a relapse, orthodontist hold teeth in their new positions using retainers. There are two types of retainers – fixed and removable.
A fixed retainer is a metallic wire that is placed on the tongue-side of your upper and lower front teeth. They cannot be removed by you.
The second type of retainers are removable ones that can be removed by you, especially during eating or drinking.
How to Remove Braces at Home?
Many patients wonder if they can remove braces at home. The answer is – no you cannot! Just like braces placement is a professional's job, removing braces also requires the orthodontist. So, please don't try it at home!
Cost Involved in Braces Removal
Many people believe braces treatment to be an expensive affair. So, post braces removal costs are often a concern for them. But the truth is, your braces treatment cost already includes the process of removing braces and post-treatment retainers. However, it is always best to clarify the same with your orthodontist/dentist.
Post-Removal Care
Your braces are off, your teeth have been cleaned, and your retainer given to you. Does that mean your treatment and doctor orthodontist visits are done for life? Not really!
Even after removing braces, you must ensure you take exceptionally good care of your teeth and gums by brushing and flossing twice a day. You must visit your orthodontist twice a year, just like you visit your dentist. The most important part – always remember to wear your retainer!
At our Sabka Dentist clinics, we have successfully treated thousands of patients with braces. If you wish to resolve your query about removing braces or 'how to remove braces?', visit your nearest Sabka Dentist clinic today!
Related Blogs
Expert Opinion