Dental Clinic in Maninagar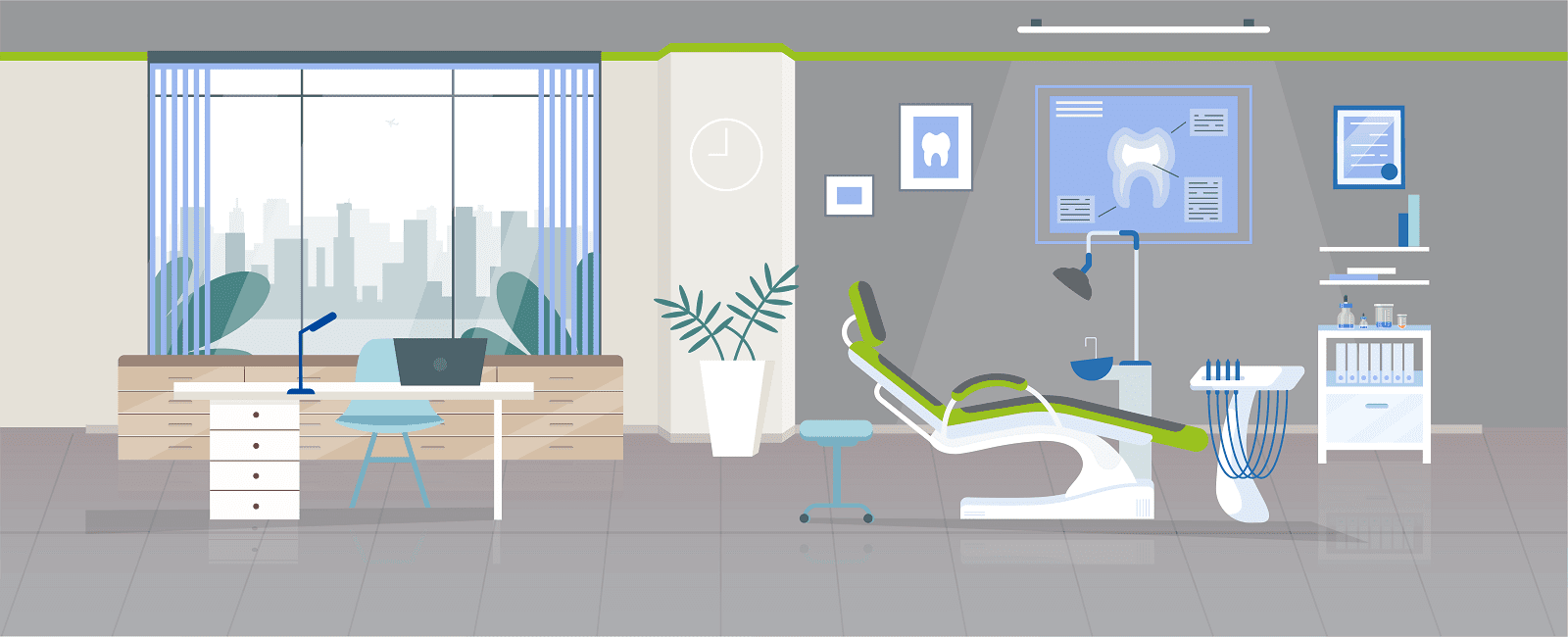 About Sabka Dentist in Maninagar, Ahmedabad
We, at Sabka dentist in Maninagar always look at our patients as family & friends and try to provide as many solutions to every dental problem. Our dentist in Maninagar Ahmedabad, believe in providing exceptional dental care that makes patients feel satisfied.
With gaining more knowledge in dentistry, our experts are well experienced in practicing dentistry with the latest technology. Decades ago, people used to get scared when it comes to visiting the dental clinic as it is related to a painful procedure. But now, with an advanced dental system, people hardly realize any pain.
We, at Sabka dentist in Maninagar, offer all kinds of treatment, whether it is teeth cleaning, root canal or any major implant treatment. With great ambiance and amenities, we never compromise in dental hygiene in our clinics and ensure top-notch clinical experience.
To maintain your teeth and gums healthy, you should visit the clinic every 6-12 months. By looking into this, Sabka Dentist in Maninagar provides free checkups and consultation to the people. To avail of this offer, visit our clinic in Maninagar and experience the dental services.
Dental Treatment provided at Sabka dentist in Maninagar
General dentistry: Our general dentist in Maninagar takes X-rays of your mouth and examines oral health. The dentist checks the report and takes preventive measures before any severe dental problem arrives. The general dentist makes a proper treatment plan and instructions according to your dental reports. The dentist makes sure that patients get the treatments beforehand to prevent further damage to teeth.
Oral surgery: At Sabka dentist in Maninagar, the surgeon performs surgeries with diligence. The oral surgery takes place when the tooth reaches a point where it may not be possible to save the tooth. So the dentist performs surgery to remove or extract the Root canal treatment, impacted wisdom tooth, maxillofacial surgery and dental implants also require oral surgery to prevent teeth for further damage.
Teeth cleaning, scaling, and polishing:

When you had such food or beverages that host bacteria, and afterward you forgot to brush your teeth. This will cause dental issues later on. We, at Sabka dentist in Maninagar, offer teeth cleaning at a very affordable price. Teeth cleaning removes bacteria around the teeth and gums to save teeth from tooth decay. Our dentists use an advanced machine (ultrasonic scaler) that blasts away the plaque and tartar around teeth and gums and clean your teeth. After scaling, polishing is done to smoothen the tooth surface and deliver glossy teeth.
Dental veneers: To close the gap between the teeth and repair the chipped and fractured teeth, dental veneers are the best option. A custom made thin porcelain layer sticks to the tooth's surface to provide glossy teeth and improve the aesthetics of teeth. By applying veneers, you can have the same size, shape, color, and functions like natural teeth. We, at Sabka dentist in Maninagar, provide two types of veneers namely porcelain & resin-composite veneers.
Dental implants: The replacement of missing teeth with dental implants is one of the best options. It takes a long procedure to fill the missing gap with implants. The dentists insert implant screw into the bone and then the osseointegration procedure takes place. In this stage, the implant screw integrates into the bone and takes time to heal. Then an abutment places over the implant screw to hold the crown. The crown sits on the top of an abutment and fills the missing gap.
Pediatric treatment: We, at Sabka dentist in Maninagar, also provide children-friendly treatments. By using modern dental technology, our dentists try to deliver treatments to children with ease. Our dentists work hard to make sure that children should not feel any pain while being treated. Our child-friendly environment makes children calm and enjoy the treatment.
Root canal treatment:

When you suffer from a toothache, tooth decay, sensitivity, swelling, and tenderness, etc. These are all indications of root canal treatment. The infected pulp that spreads inside the root canal needs to be removed. The root canal treatment removes the dead pulp and fills inert gutta-percha material to its replacement. In modern days, local anesthesia is given, so that one can have painless treatment.
Orthodontic (braces): The upper and lower teeth and jaw should meet properly to maintain teeth and gums healthy. The braces are used to align the misaligned teeth and jaw to correct the bite and reduce the strain on jaw muscles. We, at Sabka dentist in Maninagar, offer a variety of braces like metal braces, 3M metal braces, plastic braces, and ceramic braces, etc.
Why to choose Sabka dentist in Maninagar?
To improve your overall health, it is necessary to maintain your oral hygiene. This plays a very important role in your life. For maintaining hygiene, you need to follow a daily routine and visit the clinic every 6 months for checkups.
To solve your problem, Sabka dentist provides you all the required dental treatments in Maninagar also. So visit your Sabka dentist in Maninagar to take care of your oral health as well as overall health. Here are 5 reasons why you should choose Sabka dentist in Maninagar.
Sabka Dentist in Maninagar, work during convenient hours. The patients can visit a clinic according to their flexible timings. Our dental clinic in Maninagar functions 9 hours a day from 12 pm to 9 pm.
We never compromise on dental hygiene in our dental clinic Maninagar while practicing dentistry.
Our friendly staff and qualified dentists always greet the patient with their utmost dignity.
Our clinic is well equipped with modern technologies to serve patients a painless treatment.
We, at Sabka dentist in Maninagar, provide treatment at a very affordable price. Also, we have the facility of EMIs option to make whole payment in installments at 0% interest.
How can Sabka dentist in Maninagar help?
The dream of having a beautiful smile is only one call away!
Our Sabka dentist in Maninagar Ahmedabad believes in providing the best possible smiles on people's faces. The key to a great smile is bright and glossy white teeth. But our motive is not to provide white teeth but also to take care of oral hygiene.
Our consistent efforts to cater to patients satisfying treatment is what we live up to. We also want to make awareness about dental hygiene among the people. To consider this, we started a campaign to provide free dental checkups and consultations to the people who visit our clinic in Maninagar.
So, join your hands with the Sabka dentist family!
Tell me more about Sabka Dentist, Maninagar
If you are one of those individuals who are particular about your dental health care, you need to select the best when it involves oral checkups and treatments. Sabka Dentist is consistently graded as one of the best dental clinics in Maninagar, Ahmedabad.
At Sabka Dentist, people not just get top class treatment for their tooth troubles, but will also get to experience among the best in-clinic patient experiences across India. Irrespective of the background or profession of an individual, we make sure that all of our patients feel comfortable and face absolutely no problems when approaching or getting their oral problems across to our dental specialists.
We are amongst the top dental clinic chains in Maninagar, Ahmedabad, and have a legacy that is unmatched by any other dental clinic in Maninagar, Ahmedabad, India. Our dentists are some of the best dentists in Maninagar, Ahmedabad.
Sabka Dentist often makes it to the list of best dental hospitals in Maninagar, Ahmedabad, owing to our great team of dental experts and surgeons, and state of the art facilities within our dental clinics.
Sabka Dentist was established way back in October 2010, with a single facility in Vile Parle. Currently, we have grown to around more than 100 clinics in Mumbai, Pune, Ahmedabad, Surat, Bangalore, Navi Mumbai, Thane.
Our team at Sabka Dentist works to encourage better dental health and aid men, women and children to feel and look good, and proudly carry their smiles. No wonder, resulting from our team's perseverance and vision to help spread smiles across the world, we have consistently managed to get on the list of top dental hospitals in Maninagar, Ahmedabad.
Hence, the next time you want to visit a 'teeth hospital in Maninagar', Ahmedabad, we should be at the top of your list of dental hospitals in Maninagar, Ahmedabad. Consider us your own 'Apna Dentist'; our dentists are some of the best dentist in Maninagar, Ahmedabad, and we can help you with your oral concerns so that you can carry on and spread happiness across with your enchanting smile.