Everything About Dentures
Dentures are removable appliances that can be easily removed. Whenever you remove your denture or they are not in use, you must always store them in your denture box in water.

We often take our teeth for granted until we lose a few of them. Missing teeth require replacement for a variety of reasons- to allow you to eat, to maintain your facial structure, for aesthetic and psychological benefits. The most common and basic way of replacing missing teeth is by dentures. If dentures have always eluded you and you wonder "how dentures work, you must know that they are time-tested and have successfully replaced missing teeth over generations. Let's understand more about them.
Who Should Get a Denture?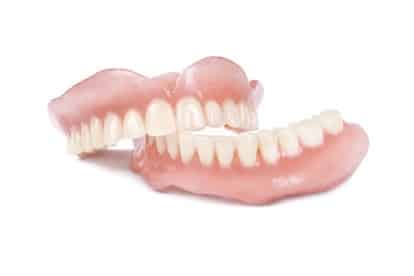 Do all missing teeth need to be replaced? Yes! Are dentures the only way to replace missing teeth? Not at all! Implants, crowns and bridges and of course, dentures are all ways of replacing missing teeth. But, how does one decide if dentures are the best for you? Here are some instances when they are!
You have more than a few missing teeth
Your bone is insufficient for implant placement
You are not comfortable with any surgical procedure such as that required for an implant placement
All your upper and lower teeth are missing
When cost is an important factor for you to choose your treatment option
How Do Dentures Work?
Before we understand how dentures work, you must know that there are primarily two types of dentures:
As the names go, partial dentures replace a few teeth in your upper or lower arches, whereas a complete denture replaces all the missing teeth in an arch. Partial dentures are made in such a way that they take some support from the adjacent teeth but a complete denture is made to take support from your gums and underlying bone.
Dentures consist of a plastic, resin or metal plate that acts as the base over which teeth are mounted. Most partial dentures have a metal clasp that helps hold your denture in place securely. Today, these metal clasps are being replaced with softer, more comfortable and aesthetic materials. A complete denture, however, lacks a clasp.
The basic functions of a denture are-allow you to eat, speak and restore your facial structure that may have been hampered due to loss of one or more teeth.
How To Store Dentures?
Dentures are removable appliances that can be easily removed. Whenever you remove your denture or they are not in use, you must always store them in your denture box in water. Storing your denture in water prevents its warping or change in dimensions.
You must always remove your dentures at night as it is good for your gums, which can relax during the night after a hectic day's work . When you remove your dentures at night, always make sure you clean them just like you would rinse your mouth before getting into bed.
How to Clean Dentures?
Just like you would clean your teeth, always clean your denture. Many people wonder – "How to clean dentures". Well, it is very easy to keep your dentures clean. You must clean them after every meal, brush them gently in the morning and before you get into bed at night. Get your dentures to shine just as you would expect your natural teeth to shine!
It may also be a great idea to use a denture cleaning tablet once a week to clean your denture. All you need to do is drop the tablet in the denture box with water and place your denture in it. Also, remember to change the water in your denture box 2-3 times a day.
When Should You Visit Your Dentist?
Dentures are easy to maintain and extremely efficient replacements of missing teeth. Even after you get your dentures, you must continue to meet your dentist twice a year as it gives them a chance to observe or spot any problems with your denture, your gums or other soft tissues in the mouth.
If you observe any of the following issues, you must visit your dentist immediately:
If your dentures keep coming off when you are talking or eating
You hear a clicking sound from your dentures when you are talking
Your dentures feel very uncomfortable
Your dentures have worn away
You observe a swelling in the gums or pain when wearing your denture
Your dentures are poorly fitting
If you are looking to replace your missing teeth with dentures or wish to replace your old denture, visit our Sabka Dentist clinics for a consultation. Our dental team comprises dentists and prosthodontists who have an expertise in denture treatments. Have you booked your appointment yet?