Braces Treatment in Bangalore
When any of the misaligned teeth takes away the charm of your smile then you must look out for the proper braces treatment. Proclined teeth, crooked teeth, teeth gap, and other problems make a smile inappropriate. If you are looking for braces treatment in Bangalore, then visit the nearest branches of Sabka dentist. Here, you will get quality braces treatment to set your teeth properly with smile improvement.

Have you ever felt ashamed of your smile because of your misaligned or crooked teeth? Crooked teeth ruin your smile and your personality too. Hence, braces treatment not only corrects the smile but also corrects other flaws that is caused due to crooked or cracked teeth.
But, before questioning yourself or the orthodontist (braces expert) about the braces, you need to know some signs that could indicate, you need to go ahead with the treatment.
Crowded teeth making it difficult to floss and brush properly
Tooth sensitivity. Indicating misalignment of the teeth
Frequent cheek bites
Speaking issues due to crowded teeth
Excess pain in the jaw
Dental braces are nothing but a cosmetic device used by the dental experts that align and straighten the teeth, giving them an accurate position with regards to a person's biting process. Aims at improving the dental health, while fixing the gaps too.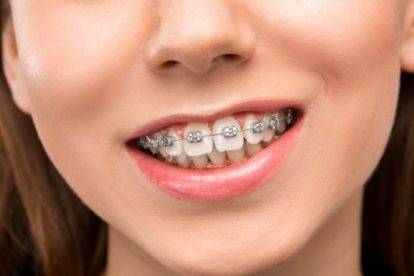 Braces treatment in Bangalore is a part of dentistry that diagnoses and corrects teeth and jaw alignment problems.
At Sabka dentist in Bangalore, we have well- qualified Braces specialist who are highly skilled in treating the braces also known as an 'orthodontist'. You can trust us as we are one of the best Braces Specialists in Bangalore.
Who is a braces specialist?
A braces specialist is a dentist who has done a supplementary study to specialize in the diagnosis, prevention, and treatment of problems in the alignment of teeth and jaws.
Our braces specialist in Bangalore Sabka Dentist clinics, takes detailed records of your teeth and jaw via X-rays, diagnose any problems, plan the treatment, and carry out the dental treatment as required.
Why should you have Braces Treatment?
If you have uneven teeth, it not only affects the appearance but it also leads to the problem of speech clarity. If the teeth are not aligned properly, they will be crowded in a position where they are not supposed to be. Overcrowding of teeth affects the overall oral health.
Cross biting is another very important problem that has to be solved. Cross biting usually takes place when few of the lower teeth push behind the upper teeth. This leads to rough wear and tear of teeth.
Our braces specialist in Bangalore Sabka Dentist clinics will serve with the most chilled yet opportune braces treatment at very affordable rates. Our braces specialists in Bangalore clinics knows the best of this treatment and the results.
While, giving an attractive smile is not the limit for the improvement but providing the benefits of long lasting dental health is also taken into consideration.
Not wearing braces could lead to many disadvantages of dental health, so to avoid such dilliama, consult our braces specialist in Bangalore and experience the best service.
At what age should you get braces treatment?
As maintaining the oral health is a necessity, there is no specific age required to get the braces treatment. Early consultation with a braces Specialist in Bangalore will guide you, at what is the right age group of having braces treatment.
It is also advised by the braces specialist in Bangalore that an individual is capable of having permanent set of teeth.
Braces specialist in Bangalore does not only deals with the age group, but works towards the improvement of misaligned teeth, to avoid further dental risk.
Our braces specialist in bangalore, clinic of Sabka Dentist will help you to select the best braces procedure according to your wishlist, which surely ensure you with the best results.
Braces treatment, does not require age it requires to solve the issue of misaligned teeth, so as to avoid further dental risk.
What Types of Braces are Available at Sabka Dentist in Bangalore?
If braces are an absolute solution for the patients, the braces specialist at Bangalore Sabka dentist will prescribe an appliance specific for your needs. The braces may reside, bands, wires, and other fixed or removable corrective appliances. The option varies on what type of braces you select.
There are two expanded categories of braces treatment:
The visible treatment- Braces materials are made up of metal and ceramic braces. Colorful bands are fixed on the teeth while different types of brackets (ceramic metallic) are secured properly to the front of each tooth giving it a precise pressure. Also, there is new and a unique bracket called self- ligating brackets that is introduced in modern dentistry. Along with the benefits, self-ligating braces take a shorter duration of the treatment and ensures better oral health.
The Invisible Treatment: This braces treatment is furthermore divided into two parts :
The lingual braces treatment- Here, the brackets are fixed onto the backside of the teeth making it invisible and in a position where they cannot be spotted.
Clear Aligners treatment- Clear aligners are removable type of braces that are worn throughout the day and can be removed while eating, brushing, flossing, and sleeping. Clear aligners are transparent by color. It has to be adjusted for at least two weeks and has to be replaced when braces specialist recommends. New sets are constantly given until the teeth have an aligned position. Clear aligners braces cost from Rs 65000/- to few lakhs.
You can select any option from above and our braces specialists in Bangalore clinics will make sure to give best results out of the treatment.
How Do Braces Work?
Braces work by applying continuous pressure over a long period of time to slowly move teeth in a specific direction, giving them the proper position. As the teeth move, the jaw bone changes its shape as precise force is applied.
Braces are made up of the following components:
There are different components out of which braces is carried-
Brackets are the small square shape that are bonded directly to the front of each tooth with a special dental bonding agent or are attached to braces bands. Brackets act like handles, giving the grip by holding, that creates a movement of the teeth.
There are several types of brackets, like stainless steel is a metallic brackets commonly selected or recommend and tooth-colored ceramic or plastic, which are often selected because they're less obvious.
Archwires are metal or ceramic string attached to the brackets. They act as a track to guide the movement of the teeth.
Ties are small rubber rings or fine wires that attach the archwire to the brackets. They can be clear, metal, or colored ones.
A buccal tube is on the band of the last tooth which holds the end of the archwire securely in place to keep the wire stable.
Tiny elastic rubber bands, called ligatures, hold the archwires to the brackets. Springs are placed on the archwires between brackets to push, pull, open, or close the spaces between teeth.
Elastics or rubber bands are attached to hooks on brackets and are worn between the upper and lower teeth in different ways. They apply pressure to move the upper teeth against the lower teeth to achieve a perfect fit and creating the position of individual teeth.
Facebow headgear is that the wire widget that's meant to move the higher molars back within the mouth to correct bite discrepancies and additionally to form house for crowded teeth.
The facebow consists of an inner metal half-formed sort of a horseshoe that goes within the mouth, attaching to buccal tubes, and an outer half that goes around the outside of the face and is connected to a headgear strap.
What are the common braces problems?
Some common braces problems are: Excessive overbite, underbite, Protruded teeth, Gaps and Crowded or crooked teeth.
Factors affecting the Teeth Braces Cost in Bangalore
For anyone who is primarily based out of Bangalore, you may well be wondering what is the braces cost in Bangalore. Prices to get braces will vary dependent on numerous aspects.
Apart from the location where your selected dental care clinic is situated in, there are various additional factors involved here.
Age group – The age in which you begin treatment has an effect on the price of the braces. For those who choose orthodontic braces at a much younger age, it could be significantly more cost-effective, as it is generally much easier to correct tooth alignment problems at a young age.
Location – The location of the dentistry medical clinic has a key role too when it comes to the cost of braces. For example, the teeth braces cost in Bangalore might be different as compared to the fees you would discover in a dental hospital based in another metro.
Form Of Braces – The type of braces also has a significant impact on the cost of braces. For example, invisible braces in Bangalore cost you much more in comparison to the metallic braces.
In addition, the location of the dental centre will also have an impact on the cost of each kind of braces. For example, invisible braces cost in Bangalore can be different from the cost of other braces in some other city or metro.
There are even additional factors that could have an impact on the cost of braces. Hopefully, you now have a clearer picture on the teeth braces cost in Bangalore, and the elements influencing this.
Why Sabkadentist for Braces treatment in Bangalore?
Providing a positive environment of Dentistry.braces specialist in Bangalore clinics of Sabka Dentist are very well versed with the braces treatment. It fulfills the expectations of patients during braces treatment in the following way:
Full-time specialist
100% sterilization
Advanced options
Individual attention
EMI options available
High-quality materials
Wishing for having a straight and beautiful smile, book an appointment with our Braces specialist in Bangalore at our sabkadentist, and experience the modern cosmetic dentistry.