Pediatric Dentistry in Pune
A Pediatric dentist is an expert in assessing and treating children's dental health issues. They take up an extra dental program in their course to specialize in child's dental health. The dental health of a child differs at every age and is different from an adult. The Pediatric dentist is an expert in treating the dental health of a child of any age. Find some of the better Pediatric dentistry in Pune at Sabka dentist to your nearest location.

What is a Pediatric Dentist?
A pediatric dentist is someone who specializes in analyzing and treating dental issues in children of all ages (from infants to young adulthood). A pediatric dentist in Pune and in other cities usually completes a specialized course dental program that is targeted for infants, teenagers and special children.
They are experienced and qualified in diagnosing and treating teeth, gums and oral health conditions of children throughout different stages of childhood. Most of the children start receiving their baby teeth during the first six months of their life. When the child reaches the age of 6 or 7 years the milk teeth start falling out.
Eventually, the first set of teeth are replaced by a second set of permanent teeth. Now if these permanent sets of teeth are not maintained properly then there are chances that your child may experience dental decay, cavity or other painful dental diseases for the rest of their life.
To alleviate such a situation and to prevent dental issues, it is important to keep each and every child under a routine dental checkup from the best pediatric dentist in Pune and other corresponding places.
Any child dentist in Pune, Mumbai, Surat, Bangalore needs to complete their four-year degree course in a dental school and then complete two years of residential training in dentistry for infants, children, teenagers and also children who need special care.
Common pediatric Dental Procedures
Following are some of the most common dental procedures that the pediatric dentist in Pune performs-
Stainless Steel Crowns (SSCs)- This is a very efficient tooth restoring procedure that involves using a stainless steel crown to any decayed or damaged chewing tooth which if left untreated can give rise to adverse conditions or may end up damaging the tooth pulp. In such cases, the decayed part of the tooth is cleaned and then the crown is then attached to the surface of the tooth to prevent any further damage until the tooth is permanently lost.
Tooth-colored fillings – Composite resin is used as a dental filling in children that can restore both the front and back teeth or even repair fractured teeth. However, an efficient pediatric dentist in Pune can carefully match the color of the natural teeth to obtain natural appearance.
X-Rays – Children requires undergoing x-ray procedure more often than any adults because they have a quickly developing mouth. Performing an x-ray can help the pediatric dentists to analyze the presence of any weakness or cavity in the underlying structure that is not visible in naked eyes. For children who are prone to tooth decay must also undergo this procedure every six months.
Dental cleaning – In a dental cleaning procedure, the dental condition and the overall oral health is first analyzed. Then the child's teeth are thoroughly cleaned to remove the tartar and plaque layer to stop the occurrence of cavities and gum diseases. Once the cleaning procedure is done, a layer of fluoride is applied to the tooth that can protect and strengthen any weak or decayed teeth.
Fluoride – Cavities occur due to the weakening of the mineral composition of the teeth enamel. Applying a fluoride layer on the teeth helps in remineralization of the decayed areas and makes the teeth healthy again. It is only an expert pediatrician who can specify the amount of fluoride required for the child because an excessive amount of fluoride can damage the developing teeth.
Cavities – Tooth decay is common in younger children because the bacteria that normally exist in their mouth starts reacting to the sugar contents of the foods and other aerated drinks that slowly results in the decaying of the tooth enamel. This loss of enamel tends to damage some parts of the teeth that finally result in cavities. However, it is important to maintain proper tooth hygiene by brushing teeth twice a day, flossing once a day, maintaining a healthy lifestyle and efficiently using the fluoride.
Early orthodontic care – If any child has been marked with an overcrowded tooth or crooked gum or even a bad bite mark then pediatric dentists may recommend interceptive orthodontic treatment that can rectify the jaw development and prevent from undergoing any extensive orthodontic work in their future.
Pulp treatment – Pulp therapy is the treatment of affected nerves and blood vessels in the teeth that is mostly the result of extensive dental cavities or tooth injury. In some cases, children who do not undergo pulp therapy may experience pain, infection, swelling of the gums and even tooth loss in worst cases. The main purpose of undergoing a pulp treatment is to extend the life of the baby tooth until the permanent tooth pops up.
Tooth extraction – Tooth extraction is one of the most common treatments that a child is usually most scared about. This is usually considered as the last resort in case of severely damaged tooth decay. Some tooth extractions are done to help in better tooth alignment and in some cases, the primary molar is removed to maintain minimum space between teeth.
Sealants – Sealants are usually plastic coatings that are applied on the tooth surface and are highly beneficial in preventing tooth decay. The pits and grooves that are present at the surface of the body can result in the formation of a dental cavity. Sealants and fluorides together help in preventing tooth decay.
Space Maintainers – The space maintainers are used when a primary tooth is prematurely extracted because it assists in maintaining space on either side of the extraction site. This makes sure that the permanent tooth can erupt in the right position.
How to choose a Pediatric Dentist?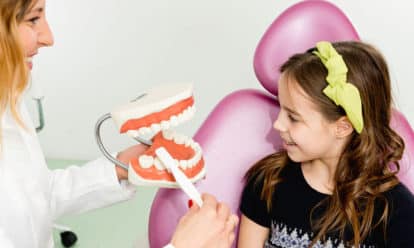 The best pediatric dentist in Pune and other cities specializes in treating certain health conditions that are specified to meet the unique needs of children. The only difference that the pediatrics have with a normal dentist is that the pediatric dentist limits their practice to treat the oral health conditions only in infants, children, who need special care.
Choosing the right trustworthy pediatric dentist in Pune is really important as that can help to maintain your child's happy face. Parents must choose such dentists for their children who can create a positive impression at first sight. Moreover, it is even more important for your children to feel safe and comfortable with the doctor and staff around them.
So following are some of the most important factors that must be kept in mind when choosing a Pediatric dentist-
The education and experience of a pediatric dentist must be verified before setting up an appointment with them just to make sure that that they are verified.
When choosing a child dentist in Pune or any other place, it is very important to make sure if your child to feel safe and comfortable with the dentist.
At the first appointment, being a parent you can ask questions to understand every single aspect of your child's dental health and be aware of the treatment procedure that they need to undergo.
Why select Sabka Dentist?
Finding the best kids dental clinic in Pune, Mumbai, Ahmedabad, Bangalore, and Surat is not really difficult when you know about Sabka Dentist. This is India's best clinic that caters to the finest treatment services to all their patients that too at a very pocket-friendly rate.
The dentist and staff in this clinic maintain the utmost hygiene to make their patients feel comfortable and safe. So, Visit Sabka Dentist now and get the best pediatric dentist near you in Pune.
Dr. Ankita Gada Dental Director of Sabka dentist says "Pediatric dentistry is a branch of dentistry that deals with children's teeth from birth through adolescence."
Dr. Zita Antao Dental Director of Sabka dentist says "Early detection is essential in children also to maintain oral health and alter aberrant habits."
Dr. Rupali Gujar Dental Director of Sabka dentist says "Children's teeth are often neglected because they of the common notion that they are going to shed. However, children's teeth are crucial to maintain space for permanent teeth and to allow permanent teeth erupt in correct position."
Frequently Asked Question
Who is a Pediatric Dentist?
Dentists take special programs in their courses to become specialized pediatric dentists. A Pediatric dentist is an expert in treating and assessing children's dental health issues from infant to teenage. Pediatric dentists are specialized in providing oral care for children's teeth, gums, and mouth.
Do all dentists asses, babies?
Dentists are specialized in treating and assessing the dental health of an adult. they can provide treatment to babies but they are not qualified as pediatrics.