Teeth Cleaning Treatment and Cost in Thane
Having yellow, stained, or discolored teeth can be a pitfall for your smile and overall dental health. You can get proper treatment with teeth cleaning that can remove the yellow, stains, and other discoloration of the teeth. It can help you to boost your confidence with whiter teeth. If you reside in Thane, you can get teeth cleaning treatment to make your teeth cleaner.

The teeth cleaning treatment at Sabka Dentist in Thane solves all your doubts.
Teeth cleaning
is an effortless and undemanding technique, making use of ultrasonic devices to identify the tartar and plaque so as to rectify the places of unattractiveness. Plaque and tartar are those elements that start forming on the surface of your teeth and cause the yellowness. They begin to form at the start of the gumline and go right between the vacant spaces between teeth. To eradicate these elements from the mouth, is the primary goal of teeth cleaning. On removal of all these bacterial toxins, the
bad odor
also takes a backseat and makes your mouth smell, fresh as ever. Good dental habits such as brushing and
flossing
will definitely help you achieve clean teeth. But getting this done, professionally, and at a minimum of at least two times a year, only accentuates your dental health, making it much easier to maintain.
Teeth cleaning – who should get it done?
Teeth cleaning, as comprehensive and easy as it may sound, is a treatment that is meant for everybody but is specifically for those having a hard time taking care of their oral health for the ones fighting bad vices such as smoking, chewing tobacco and betel nut, or just neglecting their oral health and hygiene. Sabka Dentist in Thane helps these individuals to get rid of such bad habits, as well as revamp their oral health and hygiene.
Meaning of Teeth Cleaning procedure
A non-surgical procedure,
teeth cleaning
is a facile and trouble-free procedure that is performed by highly trained and advanced dentists at Sabka Dentist in Thane. It is performed in a series of detailed steps, to remove all the bacteria once and for all.
Benefits of Teeth Cleaning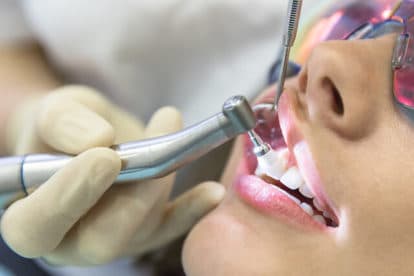 Teeth cleaning, as a procedure can be extremely meritorious. And this is clearly visible in the results that the coherent and proficient dentists deliver, some of which are :
Prevents formation of cavities: Usually, the bacteria that create it's home inside the mouth can lead to the formation of holes, or better known as 'cavities'. The plaque settled on the surface of the teeth, seeps inside the tooth, and starts collapsing it, slowly, until a hole is formed that only causes further damage to the tooth. Teeth cleaning gets rid of the plaque, which in turn prevents the formation of cavities.
Reduces the risk of losing teeth: The plaque and tartar on the teeth can also deep inside the gum line and cause the teeth to loosen out from the socket. To avoid this, and also severe gum disease, teeth cleaning is the method many opt for.
Whitens teeth: Apart from its oral health benefits, teeth cleaning also makes it visually more appealing by getting rid of the source of plaque and tartar. This helps in getting rid of the yellowness and bringing back the much-needed shine of the teeth.
Fresh breath: Fresh and pleasant breath is another very important outcome of professional teeth cleaning. Accumulation of tartar and plaque only worsens the breath, creating an odor that one cannot stand.
Step-by-step Teeth Cleaning procedure:
Teeth cleaning is a structured and well-ordered procedure at Sabka Dentist in Thane. Made up of a few simple yet detailed steps, it is a moderately time-consuming procedure, which can result in a shiny and sparkling set of teeth. The detailed steps can be listed out as follows :
Examination: A tiny mirror is used to check each part and each side of your set of teeth. Any indication of tartar and plaque leads to the beginning of the teeth cleaning procedure. However, the detailed dental examination is also performed to check for any inflammation, that may get worse with any treatment. Therefore, our skilled dentists very minutely, check each part of the mouth for any such possibilities.
Removal of bacteria: Next, plaque and tartar are removed that have built over time. A scaler, a scraping like tool, is used to scrape off the plaque and tartar. A scraping sound may seem like a matter of worry, but one need not hesitate as it is very normal. The scraping process starts off from the gumline and then continues between your teeth.
Fluoride gel: A gritty consistency toothpaste is used to clean the teeth further using an electronic toothbrush. This is like the grinding part of the process as it makes a grinding sound with such consistency. This is like an exfoliation phase because it exfoliates and removes any dirt remaining.
Revaluation: A last, final and thorough checkup is performed to see and find any bacterial elements if present. The patient is asked to rinse his or her mouth so that the mouth is free of the gritty toothpaste elements or any other material used during the procedure. Since it is so cautiously performed, the dentist also looks for any other dental health problems.
Duration of the procedure:
As it is a simplified procedure, it does not take more than one session at the dental clinic. However, if the level of seriousness of the development of plaque and tartar is great, then it may require more than just one session. Sabka Dentist assures to get your teeth cleaned, and achieve a level of dental satisfaction like never before!
Post-treatment care
Foods and beverages that cause stains and sensitivity should not be consumed. This can have a direct effect on the teeth cleaning procedure that you just received because they might either discolor your teeth again or cause a sense of discomfort that will become unbearable after a point. Moreover, the bad vices such as smoking, chewing of betel nuts and tobacco should also be stopped permanently to improve your physical, as well as dental health also.
Points to remember:
No dental treatment can work for the long term, if you don't maintain it back at home, on your own. So along with professionally cleaned teeth, you also need to take care of them by brushing and flossing at home.
Teeth Cleaning requires to be performed twice a year, which should become a compulsion for each individual.
Water helps our bodies in many ways. Oral health issues is another aspect that is tackled well with the help of water. Drinking water also helps to wash away any of the food particles that may have been stuck between our teeth.
Foods that stick to your teeth such as candy, lollipop, chewing gum, etc. should all be avoided.
Citrus fruits like orange and lemon should be avoided because of their high acidic levels and also, beverages such as tea and coffee should be avoided because they are also a source of discoloration.
Bottles caps should not be opened using your teeth, as they can become fragile, more than they already are.
Sabka Dentist in Thane proves to be, yet again the most resourceful and impactful dental clinic for all your dental needs.
Paradise Tower, Flat No 215, 2nd Floor, Gokhale Rd, Thane West, Thane, Maharashtra 400601
Shop No-17, Building No-B2, Prestige Garden Almeida Road, Near Nitin Company, Panch Pakhdi, Thane, Maharashtra 400601
Shop No. 1, A-39 Wing, Glacia Bldg, Opp Jain Mandir Eduljee Road, Tembhi Naka, Thane (West), Thane, Maharashtra 400601