Dental Clinic in Gokhale Road
Address: Paradise Tower, Flat No 215, 2nd Floor, Gokhale Rd, Thane West, Thane, Maharashtra 400601.
Monday – Saturday 11 AM – 8 PM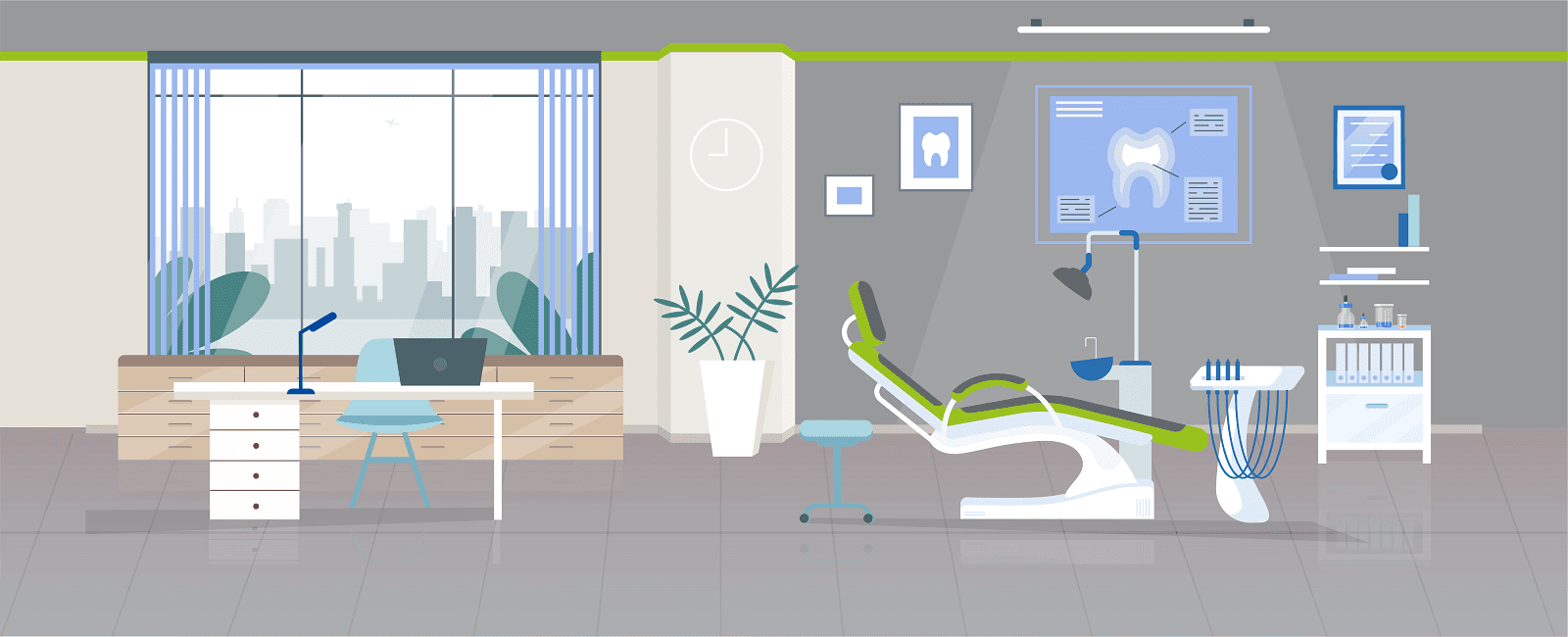 About Sabka Dentist Dental Clinic in Gokhale Road
Dental treatment is something that cannot be neglected. Sensitivity, tooth pain, dry mouth, and bad breath are a part of dental problems. It is necessary to look after these dental problems. Hence, visiting a dentist and taking up utmost dental care by the dental expertise at Sabka Dentist dental clinic in Gokhale road is recommended to maintain one's oral health and hygiene.
Sabka Dentist, dental clinic in Gokhale road aims to provide the most unparalleled dental experience at affordable rates.
Sabka Dentist are not only highly professional and precise about teeth related problems, but are also supremely concerned about one's well being.
Sabka Dentist in Gokhale road provides a confining environment with pain- free dental treatment. We work to provide better oral health to one and all. We provide high-standard dental treatment with the advantage of giving treatment at an affordable price. So the combination of the best treatment and affordable pricing will surely give you the optimal results and best dental experience.
Just in case you thought that was it, Sabka Dentist in Gokhale road offers much more. Specialized and well-trained dentists, along with zero waiting policy for the ones that are restricted by time, high-end instruments with a dental team that creates a comfortable environment for lesser pain, or at times even painless procedures. The best dentists for a worthy dental treatment are available at Sabka Dentist, Gokhale road.
Treatments given by Sabkadentist, dental clinic in Gokhale road
Teeth whitening (Bleaching): Teeth whitening is one of the most popular procedures that everyone wishes to get right. With the expertise dentists from our side, this will be done with a lot of ease. And, that will make you smile wide and bright, with extreme confidence.
Bonding: Bonding involves repairing cracked teeth, or concealing discoloration of teeth, or even protecting the teeth from cavities or infections.
Laser Dentistry: Our dentists at Sabka Dentist in Gokhale road, perform this new dental procedure with their wide knowledge of the subject. Lasers are used by dentists inside the mouth to remove overgrown tissues or to reshape the gums or even to whiten teeth.
How to find a dentist nearby?
Know About the Services Offered:

It is necessary to get the information about the services offered by a dental clinic. If you are aware of your drawback, it will give you an idea of whether you must visit it or not.

Know About the Discounts:

Many clinics give discounts for different relations and treatments if they also get treatment from the clinic. Many others provide annual discounts and flossing free of charge. However, discount and prices cannot be the only issue to determine the best dental clinics.

Research Online:

You can search on the net to find the best clinics in your locality. However, you will need to search to get information about each clinic to choose the one that looks best for your necessities.
How can Sabka Dentist help?
Being one of the largest dental chains in Mumbai, Surat, Bangalore, Ahmedabad, and Pune, Sabka Dentist has 100 operating clinics with more than 500 dentists, and providing the best dental services at affordable rates is one of our many qualities that help you from differentiating us from other dental clinic. Our dentists are experts who have been trained and gained so much knowledge in dentistry and use their knowledge very effectively and efficiently at Sabka Dentist.
The dentists at Sabka Dentist have proved their consistency time and again, and through the figures like treatment of 10 million patients, conducting more than 1,50,000 root canals, more than 1,60,000 prosthetics, and many other dental treatments. The dentists at Sabka dentist are very well equipped in such a way that they provide quality dental treatment to one and all.
The culture at Sabka Dentist is not only highly professional, but also provides a very comfortable and homely environment. Our dentists treat our patients with the utmost care and always assure that they are their priority. We promote hard work, self-discipline, honesty, aspiration, and ambition. We keep the needs of our patients first and our developed values go hand in hand with that.
High-quality standards of dental hygiene and health is the topmost priority at Sabka Dentist. We create a trustworthy environment and make sure everything is open to the patients. The main goal is for our patients to feel like it is a treatment or experience that they want to undergo with minimal pain, and not the one that they have to.
Along with quality dentistry, we also aim to provide these services at rates that are affordable for everyone to pay. We intend to not follow the crowd, but we also keep a standard rate that does not seem like we are burning a hole in the patient's pocket. We strive to achieve these goals by following strict protocols and adhering to the ADA.
We believe in a customer-friendly service and communication. We want to be there for our patients as and when they need us, and otherwise too. A patient's oral health is just as important as anything else, and we make sure that they believe the same.
Service is good... Dr. And staff was great.

Sanket Bhalsing
14:11 17 Jun 22
Nice treatment. Friendly and experienced staff and dentists.Equal attention to every patient. Schedule appointments convenient to patients. I would recommend this

Akshara Sonavane
13:30 02 Jun 22
Doctors are really friendly. They do their best to make you feel comfortable before and during extraction. Excellent service.

Mariam Babi
12:07 30 Apr 22
Very Good & Friendly Staff, Neat and Clean Clinic with Air-conditioned.We got the Cleaning and Polish of Tooth of My Spouse and Kid at very attractive price.Dentist was very polite and professional. She took very good care of my 8 year old Son while, cleaning and polishing his tooth. You can immediately make out difference in tooth color after the service. They are now sparkling white teeth.Thank you to Sabka Dentist for providing us very good service. We got our Son face bight & sparkling smile again.

Samir Dighe
05:13 30 Apr 22
A very good service and experienced dentists.


kinchit peswani
13:46 26 Mar 22
Good service & co-operation of clinic Doctor & staff. Even in Covid-19 pandemic situation hygen & high security maintained in clinic. I feel very safe & comfortable while my Root canal treatment. Also the cost is affordable & best quality than other clinics. I satisfide with the service provided by staff. Thank you so much.I again visited to this cinic for another Root canal treatment. My experienced is same as i mentioned last time. I am suggesting to my friends to get treatment through sabka dentist.

Manisha Malvankar
13:50 10 Mar 22

Anand Jaiswar
06:43 05 Mar 22
Consultation was good very good staff and doctorMaintain very good hygiene highly recommend

Ritesh Bele
08:40 03 Mar 22

Gufran Shaikh
14:39 24 Feb 22
A nicely organised service from a trained staff gives a good feel of hospitality! The doctor offering a free consultation, analysed the problem with a familiar care and suggested amicable solutions/options! Thanks to Subka Dentist Team! Hope to see again soon! Wishing All the Best in the Business of Elderly Health! ---Vishwas Dhongde.

Vishwas Dhongde
13:43 18 Feb 22

Rahul Electrician services
09:45 09 Feb 22
Best dentist, helpful staff, and very comfortable treatment. Dr. Purvi Shastry is amazing at his work. Igenuinely Recommend to visit Sabka Dentist Thane - Gokhale Clinic

prathamesh chavan
09:26 09 Feb 22
I visited this branch today very satisfied with consultation and hospitality I got my check up and scanning done from here looking forward to do my alignment with this branch. Surely recommend

Karan Bhagat
06:42 08 Feb 22
I am taking treatment for aligned teeth from last few years by Dr.osric. Their treatment had never disappointed me..So 5 stars to sabka dentist

Aaditya Parab
11:43 05 Feb 22

Yogeshghodake Ghodake
10:33 04 Feb 22
Got my checkup done here for free. Was advised to get cleaning done. Did it right there. Was done in 30 mins. Very good experience. The doctor is nice and polite.

Sachin Kamath
06:34 09 Jan 22
I visited Sabka Dentist Gokhale Road branch..Very nice consultation by Dr. Purvi Shastry. She make u feel comfortable and explain the treatment before starting treatment procedure. Hospitable Staff. Well-maintained and they very well following COVID Norms.I strongly recommend my friends, relatives and colleagues to visit Gokhleroad Clinic.

Make Life Better
17:26 05 Jan 22
Very good consultation and treatment I have done my cleaning from this clinic it was nice and smooth very good experience

Dilip Kumar
14:08 09 Dec 21
Very nice consultation by dr purvi. She make u feel comfortable and explain the treatment. Well maintained hygienic clinic and very god atmosphere.

Sunil Gharat
12:36 04 Dec 21
Well hygienic clinic and best treatment here we can have for our tooth in affordable prices

Anchal Yadav
09:47 22 Nov 21
Nice treatment. I have done my and my sons treatment here it was very good treatment feels like you are home very nice atmosphere and hospitality. Maintain very good hygiene highly recommended

Harish Sawant
07:40 20 Nov 21
Very good consultation done... Covid protocol being followedMy experience was really nice

The Glass Universe
09:06 09 Nov 21
Been blown away by how professional it is, the cleanlines, everything is sterilized.Most caring staff and dr will help you to solve your queries

Tushar Jadhav
11:58 03 Nov 21
My experience at sabka dentist has been really very good, i have been made to feel welcome by each member staff i have met.My treatment was explained to me fully and i am more than happy with my results what pleases me more is that i felt listened to and my treatment was unique to me, they gave me natural smile i had always wanted.Would definitely recommend!☺️☺️

Shivraj Bajulge
08:30 05 Oct 21
very good consultation done. clinic hygiene maintained very well will surely recommend this clinic for any dental treatment looking forward to getting my treatment done from this clinic

Manoj Kumar
13:03 04 Oct 21
It was very good experience.nice treatment done by Dr Amrita was very good her staff including receptionist is very kind.I will surely recommend this clinic for your every dental need because this people are very good at there work and maintain very good hygiene in covid pandemic.😀

jagdish punmiya
07:13 27 Sep 21
Consultancy was good its helpful

Hiral Rane
13:55 25 Sep 21
I am undergoing dental alignment treatment from sabka Orthodontics and have been quite satisfied so far. Dr. Amrita makes it a point to explain all the details properly and also puts the patient at ease during the treatment.Great staffs and atmosphere.I love them! They are so nice and gentle.

Amrin Sayed
19:38 23 Sep 21

48 Ekta Raikar
11:59 17 Sep 21

Nandini Patil
11:23 16 Sep 21
Very good experience and doctor

nitin rahate
06:47 16 Sep 21
nice dr amrita and receptionist shivani mam thank you for cleaning

captain sumit
11:48 15 Sep 21

Ankush Phadtare
13:49 11 Sep 21
Sabka Dentist is best its really affortable cost and also sabka dentist staff and doctor both are so much humble and supported people thanks to Sabka Dentist

Sunny Poojari
13:48 28 Aug 21
The staff are very friendly and helpful to the patient.The hygiene standard of the clinic is very clean and all the guidelines regarding covid-19 are followed properly.

Aakash Panchal
07:39 28 Aug 21

80.Raashi Kadam
11:20 27 Aug 21
Good experience and helpful staff

Rohin Rocks
13:54 24 Aug 21
Clinic staff is very friendly and helpful

Priyanka Dalvi
11:32 21 Aug 21
Today is my first dental check up and consultation in thane Gokhale sabka dentist...done with clean up treatment Dr.amrita and receptionist shivani mam is very good and cooperative staff. Covid precautions taken in clinic

Omprakash Yadav
07:33 16 Aug 21
Nice, but are outside the normal man's budget

AJIJ SHAIKH
13:32 13 Aug 21
Overall had a good experience. Dr Amrita was very helpful, explained the issues and their solution well. Shivani at the reception was also hospitable.Thank you so much.

neha jadhav
11:08 12 Aug 21

Jija Waghmode
10:43 11 Aug 21
very nice clinic nd staff also very good👍

Salina kaideth
12:05 10 Aug 21
It was a comfortable first check-up experience, smooth and hassle-free.

Done with root canal treatment great experience with sabka dentist

Shivani Kesarkar
14:10 04 Aug 21
Good check up done by Dr. Ankita. Suggested the best solution acoorind to requirement and health check of my teeth.Excellent hospitality by Shivani.Over all great experience....

Vipul Borole
13:38 04 Aug 21
Done implant treatment very nice cooperative staff and hygienic clinic

Shivdas Kesarkar
03:37 02 Aug 21
Wonderful place.Everytime I go there, I come out with a brilliant smileBest and reasonably priced dentist

Mujahid Hussain
06:19 31 Jul 21
done braces treatment nice staff and hygenic clinic.

susan fernandes
13:43 29 Jul 21
I had dental implant,root canal and tooth extraction treatment in sabka dentist thane Gokhale clinic.treatment were done very well staffs are very helping,polite and professional.clinic is hygienic.will highly recommend to visit the clinic

Mohan Lohakare
17:07 28 Jul 21

Farooque Ansari
12:16 26 Jul 21
Amazing services. I got my tooth implant done in one dayAlways had fear to visit a dentistBut the staff an doctors have changed my perception to visit dentist.Professionally and friendly team😇Thank You

krunal Jagtap
10:56 26 Jul 21
Nice polite staff and punctual service. Thank you for Best consulting doctors throughout my treatment. My consultant was Dr. Ankita, she is very cooperative.

TUSHAR VAREKAR
05:43 26 Jul 21

pratidnya pawar
05:08 26 Jul 21
Happy that I visit here for my braces treatmentJob was done good at a affordable rate.

Sumit Mohite
08:20 24 Jul 21
Staff is very good ( shivani) & dr. Ankita had given good treatment.

Nandini Singh
06:48 24 Jul 21
It was good experience with sabka dentist. Dr and staff both are good and supporting. Specialy mrs shivani thanks for coordinating.

rohit rohit
06:42 24 Jul 21