Dental Crowns Treatment & Cost in Mumbai
What are dental crowns?
Popularly known as a cap, a dental crown is an imitation or replica of a tooth, placed over a decayed tooth, to protect it from further damage. The reasons for the placement of a dental crown or cap are many. For instance, the tooth is severely damaged or broken. Or when a filling does not suffice to hold the tooth firmly. Discolored teeth can also be covered with a dental crown, or a dental bridge or implant. Be it any reason, a dental crown only accentuates the appearance of one 's set of teeth while also working on bettering the oral habits. Just like any other thing nowadays, dental crowns can be customized or are kept readymade or prefabricated. Prefabricated dental crowns are made of plastic or stainless steel, and are most often used as temporary caps until the permanent ones come along. Dental crowns are made up of various kinds of materials, namely, metal, porcelain-fused-to-metal (PFM) or all-ceramic. Metals are furthermore divided into gold, alloys like palladium or a base-metal alloy like nickel or chromium. The all-metal or PFM is a much better choice than all-ceramic as they are stronger. The PFM and all-ceramic crowns look just like your teeth, a doppelganger of your teeth you may say. Depending on their material, the maintenance, the food habits and the wear and tear of the crown is the duration of the shelf life of a dental crown. A dental crown usually lasts for a time period of seven years. In many cases, the dental crowns may even last for a period of 40 years with proper care and high quality of the dental crowns.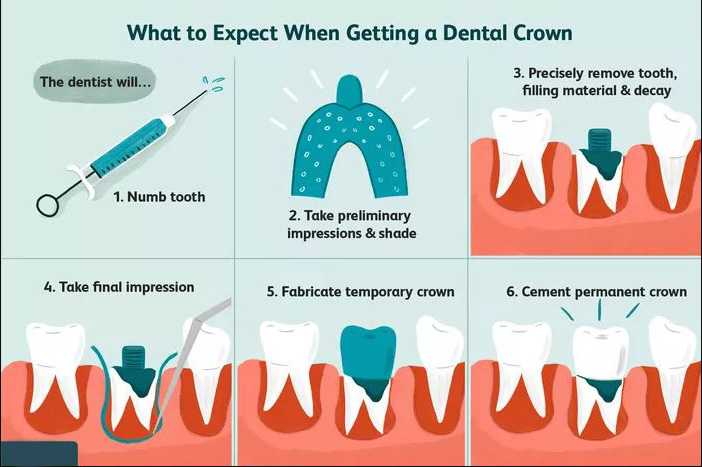 What is the Dental Crown Procedure?
Ordinarily, when you are getting a dental crown treatment, it also calls for an endodontic or root canal procedure. An individual getting a dental crown might not necessarily need an endodontic or root canal procedure. A root canal procedure is usually carried out when there is excessive decay in the pulp of the tooth, so much so that the blood vessels become dead and rotten. Hence, an extraction and cleaning process, called the root canal treatment, takes place, post which, the treated area or tooth has to be covered with a dental crown. However, a dental crown cannot stand on its own post a root canal treatment due to the hollow space. So in cases like these, the endodontist or dentist fills the vacant gap with a supporting material, also known as a filling made up of
Gutta Percha
. That was the placement of a dental crown post a root canal treatment. Now, for a normal dental crown placement, the dentist will file and shape the tooth according to the cap. For a metal crown, most of the tooth is kept intact, and less is filed, as metal is thinner and takes up less space in comparison to PFM and all-ceramic crowns. The contemporary method of placing a dental crown requires usually two visits. In the first visit, the dental expert uses a thread or a cord to push away the gum from the tooth. This is necessary to get the perfect shape and outline of the tooth for the permanent crown. The replica is created using a rubber-like material, and the impression takes five minutes to form, after which it is removed. The main idea is for the dental crown to fit into your normal bite, which is why a high amount of precision is required. Once the impression is created, it is forwarded to the laboratory, where the permanent dental crown is created. During this time, the dentist will fit in a temporary crown so as to avoid any further deterioration to the tooth. However, temporary crowns are not meant to last for a long time, as they are not built of reliable material. Instead, lab-made plastic crowns are comparatively stronger and long-lasting. A weak cement is placed to hold the temporary crown in place. It is weak deliberately since the dentist needs to be able to easily remove the temporary crown so that he or she can fit in the permanent crown. In the second visit, the permanent crown is permanently cemented onto the tooth and it looks as natural as ever, depending on the material. However, this entire procedure is also possible in one go, provided that the dental clinic is equipped with facilities wherein the dental crown can be created there and then.
What care should be taken post Dental Crown placement?
If your dental crown has been well placed, there will be no signs of discomfort or unpleasantness. In fact, if you have not been a patient of a root canal procedure, you will have some amount of sensitivity to cold items, the reason being that the blood vessels are still intact and alive. However, if the dental crown starts causing a bit too much discomfort, visit your dentist immediately. It usually tends to be a case of the dental crown being placed a little too high, which is easily fixable so one need not worry. Usually, when one selects a PFM crown, it generally starts showing a dark, thin line next to the gumline. This is no infection but just the metal making its way out. This is no matter of concern, however, if it is on your front teeth, then it may be needed to be replaced with an all-porcelain crown, containing no metal. The dentist will recommend a fluoride gel if you have a high risk of developing cavities. Decaying is the root cause of most of the oral problems and should be avoided as much as it can. Brushing and flossing, twice a day, is a compulsion any which way for better oral health. If a crown isn't fitted well, chances are that the cement will start wearing off. In scenarios like this, one need not panic as the dental crown may not fall off immediately. But what is likely to happen is that the bacteria may enter through loose ends, and then may start decaying the tooth. So in the case of an improperly fitted dental crown, make a visit to your dentist without fail. Another hint of a loosely fitted crown may be the odor that it spreads around the dental crown area. One of the most important instructions is to not try to fit the crown back on your own, in case it falls apart. Pack in a zip-lock bag and take it to your dentist. And if not that, then check for any cement debris on the inside of the crown, and use either a toothpick or a damp cotton swab to clean it and free it from any dirt. Visit a dental clinic and replace the crown with temporary cement or denture adhesive.
What is the Dental crown cost in Mumbai?
We, at Sabka dentist, have varieties of crowns to cover over the tooth to restore its size, structure, and performance of tooth. We provide three kinds of crowns with the respective ranges.
Crown – Economy 6,500/-
Crown – Value 9,200/-
Crown – Premium 17,000/-
Click here
to know more about the treatment costs.
Tell Me More About Getting A Dental Crown At Sabka Dentist Mumbai
Concerned about your dental crown treatment? Then it would probably be the greatest option to decide on a dental clinic that can provide you the finest treatment options when it comes to getting the dental crown treated. And also if you are searching for a well-known clinic to do your dental crown treatment in Mumbai, Sabka Dentist should really be your top choice. Sabka Dentist has consistently retained its place among the best dental clinics for dental crown treatment in Mumbai, as well as overall India as well. It is because Sabka Dentist believes in offering very affordable along with world-class treatment services to everybody when it comes to dental care. The dentists and medical team present at Sabka Dentist ensure that the patient feels comfortable and experiences no trouble at all while undergoing a dental crown procedure. Sabka Dentist's clinics have got among the best hand-picked dentists that are specialists at providing dental crown treatment as well as other dental treatments. To perform a dental crown treatment, the dentists first examine the condition of the tooth and then determine what sort of dental crown would be perfect for their patient. They also ensure that their patients are comfortable with the tooth cap cost. It is because in most cases, permanent crowns are used that are made up of stainless steel, other metal alloys, porcelain, ceramic or resin. The actual process for the dental crown treatment involves placing a dental cap over an affected or injured tooth in order to improve its visual appearance. The dentist usually attaches the crown to the tooth surface in order to cover up the teeth portion that is actually above the gum line. Sabka Dentists always pick dentists based on their working experience, knowledge and academic qualification in order to ensure that they are really committed to offering customized treatment to each patient. There is no doubt that dentists from Sabka dentists are some of the best dentists in Mumbai. We provide the best dental crown treatment plan at the most affordable teeth cap price range. This is possible because of Sabka Dentist's motto of offering cost-effective dental care at world-class quality. Not to mention, in addition to our economical tooth crown prices, we make it absolutely sure that our patients feel at ease.
Sabka Dentist Clinics for Dental Crowns & Teeth Caps in Mumbai
Address:
5, Gr Floor, Vasant Village, Behind Vora Medical Opp. Jaslok Farshan, Near Andheri Rly Station SN Rd, Sampada Society, Andheri East, Mumbai, Maharashtra 400069.
Phone:
8291819546
Address:
Flat No: 202/B-3, Greenland CHS Ltd, Near ICICI Bank, Opp Bagerker College, Next to Jyoti Restaurant, J.B. Nagar, S B Singh Colony, J B Nagar, Andheri East, Mumbai, Maharashtra 400059.
Phone:
8291849551
Address:
Shop No-2A, Takshila Bldg. No-29 CHS, Opp. Model Town and Apollo Garage Near ICICI ATM and Pearl Residency, Takshila, Takshila Colony, Indira Nagar, Andheri East, Mumbai, Maharashtra 400093.
Phone:
8291819559
Address:
Shop no. – 14, Ground Floor, Madhav Nagar Building Behind Merwan 's, Opposite Bank of Baroda Next to Bus Depot, Swami Vivekananda Rd, Andheri West, Mumbai, Maharashtra 400058.
Phone:
8291819548
Address:
Shop No-2, Atlantis Building, Near 7 Bungalows Garden, Opp. HDFC Bank, Next to Monalisa Saloon, J. P. Road, Aram Nagar Part 1, Aram Nagar, Versova, Andheri West, Mumbai, Maharashtra 400053.
Phone:
8291819558
Address:
Shop No-45, 1st Floor, Gopal Mansion, Above Janta Book Depot, Near Bandra talaav and PWC Building, Gurunanak Road (Station Road), Bandra, Bandra West, Mumbai, Maharashtra 400050.
Phone:
8291819551
Address:
Shop No 4, Ground Floor, Sada Smruti Tower CHS Ltd, Opp Maxus Mall, Next to Ribbons and Balloons Temba Road, Geeta Nagar, Bhayander West, Mumbai, Maharashtra 401101.
Phone:
8291849547
Address:
Shop No-13, Gr Floor, Goverdhan Nagar 41 Wing Poisar Gymkhana Road, Kandivali ( West) Mumbai 400067.
Phone:
8291819542
Address:
Gr Floor, Saraswati Niwas, Near Laxmi Chaya Building, Near Deepak Hotel, Eksar Road, Babhai Naka, Borivali (W), Kamdhenu Society, Borivali West, Mumbai, Maharashtra 400092.
Phone:
8291819544
Address:
Shop no.4, Nimesh Kunj, Opp Jain Mandir, Mandpeshwar Road, Near Gokul Hotel, Borivali West, Mumbai, Maharashtra 400092.
Phone:
8291819552
Address:
Shop No 6 Sunny Estate building no 2 Sion Trombay Road, Near to IDBI bank, Opp Dena Bank, Near to Diamond Garden, Chembur East, Mumbai, Maharashtra 400071.
Phone:
8291849549
Address:
Shop No 2, Daulat Shirin CHS Ltd, Near Colaba Post Office, Opp. to Baptist Church, 31 Colaba Road, Cuffe Parade, Mumbai, Maharashtra 400005.
Phone:
8291849562
Address:
7-A Sarvodaya Bhuvan, Opp. Apna Bazar, Beside Anugraha Restaurant, Gokhale Road (North), Bhawani Sankar, Dadar West, Mumbai, Maharashtra 400028.
Phone:
8291849566
Address:
Shop No 1, Near Canara Bank, Behind Bhatla Devi Mandir, S.V.Road, Dr. Ambedkar Udyan, Maratha Colony, Dahisar East, Mumbai, Maharashtra 400068.
Phone:
8291849546
Address:
Shop No 16, Ground Floor, Orbit Grand Rehab C – Wing, N.M.Joshi Marg Opp: BMC Office G-South Ward, West, Fitwala Rd, Elphinstone, Saidham Nagar, Parel, Mumbai, Maharashtra 400013.
Phone:
8291846933
Address:
Shop no 1 Ground Floor Megh Ratan CHS. Ltd Junction of Tilak Road, and, Derasar Ln, Ghatkopar East, Mumbai, Maharashtra 400077.
Phone:
8291819578
Address:
B-105, 1st Floor, Bhaveshwar Plaza, Opp. to Shreyas Cinema, Next to Sapna Hospital, L.B.S Marg, Nityanand Nagar, Ghatkopar West, Mumbai, Maharashtra 400086.
Phone:
8291849553
Address:
Shop No-1, B-Wing, Satellite Garden 1 CHS, Near Gokuldham, Ridhhi Gardens, Gen. A.K. Vaidya Marg, Azad Nagar, Gokuldham Colony, Goregaon East, Mumbai, Maharashtra 400063.
Phone:
8291819557
Address:
Shop No-10 Anand Vatika Society, Next to ICICI Direct Opp. Mcdonalds Restaurant, S.V. Road, Siddharth Nagar 4, Shri Nagar, Goregaon West, Mumbai, Maharashtra 400062.
Phone:
8291819554
Address:
Shop No-4, Vasant Utsav Rangoli Building, Near Southern Treat Hotel, 120 feet Road, Thakur Village, Kandivali East, Mumbai 400101.
Phone:
8291819545
Address:
Shop No-21, Gr Floor, Raj Heights CHS, Near Dominos, Opp. Shivsena Office, MG Road, Kandivali (W), Gaothan, Bohra Colony, Dahanukar Wadi, Kandivali West, Mumbai, Maharashtra 400067.
Phone:
8291819543
Address:
Shop No-14, Shree Datta Krupa CHS, Opp. to Voltas House, Dr. B. Ambedkar Marg, Lalbaug, Chinchpokali, Mumbai, Maharashtra 400012.
Phone:
8291819579
Address:
Shop no: 4, Karambhoomi Building, Mori Road, Near Mahim Church and, and TV Town Electronics, Opp. Makhdoomi Hotel, Mahim (West), Mahim, Mumbai, Maharashtra 400016.
Phone:
8291819553
Address:
Shop No 3, Dhiraj Apartment, Poddar Road, Near Goal Garden, Primal Nagar,, Malad East, Mumbai, Maharashtra 400097.
Phone:
8291819576
Address:
Shop No 2, Darshan House, CTS no 834, Mamlatdarwadi main road, Malad (west), Mumbai 400 064.
Phone:
8291819541
Address:
Shop No-13, Saifee Park Building – C, Opp. Mazagaon Post Office Dr. E. Mascharenhas Marg, Mustafa Bazar, Mazgaon, Mumbai, Maharashtra 400010.
Phone:
8291819577
Address:
Shanti Plaza, Shop No 16, Ground Floor, Bldg No S/1 Opposite to Sector 5, Sector 11, Shanti Nagar, Mira Road East, Mira Bhayander, Maharashtra 401107.
Phone:
8291849548
Address:
Shop No-10, Gala Kunj Apartments, Opp. Vani Vidyalaya School, Next Khotari Sweet, J. N. Road, Mulund West, Mumbai, Maharashtra 400080.
Phone:
8291819580
Address:
Shop no 3, Martin Commercial Complex, P2, Pocket Of Group Housing Scheme, Village Achole, Tal: Vasai, Yashvant Viva Twp, Nalasopara East, Thane, Maharashtra 401209.
Phone:
8291846938
Address:
Shop No 12, Oshiwara Ekdant CHS Ltd, Next to Great Home Super Market, Opp. Mohan Medical, Andheri Link Road Extension, Mhada Lay-Out, Oshiwara, Jogeshwari West, Anand Nagar, Andheri West, Mumbai, Maharashtra 400102. Phone: 8291846937
Address:
Ground Floor, IOC Petrol Pump,, Opp. IIT Mumbai Main Gate, Powai, BSNL Colony, Powai, Mumbai, Maharashtra 400076. Phone: 8291819560
Address:
13, Jayant Apt., Opp. ICICI Prudential Building, Near Century Bazar, A.M. Marg, Prabhadevi, Century Bazaar, Prabhadevi, Mumbai, Maharashtra 400025. Phone: 8291819547
Address:
Shop No 2B, 311 Vidyanagari Marg Near General Hospital, Next Bhatta Medical Store, Kolivery Village, Vidya Nagari, Kalina, Santacruz East, Mumbai, Maharashtra 400098. Phone: 8291849552
Address:
Shop No. 9, Sujata Rajpipla CHS Ltd, 27-C, Opp. Santacruz Police Station, Juhu Road, Santacruz West, Mumbai, Maharashtra 400054. Phone: 8291819549
Address:
201, Bansari Bhuvan Building, Ground Floor, Sion Main Road Next to Union Bank of India, Opposite Domino 's Pizza, Sion East, Sion, Mumbai, Maharashtra 400022. Phone: 8291819556
Address:
Flat G-07, Minal Apartment, Opp. Navin Thakkar Hall, Shradhanand Rd, Navpada, Vile Parle East, Vile Parle, Mumbai, Maharashtra 400057. Phone: 8291819550
Address:
Shop No.1, Empire House, S.V. Road, Opp. Irla Petrol pump, Irla, Vile Parle West, Mumbai 400056. Phone: 8291819540
Address:
Bldg no 11, A Wing, Ambo Patil Estates, Near Banjara Hotel Above Canara Bank, Opp. Reliance Smart, Tirupati Nagar, Virar West, Maharashtra 401303. Phone: 8291849557